On November 10, 2016, Nick Richards committed to play basketball at the University of Kentucky. At that time, he was ranked in the top 20 of the ESPN 100 as a five-star recruit, just four years after he started playing basketball.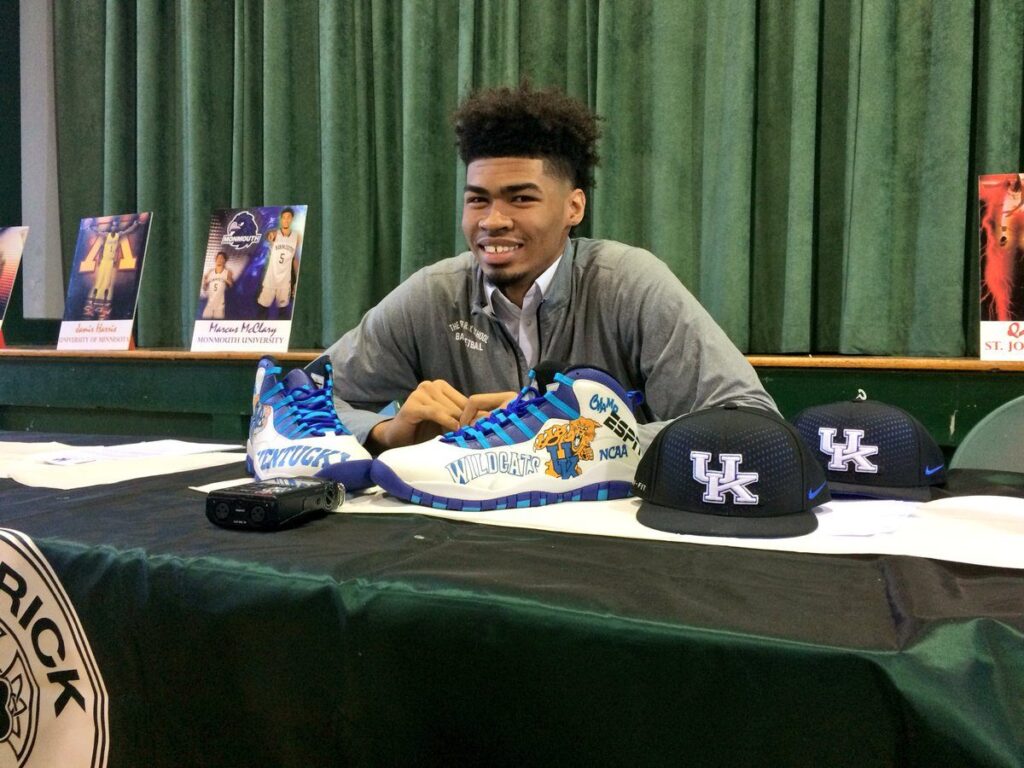 Today, Richards announced that he would forego his remaining eligibility and stay in the 2020 NBA Draft, whenever it might occur. But, when it does occur and Richards' name is announced, I can assure you he will get one huge hug from John Calipari and many Kentucky fans across the country will shed a tear because we all know what he's been through.
The road he took from the day he committed to draft day is not one many players are willing to take.
Nick Richards was discovered by Andre Rickett, a New York City basketball scout, in Jamaica in the summer of 2013. That's where it began.
The Jamaican stud visited Lexington on September 30 and committed to play for John Calipari not even two months later. Richards only held offers from two other schools, Arizona and Syracuse.
Many of us first saw Richards play at the 2017 McDonald's All-American Game at the United Center in Chicago, Illinois. He recorded two points, two rebounds, and two blocked shots in 14 minutes of action. A stat-line that would sadly become consistent in his first two years as a Wildcat.
He would go on to play in the 2017 Jordan Brand Classic and would later be selected to the World Team in the 2017 Nike Hoops Summit before beginning his freshman year under John Calipari.
His freshman year was full of disappointment. Yes, nearly that entire roster was, as the Cats never really lived up to their potential, getting bounced in the Sweet 16 by Kansas State, but it was really a painful first year for Richards.
In 37 games played, Richards totaled 15 minutes per game, averaging only 5 points, 4 rebounds, and 1 blocked shot.
Freshman Nick Richards will be remembered more for his poorly-timed blocked shot attempts, missed dunks, dropped balls, and ability to always looked lost on the court.
My dad would always say at least once during games, "someone needs to stop giving Nick Richards buttered popcorn before games."
Honestly, you would think there was nowhere to go but up. We all thought he would have a breakout sophomore year, at least I did, and that he would be departing Lexington after two years of college play. Boy was we wrong. Things got a lot worse.
In his sophomore year, Richards saw drops in all of his per-game averages, except blocks. The good thing was Kentucky didn't really need him because of guys like P.J. Washington and Reid Travis. Could you imagine if both P.J. and Nick made that jump? Kentucky would've coasted to a ninth national title.
Instead, Richards sat the bench most of the NCAA Tournament, playing not even a minute in Kentucky's Elite Eight loss to Auburn, and making for a very disappointing sophomore campaign.
Yes, the "buttered popcorn" joke was uttered by my father many times that year.
I hate to say it, but I, along with many others, had given up on Nick Richards and turned our heads toward E.J. Montgomery. Yes, the one player left to announce his NBA decision.
We were all looking for him to make that P.J. Washington-like jump from his freshman to sophomore year. Well, that didn't happen. Instead, the improvement we hoped to see in Nick Richards the previous year came a year later.
Richards' numbers improved immensely. In 31 games this year, Richards averaged 30 MPG, 14 points, eight rebounds, two blocks, and shot 75-percent from the free throw line.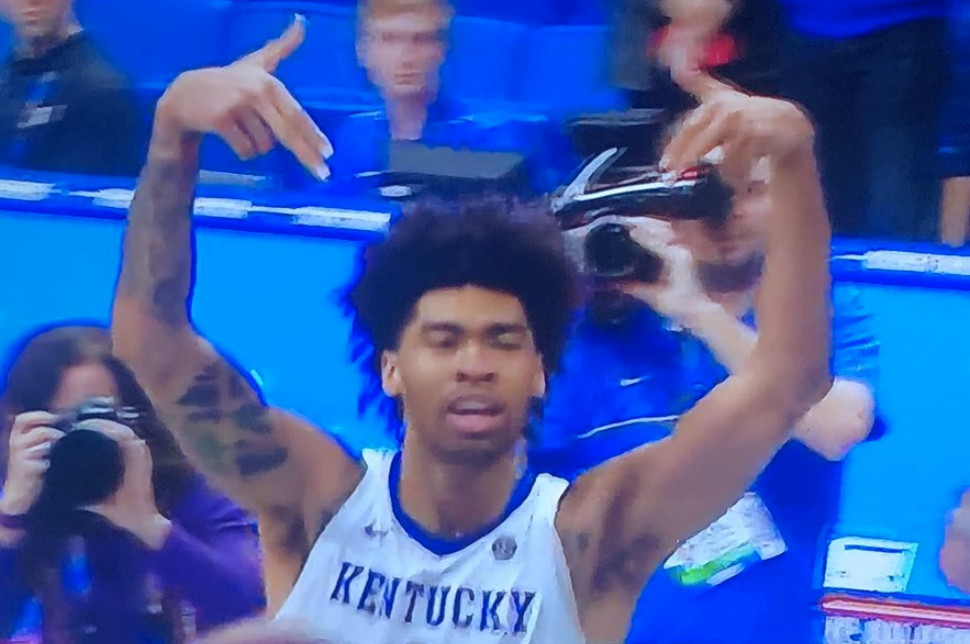 I guess someone finally took the butter off the popcorn.
Sadly, Kentucky's season ended early due to the COVID-19 pandemic, ending, as of now, six Kentucky careers early. Who knows if the Cats would've been cutting down the nets in Atlanta. But, watching guys improve like Immanuel Quickley and Nick Richards was good enough for me.
As I said above, the path Richards took to staying in the NBA Draft isn't one many players are willing to take.
After Richards had the best game of his UK career against Texas Tech, he told the media that it's okay to not be a one-and-done:
We don't know when the NBA Draft will take place or when Richards will be drafted. But, when he is, it will be a very special occasion.