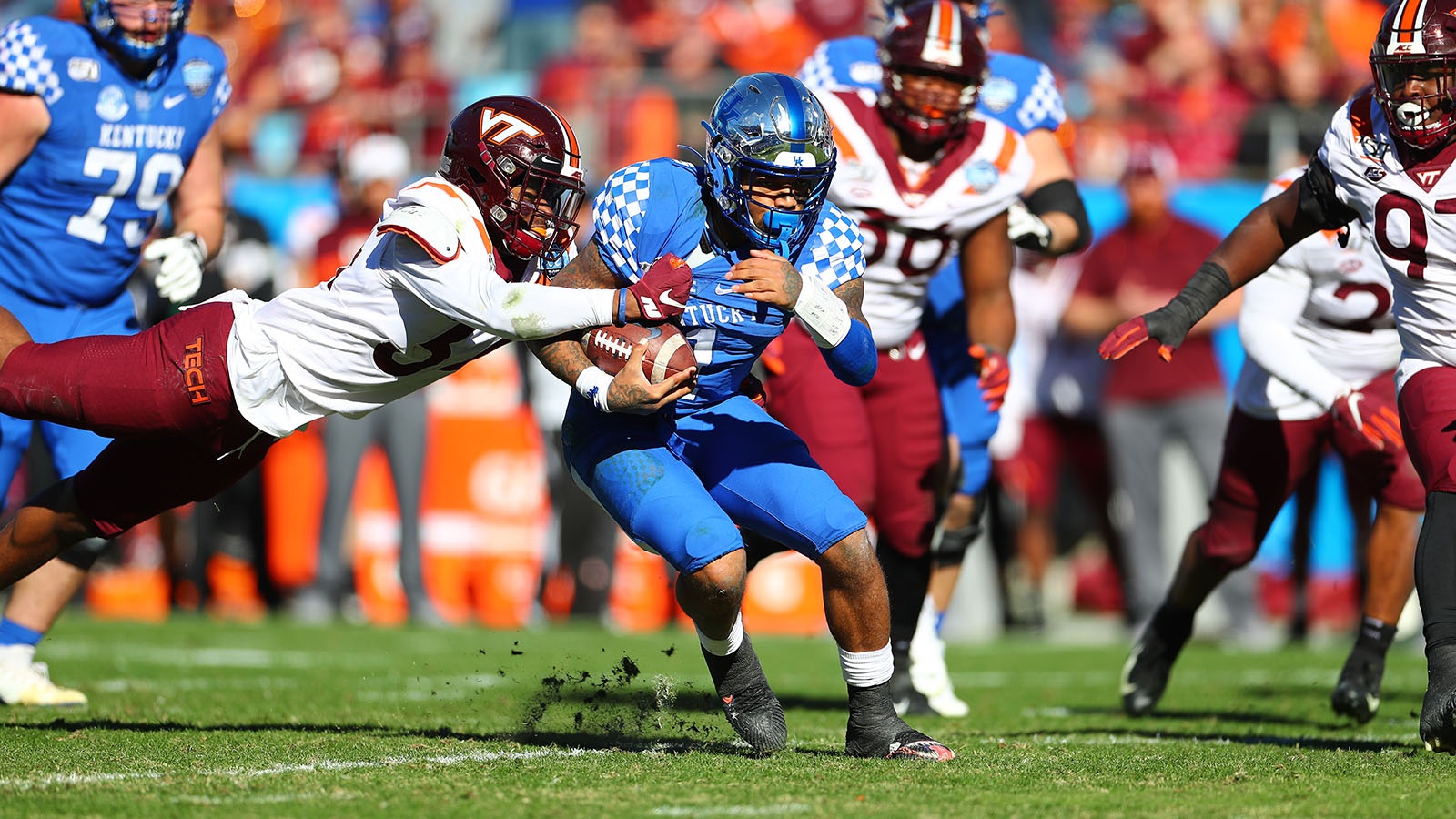 Just a few minutes ago, it was announced that the NCAA will now give officials jurisdiction of game 90 minutes from kickoff instead of the previous 60 minutes. This is important because now, whatever happens inside 90 minutes is under watchful eyes of refs.
This rule change is huge for Kentucky, because of what happened on New Years eve of 2019. There are a lot of good memories for the Kentucky Wildcats and BBN on that day, but there is one bad memory that UK and the BBN want to forget, and had this rule been in place before, Lynn Bowden may have not even suited up for the Wildcats.
Lynn Bowden landed a punch on a Virginia Tech DB outside of the 60 minute window. Therefore, unless UK took action, nothing could've been done by the NCAA or officials. If the new 90 minute rule had been in place, Bowden would've likely been tossed from the game.
Yes, VT's players had been taunting him all week, and they even allegedly robbed his car. But, sadly none of that stuff would've mattered.
Yes, this rule is basically the "Lynn Bowden rule" because no one talked about this rule until that incident happened.
It's crazy to think about, but there is a lot that would've changed if Lynn Bowden had been ejected from the Belk Bowl.
Kentucky doesn't win the game in the first place
There's no way Kentucky comes close to winning that game without Lynn Bowden. Kentucky's defense couldn't stop Virginia Tech's offense really the whole game. Hendon Hooker threw for 110 yards and two touchdowns. Deshawn McClease ran for 126 yards on 11 attempts and had a touchdown.
The only reason Kentucky was in the game was because of Bowden, who ran for 233 yards and scored a touchdown. He also *threw* the game-winning touchdown to Josh Ali with time expiring.
No Bowden, no points, no win.
A lot of answers are needed
Bowden was the backbone of Kentucky's team last year. Without him, they struggle throughout the entire season because of Sawyer Smith's injuries that plagued his entire season.
I was at the game and I can't imagine how my grandfather would've reacted if I had to read to him that Lynn Bowden had been ejected before his final game as a Wildcat because he threw a punch in pre-game warmups. He would've been livid, as well as BBN, and the coaching staff.
Instead of celebrating a win, we would've been busy asking Mark Stoops, Lynn Bowden, and the other players and coaches about the incident. Bowden's legacy would've been tarnished.
Lynn Bowden probably doesn't get drafted
Forget about what we think about him for a second. If Bowden gets ejected before the game because he landed a punch, that doesn't sit well with any NFL teams that are thinking about drafting him.
Let's be honest with ourselves, the Belk Bowl put Lynn Bowden on the map. Yes, he had been dominating all year, but he was doing it against bottom-tier SEC teams. We think it was impressive, but most scouts don't think twice about it because of who he's playing.
Plus, all of the money that he will get from being drafted. Let's say a team in the later stages of the second round decides to take a chance on him and he gets picked. The total value of that contract is $4.5-6 million, with a $1.3-2.3 million signing bonus.
If this doesn't happen and he goes in the third round, he gets anywhere from $3.3-4.2 million.
Even if he goes in the last round, he gets $2.5 million.
If the "Lynn Bowden rule" is in place for that game and he gets ejected for throwing a punch. As you can see, a lot changes. But, thank God it didn't!