A Closer Look at the Midwest Region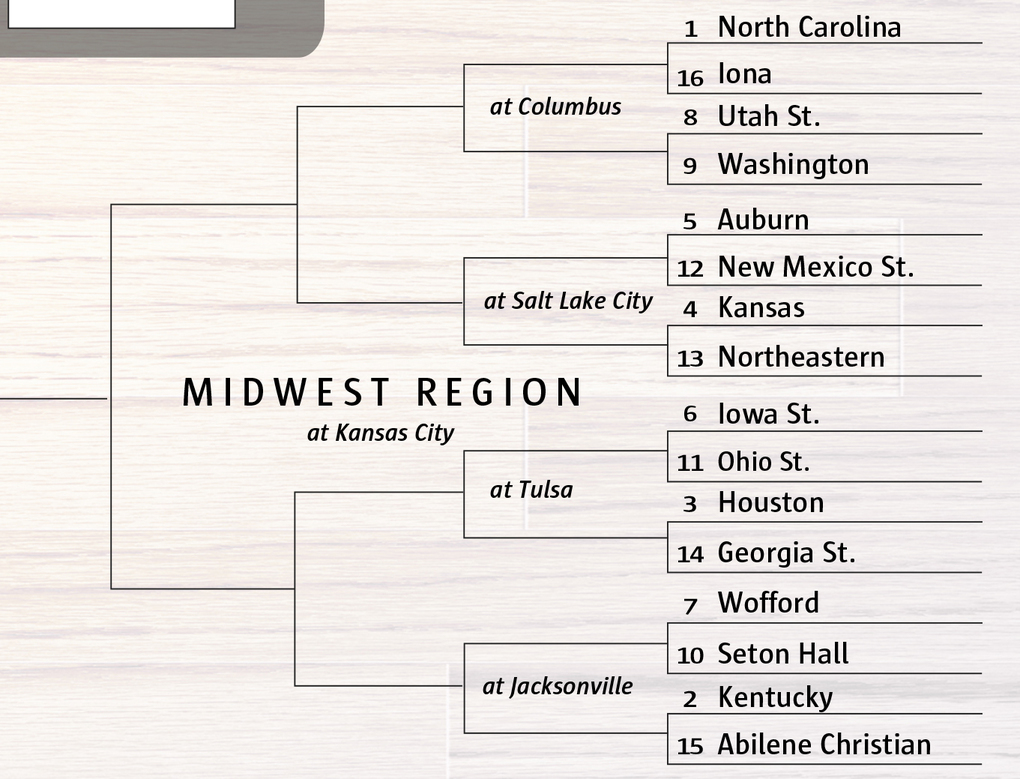 On Sunday, as Duke was put into a cakewalk, Kentucky was selected as the two seed in the toughest region of the bracket, the Midwest Region. Now being called the "Blue-blood Region", the Midwest hosts the three most winningest programs in college basketball history in North Carolina, Kentucky, and Kansas.
Getting to the Final Four in this region is no easy task, lets look at the competition.
1. North Carolina Tar Heels
Record: 26-5 (16-2) NET: 7 KenPom: 6
Best win: 103-90 vs. Gonzaga, Dec. 15
Worst loss: 92-89 vs. Texas, Nov. 22
Three-pointers: 37.3% Free throws: 74.1%
NOTABLE PLAYERS: G Cameron Johnson 16.9 ppg; G Coby White 16.4 ppg, 4.1 apg; F Luke Maye 14.9 ppg, 10.3 rpg
SCOUTING REPORT
Carolina ranks third in the nation in points per game (86.6 ppg) and plays at one of the fastest paces in the country. Not to mention the Tar Heels are the best rebounding team in the country (43.9 rpg). Cam Johnson has been on an absolute tear since the start of ACC play and is shooting 46.5% from deep on the season. The Tar Heels are capable of making the Final Four but they have the toughest road to the Elite Eight and could meet the Kentucky Wildcats in a rematch for a spot in Minneapolis. 
2. Kentucky Wildcats
Record: 26-5 (15-3) NET: 5 KenPom: 7
Best win: 86-69 vs. Tennessee, Feb. 16
Worst loss: 84-83 vs. Seton Hall (OT), Dec. 8
Three-pointers: 35.9% Free throws: 74.3%
NOTABLE PLAYERS: F PJ Washington 14.9 ppg, 7.5 rpg; G Tyler Herro 14.2 ppg, 4.5 rpg; G Keldon Johnson 13.7 ppg, 5.8 rpg
SCOUTING REPORT
Many threw the Wildcats out as a title contender after the 34-point loss to Duke, but the Wildcats are here and look like preseason No. 2 they were thought to be. Kentucky is a post-oriented team that crashes the boards and gets to the free throw line. With four players averaging 11 or more points, any player on any given night can step up for the Wildcats and that's a promising sign in the NCAA tournament.
3. Houston Cougars
Record: 29-2 (16-2) NET: 4 KenPom: 15
Best win: 85-69 at Cincinnati, March 10.
Worst loss: 73-69 at Temple, Jan. 9.
Three-pointers: 36.4% Free throws: 71.1%
NOTABLE PLAYERS: G Corey Davis 16.6 ppg, 2.9 apg; G Armoni Brooks 13.7 ppg, 6.5 rpg; G DeJon Jarreau 9.2 ppg, 3.8 rpg
SCOUTING REPORT
The Cougars haven't been given enough respect all season long as a Final Four contender. Houston is a guard-oriented team that prides themselves on defense and ranks first in the country in opponent field goal percentage (36.7%). Houston led the AAC in three-point percentage (36.4%), rebounding margin (+7.9), and scoring defense (61.6 ppg). Houston is a consistent team that doesn't beat themselves. Don't expect Houston to be an easy out. 
4. Kansas Jayhawks
Record: 25-9 (12-6) NET: 20 KenPom: 20
Best win: 87-81 OT vs. Tennessee, Nov. 23.
Worst loss: 65-64 at West Virginia, Jan. 19.
Three-pointers: 35.5% Free throws: 69.5%
NOTABLE PLAYERS: F Dedric Lawson 19.1 ppg, 10.6 rpg; G Devon Dotson 11.7 ppg, 3.5 apg; G Quentin Grimes 8.3 ppg, 2.0 apg
SCOUTING REPORT
The Jayhawks had a streak of 14 consecutive Big 12 championships snapped. After losing Udoka Azubuike and Lagerald Vick, things aren't looking to great for Kansas and could be upset early. However, Dedric Lawson, Quentin Grimes, and Devon Dotson can carry this team to a battle against North Carolina.
5. Auburn Tigers
Record: 22-9 (11-7) NET: 17 KenPom: 13
Best win: 84-80 vs. Tennessee, March 9.
Worst loss: 80-77 vs. South Carolina, Jan. 22.
Three-pointers: 37.5% Free throws: 70.5%
NOTABLE PLAYERS: G Bryce Brown 15.7 ppg, 2.0 rpg; G Jared Harper 15.2 ppg, 5.9 apg; F Chuma Okeke 11.9 ppg, 6.8 rpg
SCOUTING REPORT
At one point this season Auburn was ranked in the AP Top 10, that quickly changed after seven losses in the SEC. The Tigers won four straight games to end the regular season, then trampled Tennessee for the SEC Tournament Title. Guards win in March, and Auburn's Bryce Brown and Jared Harper can make plays. The Tigers have made ten or more threes in nearly two-thirds of their games and can catch fire at any time.
6. Iowa State Cyclones
Record: 20-11 (9-9) NET: 23 KenPom: 16
Best win: 68-64 at Texas Tech, Jan. 16.
Worst loss: 90-75 at West Virginia, March 6.
Three-pointers: 36.2% Free throws: 72.8%
NOTABLE PLAYERS: G Marial Shayok 18.7 ppg, 5.1 rpg; G Lindell Wigginton 13.4 ppg, 4.1 rpg; G Talen Horton-Tucker 12.2 ppg, 5.1 rpg
SCOUTING REPORT
The Cyclones are talented but are wildly inconsistent. Iowa State had lost 6 of their last 8 games before going on a run to capture the Big 12 Tournament Title. The Cyclones have five players scoring 9 or more points and have one of the most efficient offenses in the country, ranking top 10 in KenPom. It comes down to which Iowa State team shows up. 
7. Wofford Terriers
Record: 29-4 (18-0) NET: 13 KenPom: 19
Best win: 72-64 vs. Furman, Feb. 23.
Worst loss: 75-64 vs. Oklahoma, Nov. 18.
Three-pointers: 42.0% Free throws: 70.2%
NOTABLE PLAYERS: G Fletcher Magee 20.4 ppg; F Cameron Jackson 14.4 ppg, 7.5 rpg; G Nathan Hoover 13.2 ppg
SCOUTING REPORT
Wofford is riding the nations longest win streak with 20 games. The Terriers are one of the best outside shooting teams in the country with the nation's second-best three-point percentage (41.6%). Wofford is capable of lighting up any team with those kinds of shooting numbers. 
8. Utah State Aggies
Record: 25-6 (15-3) NET: 30 KenPom: 34
Best win: 81-76 vs. Nevada, March 2.
Worst loss: 78-77 vs. Fresno State, Jan. 9
Three-pointers: 35.3% Free throws: 74.7%
NOTABLE PLAYERS: G Sam Merrill 21.1 ppg, 5.3 apg; C Neemias Queta 11.8 ppg, 8.8 rpg; F Quinn Taylor 8.3 ppg, 6.2 rpg
SCOUTING REPORT
Making the NCAA tournament for the first time since 2011 Utah State is definitely a seed or two too low, as one of the most well-balanced teams in the country. Utah State ranks top 50 in both field goal percentage(47.4%) opponent field goal percentage (39.1%). The Aggies are far from selfish with the country's 6th highest assist rate and crash the boards at a high rate, ranking 9th in the nation in rebounds per game (40.2 rpg)
9. Washington Huskies
Record: 24-7 (15-3) NET: 67 KenPom: 51
Best win: 69-53 at Utah, Jan. 10
Worst loss: 76-73 at Cal, Feb. 28
Three-pointers: 34.7% Free throws: 70.1%
NOTABLE PLAYERS: G Jaylen Nowell 16.3 ppg, 5.4 rpg; F Noah Dickerson 12.9 ppg, 7.2 rpg; G David Crisp 12.6 ppg, 2.6 apg
SCOUTING REPORT
The Huskies have one of the best defenses in the nation, with a defensive rating of 94.9, ranking 32nd the country. Washington also ranks top in blocks (5.7 bpg) and steals (9.0 spg). The Huskies have an explosive duo in Nowell and Dickerson, in addition, Matisse Thybulle might be the best all-around defender in college basketball.
10. Seton Hall Pirates
Record: 18-12 (9-9) NET: 6 KenPom: 55
Best win: 84-83 vs. Kentucky, Dec. 8.
Worst loss: 66-64 vs. St. Louis, Nov. 17.
Three-pointers: 32.5% Free throws: 71.5%
NOTABLE PLAYERS: G Myles Powell 22.6 ppg; G Myles Cale 10.4 ppg; G Quincy McKnight 9.4 ppg, 4.1 apg
SCOUTING REPORT
This season the Pirates have picked up wins against Kentucky, Maryland, Villanova, and Marquette. Finishing one game short of the Big East Tournament title, Seton Hall has been one of the hottest teams in the country. Seton Hall is led by guard Myles Powell who emerged as one of the country's best guards and finished 14th in Division I in scoring.
11. Ohio State Buckeyes
Record: 18-13 (8-12) NET: 55 KenPom: 45
Best win: 64-56 vs. Cincinnati, Nov. 7.
Worst loss: 63-56 vs. Illinois, Feb. 14.
Three-pointers: 33.8% Free throws: 73.1%
NOTABLE PLAYERS: F Kaleb Wesson 14.6 ppg, 6.7 rpg; G C.J. Jackson 12.1 ppg; F Andre Wesson 8.5 ppg
SCOUTING REPORT
Outside of free throw percentage (74th), Ohio State does not rank in the top 100 of any major offensive statistic. Instead, the Buckeyes pride themselves on their defense ranking top 50 in the country in opponent points allowed (66.2 ppg). The Buckeyes also rely heavily on sophomore center Kaleb Wesson, as went 0-3 without Wesson following a suspension for  "a violation of the Ohio State Athletics Department policy." 
12. New Mexico State Aggies
Record: 27-4 (15-1). NET: 43 KenPom: 49
Best win: 83-78 vs. Utah Valley, Jan. 19.
Worst loss: 82-76 vs. Cal Baptist, Jan. 3.
Three-pointers: 32.8% Free throws: 67.5%
NOTABLE PLAYERS: G Terrell Brown 11.1 ppg; F Eli Chuha 10.1 ppg, 6.8 rpg; F Ivan Aurrecoechea 9.5 ppg, 5.2 rpg
SCOUTING REPORT
New Mexico State doesn't make the three at an efficient rate but they shoot an average of 28 threes per game, ranking 8th in the country. The Aggies have a balanced scoring attack with seven players averaging six or more points. What sets the Aggies apart from most double-digit seeds is their ferocious rebounding and defense. The Aggies have a plus-8.6 rebounding margin ranking fifth in the nation and rank top 25 in opponent points allowed (64.1 ppg)
13. Northeastern Huskies
Record: 23-10 (14-4) NET: 79 KenPom: 79
Best win: 82-74 vs. Hofstra, March 12 in the CAA final.
Worst loss: 75-72, at Towson, Jan. 24.
Three-pointers: 38.8% Free throws: 75.1%
NOTABLE PLAYERS: G Vasa Pusica 17.8 ppg, 4.2 apg; G Jordan Roland 14.7 ppg, 2.4 rpg; G Bolden Brace 10.0 ppg, 6.0 rpg
SCOUTING REPORT
The Huskies have one of the most efficient scorers in the country in Vasa Pusica. Pusica a senior from Serbia, shoots 84.3 percent from the foul line, 58.2 from 2-point range and 40.1 from three. Pusica's efficient offense reflects the Northeastern offense as a whole ranking top 20 in two-point percentage (56.4%) and three-point percentage (38.8%). However, they lack size and have an inferior paint defense. The Huskies can give Kansas all they want and more.
14. Georgia State Panthers
Record: 23-9 (13-5) NET: 121 KenPom: 111
Best win: 83-80 at Alabama, Dec. 4.
Worst loss: 77-75 at Troy, Jan. 19.
Three-pointers: 38.8% Free throws: 65.9%
NOTABLE PLAYERS: G D'Marcus Simonds 18.7 ppg, 4.9 rpg; G Devin Mitchell 12.4 ppg,  2.0 rpg; F Malik Benlevi 11.9 ppg, 5.7 rpg
SCOUTING REPORT
Georgia State and Ron Hunter are back in the NCAA Tournament. We all remember Hunter's chair-fall back in 2014 when the Panthers upset Baylor and made it to the Sweet 16 as a 14 seed. The Panthers have five players who average double-figure points and as a team shoots 38.8% from three, ranking top 20 in the country. 
15. Abilene Christian Wildcats
Record: 27-6 (14-4) NET: 155 KenPom: 145
Best win: 77-60 vs. New Orleans in the Southland Conference tournament final, March 16.
Worst loss: 61-60 at Stephen F. Austin, Jan. 23.
Three-pointers: 38.7% Free throws: 71.7%
NOTABLE PLAYERS: F Jaren Lewis 13.7 ppg, 6.2 rpg; G Payten Ricks 11.7 ppg, 2.8 rpg; G Jaylen Franklin 10.2 ppg, 4.9 apg
SCOUTING REPORT
Head coach, Joe Golden has coached his alma mater to their first NCAA appearance since moving up to Division I in 2013. The Wildcats dismissed two key players in Jalone Friday (13.1 ppg.) and B.J. Maxwell (9.2 ppg.) from the team for "violating university policies". However, this a formidable team that ranks top 20 in the country in three-point percentage (38.6%) and opponent points allowed (63.1 ppg)
16. Iona Gaels
Record: 17-15 (12-6) NET: 205 KenPom: 197
Best win: 81-60 vs. Monmouth in the MAAC title game, March 11.
Worst loss: 99-95 at Niagara, Jan 11.
Three-pointers: 35.1% Free throws: 74.1%
NOTABLE PLAYERS: G Rickey McGill 15.5 ppg, 4.6 rpg, 5.0 apg; G-F E.J. Crawford, 17.9 ppg, 5.1 rpg; F Tajuan Agee 13.3 ppg, 8.1 rpg
SCOUTING REPORT
Iona is making its fourth straight NCAA appearance after winning the MAAC title for the fourth straight year. While this team has a fun and explosive offense, the Gaels are very bad on the defensive end ranking in the bottom 100 in opponent three-point percentage (36.8%) and points allowed (75.6)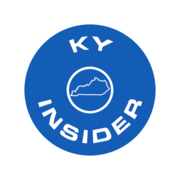 Kentucky Named a "Loser" of the Transfer Portal This Offseason, Frustration Grows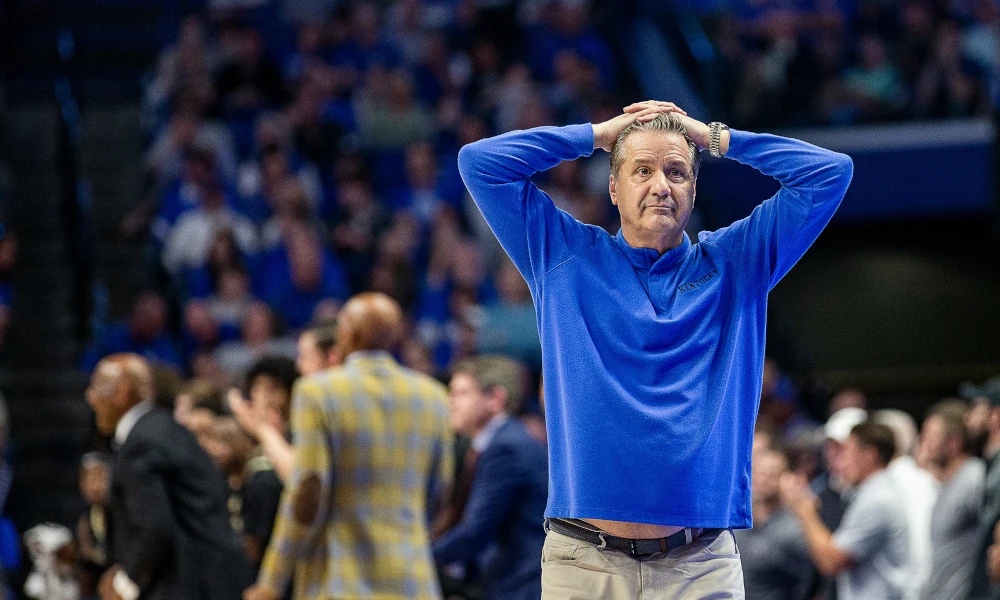 One NCAA Tournament win over the last three seasons is far from acceptable by Kentucky basketball standards. For that reason, tension and expectations are high going into what many believe is a make-or-break season for John Calipari.
While the Wildcats do have the No. 1 recruiting class coming in – which includes five freshmen – they have only returned only two players that played at least five minutes per game last season – Adou Thiero and Ugonna Onyenso – and have lost at least four to the NBA Draft or to the portal.
As the roster stands, only eight scholarships of the thirteen the NCAA allows are taken. With the draft withdrawal deadline on May 31st, that number could change as Chris Livingston, Oscar Tshiebwe, and/or Antonio must make their final decisions. However, it is highly unlikely they all decide to return.
With that said, the staff has made their bed. They didn't express a lot of interest in the transfer portal, but lost out on the two prospects they did want, Hunter Dickinson and Keshad Johnson. Now this late in the portal, there aren't currently many options that can replace the production or level of player that Kentucky has lost and are expected to lose.
For these reasons, 247Sports' Travis Branham named Kentucky one of the biggest losers of the transfer portal.
"They do have the No. 1 recruiting class in 2023 incoming but this is a team that has been at the mercy of Oscar Tshiebwe and Antonio Reeves. There is so much riding on these two and they have not landed a single transfer as of yet. Even if one of those guys opts to go to the draft and not return, that's an extremely big hit to the Kentucky program, especially this late into the portal," Branham said.
"There's not many more that we're anticipating to go in there. Will still be a couple, but not many that can move the needle and they will be in line trying to advocate to get these kids on campus. As of today, there's only seven scholarship players for the 2023-24 season for Kentucky and that can really be a big, big miss if Antonio Reeves and Oscar Tshiebwe opt to stay in the draft."
Kentucky is recruiting all three players to stay, but realistically hoping for the return of Reeves and Tshiebwe. John Calipari is planning to visit Tshiebwe this weekend in Charlotte to gauge where he stands in his final decision.
At the start of the offseason, Reeves and Tshiebwe would have been two of Kentucky's best options regardless of who was in the portal, therefore if Calipari is able to retain them, the outlook will become much more optimistic. While Livingston could have an All-SEC caliber ceiling as a sophomore, Calipari could find a capable wing player (i.e. David Jones) to fill that role.
Either way, the roster picture will become much clearer in just a matter of days, but depending on what those decisions are the panic meter will certainly rise for the Wildcats.
Is Oscar Tshiebwe Trending Towards a Return? It's a "Toss-Up", Per Report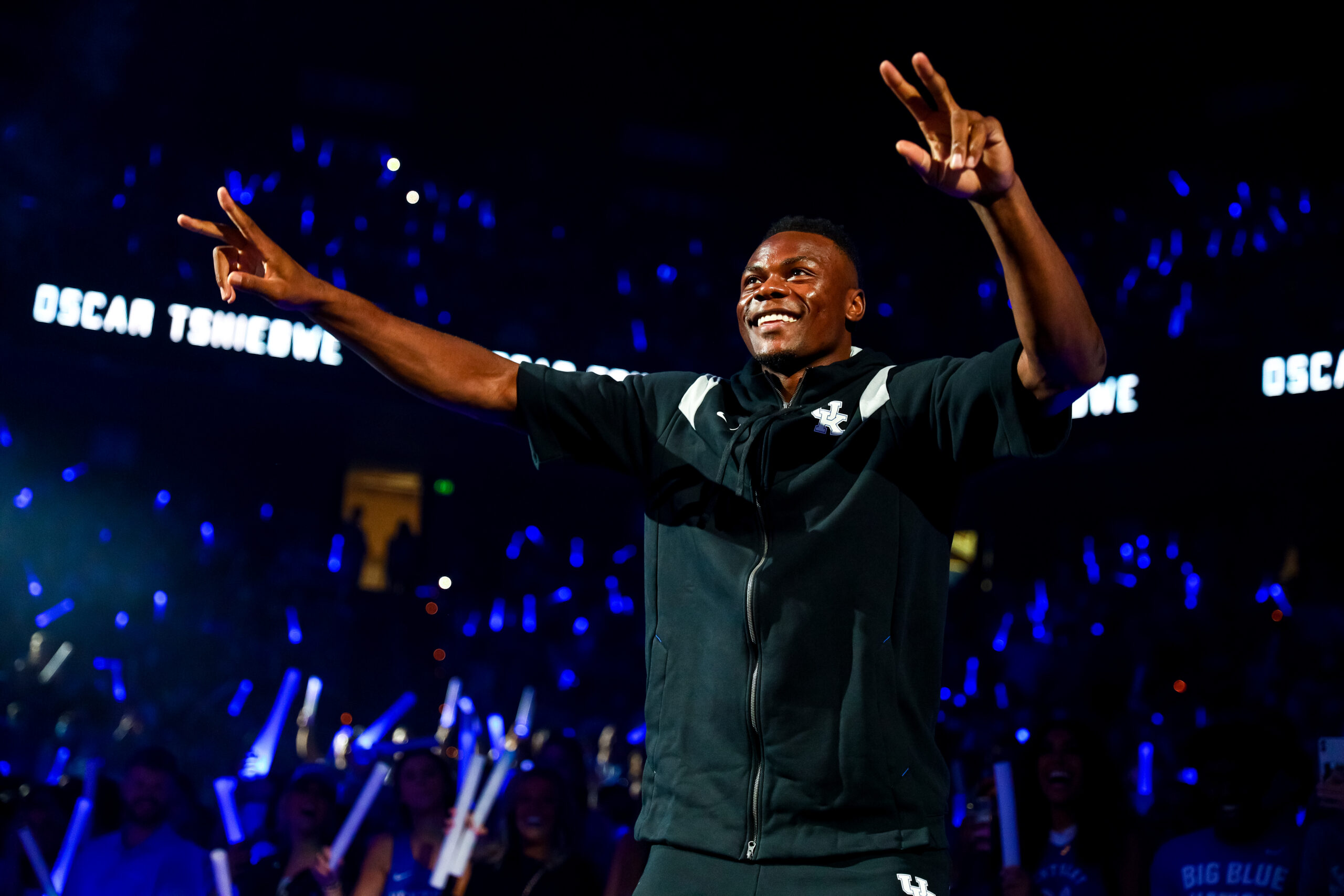 May 31st is the most important upcoming date for the Kentucky basketball team, as that is the NBA Draft withdrawal deadline. The final stay/go decisions from Chris Livingston, Antonio Reeves, and Oscar Tshiebwe will be made, but as it stands, not one of those decisions is clear. Of them, Tshiebwe's decision may be the most dynamic.
Going into last season, most assumed that it would be Oscar Tshiebwe's last season at Kentucky, and as the offseason began, that expectation continued. However, the effect of NIL on his decision was initially underestimated.
Last season, Tshiebwe made an estimated $2 million in NIL, which far surpasses the valuation of a late second-round NBA Draft pick, which is near the minimum salary of just over $1 million. With a return, there is optimism that he would make a similar amount.
On the other hand, Tshiebwe is 23 years old and his professional prospects would not improve with a return. Instead, he would almost certainly be taking a reduced role – which he is okay with – as is expected with the talented freshman class coming in. To add, Tshiebwe helped his stock with his NBA Draft Combine performance last week.
With that said, Tshiebwe's decision looks to be a "toss-up" and it is according to a live stream featuring Jack Pilgrim of Kentucky Sports Radio. Those hoping for a return include John Calipari, who has been recruiting him to come back for another season, and this weekend Calipari is expected to visit Tshiebwe in Charlotte.
This time next week, there will be a much clearer picture of what Kentucky's roster will look like and what roles will need to be filled.
Amidst Fan Frustration, Kentucky Contacts Top Transfer David Jones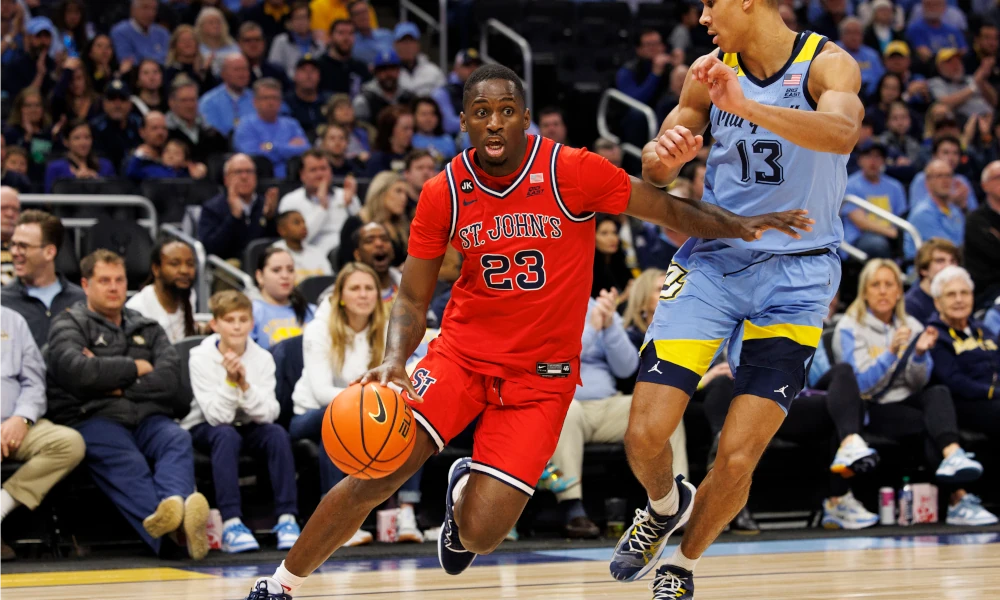 Kentucky has had several players leave this offseason, with more expected to depart as they make their final decisions by the May 31st NBA Draft withdrawal deadline. However, they have yet to add anyone to the roster. With only eight scholarships taken, of the thirteen the NCAA allows, there are spots to be filled.
This has been greeted by plenty of fan frustration. With Kentucky's freshmen anticipated to arrive on campus at the beginning of June, and the Wildcats set to play in GLBL Jam in Canada in mid-July, things must pick up soon.
With that said, on Wednesday, Kentucky reached out to St. John's transfer David Jones, who is one of the better wing options remaining in the transfer portal. Other schools that have reached out include Arkansas (obviously), Memphis, UConn, and Xavier.
Despite being the second leading scorer for the Red Storm (13.2 ppg), Jones entered the portal following the news that Rick Pitino would be taking the head coaching job. Interestingly enough, this is not the first time that Jones has entered the portal or that Kentucky has expressed interest in Jones.
Prior to his time at St. John's, Kentucky recruited Jones out of high school as a four-star recruit, even bringing him in for an unofficial visit to Lexington back in February 2020. However, Jones ultimately committed to Depaul, where he played for two seasons and averaged 12.5 points and 7.3 rebounds his last season there.
Then last April, Jones entered the portal for the first time and Kentucky again expressed early interest before deciding it wasn't a fit given the significant roles that Oscar Tshiebwe, Jacob Toppin, Daimion Collins, and Chris Livingston were going to have.
As Kentucky reaches out this time, they do so with roles to be filled on the roster, and the Wildcats could certainly use a 6-foot-6, 210-pound wing with a career average of 12.6 points and 6.5 rebounds.