No. 1 Player in the State, Hayes Johnson Commits to Kentucky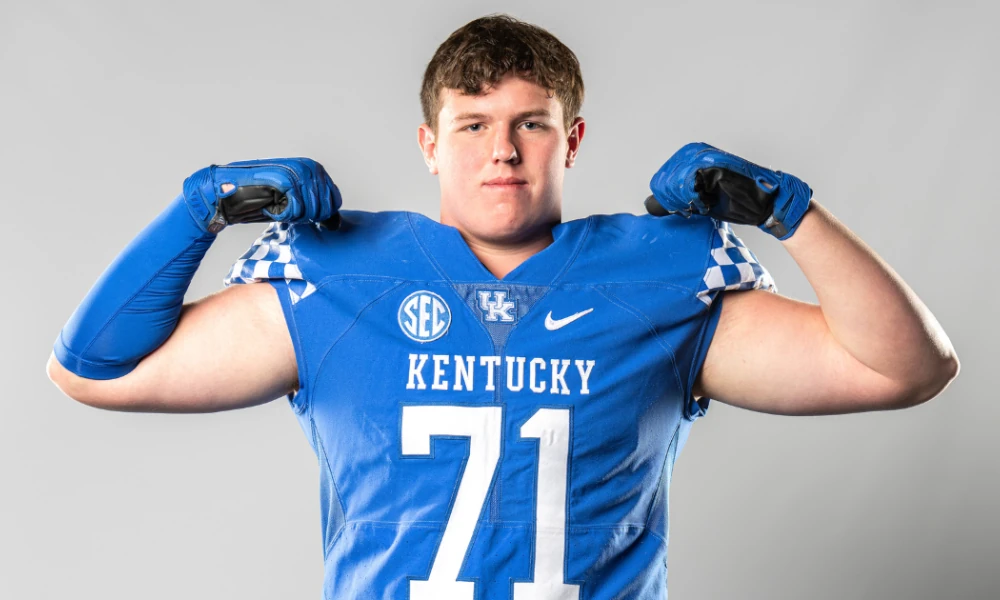 On Thursday, Taylor County high school hosted a commitment ceremony for 2024 three-star Offensive tackle, Hayes Johnson, the No. 1 player in Kentucky for the 2024 class.
Johnson has been a hot commodity in this class because of his size and his elite skills in pass blocking which many teams need for the future. Ultimately, he chose Kentucky over other schools such as Baylor, Cincinnati, Louisville, Michigan State, and Tennessee.
From Campbellsville (KY), Johnson is a 6-foot-5, 295-pound tackle from that has the physicality to play at the SEC level. This is exactly what the Cats needed for this class, as they try to rebuild the pedigree of the Big Blue Wall, following the struggle of last year's offensive line.
The impact will be felt for the Cats as soon as Johnson steps on campus because of his skill set. He has the size to fight for a starting spot and day 1 and has a chance to be a three-four year starter which is very rare in college football nowadays.
With that said, Johnson has another year to get even better in the pass-and-run game to begin playing for the cats in 2024 when they would likely have a lot of new young faces on the offensive line. Comparisons for Johnson begin with another in-state player, Landon Young, who was an All-SEC level tackle for Kentucky (2016-20) and had a very similar frame to Johnson.
Johnson's commitment is a big step in the right direction as the program trys to find young pieces to build the Big Blue Wall for the coming years.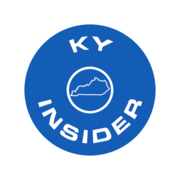 Top 2025 QB Ryan Montgomery Schedules Return Visit to Kentucky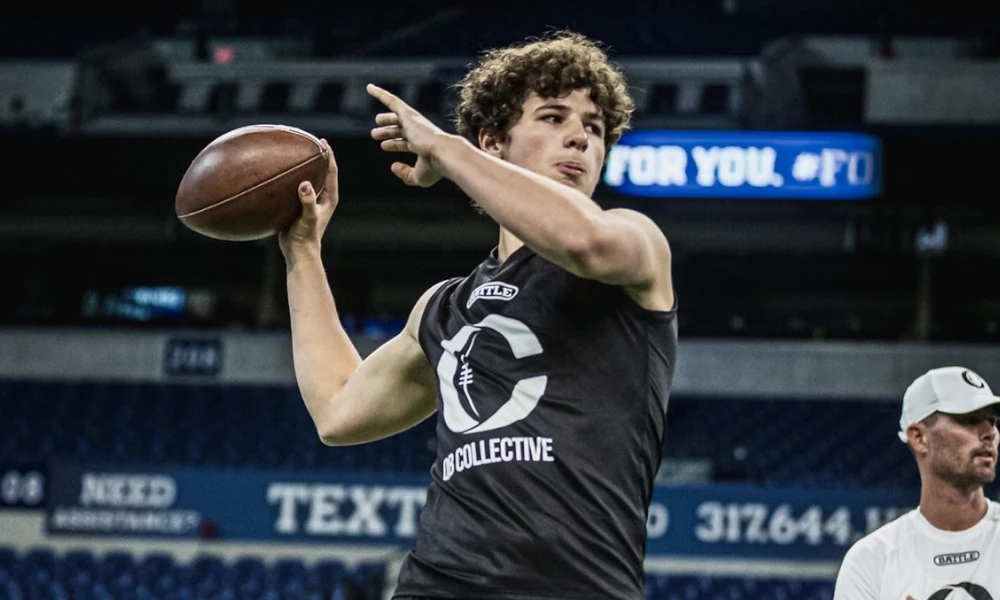 Ryan Montgomery is one of the top quarterbacks in the 2025 class who visited UK on Junior day and liked his visit to the point where he is going to return for a 2nd visit this spring.
Montgomery is a 6'3, 210-pound four-star quarterback from Findlay, OH with a rocket of an arm as a sophomore this past fall. He has an older brother named Luke Montgomery who plays offensive tackle for Ohio State which is also one of the schools that have offered him.
This kid is a hot commodity in the 2025 class already fielding offers from college football powerhouses such as Michigan, Ohio State, Penn State, Notre Dame, Georgia, Tennessee, and Miami. This would be an enormous get for Kentucky over schools of that caliber.
Liam Coen's return to Lexington has made it possible for kids like this to have Kentucky on their list. High-level high school kids want to learn from a guy with NFL experience in an NFL scheme.
Montgomery will visit UK once again on March 30th during spring practice to see what a Kentucky practice would normally look like and see where he would fit in if he were to come to UK.
This next season will be a big year for UK and Coen to prove to everyone including future quarterback prospects that this offense is one where they would be able to flourish. Kentucky's struggles on offense last season were not what these recruits want to see and play in the future.
Along with Montgomery, Kentucky is also after Cutter Boley and Stone Saunders in the 2025 class to be able to bring an elite quarterback recruit to Lexington.
This a big spring visit for Kentucky that will need to impress for Montgomery to consider playing here in 2025.
Kentucky Offers Top 2025 Quarterback During Visit, Talks About Connection to Liam Coen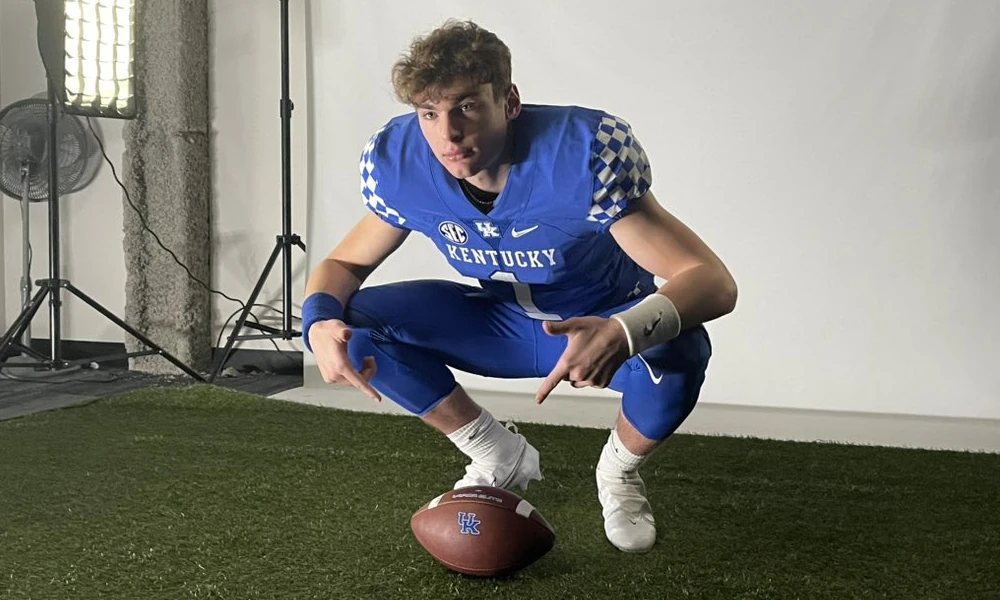 Kentucky has been well aware of the fact that in order to be competitive in the SEC, let alone the East, the offense needs to be run by a high-profile quarterback. This is something that the staff confronted with the addition of Will Levis in 2021.
This upcoming season is no different, as they successfully recruited one of the best QBs in the transfer portal, Devin Leary. Using the portal for Levis and now Leary, the Kentucky staff will likely do the same in 2024, but they are looking at the high school ranks for 2025 and beyond.
Already offering two of the best quarterbacks in the 2025 class, Cutter Boley and Ryan Montgomery, there is now another name to keep an eye on, Stone Saunders.
The 6-foot-2, 205-pound sophomore quarterback could be one of the next names in the Liam Coen-led offense, receiving an offer from the Cats during Junior Day weekend at the end of January.
The Pennsylvania native won the 2022-2023 Pennsylvania Football Player of the Year Award and already holds offers from Georgia, Penn State, and Texas A&M among others. Kentucky has one advantage that these other schools don't have, Liam Coen.
"I've known Liam my whole life pretty much. My dad trained him for his Pro Day when he came out of college, so he's been a family friend for a long time," Saunders told Cats Illustrated. "m so pumped he's back at Kentucky. Liam is an amazing person and an offensive genius."
What does Saunders think of Kentucky's playstyle? "It's a great pro-style offense and they think I can be a great fit with that system. I can read and process the way the system demands."
Saunders still has some time until he makes his college decision, but since his offer and visit to Kentucky, he has let it be known that he and his family have not planned any more visits for the foreseeable future, leaving Kentucky as his last impression.
With Coen back as the play-caller, Kentucky continues to gain momentum on the recruiting trail.
Top 2025 QB Cutter Boley, Talks Kentucky Visit, Compares to Tennessee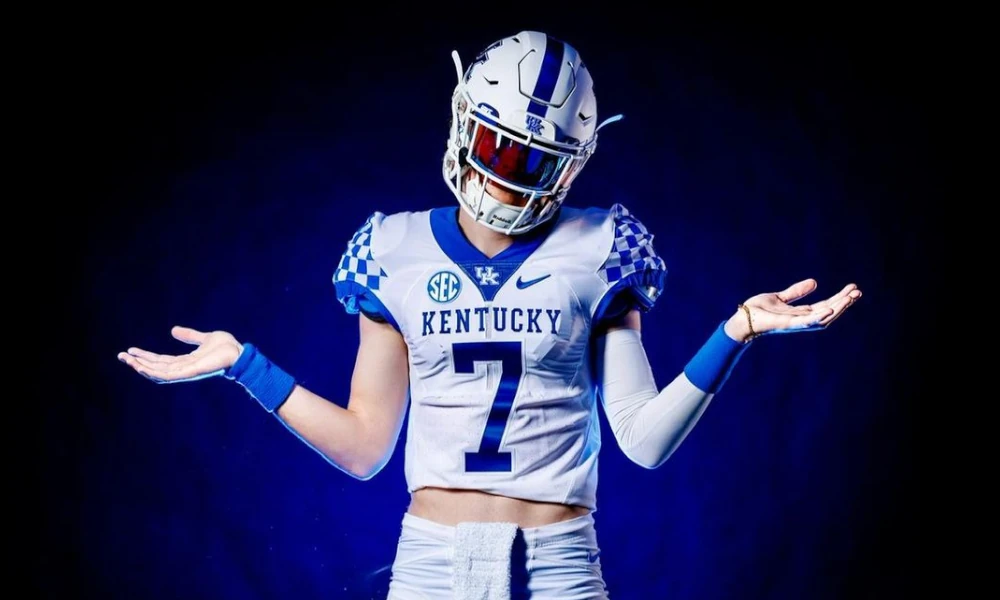 Lexington Christian Academy quarterback, Cutter Boley, is one of Kentucky's highest-priority targets in the 2025 class. Considered to be one of the best quarterbacks in the class, it is safe to say that we will have his choice of school.
Thus far Boley has received offers from Alabama, Clemson, LSU, and Tennessee among other historical programs, but Kentucky is still very much in play. Boley recently took part in an interview with Justin Rowland of Rivals following his visit to Kentucky, updating his recruitment and his relationship with Kentucky.
The Wildcat staff have brought in two high-level quarterback transfers but they are interested in bringing in a top quarterback from high school soon, and that could be Boley. Coen's return increases those chances, as Boley admits that his relationship with Kentucky wasn't as strong while Rich Scangarello was here.
"I didn't have a lot of contact with Coach (Rich) Scangarello. I really only had contact with Vince (Marrow) and Stoops," Boley said. Yet, it's not that he didn't like talking to Scangarello, he was just he was made a priority. "I liked talking to him (Scangarello), but I don't think he was very big on the recruiting part. Coen's definitely a lot easier to talk to."
A big part of his trip was reconnecting with Liam Coen following his return to Lexington, whose impact on recruiting cannot be understated. Boley had some high praise for Coen, saying, "He's like the easiest dude to talk to in the world. He's awesome."
The Kentucky staff is selling Boley on their pro-style offense, and being a hometown destination that can get him to the NFL. "A lot of the stuff they do translates to the NFL. And also being a hometown guy, they really stressed to me that they really want me."
For much of Boley's recruitment, Tennessee has been considered as Kentucky's biggest opposition. What does he see in the team in Knoxville? "I'd be putting myself in a position to throw the ball a ton every single game."
Between the two schools, it doesn't look like one has gained a significant lead over the other based on Boley's words. In fact, he feels "like they can both help me a lot."
Boley is clearly high on Kentucky's board, but there is still a long way to go in his recruitment and the Wildcats will have plenty of competition. In addition to the number of schools he has laready visited, Boley also plans to visit Florida State, Michigan, Alabama, and Penn State this spring.