Kentucky Basketball Recruiting Round-Up for 2024 Prospects
In the last couple of weeks, Kentucky basketball has made moves and seen progress with some of its prospects in the 2024 recruiting class. Coach Cal and company dominated recruiting for the class of 2023. Expectations for recruiting success in the 2024 class will be just as high.
No. 2 Guard in 2024 Class, Ian Jackson, Set to Commit on Monday
One of the top players in the 2024 class has made his decision and will soon be announcing it and ending his recruitment. Ian Jackson, the No. 2 overall player in the class, is set to make his announcement at 3 PM EST on Monday between Kentucky, North Carolina, and Arkansas.
Kentucky has long been thought to be the favorite, but following a visit to North Carolina, they have made up a lot of ground on Jackson. The top-ranked guard was interviewed by Kentucky Sports Radio's Jack Pilgrim at the Hoophall Classic on Sunday.
On one hand, Jackson talked glowing about Kentucky and their ability to get guys to the NBA after one season, seeing himself as that caliber of player.
"Their history of putting pros in the league, getting guys in the league. One-and-done guys, specifically, NBA guys thriving in the league," Jackson said of Kentucky. When asked about how his yet-to-be-announced school set itself apart he gave a Kentucky-favoring answer, "I feel like in their system, I'll thrive and be a one-and-done.
Yet, Jackson also talked about North Carolina and his recent visit in high regard. "The family aspect… I felt like that's where I should be, from what I thought," Jackson said.
Given these comments, insider predictions are split, but all will be answered come Monday afternoon.
Kentucky Visits 2024 No. 1 Center, Flory Bidunga
On December 20th, 2022, head coach John Calipari and assistant Orlando Antigua made the trip up to Kokomo, Indiana to watch Bidunga and Kokomo take on Zionsville. Bidunga is a 6-foot-9, 210-pound center. He is the #1 ranked center in the 2024 class according to On3 and 24/7 Sports recruiting rankings. ESPN currently has him as #2 behind Jayden Williams.
Each of these databases has him ranked as the #3, #4, and #7 overall recruit in the 2024 class, respectively. In the 2022-2023 season, he is averaging 17.9 points, 12.6 rebounds, and 4.9 blocks per game.
The highly-touted center has the length and wingspan that helps him to be a great shot blocker and also gives him an advantage in finishing at the rim. Despite his length, Bidunga displays surprising finesse by converting floaters and corner jumpers off the pick-and-roll.
Kentucky offered Bidunga on October 11th, 2022 however, UK is not currently on his shortlist. According to On3 and 24/7 Sports, Cincinnati has the best odds to land him at this time. Other schools targeting Bidunga include Florida, Auburn, Purdue, Michigan State, and Indiana.
It will be interesting to see if Coach Cal and his staff will be able to get in the mix before he makes his final decision.
Kentucky offers 3-star shooting-guard, Billy Richmond III
Billy Richmond III is a 6-foot-5, 200-pound shooting guard from Memphis, TN. He is the son of Billy Richmond Jr., who played for Coach Calipari at Memphis from 2002-2004. Coach Cal made an official offer to Richmond III on December 30th, 2022. This follows a recent trend of Coach Cal's as he has now offered a legacy recruit in three consecutive classes – Adou Thiero (2022), DJ Wagner (2023), Billy Richmond III (2024).
Richmond III is the 28th-ranked SG in the 2024 class. He is currently averaging 12.4 points, 2.4 assists, and 2.6 steals per game for Camden High School (NJ). He plays alongside current UK commits in the 2023 class, DJ Wagner and Aaron Bradshaw.
Kentucky Makes List for Four-Star Point Guard, Tahaad Pettiford
The No. 2 point guard in the 2024 recruiting class announced his final seven schools on January 2nd, 2023. His list included Kentucky along with UCLA, Auburn, Kansas, UConn, Seton Hall, and Ole Miss. Kentucky first offered Pettiford on July 13th, 2022.
Pettiford is ranked as the No. 2 PG and No. 21 overall in the class by 24/7 Sports Composite. He stands 6-feet, 160 pounds and even though he isn't the tallest player on the court, Pettiford's athleticism allows him to play above the rim.
He fits the mold of a typical John Calipari point guard – a lefty with explosive quickness, athleticism, and ability to push the pace (i.e. De'Aaron Fox and Sahvir Wheeler). As a sophomore, Pettiford averaged 18.4 points per game.
Top 10 Forward in 2024, Airious "Ace" Bailey, Commits to Rutgers over Kentucky
Airious "Ace" Bailey is the 6th ranked overall player in the 2024 class according to the 24/7 Sports Composite rankings. The 6-foot-10 small/power-forward included Kentucky in his final 12 schools to start 2023.
Bailey announced his list with a graphic via Twitter and Instagram on January 1st, 2023. In addition to Kentucky, his list included Georgia, Rutgers, Auburn, Texas, Memphis, South Carolina, Tennessee, Kansas, West Virginia, Oregon, and Arkansas.
In a surprise turn of events, Bailey announced his commitment to Rutgers on Sunday.
Bailey's natural length and athleticism are supplemented by explosiveness and a go-get-the-ball mentality. He is a threat on both ends of the floor as he can shoot, rebound, and guard all 5 positions. Much of his talent comes from raw ability alone as he is still in need of refinement of some skills.
Bailey is currently averaging 17.5 points, 9.5 rebounds, and 2.3 blocks per game.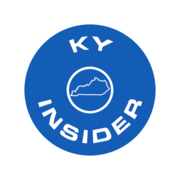 Top In-State Freshman, Jayden Johnson, Talks About His Dream to Play for Kentucky and John Calipari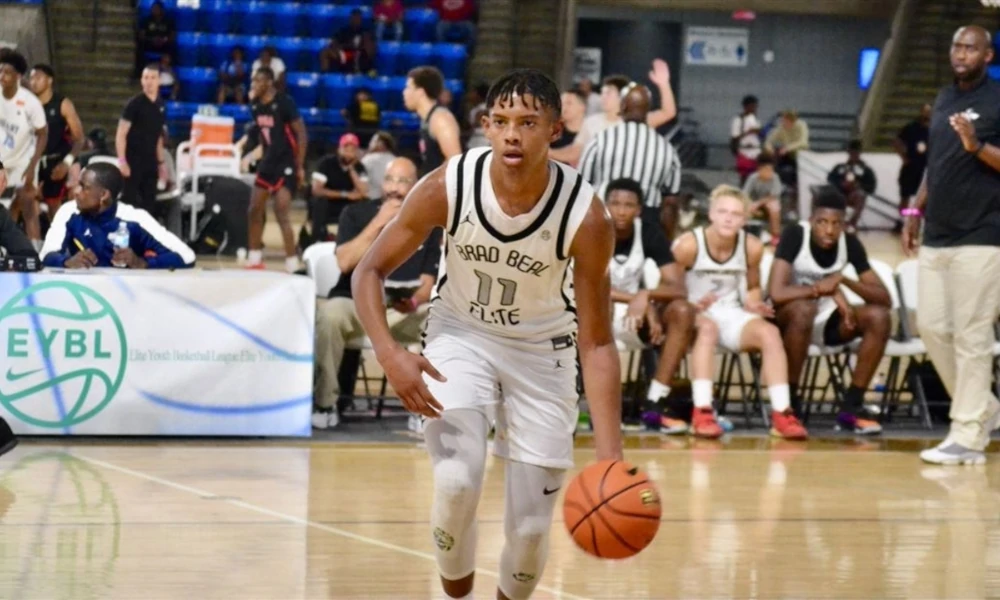 It's the dream of so many young basketball players, to put on the blue and white and play basketball for the University of Kentucky. This is especially true for the kids who have grown up in Kentucky. As is the case for Trinity (Louisville, KY) freshman guard, Jayden Johnson.
Johnson, who previously played on the varsity team at Louisville Male as an eighth-grader before selecting Trinity when starting high school this year, is one of the rising players in the 2026 class. While slender, Johnson already has good length and size, standing 6-foot-5, but also plays more maturely than his age.
With his size and skill set, Johnson, already holds high-major D1 offers from Cincinnati, Missouri, Texas A&M, and West Virginia. However, he has also received some interest from some pretty big local programs, Kentucky and Louisville.
Now Johnson is picking up a lot of hype recently playing a pivotal role for Trinity in their six-point win over Huntington Prep from West Virginia.
Back in December, Kentucky assistant coach Orlando Antigua attended the Play-by-Play Classic event held at Freedom Hall, where he got his first look at Johnson as Trinity took on Huntington Prep. While he did not have his best game offensively, he showed his aforementioned maturity, playing a key role in a narrow win: being a leader and talking on defense, and displaying the ability to find open teammates.
Following the game, Johnson said, "Growing up, I was a Kentucky kid, Kentucky fan. Always wanted to play for Coach Calipari, he's awesome". He is not the first prospect to say this, but it is a positive sign and may give Kentucky a slight early advantage.
Johnson has never spoken with Calipari directly, as he is unable to due to NCAA rules, but he says that Calipari has been in contact with the people who represent him. This a big first step in recruiting a young kid, who will receive a lot more attention over the next four seasons.
National recruiting services such as 247Sports and Rivals have yet to release their 2026 rankings, but Johnson is considered a Top-25 prospect. When the 2026 rankings start coming out, expect to see the 6-foot-5 guard high in the rankings and likely tabbed as the No. 1 player in the state of Kentucky.
Top Basketball Recruits Visiting Kentucky This Weekend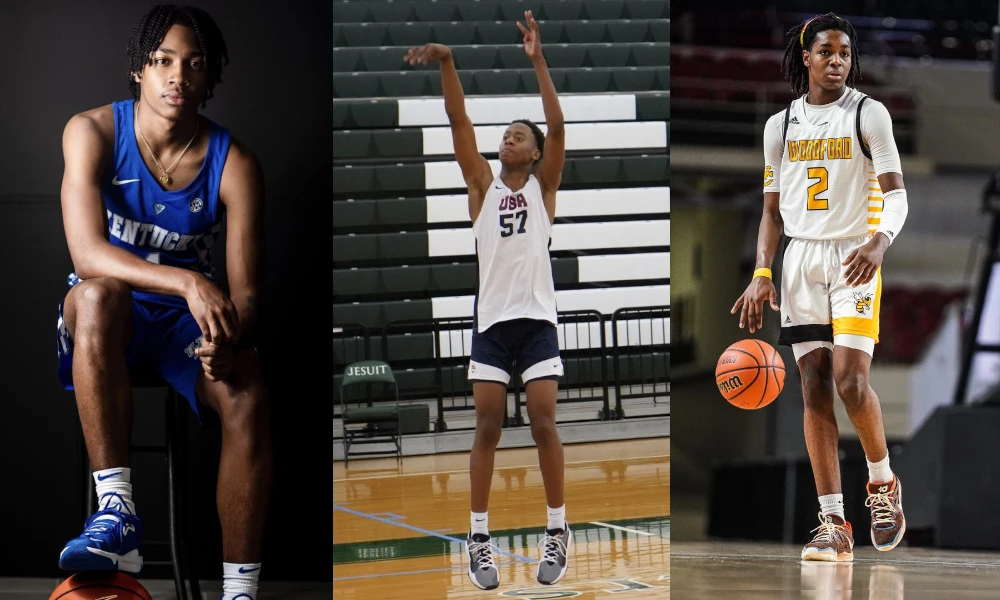 Kentucky and Kansas are the two most winningest programs in college basketball history, and any time they play each other it's going to be a big-time game. On Saturday, the two teams will face off for the 35th time, with Kentucky holding an overwhelming 24-10 advantage.
With a motivated team and excited fanbase, the Rupp Arena atmosphere will be one of the best this season, if not the best. This makes it a perfect opportunity to show the best of the program and Kentucky will have three top recruits making visits.
Let's check them out!
Rob Dillingham (2023, No. 9 Overall, No. 1 PG)
The lone Kentucky signee, Rob Dillingham is a part of a stacked 2023 recruiting class that includes Aaron Bradshaw, DJ Wagner, Justin Edwards, and Reed Sheppard. He is the No. 2 ranked point guard in the class behind, only behind Wagner (247Sports).
With a slim 6-foot-2, 165-pound frame, Dillingham is one of the most electrifying and most talented guards in the 2023 class. Currently playing for Overtime Elite, he is averaging 13.3 points, 4.8 assists, and 2.6 rebounds.
Unfortunately, playing for Overtime Elite, Dillingham does not meet all the criteria to be selected as a McDonald's All-American, specifically the following: "Attends and participates in a high school program that has ONE eligible varsity team and is a member of a high school athletic conference or league."
It is worth noting, that despite signing his National Letter of Intent, there have been rumors of Dillingham not actually coming to Kentucky. While his recruitment has been unique, I believe that is unlikely. His visit on Saturday should add confidence to that.
Tre Johnson (2024, No. 1 Overall, No. 1 SG)
Tre Johnson, the No. 1 prospect in the 2024 class (247Sports), would be a huge get for Kentucky to make a splash after missing out on Ian Jackson. A 6-foot-5, 180-pound combo guard out of Texas playing for Lake Highlands High School and is an elite playmaker that can do just about everything, but is an elite shooter.
Johnson's recruitment is spearheaded by UK's newest assistant K.T. Turner, known for his recruiting ties in Texas, and even ties to the Johnson family themselves. Tre's father, told the Lexington Herald-Leader back in August that Turner has "always been a good friend," and "He [Turner] reaches out to Tre every other day or so."
While Kentucky is in a good position, Johnson says he is "open to anywhere". Having already taken visits to Texas and Baylor, Kentucky will be his third with more coming including Arkansas, North Carolina, and Duke. With that said, the professional routes will be a contender to land Johnson's services.
Jasper Johnson (2025, No. 26 Overall, No. 4 CG)
Ranked as the No. 1 sophomore in Kentucky, and a top-30 prospect in the country overall, Jasper Johnson is receiving interest from top schools around the country such as Alabama, Arkansas, Indiana, and Tennessee.
Standing 6-foot-2, 165 pounds, Johnson is still growing into his frame, but possesses great length which allows him to be active in the passing lanes. On the offensive side, he possesses a smooth jump shot and some surprising explosiveness.
Jasper grew up a Kentucky fan as his father, Dennis Johnson, was an All-SEC defensive end for the Kentucky football team. However, he would like to hear more from the Wildcats, which will likely happen this spring if he sustains his high level of play. It is promising that he is taking a visit now.
Four 2023 Kentucky Signees Selected as McDonald's All-Americans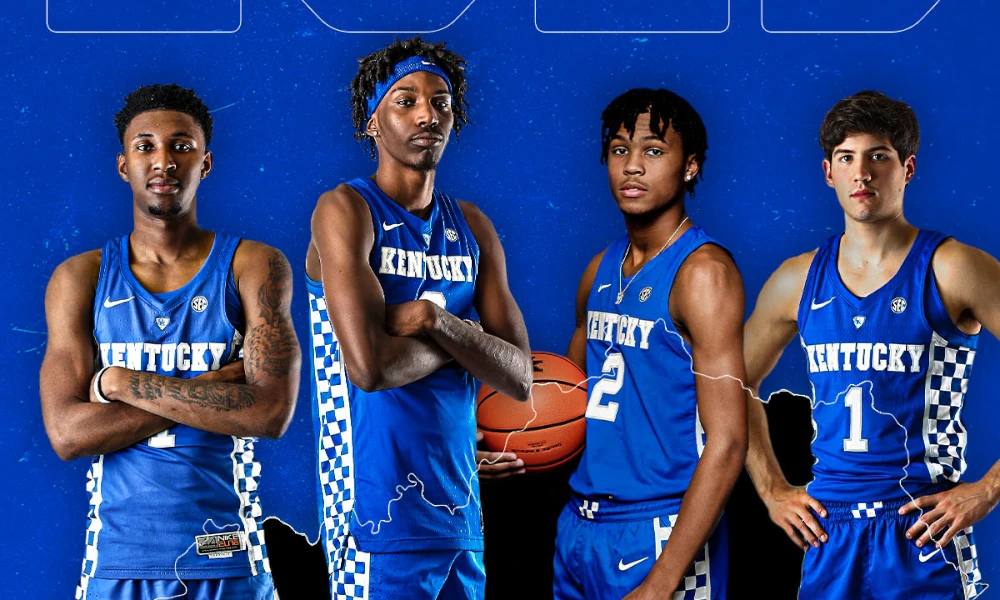 With four signees in the top 10 and five in the top 25, Kentucky's 2023 recruiting class is one of the best collections of freshman talent in school history (on paper). On Tuesday, the hype around the group grew as four were selected as McDonald's All-Americans: Aaron Bradshaw, Justin Edwards, Reed Sheppard, and DJ Wagner.
Kentucky's four selections are the most of any school, with Duke in second with three selections. However, Kentucky could have easily had five. Rob Dillingham, who is a consensus top-10 prospect and one of the most electrifying players in high school basketball, was ruled ineligible to be considered.
According to sources with knowledge of the ruling, Dillingham and Overtime Elite were both aware of the circumstances surrounding the game prior to his enrollment, and Overtime was given things to adjust in order to meet requirements but were unable to do so.
With that being said, the game will still be an opportunity for these future teammates to play together and for the Big Blue Nation to see them before they arrive on campus. Three Wildcats – Bradshaw, Edwards, and Wagner – will all team up on the East squad, while Reed Sheppard is the lone Wildcat on the West squad.
The game will take place on March 28th on ESPN.