Kentucky Basketball Shoots Too Many Mid-Range Shots and Too Little Threes, and the Stats Prove It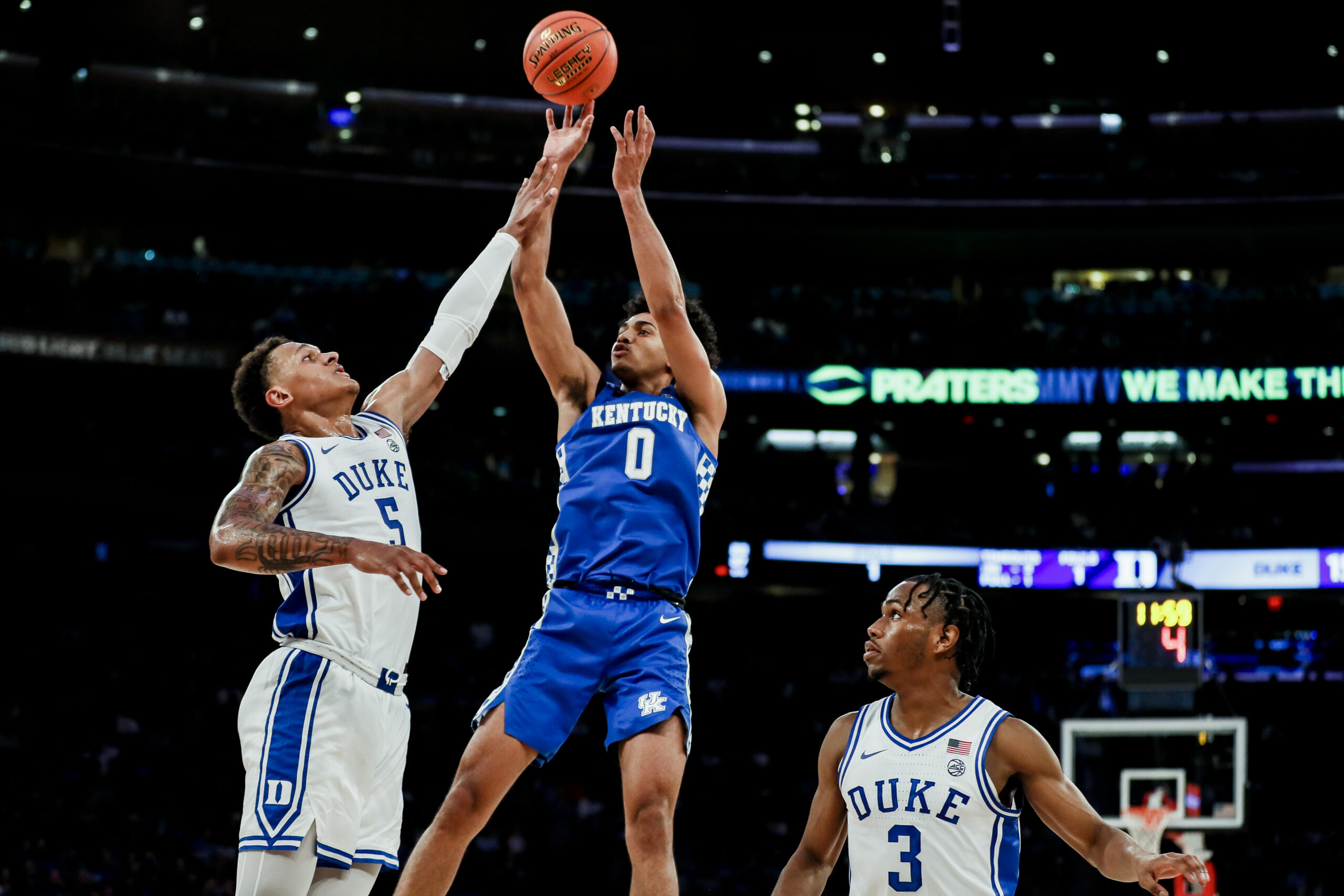 Photos by Chet White | UK Athletics
Note: All stats are as of 12/5/21
My biggest frustration with John Calipari in recent years has been his stubbornness against shooting more three-point shots and to keep shooting mid-range shots. In the past, Calipari could rely on his lack of "three-point makers" as an excuse, but that is not the case this season.
Good at Making Threes, Not So Good at Shooting Them
Seven games in, Davion Mintz, Kellen Grady, and TyTy Washington are shooting over 40% from three. This doesn't even include a struggling Dontaie Allen, that will almost certainly find his shot. As a team, Kentucky is in the top 60 and shooting their best percentage from three since the 2012 championship season at 33%, compared to their 38%.
You would have to go back over two decades to the 1996-97 team to find a Kentucky team with three players that played meaningful minutes and shot 40% from three. Not to mention, that 1996-97 team (19.4 attempts per game) shot nearly the same amount of threes as we do now (19.0 attempts per game), twenty-five years later.
With that being said, Kentucky is still ranked in the bottom twenty (339th to be exact) of the country in three-point attempt rate and 284th in attempts per game at 19.0. Whereas, the top 5 teams in the country are shooting an average of 24.3 attempts per game.
Ideally, this team needs to be shooting 22-23 threes per game.
Finishing at the Rim, but Not Enough Free Throws
Knowing that one would assume that the Cats should be getting to the rim and getting a lot of free attempts, right?
Kentucky is slightly above average at getting to the rim, ranking 126th, but sit behind six other top ten teams. Yet, they are taking advantage of their chances at the rim with a 67.2% conversion rate around the rim, good enough for 12th in the country.
On the contrary, their free throw rate doesn't look too good, as they are sitting at 338 of 358 teams in that area and in the bottom 100 in total attempts.
The Least Effecient Shot in Basketball
So what does that leave? The dreadful and least efficient shot in basketball, the mid-range shot.
Nothing has aggravated me more in recent years, than a player shooting a shot just inside the three-point arc or shooting a forced and difficult 15 footer.
With 33.56 shots per 100 possessions, Kentucky shoots the fourth most mid-range shots in the country (note: UCLA is second). To make it even worst, they are not shooting effectively with these shots, averaging in the bottom half of the country in mid-range percentage.
This team is smaller and less athletic than we have become accustomed to under Cal, but they can shoot and convert at the rim better than we are accustomed to. Why not change your offense around this team's strengths and stop shooting mid range shots?
This team is 6-1 (even with a subpar schedule) and ranked top-10 in the country, so this team is very talented. John Calipari is a hall of fame coach, and I am just a blogger that used to play basketball. However, this team is still not quite playing modern basketball and that worries me when looking at the other top teams in the country.
As the season goes on, I hope Cal can tweak his offense a bit more to the way basketball has been played for nearly the last decade.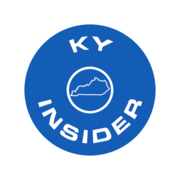 Future Hall of Fame Coach Says Tyrese Maxey "Is the Most Impressive Young Player I've Ever Had"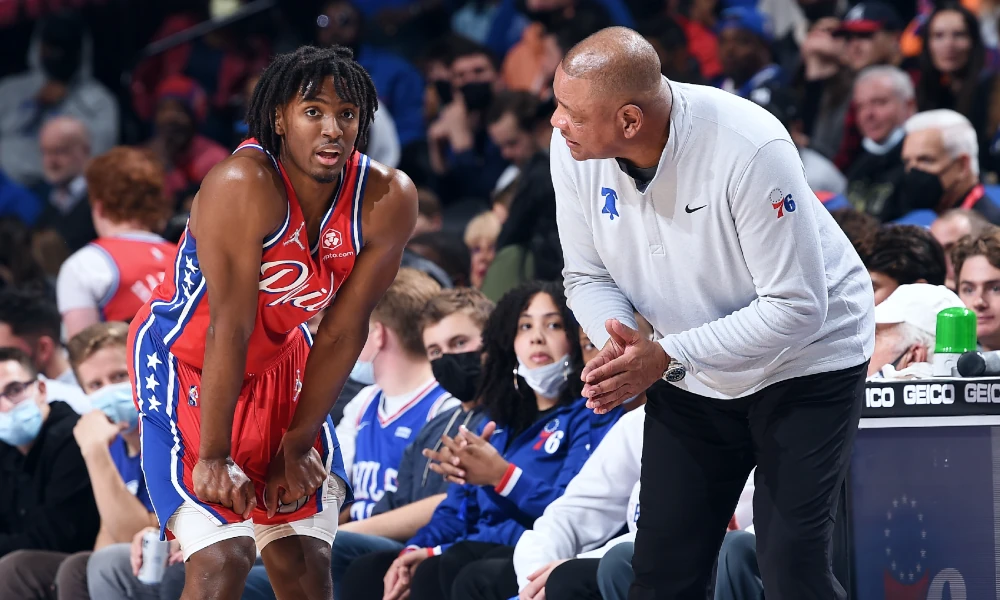 The 2019-2020 Kentucky's men's basketball team will be a team that fans will ask "what if".
Featuring four players averaging double-figure points, the team consisted of the SEC Player of the Year (Immanuel Quickley) and three total All-SEC selections (Immanuel Quickley, Nick Richards, Tyrese Maxey), winning the SEC regular season championship by three games.
While that team did lose to Evansville at Rupp Arena in November, they were clearly playing their best basketball in March and could have contended for a national title before all postseason tournaments were cancelled due to the COVID-19 pandemic.
While that team couldn't show out in the NCAA tournament, Quickley and Maxey have both impressed and proven they belong in the NBA. In fact, NBA championship-winning and future hall of fame coach, Doc Rivers, called Maxey the most impressive young player he has ever coached while on The VC Show with Vince Carter.
"He's the most impressive young player I've ever had in 21 years of coaching. So that's how impressive he is. His work ethic, Vince, is beyond belief. I mean many times, already this summer at least two or three times, we've had to tell him to go sit down somewhere and go relax. He works with Sam Cassell and my son Spencer as they're skill development coaches and he called Spencer two weeks ago because, like I guess like Ros (Gold-Onwude), he went on the vacation. The difference Ros is this is the first vacation he's ever been on in his life is what he told us and I was like, 'Wait, what?' he said 'No, I've never been on vacation' and he asked Spencer, 'What do you do on vacation?' True question like 'What do you do on vacation?' And Spence was like, 'You relax.' And he's like, 'For how long? For how many days? I mean, we're going through a week. I can't relax for a week.'"
That is high praise from such a respected coach but it is well deserved.
Last season, Maxey started 74 of the 75 games he was available for the 76ers, averaging 17.5 points, 4.3 assists, and 3.2 rebounds on 42.7 percent from three, the third-best mark in the NBA.
Next season, Maxey will look to make an even larger jump and make it past the second round of the NBA playoffs for the first time in his young career. With three other NBA All-Stars on his team (Joel Embiid, James Harden, Tobias Harris) the talent is there to do it.
Jacob Toppin and Oscar Tshiebwe Have Two Games Circled This Season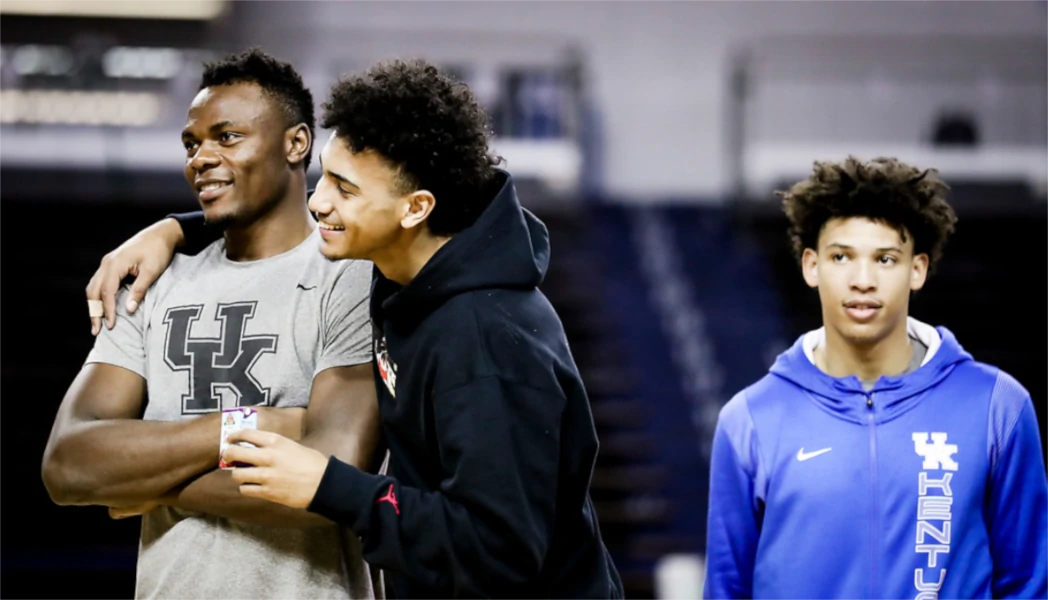 On Tuesday, the Kentucky men's basketball team hosted an open practice in conjunction with a telethon to help those affected by the floods in eastern Kentucky. While there was some basketball shown and some basketball talk, it was secondary to the larger purpose.
However, despite the limited basketball talk, there were a few takeaways.
During the Q&A segment of the event, one fan asked the players who they were most looking forward to playing this upcoming season are there are plenty of options for them to choose from: Gonzaga, Michigan, Michigan State, Kansas, and UCLA.
Two players responded without hesitation, Jacob Toppin answered Louisville and Oscar Tshiebwe followed with Auburn.
Of course, last season's matchup with Louisville was cancelled due to COVID protocols for Louisville, and the season before that (Toppin's first season at UK), the Cardinals beat Kentucky. Therefore, it seems that Toppin wants to avenge that loss this season and with Louisville's current roster, that will most likely happen.
As for Tshiebwe, it seems to be a case of avenging last season's loss as well.
During last season's matchup against Auburn, the Wildcats pulled out to an early double-digit lead, but ended up losing 80-71 after TyTy Washington went down with an ankle injury, and later Sahvir Wheeler with a concussion.
Following the Tigers' win, their reaction was far from what would be expected of the then No. 2 team in the country, as they celebrated as if they had won the national championship.
While Toppin and Tshiebwe are awaiting the Auburn and Louisville games to avenge their losses, so is the Big Blue Nation.
Kentucky Basketball Raises $2.4 Million for Eastern Kentucky Flood Relief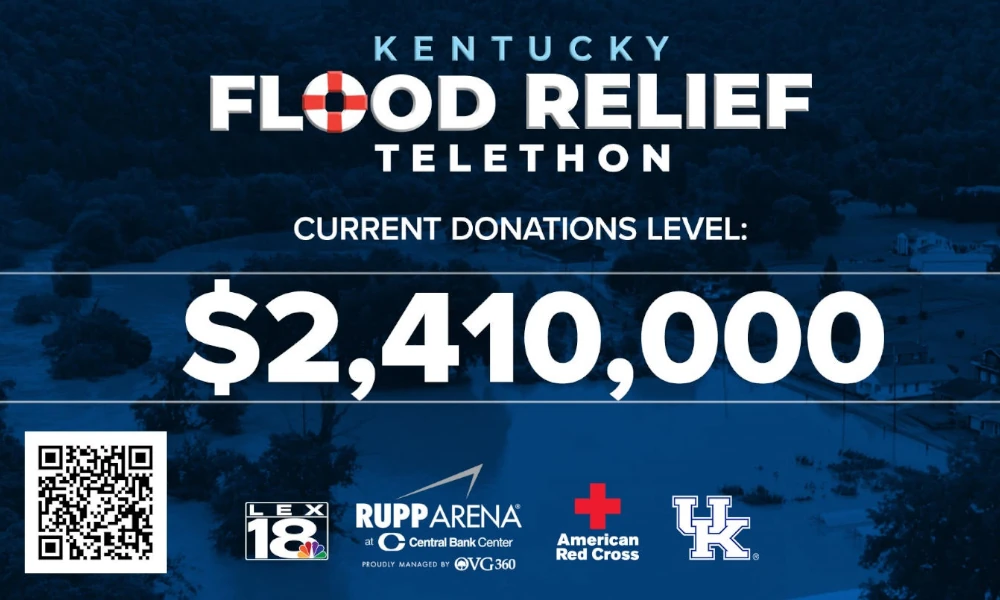 On Tuesday, the Kentucky men's basketball team hosted an open practice at Rupp Arena alongside a telethon hosted by Joe and Kelly Craft, LEX 18, and the American Red Cross to help raise money for eastern Kentucky flood relief.
The event was spearheaded by the men's basketball players, notably Covington native CJ Fredrick, and was organized in less than 48 hours. In the end, the event raised $2,410,000, which will be going to the American Red Cross to benefit the immediate needs of Kentuckians impacted by the floods.
In addition to direct monetary donations, youth and adult "One Team Relief" tees (shown below) can be purchased for $25 at Kentucky Branded or directly through this