The Morning After: Duke (Champions Classic)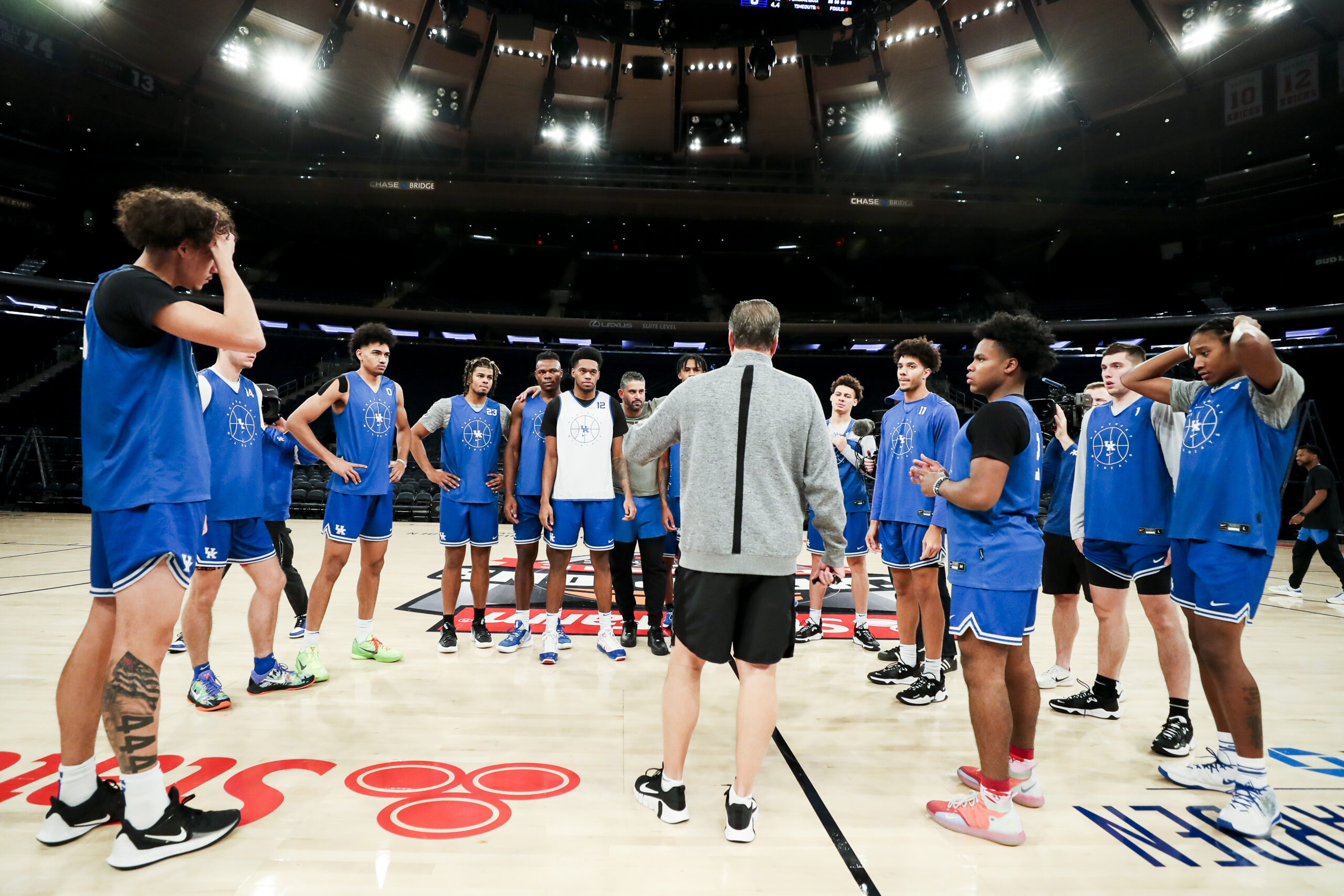 Photos by Chet White | UK Athletics
College basketball is back! Kentucky dropped the first game of the season to the Duke Blue Devils in what felt like a mid-season game.
It is disappointing for the Cats to lose to Puke, and while you can find reasons to be pessimistic about this team, I saw a lot of positives from the game.
Let's take a look.
Inside-Out Duo
Two players recorded a double-double in their Kentucky debuts, Sahvir Wheeler and Oscar Tshiebwe. Wheeler recorded 16 points and 10 assists and Tshiebwe contributed with 17 points and 19 rebounds.
Wheeler and Tshiebwe are a rare inside-out duo that Kentucky has not had since John Wall and Demarcus Cousins back in 2009. While they aren't as talented or athletic, they are more experienced in the college game.
These two, most notably Wheeler, were the leaders on the floor last night and while they may not be our two best players at the end of the season, their leadership on the floor will be key.
Modernized Offense
6-11. That is Kentucky's clip from three in the first half of last night's game, and that is something I am not sure I would ever see in the Calipari era.
This team has no shortage of shooters and had 4 different players making a three, not including two of the best shooters on the roster, Dontaie Allen and CJ Fredrick.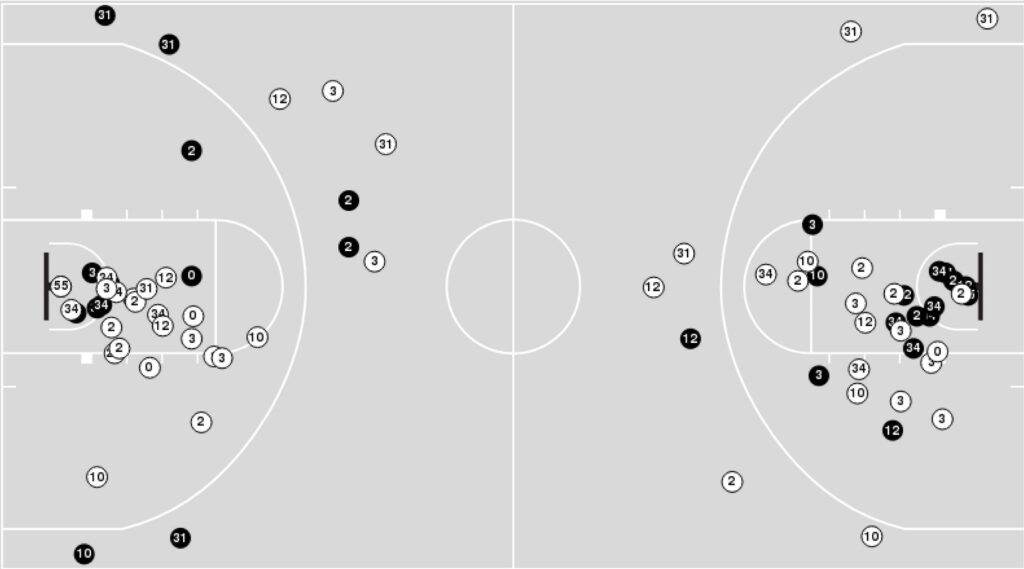 Kentucky also looked to have the use the pick and roll option more than in previous seasons, this allowed Oscar to have really good inside opportunities or have the ability to kick out to a shooter.
With that being said, Kentucky still shot their share of terrible mid-range jumpers, especially in the second half and that needs to stop immediately.
It is promising to see Calipari finally modernizing the offense and the difference can already be seen.
TyTy Washington has to be better
9 points, shooting 3-14 from the field was not the ideal debut for TyTy Washington.
After looking like a smooth criminal and leading the team in points in both exhibition games, it was not TyTy's night. Washington looked to have put a lot of pressure on himself, causing him to play tense and forcing the issue.
The good thing is, we have already seen what he can do and this shouldn't be an issue going forward. Not to mention, as a freshman, he will definitely improve over the course of the season and I fully anticipate on him being our best player.
This Team Is Different and They Are Going to Be Fun
From the tip, it was noticeable that this team is not built like most Kentucky teams. This team is not uber-athletic nor loaded with NBA talent as Calipari's teams of the past, but they are deep, gritty, and experienced.
The Cats fought back from a 15 point lead to nearly take the lead late in the second half against Duke, who looks like to be a top 5 team in the country. How can you not be proud of that performance?
Last night was the first time since the 2019-20 season that I caught myself smiling and genuinely enjoying watching a good Kentucky basketball team and I am excited.
Conclusion
When you look at the box score, Kentucky looked really good in comparison. The Cats outrebounded Duke by 8, had 15 assists to Duke's 7, hit 6 more threes, and took 17 more shots.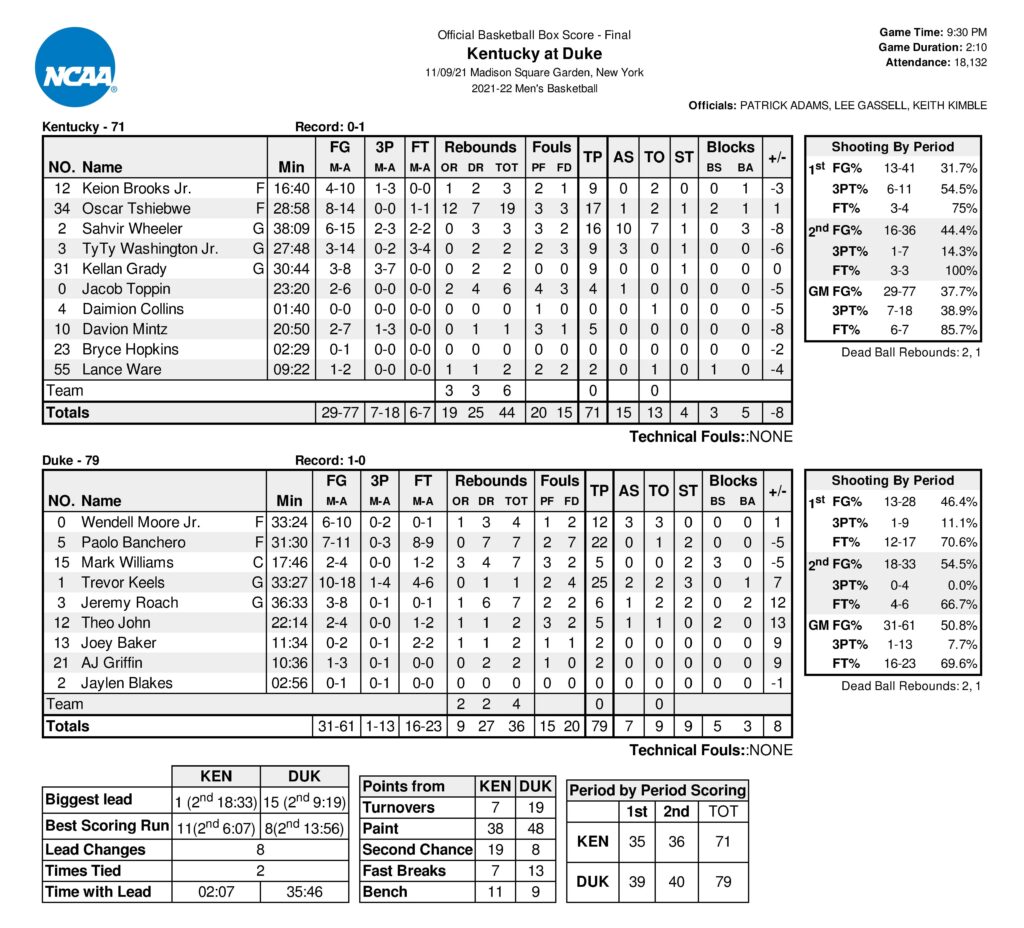 At the end of the day, Duke had the best two players on the floor in Paolo Banchero and Trevor Keels and while they received some assistance from the referees, that is what made the difference and they deserved to win.
Kentucky's weakness in most games will defin be the frontcourt, but the backcourt has the ability to make up for that.
After not seeing an NCAA tournament in 2019-20 and a putrid 2020-21 season, it is good to have a talented Kentucky team back in college basketball.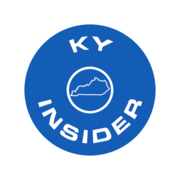 Kenny Payne Talks About Next Season's Game Against Kentucky, John Calipari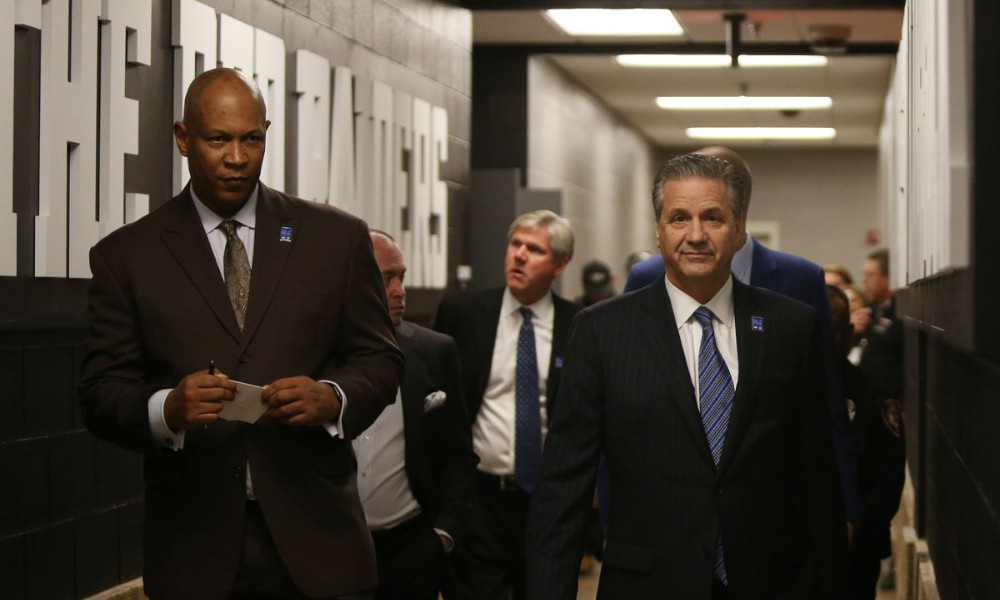 Since taking the job at Louisville, Kenny Payne has rejuvenated the Cardinal fanbase with a (so far) underserved belief that they are returning to the top of college basketball, which in turn has somewhat resurrected the in-state rivalry.
In an interview with Jon Rothstein on Thursday, Payne opened up about his new job and talked about his relationship with John Calipari, the UK-UofL rivalry, and potential NCAA sanctions.
Let's take a closer look at what was said.
On John Calipari
John Calipari and Kenny Payne worked together for 11 seasons in Lexington and developed a close relationship. In today's interview, Payne expressed his love and appreciation for Cal, calling him a friend, a mentor, and a person that he has learned so much from.
Unsurprisingly, Payne spoke to his mentor when considering the job and provided Cal's reaction to the job offer, saying, "Cal was probably one of the first people to say, 'Kenny it is an unbelievable job, it has great tradition, it has great facilities, it's a basketball school. It's your home. You have to seriously consider it and I hope you take it for you and for that community.'"
This shows that Calipari truly cares about Payne and the state of Kentucky as a whole. It is a big opportunity for Payne, and it is important for both the state's economy and college basketball that Louisville and Kentucky perform well.
Payne also went on to open up about how Calipari influenced his players first philosophy. "Cal was the first real coach that I was around, that said, 'let's not as coaches worry about ourselves, let's put these kids first. What can we do that will make their life easier? What can we do to make their job easier, and understand their success is in our hands?' and I live by that," Payne said.
Kentucky-Louisville Rivalry Game
Given Calipari and Payne's good relationship, the Kentucky-Louisville rivalry is set to look much different, with Payne even admitting so, saying, "It won't be the negative hatred of John Calipari for me. It will be a game in that, I am going to try to do everything in my power to help my team win, and he's going to do the same. I hope I win by 1, but we'll see how that goes."
I am sure the Big Blue Nation hopes the Cats win by 90, and Payne did say something to show that Calipari doesn't want to take it easy on his longtime assistant, "Cal called me after he did a speech and he said 'Kenny I gotta tell you what I said in this group, There will be one day a year when I am gonna try to beat Kenny Payne's head in'".
While the rivalry looks to be competitive once again, there no longer seems to be the negative feelings amongst the coaching staffs that there once was when Rick Pitino coached at Louisville.
Pending NCAA Investigation and Potential Sanctions
Over the last decade, Louisville has received a notice of allegations from the NCAA, seemingly on an annual basis. The most recent of which was was amended in 2021 and contains one Level I charge and six Level II charges, with some dating back to 2017.
With that said, before taking the job, Payne talked with Louisville athletic director, Josh Heird, about the worst-case scenario.
"Without going into much detail because the case is still pending, when I heard what he said and I listened to it. Think about this, I'm with the New York Knicks. I have a great job, not a good job, a great job with the New York Knicks. If there was something really there to give me pause, I would have never taken the job. I took the job knowing feeling good about whatever they give us, is not going to be so severe that it destroys our program," Payne said.
After clearing house and a lack of winning as a result, they hope the NCAA will give a softened blow when (if ever) they make a ruling, and Louisville seems confident that will happen.
---
Listen to the entirety of the interview here.
John Calipari and Mark Stoops Validated, College Leaders Calling For Retroactive NIL Punishments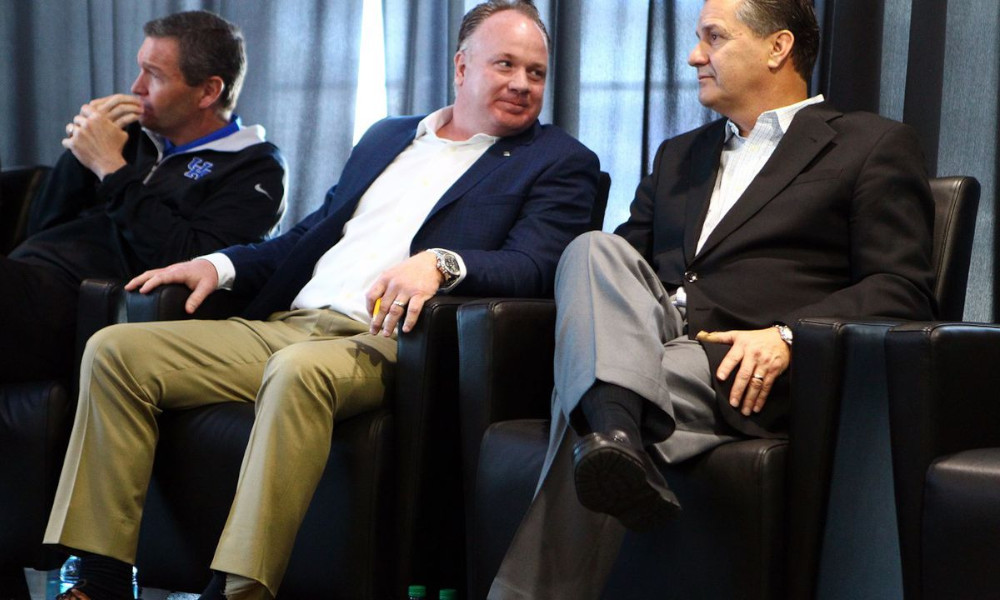 Due to the lack of guidelines, name, image, and likeness has seemingly transformed college athletics into "pay for play", and in certain ways, can be compared to free agency in professional sports.
Just recently, there have been situations such as Miami basketball star Isaiah Wong providing an ultimatum of a transfer after demanding more NIL compensation, a multi-million dollar bidding war for Pittsburgh star wide receiver Jordan Addison, and a Tennessee football quarterback commit who has an $8 million dollar NIL deal awaiting.
These athletes aren't to blame, they are just playing by and trying to capitalize on NIL, using the rules that have been given.
In the past week, both John Calipari and Mark Stoops have reiterated their support for NIL. However, they have cited that they will choose to do it the right and legal way, while criticizing the NIL collectives that have been formed to practically create the best teams that their money can buy.
These comments were responded with many fans calling for Calipari and Stoops to recruit in the same fashion as schools with large collectives, but it looks like they will be on the right side of college athletic history.
According to Sports Illustrated's Ross Dellenger, college leaders are pushing the NCAA to investigate recruiting violations dating back to the start of NIL and create guidelines going forward.
As the current rules are written, the NCAA rules state that boosters are not allowed to pay players directly or be part of a university's recruiting process. However, the majority of these collectives are spearheaded by intelligent people that are skirting vague NCAA guidelines, with many protected by state laws, and in some areas with legislation being created to empower such behavior.
While it may take months or even years to investigate recruiting violations, as indicated by past and current investigations, the NCAA is reportedly in the process of finalizing NIL guidelines which are expected to be published next week.
Passing the guidelines is one step, but the NCAA must enforce them, which could be proven to be a challenge. In the past, NCAA enforcement has been less than willing to enforce existing rules, and the organization may not be equipped to do so after laying off 15-20 employees due to COVID.
Despite the guidelines being confirmed to be written, there is still a lot of uncertainty on what the results will be. On a positive note, it looks the NCAA and the college leaders are on the same page, which is promising when it comes to the regulation of NIL.
Jack Harlow Shouts Out John Calipari in Latest Song
Jack Harlow, a Grammy-nominated rap artist from Kentucky, and a notable Louisville Cardinal fan, may be the biggest celebrity in the state at the moment.
In his latest song, "I'd Do Anything To Make You Smile", Harlow gave a shoutout to John Calipari and Rick Pitino, saying, "Hotels five-star like they play for coach Cal, but they call me young Pitino cuz I'm good in both towns."
Listen for yourself here at the 2:54 mark.
This isn't the first time Harlow has made a Kentucky basketball-related reference, creating a song named "Tyler Herro" in 2020.
It's always good for Kentucky basketball to be mentioned positively in pop culture, even coming from a Louisville fan.
Calipari recently talked about wanting to reenergize Big Blue Madness, while a longshot, one idea could be to have Drake, who is a good friend of Harlow's, persuade the Kentucky native into being a part of the event and performing together. I mean he did say, "I'm good in both towns," and would create a big statement in college basketball.