Top 2025 QB Ryan Montgomery Schedules Return Visit to Kentucky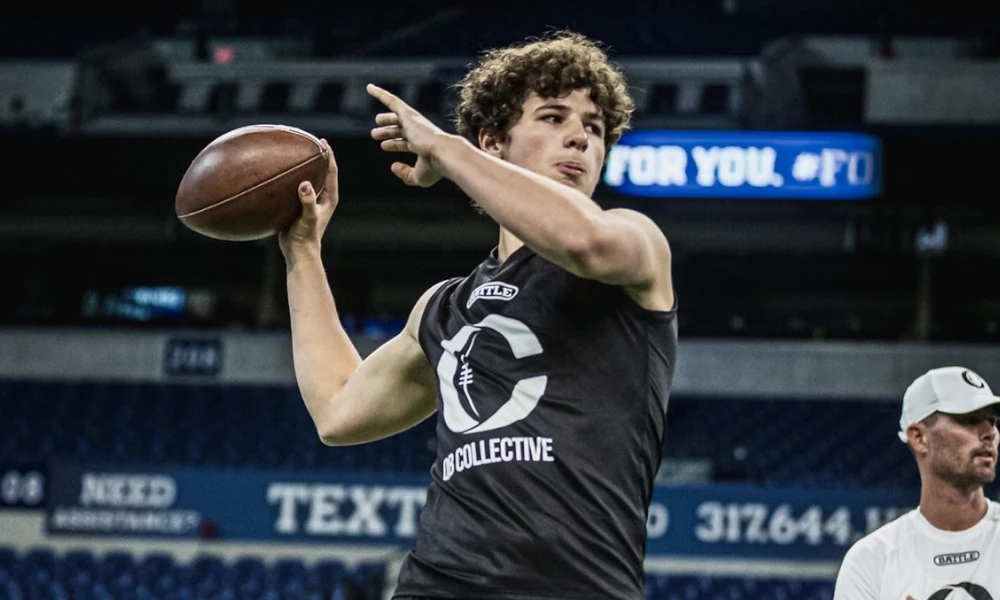 Ryan Montgomery is one of the top quarterbacks in the 2025 class who visited UK on Junior day and liked his visit to the point where he is going to return for a 2nd visit this spring.
Montgomery is a 6'3, 210-pound four-star quarterback from Findlay, OH with a rocket of an arm as a sophomore this past fall. He has an older brother named Luke Montgomery who plays offensive tackle for Ohio State which is also one of the schools that have offered him.
This kid is a hot commodity in the 2025 class already fielding offers from college football powerhouses such as Michigan, Ohio State, Penn State, Notre Dame, Georgia, Tennessee, and Miami. This would be an enormous get for Kentucky over schools of that caliber.
Liam Coen's return to Lexington has made it possible for kids like this to have Kentucky on their list. High-level high school kids want to learn from a guy with NFL experience in an NFL scheme.
Montgomery will visit UK once again on March 30th during spring practice to see what a Kentucky practice would normally look like and see where he would fit in if he were to come to UK.
This next season will be a big year for UK and Coen to prove to everyone including future quarterback prospects that this offense is one where they would be able to flourish. Kentucky's struggles on offense last season were not what these recruits want to see and play in the future.
Along with Montgomery, Kentucky is also after Cutter Boley and Stone Saunders in the 2025 class to be able to bring an elite quarterback recruit to Lexington.
This a big spring visit for Kentucky that will need to impress for Montgomery to consider playing here in 2025.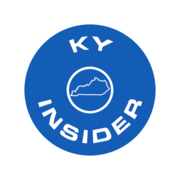 Kentucky Football Receiver and Track Star Jordan Anthony Enters Transfer Portal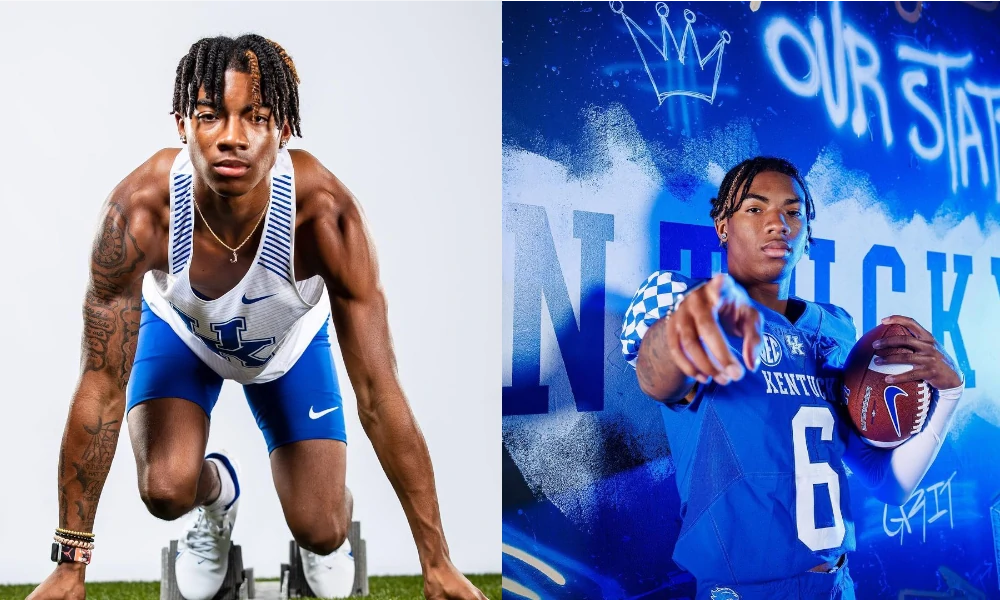 Kentucky football has crushed the transfer portal for the most part, bringing in high-level transfers like Devin Leary (NC State) and Ray Davis (Vanderbilt) this year alone, but on Tuesday they lost a piece they hoped to be a playmaker in the near future, Jordan Anthony as he announced on social media.
A four-star wide receiver coming out of high school last year, Anthony only appeared in just two games his freshman season. While he did not make many headlines on the football field, he did make a lot while running track. That was highlighted by breaking a 50+ year-old freshman record (1967) at Kentucky in the 60 m, running the event in 6.55 seconds, which is also the second-best in program history.
This is a loss that the football program did not want to see as they were excited about his potential in a Liam Coen-led offense. However, Kentucky has one of the most talented receiving cores they have had in the Mark Stoops era, led by Barion Brown and Dane Key.
Playing under three games this season, Anthony will be able to use a redshirt and transfer with four seasons of eligibility remaining. There will be no shortage of suitors for the speedster, as Anthony already holds offers from other programs such as Mississippi St, Tennessee, and Texas A&M among others.
Top 10 In-State Prospect Willie Rodriguez to Take Official Visit to Kentucky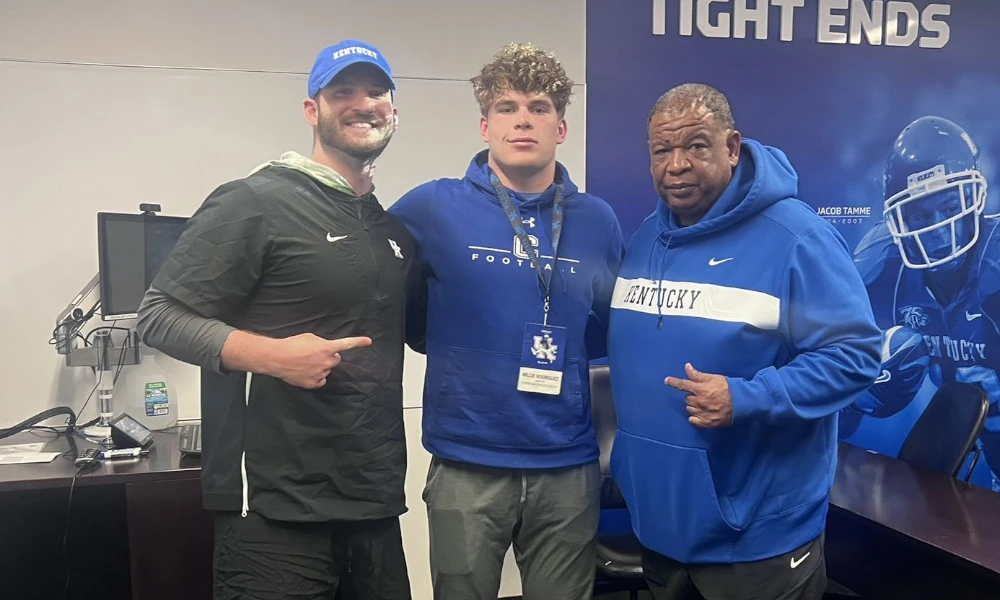 With Cutter Boley recently committing to Kentucky and reclassifying, the next domino to fall could potentially be class of 2024 Covington Catholic Tight End Willie Rodriguez.
Rodriguez has told KY Insider that he is going to take an official visit at Kentucky on June 9 with Boley and another commit from Kentucky offensive line Aba Selm. Rodriguez says he is excited to see Boley and Selm.
"I can't wait to meet to everyone on the official [visit]," says Rodriguez.
Rodriguez also adding since Boley has committed to Kentucky, that they have been communicating together.
"For sure," Rodriguez says. "[I] have already talked to him, it's definitely very intriguing and very cool."
During his visit, there are certain goals that he has in mind that he wants to accomplish when visiting the team.
"[I] definitely want to check out everything and see really how I will fit in the offense and how I will be used," Rodriguez tells A Sea Of Blue. "I am very excited for the visit."
As for other official visits he has planned, he tells KY Insider that he will also be visiting Virginia Tech and he is still scheduling two other official visits with Ole Miss and Purdue, but at this time they have not been scheduled.
Rodriguez also tells us he plans to commit to a school during the summer, but once he is done with all of his official visits. Once we learn more details on his upcoming visit we will keep you all informed.
Top Quarterback Prospect, Cutter Boley, Commits to Kentucky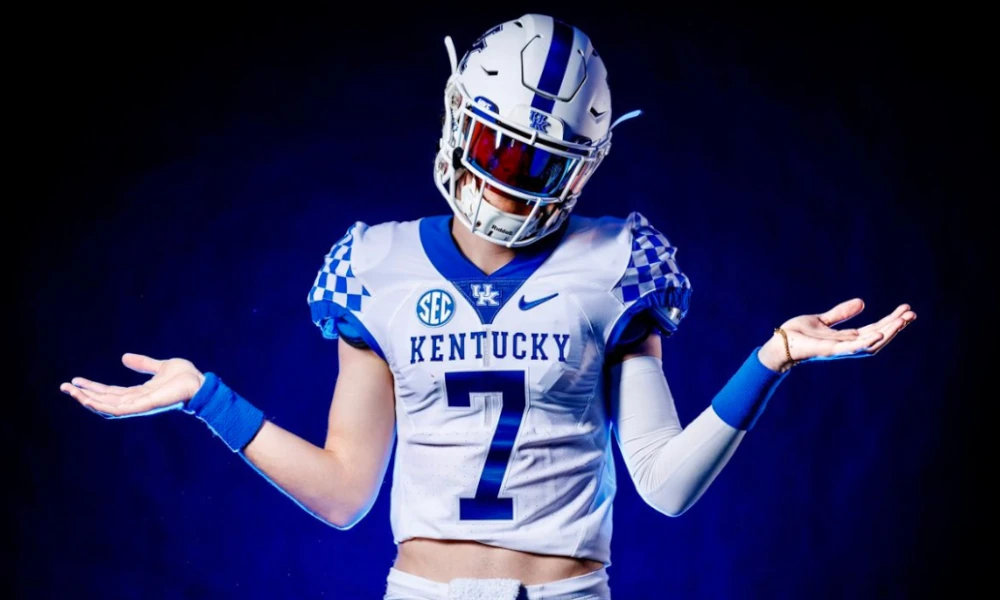 For much of the Mark Stoops era at Kentucky, the Wildcats have been successful without a high-level quarterback. That has changed of late as the transfer portal has helped Kentucky bring in Will Levis – who went on to be the 4th QB taken in this past year's NFL Draft – and this year, Devin Leary – who was widely considered to be one of the best, if not the best, QB transfer available.
While the transfer portal has been great, those players usually come with only 1-2 years of eligibility remaining. Therefore, the staff has made it a point to start looking at the high school ranks for a QB.
On Thursday, Kentucky found that player, and in their own backyard with Cutter Boley from Lexington Christian Academy (LCA). At a live announcement at LCA's auditorium, Boley chose Kentucky over Florida State, Michigan, Penn State, and Tennessee with a pair of custom Nike Air Force 1s.
It is safe to say that Coach Marrow enjoyed the news!
Despite being a Kentucky native, it wasn't a foregone conclusion that Boley would end up a Wildcat. While Liam Coen did build a strong relationship in his first season as Kentucky's offensive coordinator, that relationship suffered with Rich Scangarello at the helm of the offense this past year. With Coen's return, he was able to rekindle that relationship and get the commitment.
Rivals has Boley ranked as the 12th-ranked overall prospect and the second-best pro-style QB in the 2025 class, while 247Sports has him ranked 72nd overall and the sixth-best QB prospect. According to 247Sports, which dates back to 2000, Boley currently stands as the highest-ranked QB to commit to Kentucky.
While there is some disparity between the rankings, one thing is clear, Boley is highly thought of and it is easy to see why.
Standing 6-foot-5, 203 pounds, Boley already possesses elite size. Add in his gunslinger mentality, impressive arm, and improvision and he is an intriguing package. This past season at LCA, he threw for 3,901 yards with 36 TDs and a 66 percent completion percentage. With that said, that gunslinger mentality can get him in trouble sometimes as he has thrown north of 20 interceptions in two seasons at the varsity level.
It should be noted that while Boley is listed as a class of 2025 prospect after reclassifying in the wake of the global pandemic, he will turn 18 this summer. He has confirmed that he will be reclassifying to the 2024 class and will enroll at Kentucky in January.
Also published on A Sea of Blue.