Journalist Names Wan'Dale Robinson A Player Who Will Disappoint Next Season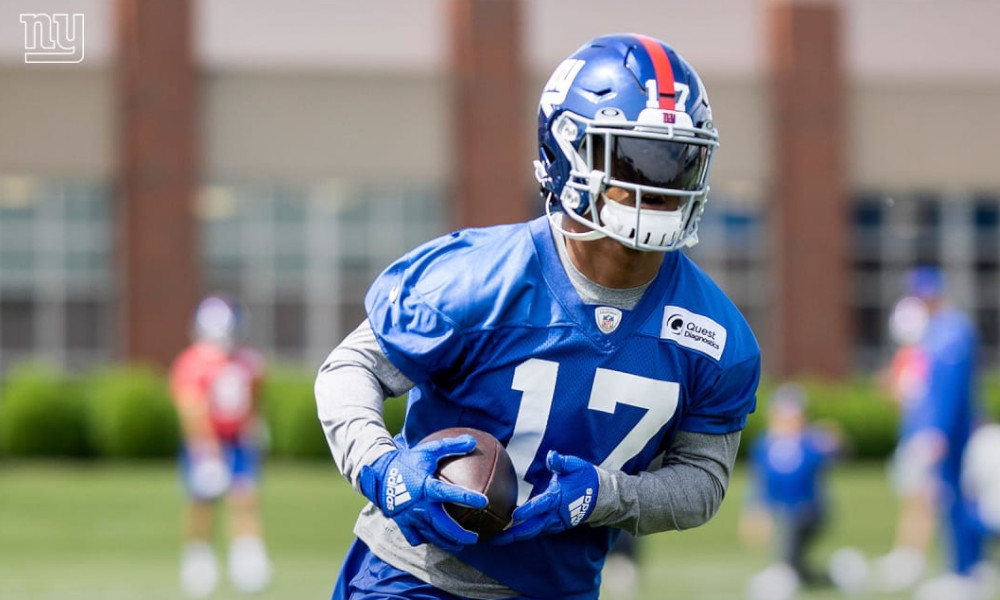 Despite only being at Kentucky for one season, Wan'Dale Robinson put together the greatest receiving season in program history. Robinson set single-season records for receiving yards (1,334) and receptions (104), helping him become an All-American and All-SEC selection.
Combining his historical season with his elite athleticism, Robinson was selected by the New York Giants in the second round of the NFL draft, being the first Wildcat off the board.
However, not everybody is sold, including Kristopher Knox of Bleacher Report, who had this to say about Robinson.
Second-round receiver Wan'Dale Robinson, though, may be a couple of years away from being a star.

New York obviously liked the Kentucky product enough to take him 43rd overall, and the skilled but undersized (5'8″, 178 lbs) receiver could eventually become a fixture in the slot. However, Robinson faces a lot of competition for playing time, as the Giants have Sterling Shepard, Kenny Golladay, Darius Slayton, and 2021 first-round pick Kadarius Toney at receiver.

The Giants are also coming off a season in which they ranked 31st in both yards and scoring. While the hiring of coach Brian Daboll should help the offense improve, it's not going to be an instant fix.

Yes, Daboll oversaw a potent Buffalo Bills offense last season, but that unit had loads of talent and a dynamic quarterback in Josh Allen. Daboll's track record with more mediocre offenses is far less impressive.

The 2021 Bills ranked fifth in total offense with Allen leading the charge. In Daboll's three previous offensive coordinator stops—with the 2010 Browns, 2011 Dolphins, and 2012 Chiefs—his offenses ranked 29th, 22nd, and 24th, respectively. Daniel Jones is not Allen, and New York should expect a more middle-of-the-pack offense than an elite one.

It's going to take time for the Giants offense to really come together. It's going to take time for Robinson to carve out a significant role. It all adds up to an underwhelming rookie campaign for New York's second-round selection
Knox isn't the only person with this opinion, with the general consensus being that Robinson was overdrafted due to his small stature. But what does he have? "Wan'Dale's got the things you can't measure. Everyone gets so enamored with the testing numbers and the size and the speed and weight and all this kind of stuff," Robinson's high school trainer, Chris Vaughn, said.
Associate head coach Vince Marrow is advising the critics not to doubt Robinson either, citing his body of work against the highest level of college football.
"When I heard people say he was drafted too high, have you seen the league we play in?… Did you see what this kid did week in and week out against Georgia, against LSU, against South Carolina?… It's the closest league to the NFL, and he dominated that league," Marrow said.
We will see who is right next season, but my money is Robinson, who has thrived off being underestimated for a large part of his life.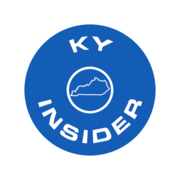 Barion Brown Receives SEC Freshman of the Week Award…AGAIN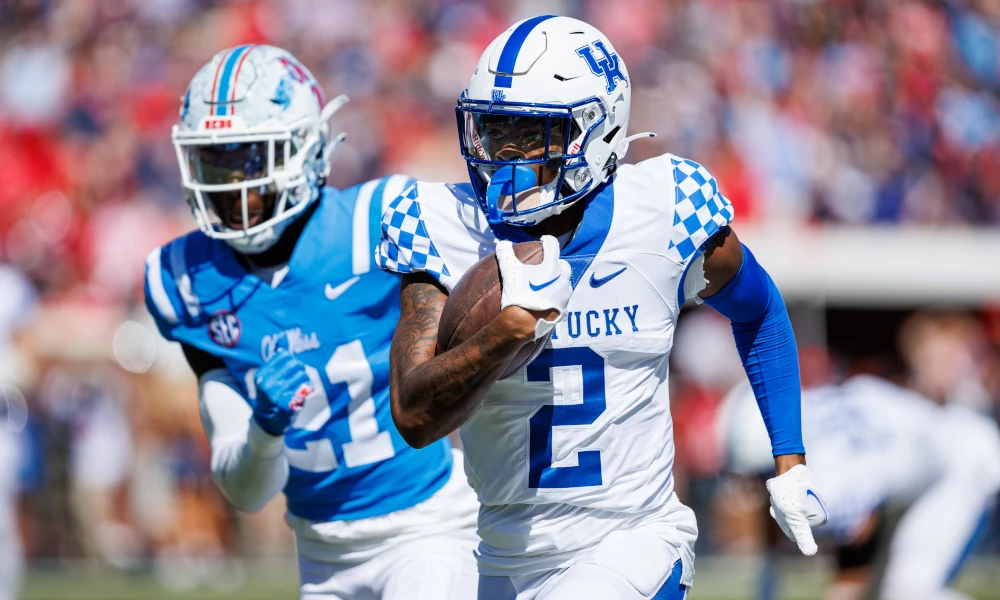 Barion Brown is a true freshman, but one thing is clear, he is an elite talent and will be a special player for years to come.
Brown, a 6-foot-1, 166-pound wide receiver and return specialist from Nashville, made his name known in the first game of the season against Miami (OH), going 100 yards for Kentucky's first return touchdown since 2009.
On Saturday, Brown single-handedly kept Kentucky in the game, racking up 245 all-purpose yards on just five touches on the road against then-No. 14 Ole Miss.
Within those 245 yards, Brown had kickoff returns of 85 and 54 yards, making him the only player in FBS with two kick returns of at least 80 yards this season. He also caught two passes for 81 yards and averaged an impressive 49.0 yards per touch in the game.
Brown's performance on Saturday earned him his second straight SEC Freshman of the Week award. In addition to his SEC Special Teams Player of the Week award in the season opener, Brown the first Wildcat to win an SEC weekly award three times in a single season since Lynn Bowden Jr. in 2019.
Thus far in his freshman season, Brown has 15 catches for 282 yards, averaging 18.8 per catch. Brown also ranks fourth in the SEC in all-purpose yards per game at 114.2.
Kentucky Dealing With Multiple Injuries Following Ole Miss Loss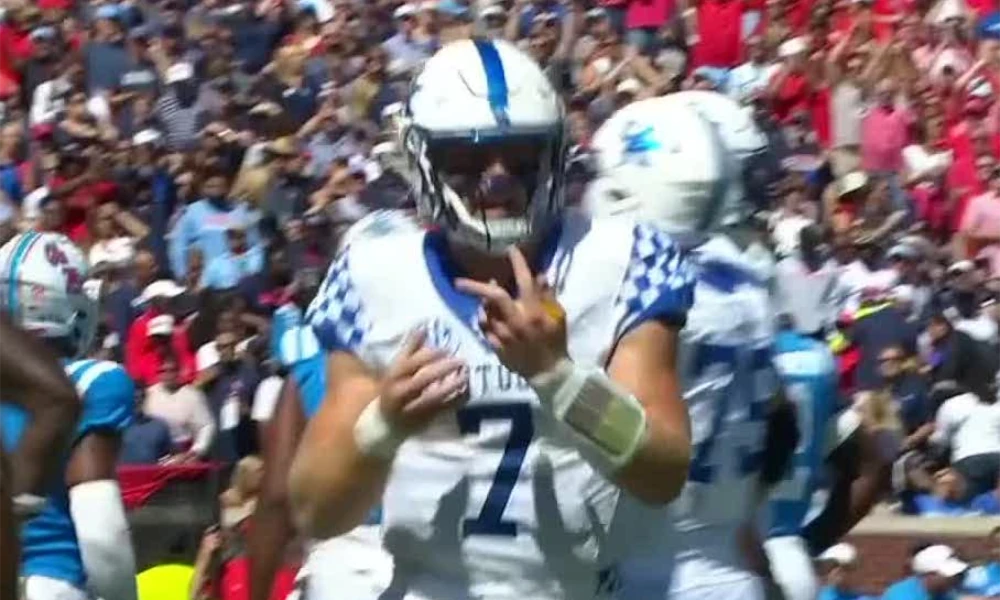 Kentucky was the better team when they played Ole Miss on Saturday, but self-inflicted mistakes cost them the game. To make it worse, three key players are dealing with injuries, with two of them potentially missing an extended period of time, according to Ryan Lemond and Kentucky Sports Radio.
Those three players are Jeremy Flax, Jacquez Jones, and Kavosiey Smoke.
Jeremy Flax
Flax was injured in the final offensive drive of the game, going down as he grabbed his hamstring with what many thought was just a cramp – which Ole Miss fans loudly booed at. However, it is now to be believed to be more severe and is "50/50" that Flax will play this week, and could miss several weeks according to Lemond.
While all three injuries are significant, Flax's injury may be the most concerning due to the inconsistency of the offensive line. That was put on immediate display as Flax was replaced by redshirt freshman, David Wohlabaugh Jr., who gave up the quarterback rush that resulted in the game-ending fumble.
Jacquez Jones
Prior to Saturday's game, Jones – a transfer from Ole Miss – had been one of Kentucky's key defensive leaders and led the team in total tackles. Early in the first quarter, the star linebacker was slow to get up after an Ole Miss run.
Jones was able to walk off under his power and even returned to make a key interception to halt a quickly moving Ole Miss drive to end the first half. However, the injury seemed to be too bothersome after multiple plays in the second half, and did not return.
Lemond went on to say that Jones could be out for "the rest of the season", but in his weekly press conference on Monday, Stoops said, "He's banged up, we'll see," when asked about Jones' status.
Linebacker is a position where Kentucky has depth, and JJ Weaver could be making a return this week, which will be much needed.
Kavosiey Smoke
Contrary to the other two, Smoke's injury was not one that was as noticeable but the senior back is believed to have suffered a concussion.
Smoke has been the primary back since his breakout half at Florida, but with Chris Rodriguez's return and Jutahn McClain showing some strong runs, the Wildcats are equipped to handle it if he is ruled out. However, for the sake of depth, it is hopeful that Smoke does not miss too much time.
---
It is important to note that all three players are still on this week's depth chart and no official announcement has been made, but it is best to prepare as if they will be out.
Fortunately, Kentucky is playing South Carolina (3-2, 0-2 SEC), who cannot be overlooked but is the easiest opponent the Wildcats will play until Missouri next month.
Chris Rodriguez Jr. To Return Against Ole Miss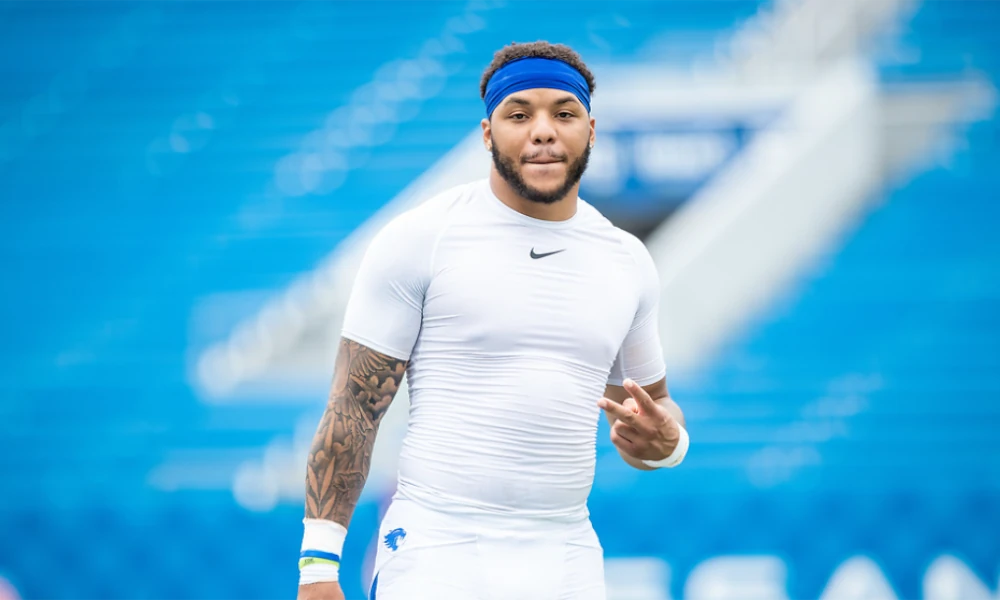 The Kentucky football team is 2-0, coming off a historic victory over Florida in Gainesville. This is even more impressive when you consider the Wildcats' depleted depth at the running back position.
However, on Monday some good news was announced. Chris Rodriguez Jr. will return as Kentucky travels to Oxford to play a top-25 ranked Ole Miss team on October 1st.
With the confirmation of Rodriguez's availability, the star running back will have missed the first four games of the season due to an off-the-field issue. While the suspension all but ends the hope for Rodriguez to break the school rushing record, his return certainly helps the Wildcats as they hope to challenge Georgia for a trip to the SEC Championship.
Averaging just 60 rushing yards through the first two games, the Wildcats have missed Rodriguez significantly through two games. Last season, Rodriguez averaged 106 yards per game himself.
Sitting at 2-0 and in the Top 10 in both the AP and Coaches polls, this could be a special season for the Kentucky Wildcats!
Also published on A Sea of Blue!