Kentucky And 4 Other SEC Teams in Preseason Top 25: What You Need To Know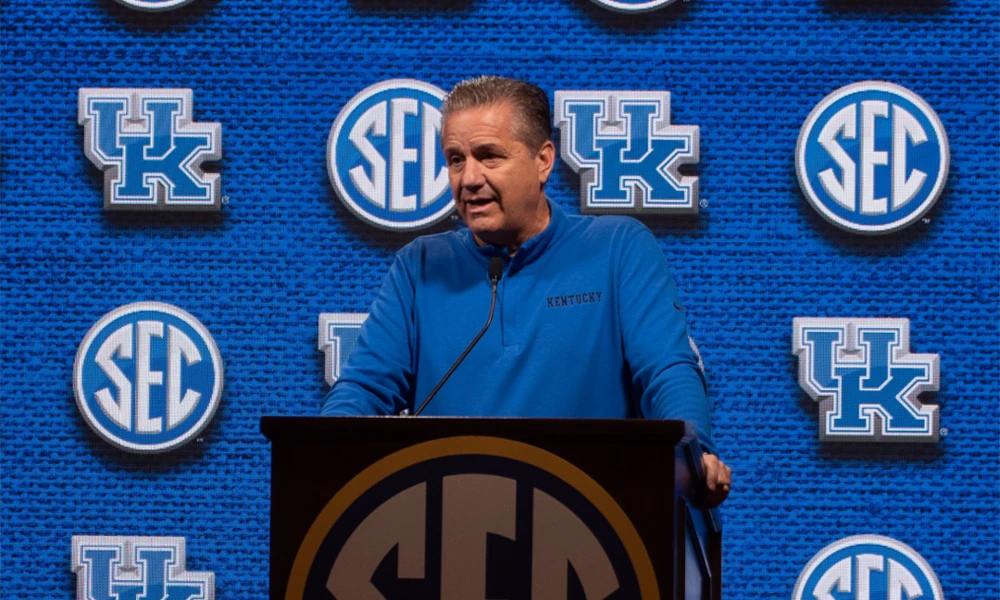 The Wildcats being preseason ranked by the Associated Press isn't something that is too unfamiliar to Cats fans, specifically this year being the #4 team in the country.
Yet, the SEC continues to improve and is as good as ever with 5 teams in the Top 25, tied for the most of any conference.
With that said, let's talk about Kentucky's competition for the SEC and some players we need to know about each team.
Arkansas Razorbacks
Eric Musselman has shown out with his impressive recruiting tactics in recent years, which has led him and the Razorbacks to two straight tournament appearances, including an Elite Eight last year. Yet, this year he is bringing in his best class.
According to 247 Sports, Arkansas's incoming class is ranked 2nd overall, led by 6 incoming freshmen (three Top 25 commits) and 5 transfers. Nick Smith is the name to remember, a top 5 recruit anywhere you look, who will be paired with junior guard Davonte Davis, who averaged a little under 9 points a year ago.
Arkansas has as deep a team as anyone in the country and has the talent to be a national title threat.
Tennessee Volunteers
Right behind the Razorbacks, the Tennessee Volunteers are ranked No. 11 in the preseason AP poll. Unlike Arkansas, Tennessee will rely on its experience this year.
Returnees Santiago Vescovi, Josiah-Jordan James, and Zakai Zeigler, were all three named on All-SEC teams, with Vescovi as one of the guard spots on the first team.
Rick Barnes will experience some offensive drop-off after losing Kennedy Chandler to the NBA Draft last year, but not as much as other teams in the SEC would hope. The Vols will pair their three preseason All-SEC shot creators with senior big men Uros Plasvic and Olivier Nkahhoua to put them in a spot to contend for a Final Four this season.
Auburn Tigers
The defending SEC regular season champs are ranked as the No. 15 team coming into this season, but lost star players Jabari Smith and Walker Kessler to the NBA Draft.
The Tigers don't bring in a lot of freshman talent but do have five-star big, Yohan Traore, coming in. The bigger news for Auburn this basketball offseason was the commit by Morehead State Forward Johni Broome, who will be a double-double machine.
Returnees K.D. Johnson and Wendell Green will most likely lead the front court, but what stood out the most in Bruce Pearls' eyes during the Israel trip Auburn took this past summer is Allen Flanigan.
Pearl has Flanigan, who is coming off of an Achilles injury, in an escalated role this season. A Tiger team led by Broome and company should have Bruce Pearl ecstatic for the upcoming year.
Alabama Crimson Tide
Rounding out the Top 25, Alabama is placed as the No. 20 team this year. Nate Oats has brought success to the basketball program in his tenure in Tuscaloosa and doesn't plan on stopping.
Jahvon Quinerly, who is entering his fourth year of college ball, is the perfect floor general to lead what is the third-best recruiting class coming into this year according to 247 Sports.
The name leading that recruiting class is Brandon Miller, a top-ten recruit. The 6-foot-8 forward is as versatile and efficient on offense as any player in the league. The Crimson Tide are also bringing in former Kentucky target, Jaden Bradley.
Nate Oats and his team have the talent and may have one of the highest ceilings in the conference if everything falls correctly. If so, the Crimson tide could cause some damage in the SEC.
---
The SEC is as competitive as ever. Even outside the five teams ranked in the Top 25, the SEC has teams like Texas A&M, Florida, and Missouri that could make a push for an NCAA Tournament appearance
In addition to a difficult non-conference schedule, the league as a whole will give the Cats nothing but good experiences and tough matchups that will prepare them enough in order to succeed in March.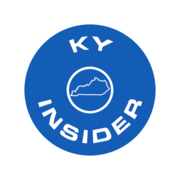 Kentucky Basketball Has Received a "Silent Commitment", Per Report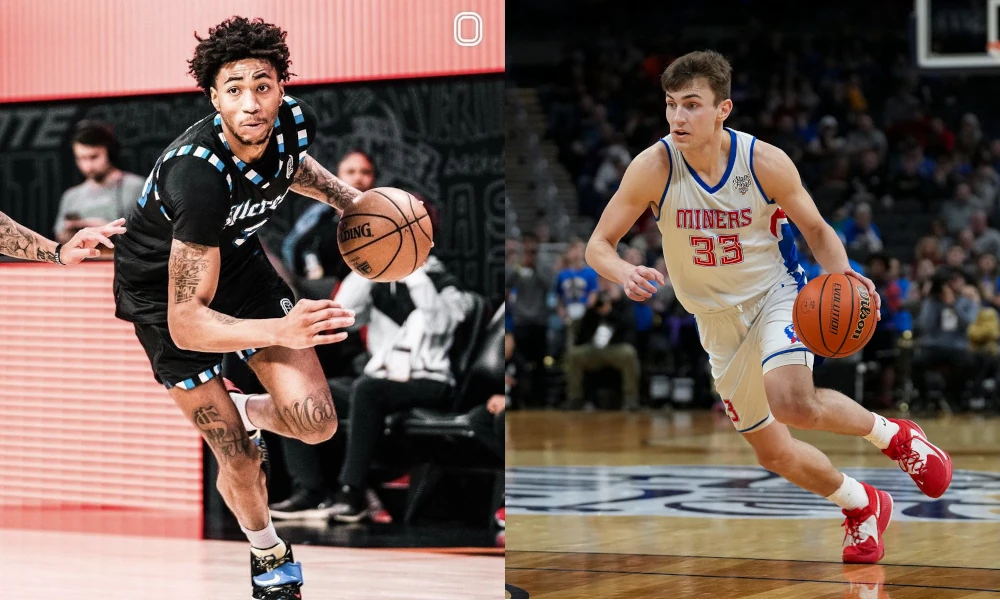 For the first two months of the offseason, Kentucky basketball waited in hopes of getting Oscar Tshiebwe to return, but it's getting into crunch time and Kentucky must start finalizing their roster before they play in the GLBL Jam this Summer.
As of right now Kentucky only has seven scholarship players on their roster, including five freshmen and two sophomores. With that being said, two players from the class of 2023 are expecting to have official visits this week. One that includes Joey Hart, who many people are expecting to be committing this week to Kentucky, even Matt Jones of KSR tweeted about a commitment coming soon.
Although Jones never said who it was in that tweet, he later revealed it to be Joey Hart on Monday's Kentucky Sports Radio show. Hart, a three-star shooting guard from the class of 2023, had an excellent end to his high school season – especially with his 3P shooting – and recently decommitted from UCF as he started to receive interest from more prestigious programs such as Kentucky, Indiana, and Texas among others.
With that said, there is one other player that KY Insider has been told is "Kentucky's to lose".
Meet Jordan Burks, a 6-foot-9 forward who is also in the class of 2023, ranked as a three-star recruit. Playing at Overtime Elite, similar to Kentucky freshman Rob Dillingham, Burks was the league's leading scorer. Following Kermit Davis' firing from Ole Miss, Burks reopened his recruitment and is coming off a visit to Kentucky the last few days.
In a statement last week, John Calipari said "We've prepared for all scenarios". The addition of Hart and Burks will certainly be good for depth, but the Wildcats still need to return Reeves and find one more high-impact player such as Arthur Kaluma.
Louisville Commit Says "Nobody Worried" About DJ Wagner and Kentucky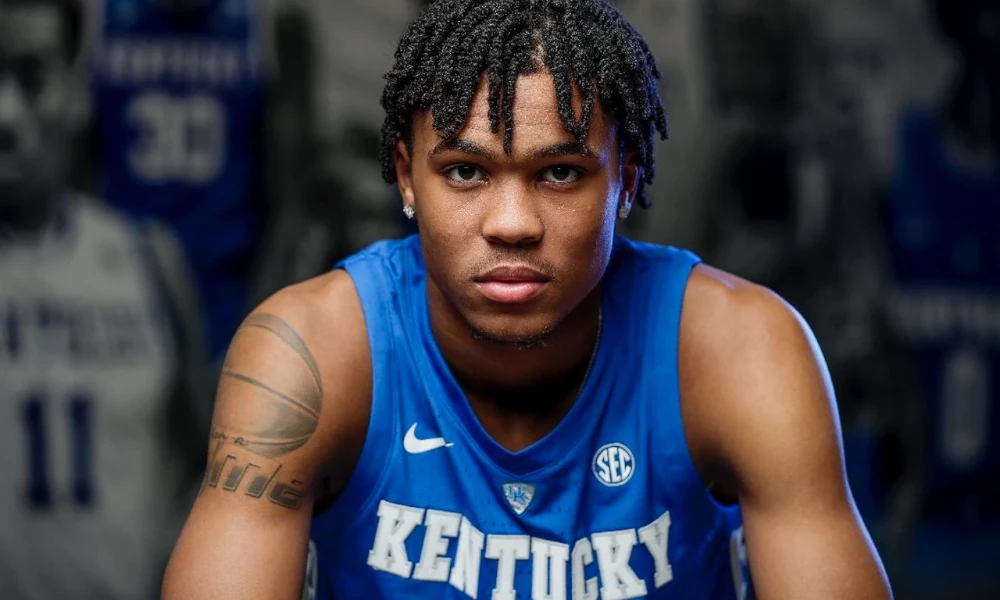 The Kentucky-Louisville rivalry is one of the best in all of college basketball, however, it has been largely one-sided in the John Calipari era. Since becoming the Wildcats' head coach in 2009, Kentucky has a 12-3 record against Louisville, including winning four of the last five.
With the hire of Kenny Payne, the Cardinals are hoping to get back on the right track and will enter next season with a roster talented enough to make it to the NCAA Tournmanent. With that said, the Cardinals did finish 4-28 last season.
Louisville commit Trentyn Flowers went live on Instagram on Friday to answer questions from the Cardinal fanbase. When asked who would guard DJ Wagner when Louisville played Kentucky, Flowers gave an interesting answer, "Y'all funny. Ain't nobody worried about him, bro."
With Flowers and Wagner both being top-rated recruits this is not the first time they have matched up with one another. At the John Wall Invitational back in December, Flowers and Wagner put it all on the line against each other. However, Wagner would outperform Flowers, yet again. Wagner put up 22 points to Flowers' 19 points.
Then more recently, back in February, Wagner's Camden (NJ) played against Flowers' Combine Academy (NC) in an exhibition game. The Camden Panthers ended up beating the Combine Academy Goats by 23 points, 80-57.
Wagner will look to get the upper hand on Flowers once again this December, as Kentucky plays Louisville, and will have some extra motivation.
Source: Antonio Reeves To Meet With Staff On Monday To Discuss Future Plans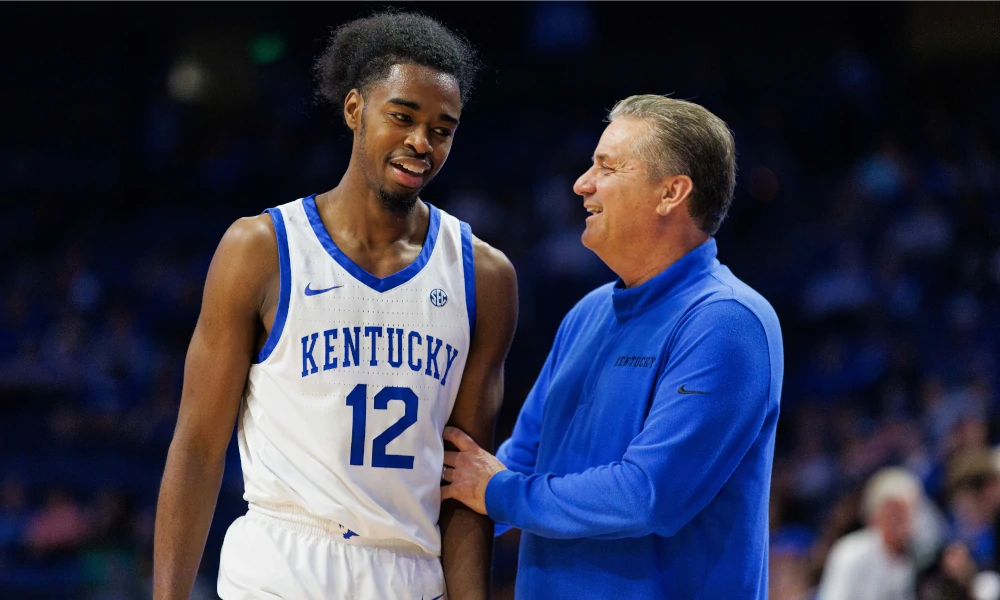 Antonio Reeves announced he was withdrawing from the NBA Draft on Wednesday, but his intentions on whether or not to return to Kentucky were up in the air. Now, that remains the case, but a source told KY Insider on Friday that Reeves will be meeting with John Calipari on Monday to discuss his future plans.
Reeves has been contemplating a return to Kentucky, as both NIL and his role are major factors in his decision. There have also been multiple reports of a number of schools tampering with Reeves, even though he is not in the transfer portal, which in itself is interesting. That list of schools includes Illinois, Indiana, Memphis, Michigan, and Oklahoma.
A big decision for the basketball program, Reeves would be a much-needed shooting threat and veteran presence added to the current young team coming in. Kentucky's No. 1 recruiting class needs veteran complementary pieces, and a star from last season's team would certainly help.
Regarding a timetable for an announcement, one could assume that it should come soon after his meeting with the staff early next week.