Kentucky vs Arkansas: Postgame Recap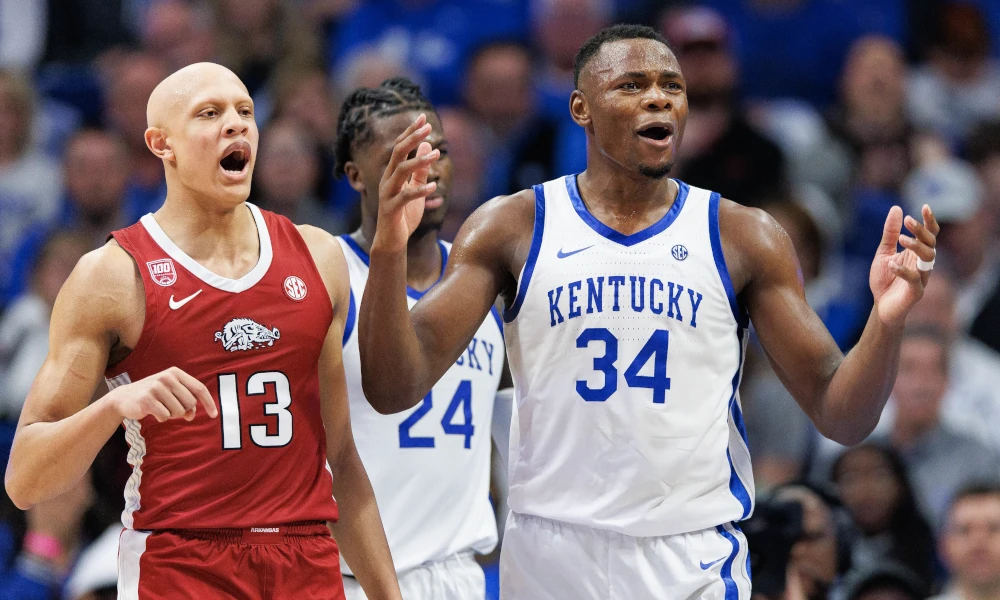 On Tuesday night, the Kentucky Wildcats played another – fortunately their last – late Tuesday night game of the season against the Arkansas Razorbacks. Similarly, both teams had not lived up to high preseason expectations, but each came into Tuesday's matchup playing their best basketball of the season.
Indicative of that, the Wildcats entered the game on a six-game SEC winning streak, compared to a four-game winning streak from the Razorbacks. Naturally, one of them had to come to an end.
Kentucky's freshmen – Chris Livingston and Cason Wallace – displayed how much they have grown, scoring the Wildcats' first nine points. The story of the first half was Daimion Collins, who came in due to Oscar Tshiebwe's foul trouble and stepped up big time. Playing six first-half minutes, he scored seven points and looked good in the pick-and-roll action on offense.
The first half went about as expected, as the two teams traded blows, never really separating themselves. However, it should be noted that John Calipari did pick up a technical foul toward the end of the half after arguing a questionable call, allowing Arkansas to enter halftime with a 41-40 lead.
The start of the second half was not one the Calipari will want to remember, as the Wildcat turned the ball over four times in just over three minutes. Arkansas capitalized, scoring six points on those turnovers and extending the lead to as much as nine.
The self-dug was too much to overcome. Combine that with a lack of physicality and poor pick-and-roll defense, the game quickly got out of reach. In the end, Arkansas won 78-63.
Let's take a closer look at the loss.
Physicality
As we have gotten accustomed to, an Eric Musselman-led Arkansas team is going to be physical and there was no shortage of physical play on Tuesday night. "The game was a physical game. If you weren't ready for that, you were going to get knocked off point," Calipari said in
Knocked off point is exactly what happened. The two areas where that can be proven most as the physicality ramped up in the second half is the rebounding battle – Arkansas: 16, Kentucky: 15 – and points in the paint – Arkansas: 28, Kentucky: 10.
A Step Back on Defense
Kentucky's defense has been their biggest liability all season. However, some strides had been taken during their 6-1 stretch.
As evidence, the Wildcats were giving up nearly 72 points per contest through the first sixteen games, but that number has dropped to 65 points over the last seven games. This includes holding a confident Florida team to just 22 points in the first half this past weekend.
On Tuesday, it is fair that the defense took a step back. While the Kentucky offense was able to keep pace with Arkansas in the first half, Kentucky was not able to get stops. In the second half, that issue was made worse as the Razorbacks were getting to the rim at ease through their pick-and-roll action, which doesn't look like it is ever going to improve.
As John Calipari said in the postgame press conference, "You're not going to win a game if they're shooting 72 percent."
Oscar Tshiebwe
Oscar Tshiebwe is the reigning National Player of the Year, but has not looked close to that level in the last two games.
Against Florida, you can attribute a poor game to Colin Castleton's length, which is something Thsiebwe has struggled against. However, on Tuesday, he was completely outplayed by a Rhode Island transfer of familiar size that averages 4 points per game, Makhel Mitchell.
Tshiebwe was once again attacked on the pick-and-roll, which is where Mitchell received the bulk of his points. However, that is the second straight game he has been held to seven points or less.
Still on the bubble, Kentucky is entering a stretch with some big-win opportunities available. To win, Tshiebwe is going to have to step up and play like the Oscar we know.
Daimion Collins
If you're looking for a bright spot in this game, look at Daimion Collins. It may be a few months later than expected, but we are watching his emergence.
Standing 6-foot-10, with a 7-foot-5 wingspan, Collins has had all the physical tools, but has not carried over to a lot of success on the floor. That is until recently. While it has been in limited action, Collins has looked great, and he had his best performance of the season on Tuesday.
With Oscar Tshiebwe dealing with foul trouble, Collins was asked to step up and that is what he did. Through six minutes in the first half, Collins scored 7 points and defended the pick-and-roll better than anyone all night.
Yet, he played just two minutes in the second half, despite Tshiebwe's aforementioned struggles. When asked why after the game, "It was a bigger picture for Oscar than just this game. It was like, let's get him going just to get him right."
With that said, if Collins can sustain his level of play, he can be the rim protector and another key energy guy off the bench.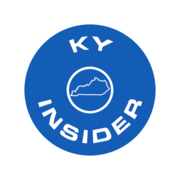 Kentucky Basketball Has "Pure Hoopers That Love the Game" According to Former Kentucky Guard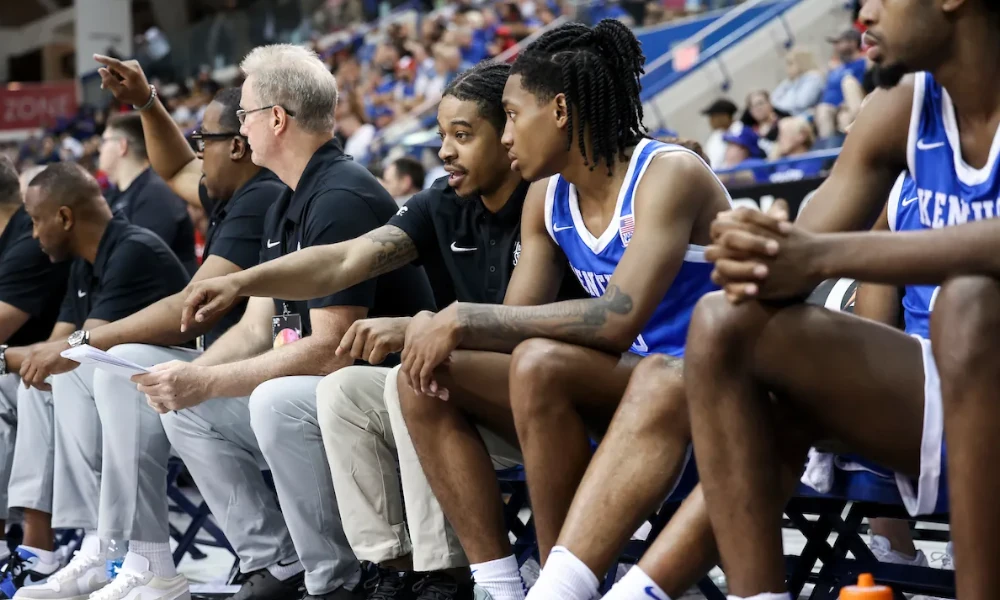 In recent seasons, Kentucky has struggled to find players to make plays when they need it most. That hasn't always been the case, some examples of players that had the ability to make a play to secure a win include: Tyler Ulis, Jamal Murray, Shai Gilgeous-Alexander, and John Wall among others.
Well speaking of some of the players I just mentioned, former Kentucky guard and current student assistant Tyler Ulis recently joined the Sources Say podcast and talked about how great this team can be this upcoming year.
Ulis calls this year's team "pure hoopers".
"They're basketball players. Hoopers. Pure hoopers, all of them. And they love the game," Ulis said. "How me and Devin (Booker) were in the gym, me and Zay (Briscoe), me and Jamal (Murray), that's what these guys are doing. They all want to get better — scared to fail, scared not to make it. That's what shows they want to be great."
As what defines a pure hooper, according to Ulis. "Anyone can make a play, anyone can get in the lane, anyone can knock a shot down," Ulis said. "We have so many options and so much depth, it's hard not to have fun with this team."
With the new roster and additions to the coaching staff, the goal is for Kentucky to make a deep run into the NCAA Tournament this year. As for Ulis, he is excited to see what this year's team can do.
"I can't say it enough: I'm extremely excited to see how this goes. We're deep with a lot of players, and they're skilled."
Texas Women's Basketball Takes A Shot at Kentucky Basketball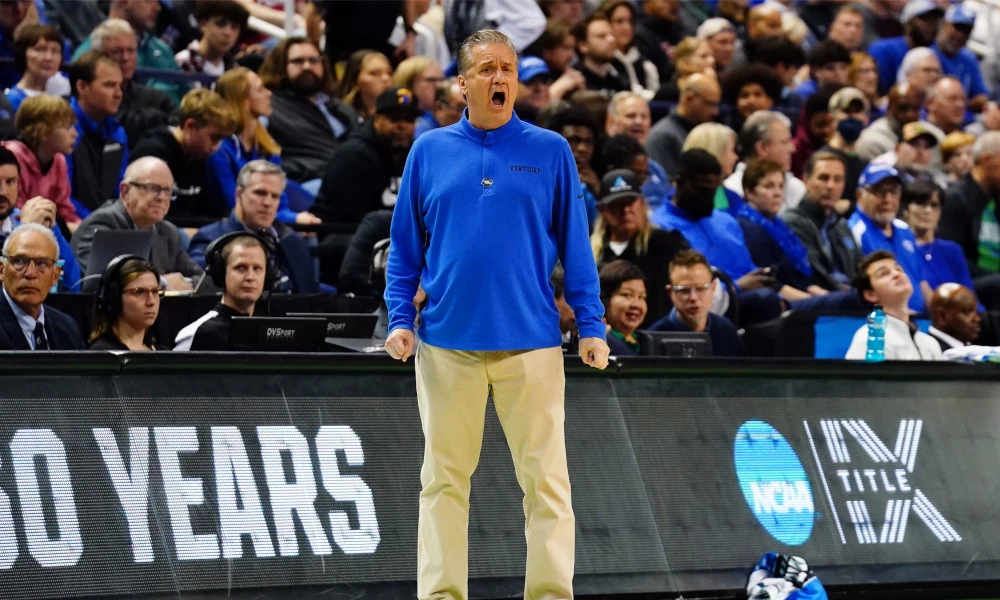 Earlier this week the Kentucky basketball team caught an unexpected shot. From who? The Texas women's basketball team. On Tuesday, the Longhorns' social media team tweeted a video of Drake, a professed Kentucky fan, coming to visit campus and the team.
However the caption is what caught people's attention, "we don't have to go to Drake's house… he comes to ours," Clearly trying to throw a shot at Kentucky for visiting Drake's Toronto mansion back in July, during the team's trip to Canada for GLOBL Jam.
It didn't take long for the Big Blue Nation to respond, as just 12 minutes later the Tweet's caption was edited to say "thanks for stopping by🤘".
That being said, let's not act like Drake made a specific trip just to visit the Texas Longhorns, he was in Austin for a stop in his music tour. Not to mention that Drake has attended multiple Kentucky games and events.
Texas will soon be in the SEC, and maybe Drake will be there in Kentucky gear to set the record straight.
Top Kentucky Target Tre Johnson Pushes Decision Date To Spring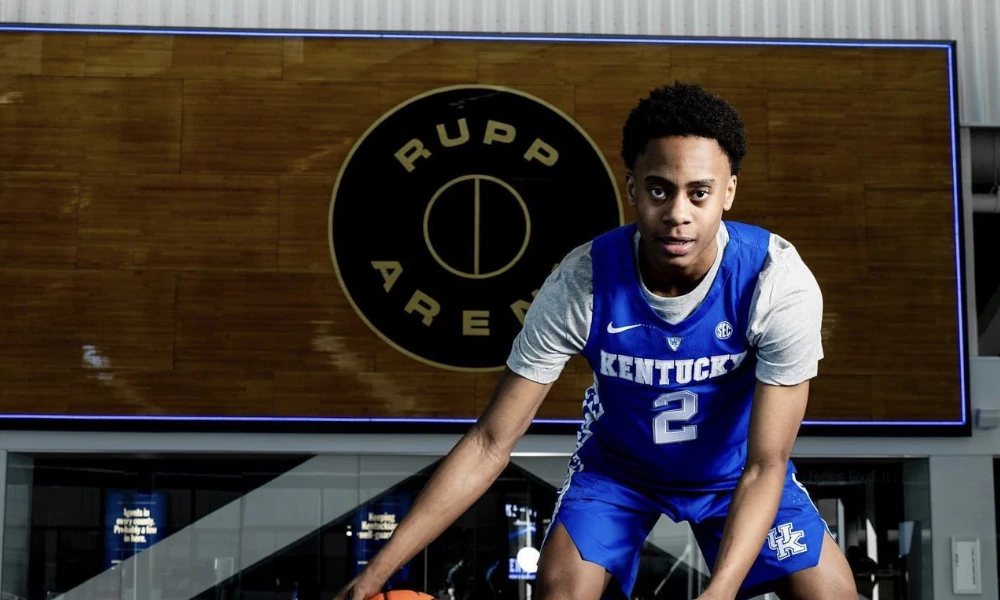 One of the top players in the class of 2024, Tre Johnson recently made the move to Link Academy in search of high-level competition on a big stage, which is a reason he says is why he will wait until the Spring before making a decision.
The top five guard possesses all of the scoring tools, and is a player that Kentucky really wants. He still has a few visits to take, with Alabama and Arkansas visits coming soon, plus another visit to Kansas, and another visit to Baylor. Johnson previously visited Kentucky back in late January.
Johnson has a final list of Kentucky, Baylor, Texas, Arkansas, Alabama, Kansas, and pro options. The Wildcats are rumored to be a top-three option long with Baylor and Texas. This delay may give Kentucky a better chance. With that said, he is not in a big rush to decide, as he is more focused on getting acclimated to his new home at Link Academy, as well as improving as a player.
Tre Johnson is one of the best pure scorers in all of high school basketball, and is certainly being prioritized by multiple top schools. Current intel suggests that Baylor and Kentucky are the top contenders, but with him pushing back his decision, there is more time to tell.