Lance Ware Cites Love for Kentucky as Reason Not Transfer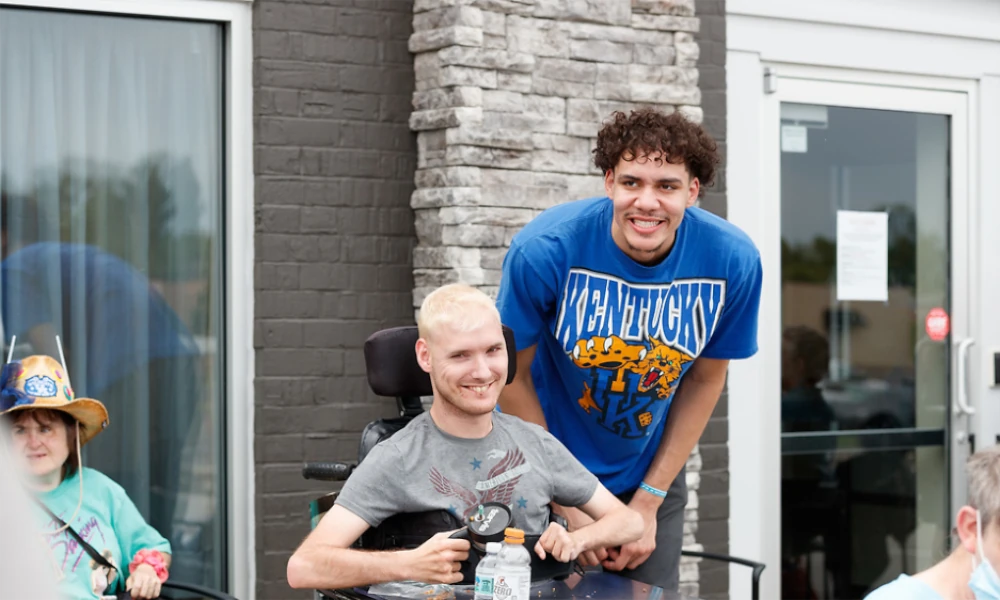 Coming in as a four-star freshman for the Kentucky Wildcats in 2020-21, Lance Ware played behind five-star freshman Isaiah Jackson, and impact transfers Jacob Toppin and Olivier Sarr. However, he started three games and averaged just over 12 minutes per game but was relatively inefficient.
Last season, Ware's role was reduced even more as Oscar Tshiebwe demanded almost 32 minutes per game in his Player of the Year campaign. However, in nearly half the minutes he played than he played the previous season he was much more efficient in his limited time. Take a look:
2020-21 (254 total minutes, 12.1 mpg): 41 total points, 62 total rebounds, 40.6% FG
2021-22 (177 total minutes, 6.3 mpg): 42 total points, 53 total rebounds, 66.7% FG
Despite limited playing time, Ware carved out a role for himself, bringing toughness and energy off the bench, but he finds it funny when people think he wants to fight.
Ware told Kyle Tucker of The Athletic, "I'm not going to fight you right here in the middle of the court. If I really wanted to fight you, we could just go in the back and fight. If I wanted to fight in front of a crowd, I'd go be a boxer."
Going into his junior year and with a very talented and deep Kentucky frontcourt, Ware's opportunity for playing time does not look any better.
You have Oscar Tshiebwe, the returning National Player of the Year; Damion Collins and Jacob Toppin, two freak athletes who look to have made big improvements; Ugonna Kingsley, a last-minute four-star reclassification; and then Lance Ware.
Ware could play a much more significant role or even start at another school, so why not follow the route of hundreds of other players and transfer?
He was asked just that by Tucker.
"People always ask me that. 'Why not leave, go play somewhere I can get more minutes?' Because I love Kentucky. I love the fans. I love the way coach Cal does things. I just want to stay and get better and see what I can get out of the experience of challenging myself. Because that's just life. Forget basketball. That's life in the real world. Not everybody can be the star. Not everybody gets to go out and score 30. But I still have a role on this team that I believe is very important."
Ware's comment shows just how self-aware he is. Rather than be a four-star recruit who could be a major contributor for a mid-major, he has created a key role for himself and become a fan favorite at a blue-blood school that he loves.
Just because he may play a smaller role, don't let that fool you. Tshiebwe told Tucker that he can tell that Ware has improved. "He's always attacking you," Tshiebwe said.
Also published on A Sea of Blue.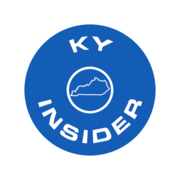 WKU Coach Rick Stansbury Says Dontaie Allen Was Ineligible to Play at Kentucky Last Season, UK Received Fine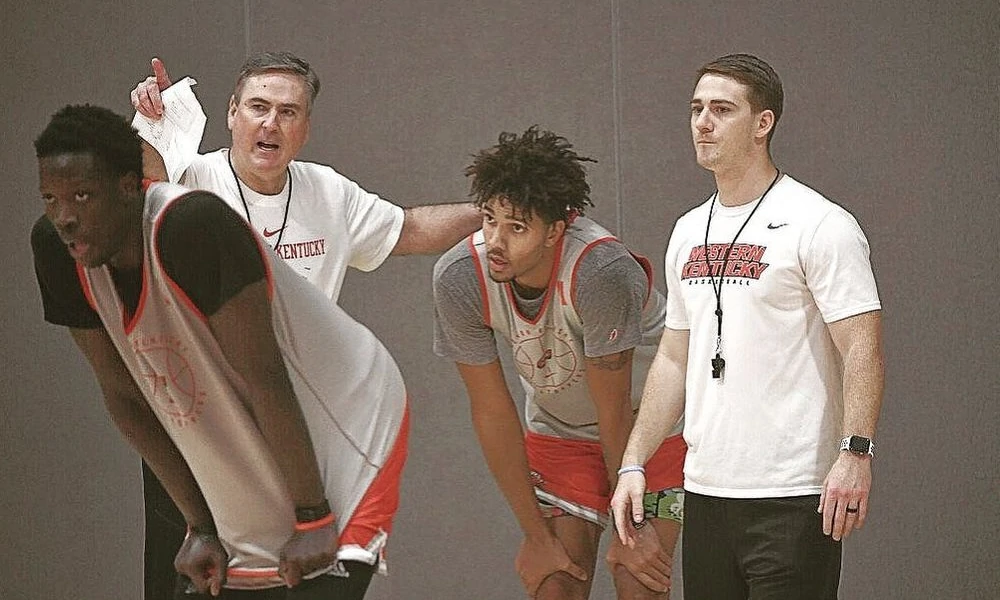 Former Kentucky Wildcat, Dontaie Allen, had a rocky time in Lexington to say it best, averaging just 4 .2 points in 10.6 minutes per game. This led him to look for a change of scenery, and he ultimately transferred to Western Kentucky.
Through three games, Allen is averaging 8 points per game on 44 percent shooting from three, yet he hasn't played since November 12th and has missed four straight games. Why?
On November 21st, Western Kentucky's official Twitter account released a statement that explained that Allen was not available due to "an eligibility matter related to his previous school [Kentucky]."
While that left plenty of questions to be asked, WKU head coach Rick Stansbury addressed them on Saturday after the Hilltoppers beat South Carolina State.
Stansbury claims that Kentucky unknowingly allowed Dontaie Allen, who he says was also unaware, to play while ineligible during last season's fall semester. While no specifics were given, Stansbury says the eligibility concerns arise from grade issues that were not found until Allen entered his name into the transfer portal.
As a result, Kentucky was fined $500 for each game Allen appeared in during the fall semester (seven games; $3,500 total fine), despite playing limited minutes. However, a decision has yet to be reached on Allen's current eligibility status.
Kentucky Basketball Introduces Most Impactful Player Belt, Oscar Tshiebwe First Winner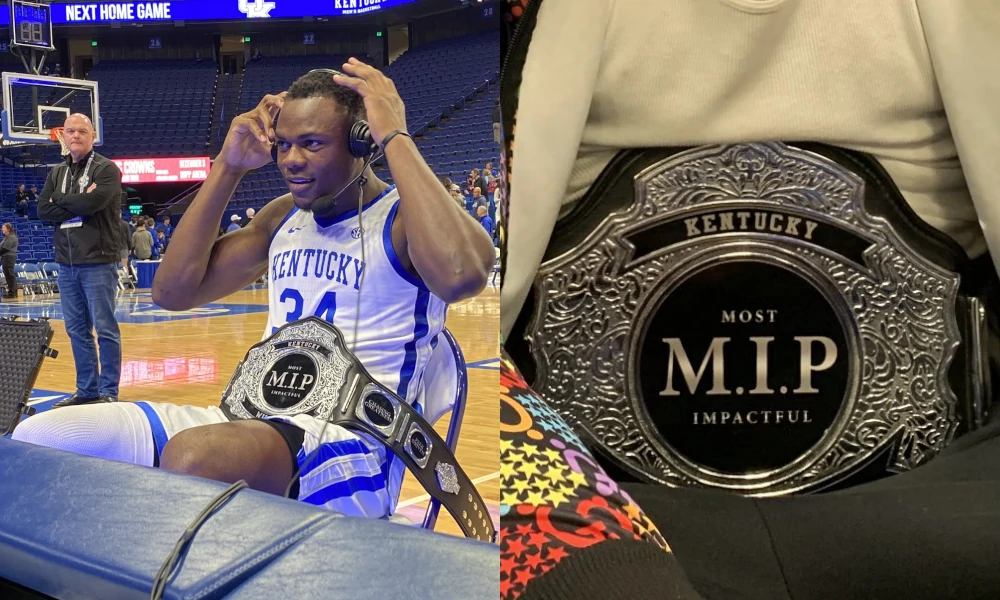 On Thanksgiving Eve the Kentucky Wildcats got back to their winning ways as they beat the North Florida Ospreys 96-56 in impressive fashion.
Of course in the process, Oscar Tshiebwe, got his usual double-double with 16 points and 15 rebounds. After the game, Tshiebwe was seen sporting some new hardware called the "Most Impactful Player (MIP) Belt".
In his postgame press conference, John Calipari talked about the new award that will be given out following each win this season. "Now we have a belt that we give out after wins, the most impactful player. Who impacted the game. The staff gets it and it's a big shiny belt. Maybe they will show you," Calipari said.
Despite twenty-point games from Jacob Toppin (also recorded a double-double) and Antonio Reeves, Calipari attributed Thsiebwe with doing the extra things.
"He[Tshiebwe] was the most impactful, not because of points and rebounds, because he had five assists, he had three steals, and two blocks. That's impacting the game. He'll have the belt until the next win. You don't get, no belts on a loss. But maybe if he didn't take it already, because he wore it. He was wearing it around the locker room."
It will be interesting to see which players win this award over the course of the season, but as valuable as Tshiebwe is, it is safe to assume he will have the belt a lot.
Examining Which Lineups Worked Against Gonzaga, Shot Selection Comparison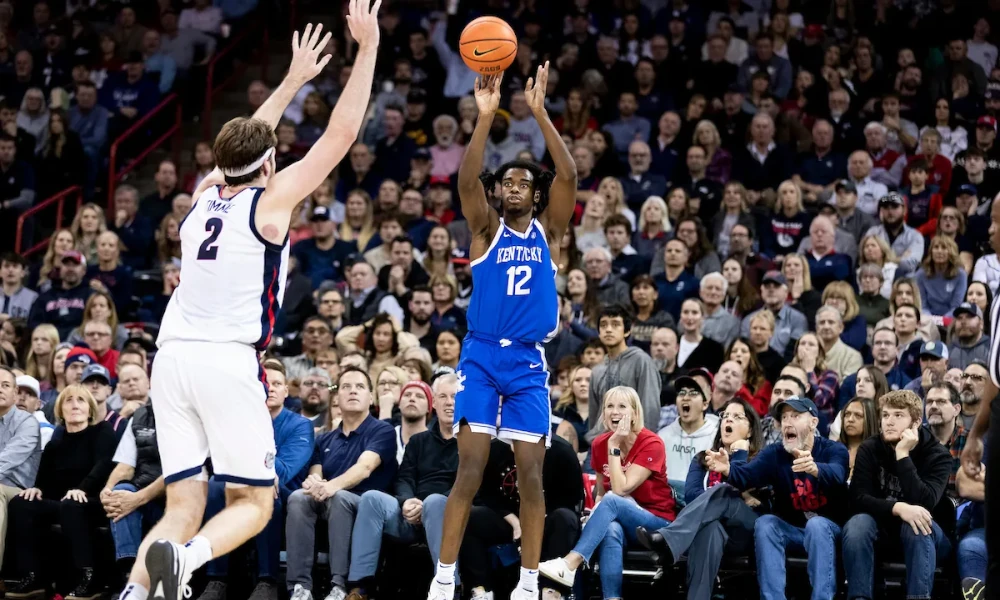 The Kentucky Wildcats have looked dominant against inferior competition. In three games against sub-100 KenPom teams, the Wildcats have averaged 92.7 points on 52.9 percent shooting from the field and 47.8 percent from three, while only giving up 59.3 points per game.
However, against their two ranked opponents, Kentucky has looked vastly different on both ends of the floor. In those games, the Wildcats have averaged 74.5 points per contest on 39.6 percent shooting from the field and 26 percent from three, while giving up 82.5 points per game.
Struggling to find their early season footing, John Calipari is still experimenting with lineups and has cited injuries and a lack of practice time as reasons for this.
With that being said, let's take a look at what lineups did and did not work against Gonzaga, as well as the shot selection.
Offensive Lineups
Following the Gonzaga game, there was one fan that compared the Kentucky offense to a "chicken running around with its head cut off". At times it certainly looked like that.
Just take a look at the first offensive possession of the game. After getting the tip, the Wildcats forced a busted play and shot a contested three at the end of the shot clock.
This obviously is not the offense that Calipari wants. After the game, Calipari said that this specific play was one they had gone over in the huddle just seconds before tipoff and that he was "embarrassed" at the lack of execution.
So which lineups executed the best?
Wheeler-Wallace-Fredrick-Toppin-Tshiebwe: 20 possessions played, 31.6% FG, 14.3% 3P, .7 points per possession, Zero TOs,
Wallace-Fredrick-Reeves-Toppin-Tshiebwe: 20 possessions played, 56.3% FG, 60% 3P, 1.05 points per possession, 4 TOs,
Wallace-Fredrick-Reeves-Toppin-Ware: 12 possessions played, 18.2% FG, 0% 3P, .5 points per possession, TOs, Zero TOs
Reeves-Fredrick-Livingston-Toppin-Tshiebwe: 8 possessions played, 25% FG, 0% 3P, .5 points per possession, 2 TOs,
Unsurprisingly, the best lineup in terms of production featured Wallace-Fredrick-Reeves-Toppin-Tshiebwe, five players that are a threat to score in a variety of ways. This lineup was the only Kentucky lineup that average more than 1 point per possession.
The other most played lineup was similar but included Wheeler instead of Reeves. This isn't to say that this lineup did not do good things, as there were no turnovers and the second-most points per possession. However, Gonzaga was able to sag off Wheeler, and could put more effort into guarding Fredrick and Tshiebwe in that lineup.
Proving himself as one of the best ball distributors in the country in back-to-back seasons, Wheeler deserves to play, but Calipari needs to scheme around his weaknesses, which he suggested he is doing on Monday's call-in show.
Defensive Lineups
With the size and length of this roster, this year's Kentucky Wildcats has the chance to be one of the best defensive teams of the Calipari era. However, they are from that at the moment.
Against Gonzaga, Kentucky rarely forced the Bulldogs into difficult shots. In fact, of their 88 points, they scored 44 of them in the paint.
With that said, Kentucky did have some lineups that were effective, but at the cost of offense. With the two aforementioned lineups above, Gonzaga forced the ball over, but still averaged more than 1 point per possession and shot well over 50 percent from the field.
Wallace-Fredrick-Reeves-Toppin-Tshiebwe: 20 possessions played, 58.3% FG, 1.2 points per possession, 4 forced TOs
Wheeler-Wallace-Fredrick-Toppin-Tshiebwe: 18 possessions played, 70% FG, 1.056 points per possession, 7 forced TOs
Wallace-Fredrick-Reeves-Toppin-Ware: 12 possessions played, 37.5% FG, .667 points per possession, 8 forced TOs
Reeves-Fredrick-Livingston-Toppin-Tshiebwe: 6 possessions played, 25% FG, .667 points per possession, 4 forced TOs
The two lineups that were effective included Ware and Livingston, and the one common denominator they bring is toughness.
Ware can be played in spurts, but has shown that he exceeds primarily on offense in pick-and-roll situations. Whereas Livingston is just a freshman and still has room to grow his offensive game, but hasn't gotten the game time to do so.
Also, as the season goes along and he develops, don't be surprised to see Ugonna Onyenso in some situations due to his elite shot-blocking ability.
Shot Selection
The shot chart on the left is against South Carolina State, just days before the matchup with Gonzaga, which shot chart is on the right.
What is the difference?
On the left, is the ideal modern offensive shot chart, showing strictly threes and shots inside the paint. In that game, Kentucky scored 80 of their 106 points in the paint or from three, showing that they played efficiently.
Whereas, on the right, shots are scattered across the county including plenty of mid-range shots. This shows just how much duress the offense was in.
Obviously, there is a different level of defense that the Wildcats are playing in each of the shot charts. With that said, ineffective lineups and lack of execution amplify the problems.