Lance Ware Cites Love for Kentucky as Reason Not Transfer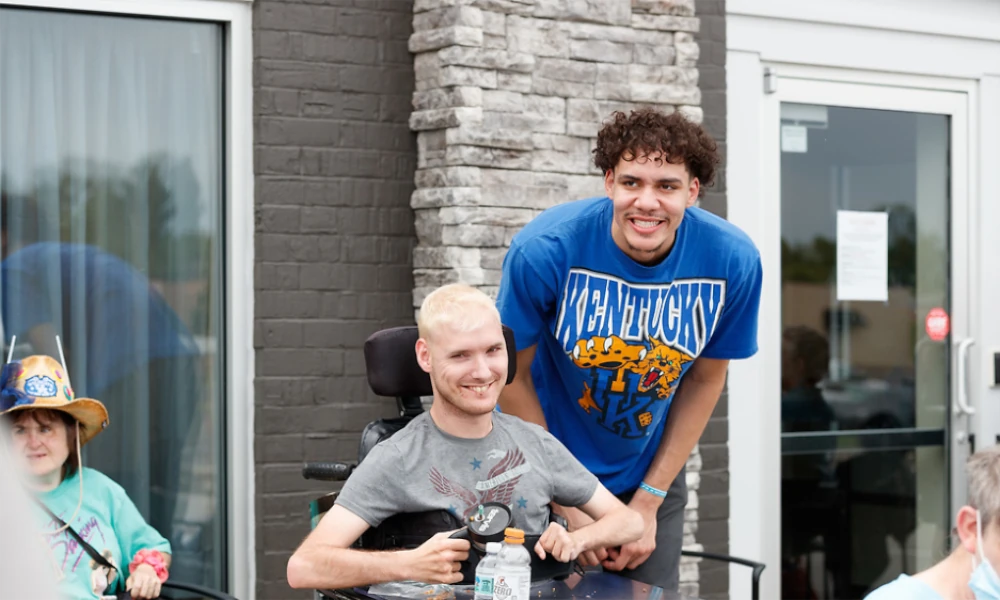 Coming in as a four-star freshman for the Kentucky Wildcats in 2020-21, Lance Ware played behind five-star freshman Isaiah Jackson, and impact transfers Jacob Toppin and Olivier Sarr. However, he started three games and averaged just over 12 minutes per game but was relatively inefficient.
Last season, Ware's role was reduced even more as Oscar Tshiebwe demanded almost 32 minutes per game in his Player of the Year campaign. However, in nearly half the minutes he played than he played the previous season he was much more efficient in his limited time. Take a look:
2020-21 (254 total minutes, 12.1 mpg): 41 total points, 62 total rebounds, 40.6% FG
2021-22 (177 total minutes, 6.3 mpg): 42 total points, 53 total rebounds, 66.7% FG
Despite limited playing time, Ware carved out a role for himself, bringing toughness and energy off the bench, but he finds it funny when people think he wants to fight.
Ware told Kyle Tucker of The Athletic, "I'm not going to fight you right here in the middle of the court. If I really wanted to fight you, we could just go in the back and fight. If I wanted to fight in front of a crowd, I'd go be a boxer."
Going into his junior year and with a very talented and deep Kentucky frontcourt, Ware's opportunity for playing time does not look any better.
You have Oscar Tshiebwe, the returning National Player of the Year; Damion Collins and Jacob Toppin, two freak athletes who look to have made big improvements; Ugonna Kingsley, a last-minute four-star reclassification; and then Lance Ware.
Ware could play a much more significant role or even start at another school, so why not follow the route of hundreds of other players and transfer?
He was asked just that by Tucker.
"People always ask me that. 'Why not leave, go play somewhere I can get more minutes?' Because I love Kentucky. I love the fans. I love the way coach Cal does things. I just want to stay and get better and see what I can get out of the experience of challenging myself. Because that's just life. Forget basketball. That's life in the real world. Not everybody can be the star. Not everybody gets to go out and score 30. But I still have a role on this team that I believe is very important."
Ware's comment shows just how self-aware he is. Rather than be a four-star recruit who could be a major contributor for a mid-major, he has created a key role for himself and become a fan favorite at a blue-blood school that he loves.
Just because he may play a smaller role, don't let that fool you. Tshiebwe told Tucker that he can tell that Ware has improved. "He's always attacking you," Tshiebwe said.
Also published on A Sea of Blue.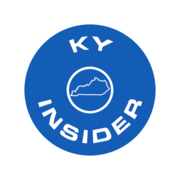 Kentucky vs Michigan in London Game Recap; Things to Know and Game MVP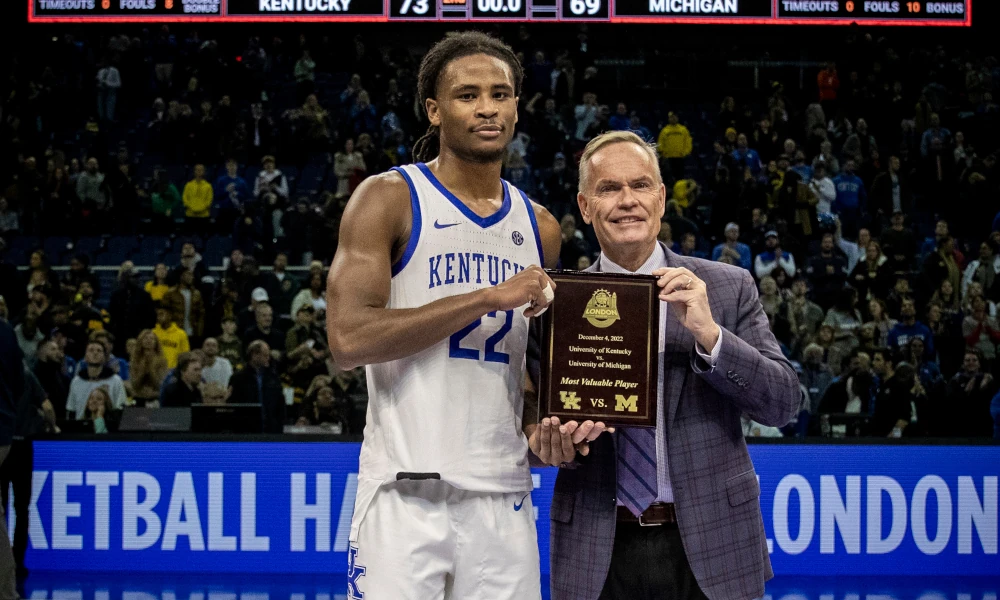 On Sunday, the Kentucky Wildcats and Michigan Wolverines traveled across the pond to play in London for the first of a three-game series between the two teams.
Coming in, both teams needed a statement win and both teams played like it.
To start the game, both teams had good starts with Kentucky holding a 11-8 head at the under-16 media timeout. Michigan responded with a 9-0 run, to take a 17-11 lead, which they carried for much of the first half. However, thanks to a 7-0 run from Antonio Reeves and Oscar Tshiebwe Kentucky entered the half up 37-36.
Kentucky retained that lead for all but 1 minute for the rest of the game as they briefly fell behind 50-49, but they could never quite push the lead out of reach. With five minutes to go, Kentucky held a 66-58 lead, but it quickly evaporated to just two with less than two minutes to go.
That is when Cason Wallace answered the bell, hitting a three late in the shot clock to make it a two possession game. This gave Kentucky some breathing room through to the end as they got their best win thus far in this young season, 73-69.
In a game that featured some good and bad, let's take a closer look.
Reeves Stepped up on the Big Stage, Fredrick Did Not
Antonio Reeves came into Sunday's game as Kentucky's leading scorer with 14.9 points per game, while shooting 47 percent from three. Yet, his biggest criticism has been in his performance in big games and for good reason.
Against Michigan State and Gonzaga, Reeves averaged just 7.5 points on 25 percent shooting from the field and 33 percent from three. He finally started to reverse that narrative against Michigan, scoring 11 points on 3-4 shooting from three.
With that said, CJ Fredrick, who averaged 9 points and shot over 47 percent from three at Iowa, continued his struggles in big games, scoring just three points. Coming in touted as one of the best shooters in the country, Fredrick is averaging just 3.7 points per game against top 50 KenPom teams.
For Kentucky to have a successful season, both Reeves and Fredrick have to be threats.
Balanced Offense
Looking at the box score, it was a balanced scoring effort as Kentucky had five players score in double figures. This is just the second time this has occurred this season, and the first since South Carolina State.
What is even more encouraging is that 17 of the 27 made field goals came off assists (63% assist percentage). This means the offense was generating opportunities and players were making the right passes.
The biggest criticism for the Wildcats' offense on Sunday was their poor free throw shooting, going 10-20 (50%). If they had shot a better percentage, the margin of victory might have been greater than 4.
Despite that, the performance was promising for an offense that has struggled early this season.
Rebounding Dominance
A staple of a good John Calipari team is good rebounding, as he has had a top 50 rebounding team in all but one season at Kentucky (2019-20). Despite some early season concerns, this season's Kentucky team is no different, currently ranked 10th in the country in rebounding.
Against Michigan, the Wildcats asserted their dominance on the boards , winning the rebounding battle 46-33. Of course, Oscar Tshiebwe – a generational rebounder – had a team-high 14 rebounds, but it was good to see the rest of the team step up as well. That includes Cason Wallace who had 4 offensive rebounds, more than Tshiebwe (2).
Game MVP: Cason Wallace
Cason Wallace may be the most talented freshman Kentucky has had since Tyrese Maxey and he put that on display on both ends of the court against Michigan.
Finishing with an impressive stat line: 14 points, 8 rebounds, 5 assists, 1 block, and 1 steal; Wallace was the most impactful player of the game and he stepped up with it mattered. In fact much of his production came in the second half alone:
11 points
4-4 FG (3-3 3P)
4 rebounds
2 assists
1 block
Not to mention, this clutch three pointer to all but seal the game.
Kentucky vs. Michigan in London; TV Info and Things to Know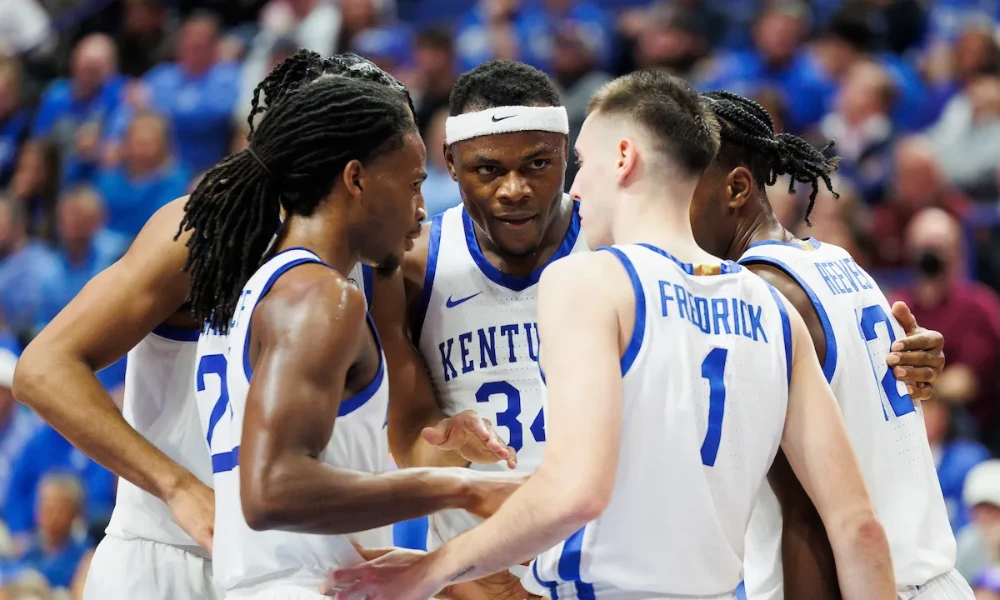 The Kentucky Wildcats did not have the most ideal November, exiting the first month of the season with a 5-2 record, with both losses coming against their only two ranked teams. Leaving fans with some disappointment.
This was not helped by a poor offensive showing against Bellarmine on Tuesday. However, the Wildcats have an opportunity to redeem themselves as they play a preseason Top 25 team in the Michigan Wolverines in London this Sunday.
Also sitting at 5-2, Michigan has losses to Arizona State and most recently No. 3 Virginia, showing their inconsistency. Thus far, the Wolverines look like a team that plays to their opponent, as they have just a 6-point average margin of victory, so don't be surprised by a close game.
This is a big test for both sides. Let's take a closer look at the matchup.
Look to solve rotation issues
Rotation issues have been there from the beginning of this season, but the Wildcats are seven games in and it doesn't appear to have gotten any better.
In the first half of the Bellarmine game, there were times there were three non-shooters in at the same time, which allowed the Knights to pack the paint against Tshiebwe and forced bad shots and turnovers. With this being Kentucky's point of emphasis on offense in the first half, they scored just 21 points.
In the second half, most lineups included two shooters which opened up the floor as they made five threes on 45 percent shooting, and shot 56 percent from the field in general. The heralded Wallace-Fredrick-Reeves-Toppin-Tshiebwe lineup even got some run with good results.
With that said, Kentucky has depth to work with. While some players need to step up, the coaching staff has the responsibility of finding lineups that allow players to play toward their strengths and benefit the team. That doesn't include "two-big" or "non-shooting" lineups.
Will length bother Oscar Tshiebwe?
Last season, Oscar Tshiebwe was undoubtedly the most dominant player in college basketball. Hence why he was the unanimous National Player of the Year. Yet, he did struggle at times, especially against length.
Three of Tshiebwe's lesser performances last year came against Alabama, Auburn, and Western Kentucky. What did these teams have in common? They all had bigs that were at least 7 feet tall and could block shots.
Despite his 6-foot-9, 260-pound frame, Tshiebwe is taken out of his game a bit when playing against that kind of length. In the three aforementioned games, Tshiebwes's averages went from 17.4 points and 60.6 percent shooting from the field to just 13.3 points and 45.9 percent, as he was forced to extend his game to the mid-range and forced inside shots at times.
Michigan has their own 7-foot-big (7-foot-1 to be exact) that will match up against Tshiebwe, Hunter Dickinson. The Wolverine big is one of the best shot blockers in the country, averaging 2.3 per contest, and allows his matchup to shoot just over 40 percent from the field this season.
Tshiebwe has yet to play against this type of player this season, and it will be interesting to see how he handles it on Sunday.
Which version of Michigan will Kentucky play?
Ranked as the No. 22 team in the preseason, Michigan has the talent of a Top 25 team, but they have been inconsistent this season.
Just this past Tuesday, the Wolverines pushed No. 3 Virginia to the end, only losing 70-68. However, they have struggled against lesser opponents like Eastern Michigan and Ohio, and lost in an 87-62 blowout to Arizona State.
The biggest variances in their performances are their poor defense and inconsistent scoring.
On the defensive end, the Wolverines have taken a step back from where they have been. Ranked as the fourth most efficient defense in 2021 by KenPom, Michigan is ranked just 87th this season. While Dickinson can block shots, opponents haven't struggled to get to the rim or get shots off in general, with Michigan ranked toward the bottom of the country in field goal attempts allowed.
On the offensive side of the ball, Michigan has just two players that average double-figures, Hunter Dickinson and Jett Howard. Outside of these two players, the Wolverines' production has been inconsistent, but when they are provided ample help they can compete with anyone in the country, as seen in the Virginia game.
Time/Date: 1 pm ET on Sunday, December 4th
Location: The O2 Arena in London, England
TV Channel: ABC
Live Online Stream: WatchESPN, ESPN+, SEC Network+ or ESPN app
Radio: Tom Leach and Jack Givens have the UK radio network call on the UK Sports Network.
Replay: WatchESPN and SEC Network (check local listings).
Rosters: UK | UM
Team Sheets: UK | UM
Stats To Know: UK | UM
Odds: The official point spread has yet to be released, but the computer models are confident in the Wildcats. ESPN's matchup predictor gives Kentucky a 86% chance of winning, and Bart Torvik has it at 75%.
Predictions: Bart Torvik picked the Cats to win 75-68.
Reed Sheppard shows out in Senior Debut, Record Near Triple-Double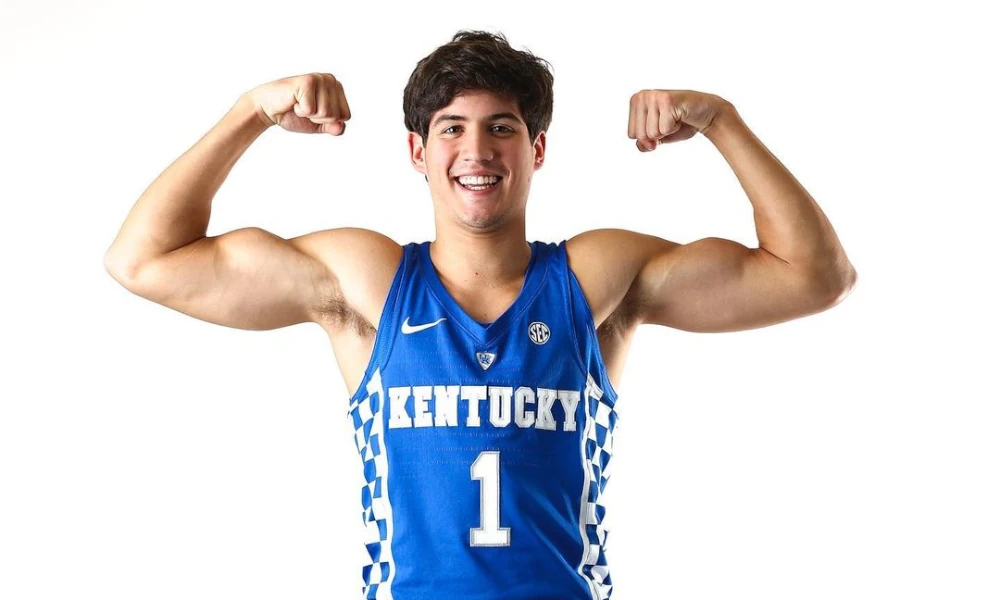 The No. 1 player in Kentucky for the 2023 class, guard Reed Sheppard and North Laurel took the floor for the first time this season in a top 10 matchup against Lexington Catholic.
Being the lone Kentucky kid in Kentucky's 2023 recruiting class, and the son of Kentucky legends Jeff Sheppard and Stacey Reed, Reed has a lot of pressure on him this season to be great. A game against a fellow top-10 team in Lexington Catholic is a great way to start the season.
Sheppard stuffed the stat sheet as he recorded a near triple-double with 23 points, 8 rebounds, and 8 assists on an efficient 66.7 percent from the field. Even though Catholic put a lot of attention on him, Sheppard still let his presence be known by constantly finding an open teammate.
Sheppard wasn't alone, as he received a lot of help in his Senior debut tonight from a Knox Central transfer junior forward Gavin Chadwell. While being a fantastic basketball player, Chadwell also holds football scholarships from Kentucky and Eastern Kentucky.
Chadwell played a great game in his North Laurel debut posting 17 points and 7 boards, and going 6-9 from the field. The Sheppard-Chadwell two-man game poses a huge threat for the rest of the season if Chadwell can keep it up.
The eyes of Big Blue Nation are pm Sheppard this season he tries to get North Laurel back to Rupp Arena again this season to try and take home a state title. In less than a year, the BBN will get to see him play at Rupp Arena in the Kentucky blue.
Check out Reed's high