Mark Stoops Calls NIL/Transfer Portal Era "100% Free Agency"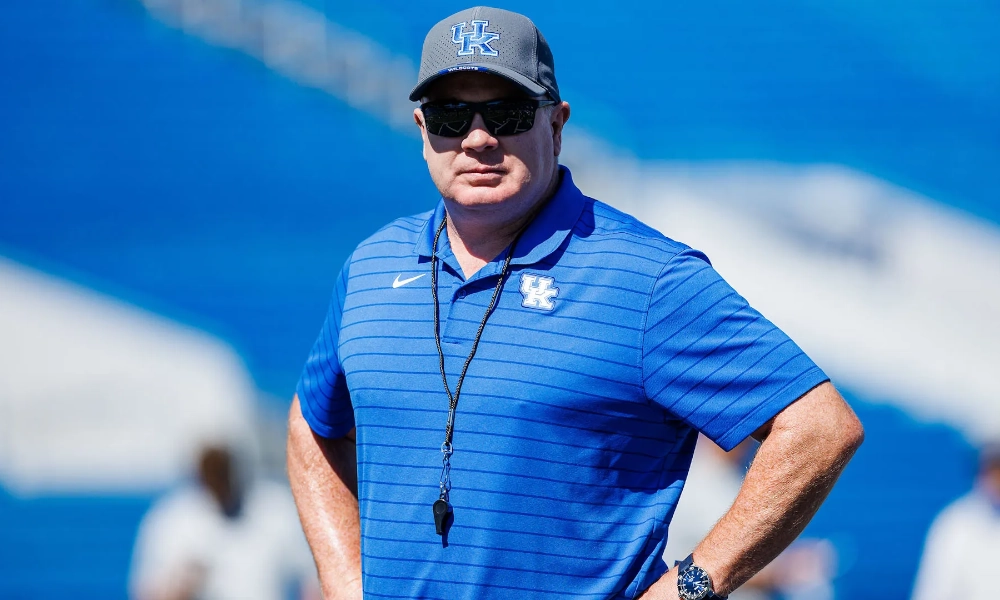 In 2021, college athletics was forever changed. In the span of just a few months, the NCAA implemented the "one-time transfer rule" and rules to allow student-athletes to profit from their name, image, and likeness (NIL).
With both of these, it opened up the possibility for players to transfer to schools strictly based on potential marketing/brand deals, with Stoops calling it "100% free agency" on his weekly call-in show.
Now, a year and a half later, college sports have already seen several cases of this play out. This includes a billionaire alum of the University of Miami, John Ruiz, using his wealth and company, LifeWallet, to buy as much talent as he can afford.
While it may not seem fair, it is the new reality and it is starting to take effect on the Kentucky football program. In his weekly call-in show on Monday, Mark Stoops opened up about it.
"With the name, image, and likeness, man, it is just a different world. It is absolutely insane what's going on. Transfers. Your own team. You know how many people are going after our young players? We have as good of freshmen as I've ever had. And it's like a free-for-all."
The freshman Stoops is referring to?
Deone Walker, who has been a bright spot on the defensive line and is a semifinalist for the Shaun Alexander Freshman of the Year Award. Two freshmen receivers, Dane Key and Barion Brown, now hold all of UK's freshman receiving records. Not to mention, Alex Afari and Keaten Wade, who have made big plays in key moments this season.
Recruiting that caliber of player is relatively new to Kentucky football, but now they have to find out how to retain them with schools "just throwing money" at them, as Stoops said.
"They're just throwing money, you know what I mean? I don't know, I don't understand. It doesn't seem healthy, I'm not sure it's sustainable, but it's legal, and once again I'm sorry. I hate to ask but we need the support. We need it desperately. It's total free agency."
In his Monday morning press conference, Stoops even suggested that he would donate back to the players if he was allowed. "I wish I could take some of that contract I just got and give it to my players and give it to the collectives… I promise you, I'd donate back to the players."
At this point, the precedent has been set and it is up to the programs to adjust.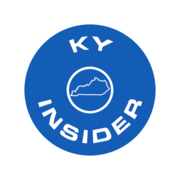 Vito Tisdale Dismissed from Kentucky Football Team for "Violation of Team Rules"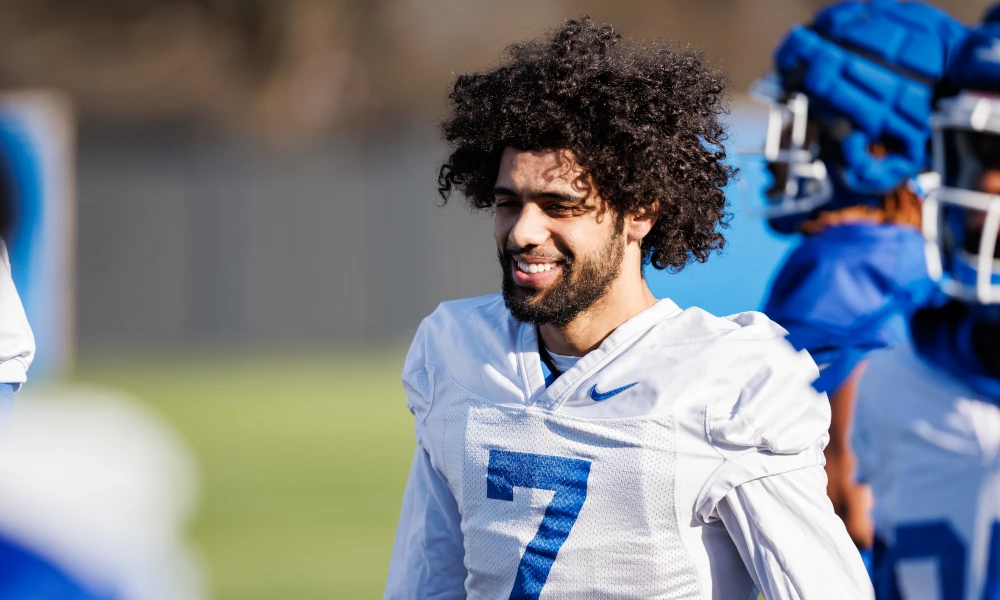 Vito Tisdale committed to Kentucky in 2020 as a four-star safety, pledging to play for Wildcats over Alabama, Georgia, and LSU among others during the All-American game on NBC. A Bowling Green native and the son of Nappy Roots' 'Big V,' Tisdale arrived in Lexington with high expectations.
As a freshman, Tisdale played the role of a playmaker on special teams, totaling 20 tackles. Entering his sophomore season, he was expected to take another step but was suspended for preseason training camp and the first month of the 2021 season for an off-campus fight with a fraternity, which resulted in charges for six Kentucky football players.
Tisdale was ultimately cleared of his charges and returned to the field to tally 21 tackles, including 1.5 for loss, on the season. This season would end up being his playing on the field for Kentucky.
In the opening days of 2022 spring practice, Tisdale suffered a season-ending ACL tear. After undergoing surgery and months of rehab, Tisalde was expected to be available for spring practice this week. Instead, his time at Kentucky is over.
On Tuesday afternoon, Kentucky football announced via Twitter that Tisdale was dismissed from the team for a "violation of team rules," with no further comment.
In a since-deleted tweet, Tisdale confirmed that he is longer part of the team and showed appreciation for his time at Kentucky.
This loss will have an impact on the Wildcats, as they lose a talented defensive back, which also hurts depth. Fortunately, the Wildcats have proven players that are capable of filling that spot: Alex Afari, Zion Childress, and Andru Phillips.
Sahvir Wheeler Says He Will Be Ready to Go for the NCAA Tournament, "Super Excited" to Be Back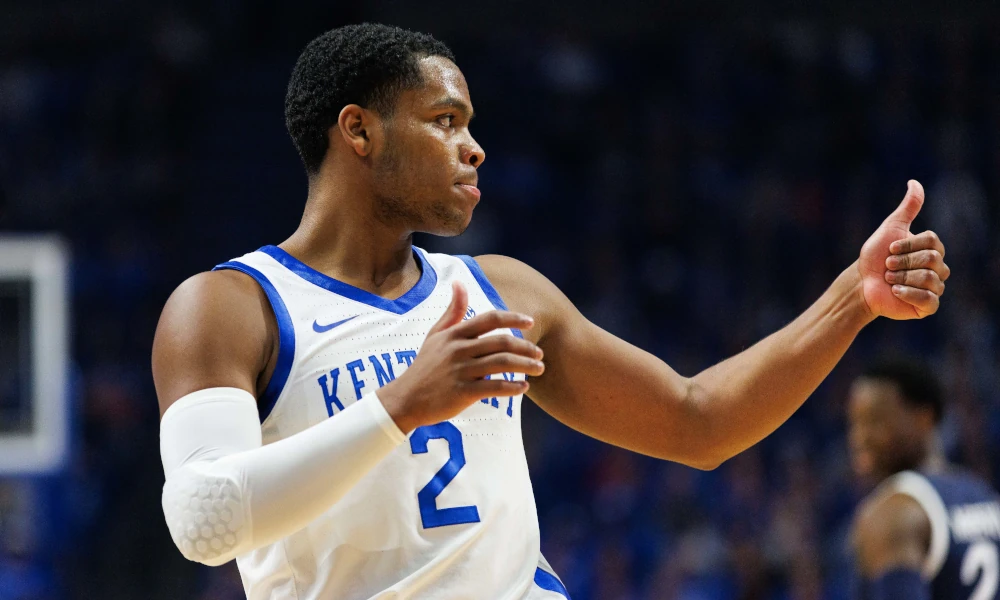 The Kentucky Wildcats arrived in Greensboro, North Carolina for the NCAA Tournament last night. With an open practice on Thursday afternoon, the locker room was opened to the media, and with the news that Sahvir Wheeler could make a return, he was the most popular guy there.
At that point, it didn't take for someone to ask if he will be available this week. "I believe so," Wheeler said with a smile. "It's been tough. The toughest thing has been not being out there with my guys… I am just super excited to be in this situation again, in the tournament, with my guys. Hopefully, we do some great things."
Wheeler has participated in practice all week in preparation and is in a great mindset. When asked about the narratives of "quitting" the team. He responded with, "That was a narrative? That's crazy… I have dreamed to play at Kentucky."
The Big Blue Nation will be pulling for Wheeler and the Wildcats to do some great things against Providence, with his downhill speed, Wheeler could help Kentucky take advantage of the Friars' transition defense, which has struggled this season.
Mark Stoops Gives Promising Update on New Quarterback, Devin Leary, as He Recovers From Pectoral Tear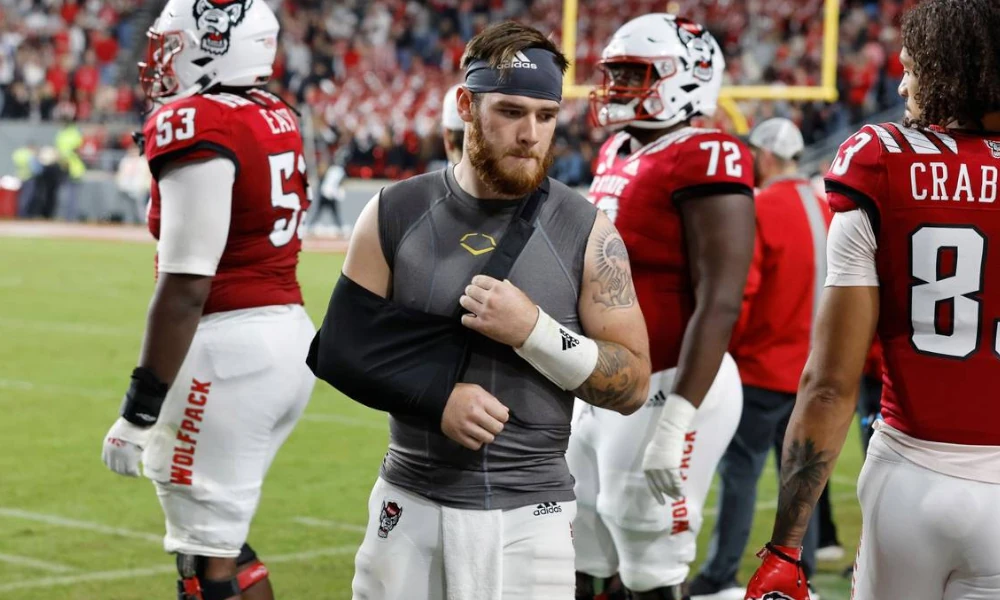 After being projected as a top NFL prospect since the end of the 2021 season, it was well-known that last season would be Will Levis' last at Kentucky.
With that being said, the staff knew they had to go find another high-level quarterback and that is exactly what they did. In December, the Wildcats made the decision to bring back Liam Coen who played a part in bringing in former N.C. State quarterback, Devin Leary, from the transfer portal.
While Leary set program and conference records at his old school, he is coming off a pectoral tear alongside his throwing arm that occurred back in October. While his commitment brought excitement, it also brought some questions, such as if Leary would be healthy enough to participate in Spring practice.
Kentucky fans should gain some confidence as Leary is participating in Spring practice, which started on Monday. According to Leary, he is ahead of his rehab process and has shown no arm pain after throwing but the staff wants to make sure, he is 100% healed before "ripping passes at 100%." For that reason, he will be on a throw count.
On Monday, Stoops took to the stand in the Spring practice opening presser, providing an update on Kentucky's new QB #1. "He looked really good… He was able to go for basically an entire practice," Stoops said.
Even with the encouraging news on Leary, there is still the question surrounding the quarterback room, who is going to be the backup?
Obviously, Kentucky will have different options in Kaiya Sheron, Destin Wade, and Deuce Hogan, who have all been considered QB #2 at one time in their Kentucky career, which will make the battle that much more interesting.
Again, the main question has been answered and Leary is healthy enough to participate in Spring practice and get better accustomed to the team. Hopefully, with Offensive Coordinator Liam Coen coming back he can resonate Kentucky's offense this year with new QB #1, Devin Leary.