NBA All-Star Damian Lillard Name Drops Immanuel Quickley in Newest Rap Song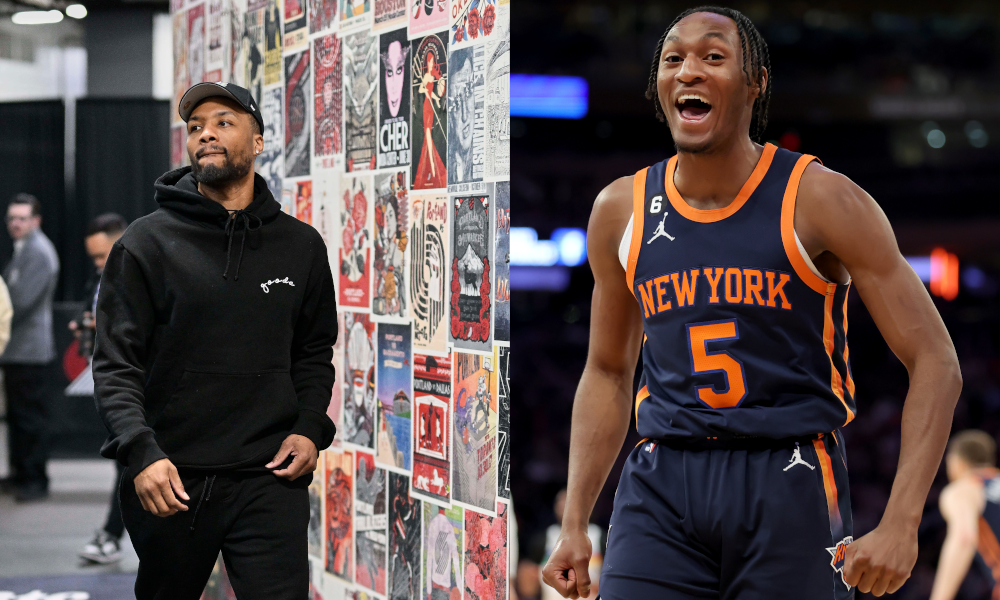 You may know Portland Trailblazers guard Damian Lillard as as a 7-time NBA All-Star and All-NBA player, but the former Weber State Wildcat is also a rapper. Yes, the same guy who drops buckets on the hardwood is the same guy who drops bars in the studio.
Lillard releases under the name Dame D.O.L.L.A, and in his song "My Daddy's Son", Lillard references former Kentucky Wildcat Immanuel Quickley.
In "My Daddy's Son", Lillard uses the line, "Gucci from head to the sandals, $51 Million, that's annual, get to it quickly, Immanuel."
Lillard and Quickley have a relationship that goes way back. When Quickley was first entering the NBA, Lillard served as a mentor to him. In the past, Quickley has discussed how Lillard taught him how to be an NBA caliber point guard and how to win in the NBA.
"He gave me advice on the point guard position, what it takes to win in this league, what it takes to help the team win, how to bounce back from good games, bad games," Quickley said in a 2021 press conference.
He added, "It was good to just have somebody like that. He's been to a conference finals, MVP talks, things like that. So, it was cool to talk to somebody on that high level."
Lillard himself is a big fan of Immanuel Quickley's game. Lillard even put an Instagram post showing praise towards Quickley on his story just to show how proud he is of his protege.
---
Clearly, the love goes both ways between Damian Lillard (or Dame D.O.L.L.A) and Immanuel Quickley. As a rookie in the NBA, Quickley was able to be guided by Lillard, and now he is one of the fastest rising stars in the league as a whole.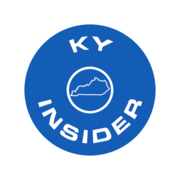 Kentucky Basketball Has "Pure Hoopers That Love the Game" According to Former Kentucky Guard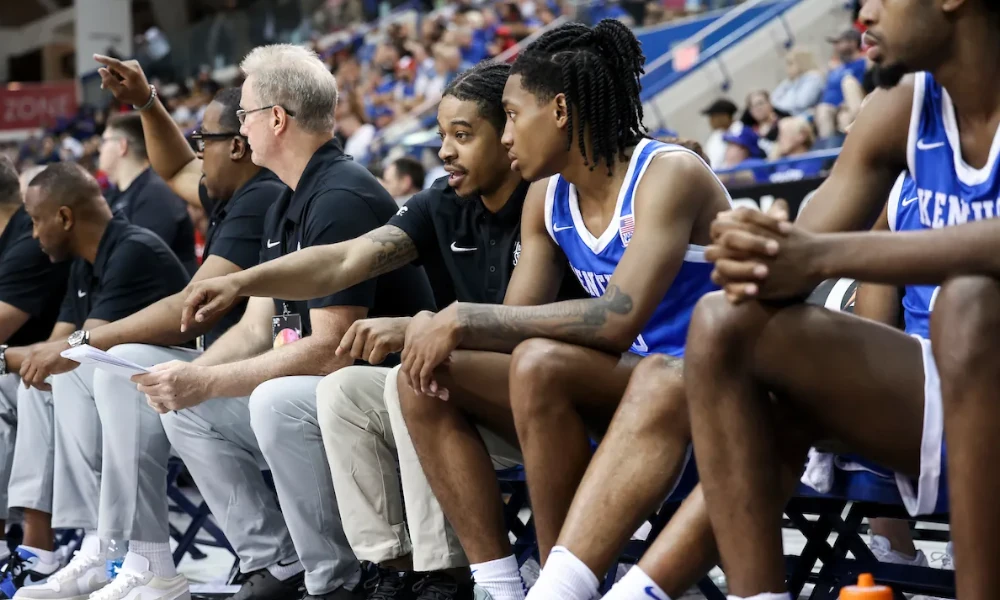 In recent seasons, Kentucky has struggled to find players to make plays when they need it most. That hasn't always been the case, some examples of players that had the ability to make a play to secure a win include: Tyler Ulis, Jamal Murray, Shai Gilgeous-Alexander, and John Wall among others.
Well speaking of some of the players I just mentioned, former Kentucky guard and current student assistant Tyler Ulis recently joined the Sources Say podcast and talked about how great this team can be this upcoming year.
Ulis calls this year's team "pure hoopers".
"They're basketball players. Hoopers. Pure hoopers, all of them. And they love the game," Ulis said. "How me and Devin (Booker) were in the gym, me and Zay (Briscoe), me and Jamal (Murray), that's what these guys are doing. They all want to get better — scared to fail, scared not to make it. That's what shows they want to be great."
As what defines a pure hooper, according to Ulis. "Anyone can make a play, anyone can get in the lane, anyone can knock a shot down," Ulis said. "We have so many options and so much depth, it's hard not to have fun with this team."
With the new roster and additions to the coaching staff, the goal is for Kentucky to make a deep run into the NCAA Tournament this year. As for Ulis, he is excited to see what this year's team can do.
"I can't say it enough: I'm extremely excited to see how this goes. We're deep with a lot of players, and they're skilled."
Texas Women's Basketball Takes A Shot at Kentucky Basketball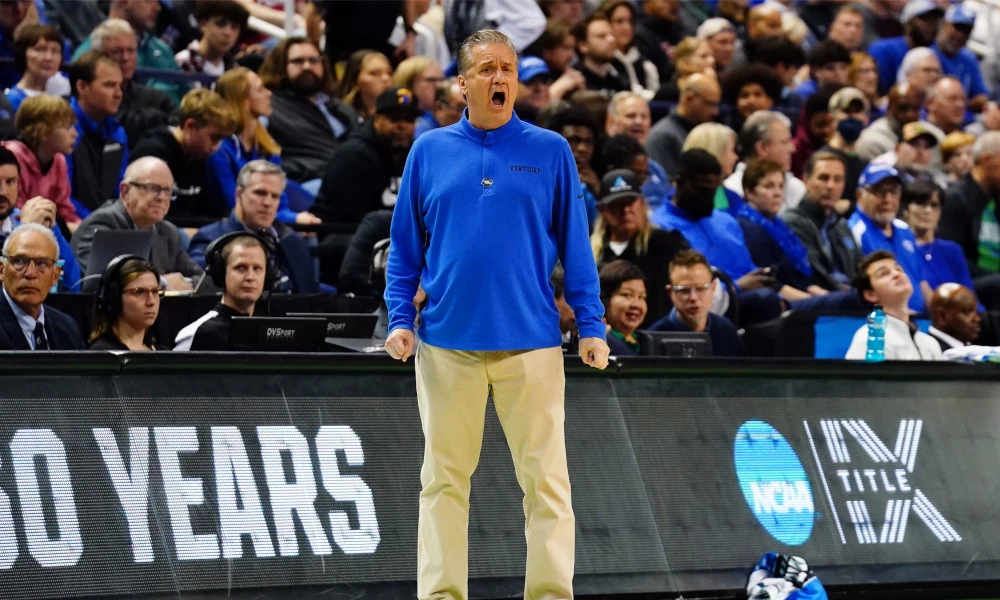 Earlier this week the Kentucky basketball team caught an unexpected shot. From who? The Texas women's basketball team. On Tuesday, the Longhorns' social media team tweeted a video of Drake, a professed Kentucky fan, coming to visit campus and the team.
However the caption is what caught people's attention, "we don't have to go to Drake's house… he comes to ours," Clearly trying to throw a shot at Kentucky for visiting Drake's Toronto mansion back in July, during the team's trip to Canada for GLOBL Jam.
It didn't take long for the Big Blue Nation to respond, as just 12 minutes later the Tweet's caption was edited to say "thanks for stopping by🤘".
That being said, let's not act like Drake made a specific trip just to visit the Texas Longhorns, he was in Austin for a stop in his music tour. Not to mention that Drake has attended multiple Kentucky games and events.
Texas will soon be in the SEC, and maybe Drake will be there in Kentucky gear to set the record straight.
Top Kentucky Target Tre Johnson Pushes Decision Date To Spring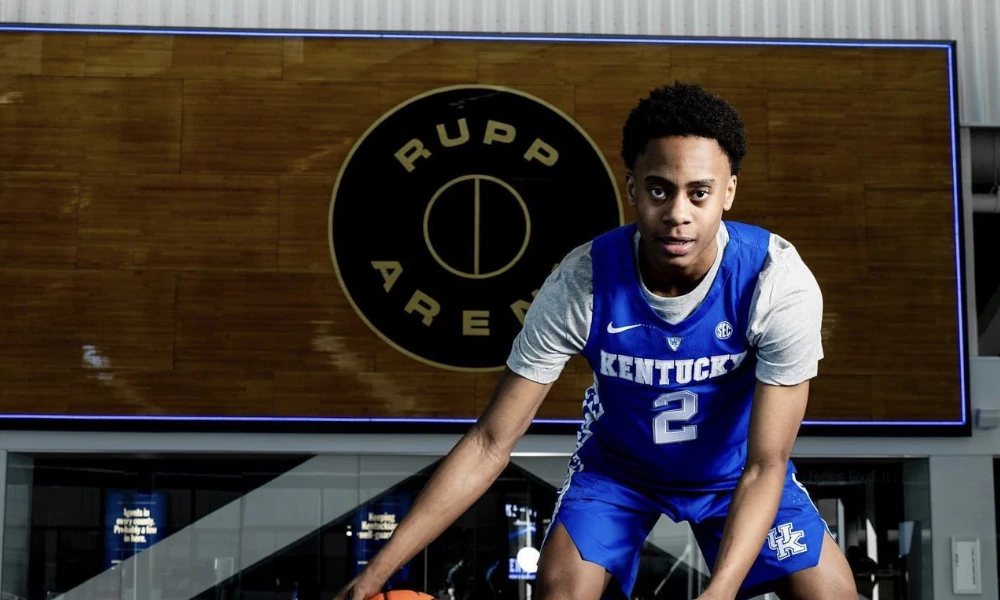 One of the top players in the class of 2024, Tre Johnson recently made the move to Link Academy in search of high-level competition on a big stage, which is a reason he says is why he will wait until the Spring before making a decision.
The top five guard possesses all of the scoring tools, and is a player that Kentucky really wants. He still has a few visits to take, with Alabama and Arkansas visits coming soon, plus another visit to Kansas, and another visit to Baylor. Johnson previously visited Kentucky back in late January.
Johnson has a final list of Kentucky, Baylor, Texas, Arkansas, Alabama, Kansas, and pro options. The Wildcats are rumored to be a top-three option long with Baylor and Texas. This delay may give Kentucky a better chance. With that said, he is not in a big rush to decide, as he is more focused on getting acclimated to his new home at Link Academy, as well as improving as a player.
Tre Johnson is one of the best pure scorers in all of high school basketball, and is certainly being prioritized by multiple top schools. Current intel suggests that Baylor and Kentucky are the top contenders, but with him pushing back his decision, there is more time to tell.