Oscar Tshiebwe Talks About Working on Emotions Mid-Game, John Calipari Comments As Well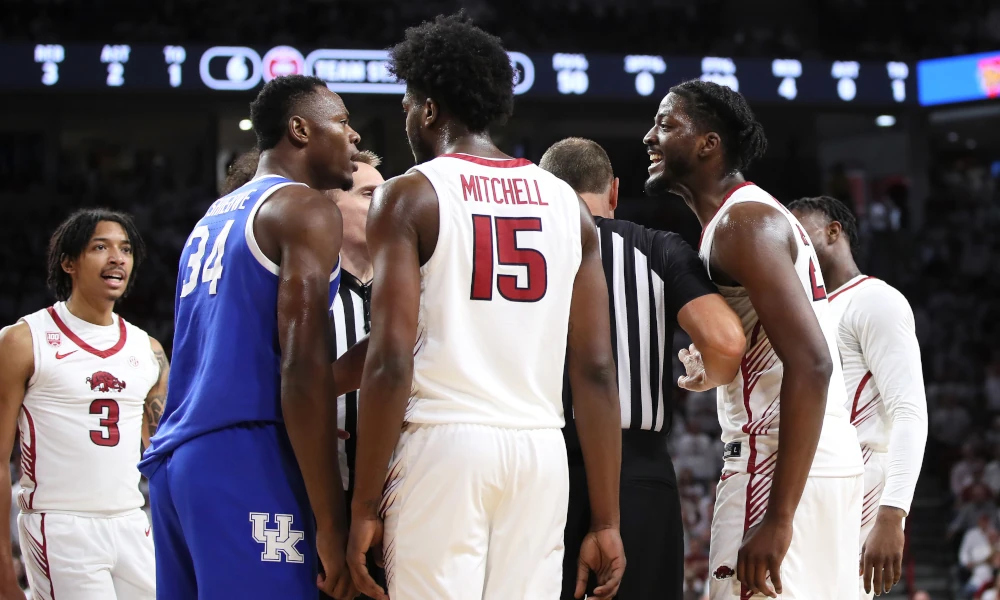 For the past two seasons, Oscar Tshiebwe has proved himself to be one of the best players in college basketball, rewriting NCAA and Kentucky record books. However, he is also considered one of the best people in college basketball with how open he is about his faith and his community service.
Given Tshiebwe's impact on the floor, opposing players try their best to neutralize him every game. Most teams have done so by putting multiple defenders on him, but by also playing extremely physical. Given his 6-foot-9, 260-pound stature, Tshiebwe is officiated differently than a lot of players, as he is often grabbed, shoved, pulled, etc. without a whistle.
Due to this, Tshiebwe has to be physical in return and has gotten a little too carried away at times this season. This has come with some flagrant fouls this from overly physical play, Oscar hitting other players above the shoulders is ways that were deemed excessive after official reviews.
The most recent case came against Arkansas, where it was clear their intention was to get in Oscar's head and play out of himself. In the game, Oscar received a dead-ball technical foul and a flagrant 1 foul, which put him in foul trouble and out of position to help the team down the stretch.
After the game, Tshiebwe acknowledged that as he was asked about the game and keeping his emotions under control. "When you start getting fouled…fouled…fouled, it started affecting me to play aggressively to help my team, so I gotta relax," he said.
While it was not an ideal scenario, it was understandable by most, and even by John Calipari.
"I don't like that Oscar responded," Calipari said. "But he's been here two years. He's never responded to anyone grabbing, punching, pushing him… He finally got fed up."
With that said, you can expect Tshiebwe to be a little more level-headed going into postseason play after a clear acknowledgment of needing to do so.
Kentucky is back in action on Friday at 8 pm EST in Nashville in the quarterfinals of the SEC Tournament.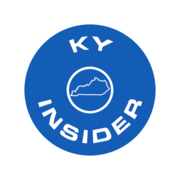 Kentucky Lawmaker Wants to Ban 'Lifetime Contracts', References John Calipari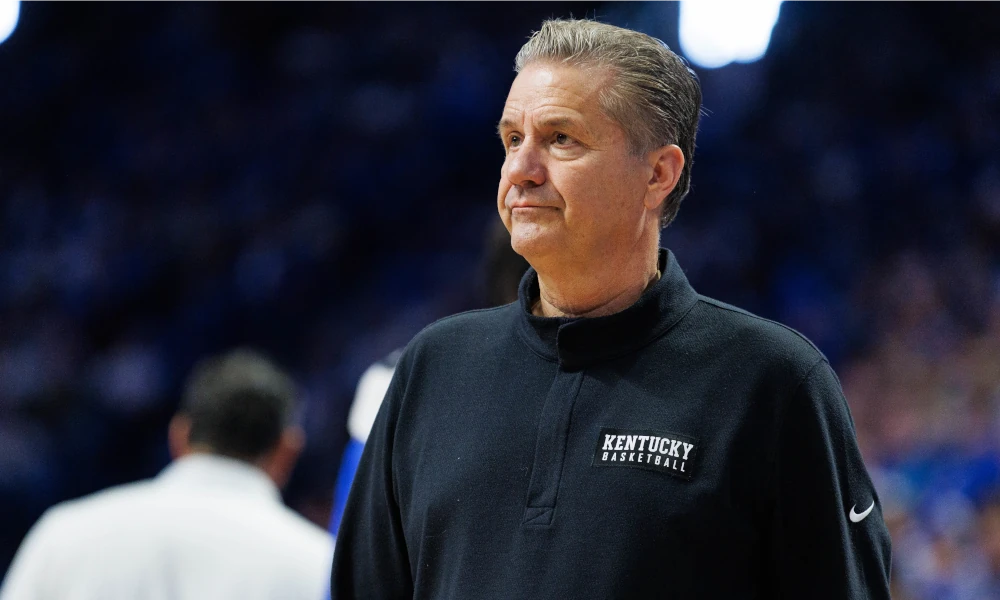 Last month, a lawmaker filed a bill that would prohibit state universities from giving lifetime contracts to employees, according to The Courier-Journal. The reason why a lawmaker wants to ban a lifetime contract is due to Kentucky Men's Basketball Head Coach John Calipari signing a lifetime contract in 2019.
House Bill 336 was made by state Rep. Patrick Flannery, R-Olive Hill, and he explains why he does not want lifetime contracts to be used.
"Obviously there's a basketball coach in this state that has a lifetime contract. I think we probably know who we're talking about," Hill said.
Even though House Bill 336 does not mention John Calipari at all but it would amend state law to say the governing boards of Kentucky's postsecondary institutions are prohibited from entering "into any contract for lifetime employment."
Another reason why Flannery believes lifetime contracts can be bad for public employees, calling it "poor policy", which he has increasingly heard from constituents.
"A lot of things can happen, the employer-employee situation may just not work, eventually," Flannery said. "I really think it's probably the best public policy to not allow that."
Flannery also added that his bill would not retroactively rescind lifetime contracts like Calipari's, but it would prevent similar contracts in the future.
With Calipari signing his lifetime contract in 2019, he still has another six years left on his contract after this season ends, but he does have the option to move into an ambassador role after the 2023-2024 season. In that role, he would make nearly $1 million a season.
This season has had a lot of ups and downs, but Kentucky now has a great chance to get into the NCAA Tournament and be able to win their first tournament game since 2019, as for now, Coach Calipari has silenced a lot of doubters and many fans are still hoping he will stay until his contract is up in 2029.
Reed Sheppard Says He Will Do "Whatever" It Takes to Win, Even if It Means Being a Water Boy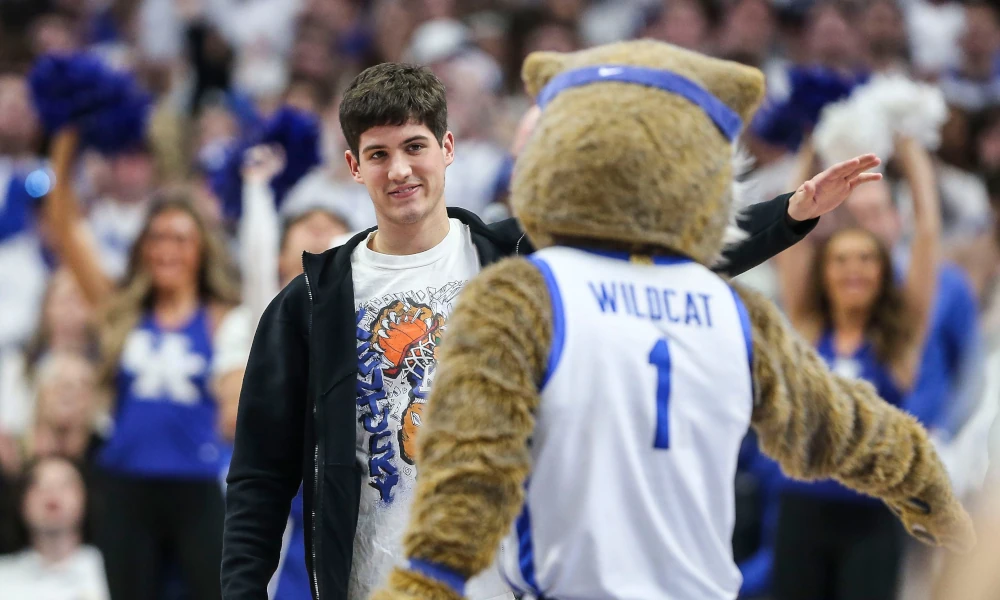 On Tuesday, four players of Kentucky's highly anticipated freshman class will be taking the floor in the McDonald's All-American Game, those being: Aaron Bradshaw, DJ Wagner, Justin Edwards, and Reed Sheppard.
For Sheppard, a native of London, Kentucky, this will be the first time since 2011 that a Kentucky high school player was selected to participate in the game with the last one being Chane Behanan who played in Bowling Green.
With all of the soon-to-be Wildcats talking to the media, Sheppard spoke about what his mindset will be for next year when he plays at Kentucky.
"Whatever coach tells me to do, whether it's to go get a stop or get some water, I'm down to do it as long it helps the team be successful," said Sheppard.
With Kentucky's recent struggles, this team will have a lot of pressure to win. Hearing such a coachable quote from a freshman is promising to hear. Many Kentucky fans are excited to see what Sheppard can do on the court this upcoming year as many people believe he will help to be able to space out the floor and be able to shoot from the outside, but Sheppard believes he has more than that in his game.
"I would say my ability to pass and then shoot," said Sheppard. "I think I do a pretty good job of getting my teammates involved, knowing where they're going to be and the spots they're going to be in."
Although Sheppard's season did not end the way he wanted to this past season at North Laurel, as they lost in the first round of the Sweet Sixteen to George Rodgers Clark, he is excited for his time at Kentucky and up for the challenge.
"Anyone knows that it is going to be hard to play at Kentucky," said Sheppard. "They are one of the greatest college basketball programs in history."
Being from Kentucky, and having a father that played there, Reed knows it will be difficult at times. "Going to Kentucky, you know you have a lot of pressure and knowing that they kind of struggled a little bit in the past couple of postseasons and the fans are kind of getting a little impatient. So it's kind of a lot of pressure but you know it's something that you work for and it's something that you look forward to is going up there and playing with great players and great coaches and trying to make a run."
While Kentucky's roster is far from set, a talented freshman class should give Kentucky a good foundation. If they can get a few players to return to add some talented transfers, they could put themselves in a position to make a deep run into the tournament after failing to do so in the past few years.
You can get your first look at this year's incoming freshmen as they will play in the McDonald's All-American Game on Tuesday at 9:00 P.M. ET on ESPN.
Kentucky Leave/Stay Predictions As We Enter Player Meeting Week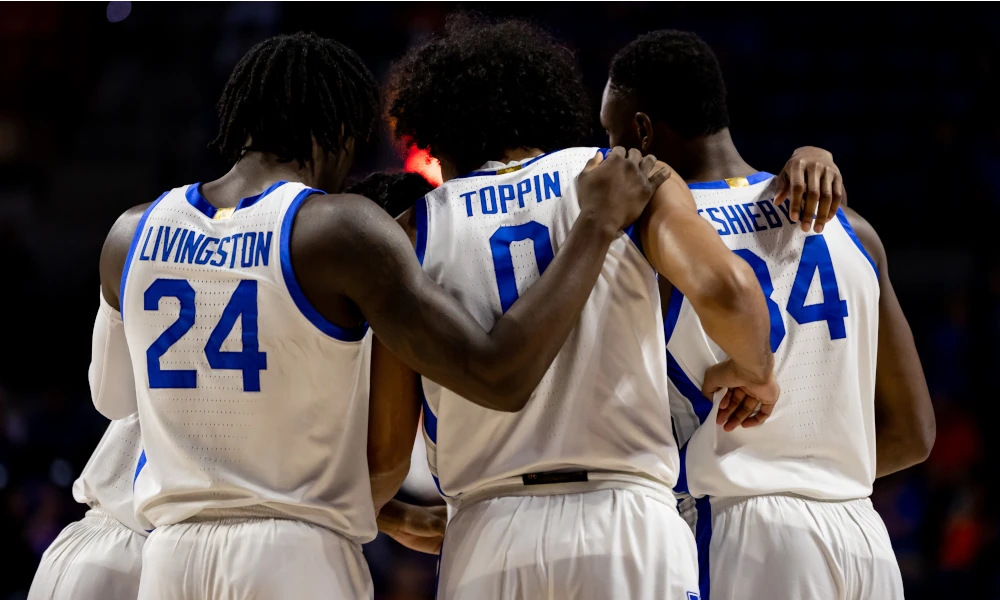 It has now been over a week since Kentucky's heartbreaking loss to Kansas State, which has given time for each player to meet with their families and camps to think about their future. On Wednesday, John Calipari will sit down with each of them to help them make a decision.
As we enter 'player meeting week', decisions will start to be announced. With that said, let's give the latest update and prediction on each player.
Near-Locks
There are a handful of players that practically had their decisions made before the start of this season. The one outlier is Sahvir Wheeler, who found himself in a smaller role this season before his injuries. He will look to transfer elsewhere, for a system that better fits him.
For Cason Wallace, the decision is easy, he is going to be a lottery pick in this year's NBA Draft. As for Toppin and Tshiebwe, there is not much that they can do to improve their stock significantly by returning for another season.
Lance Ware is not the most talented player on the roster, but has flourished in his role at Kentucky and was even named a captain this past season. Last summer, Ware cited his love for Kentucky and Calipari as a reason not to transfer, even having the self-awareness to say, "not everybody can be the star."
As for Adou Thiero, he came to Kentucky with the understanding that he would not get much playing time, but he actually saw the court in twenty games, playing an average of nearly 10 minutes per game. Based on the current roster construction Adou would likely be behind DJ Wagner and Rob Dillingham (there are rumors he may not make it campus) and share minutes with Reed Sheppard. So there may be a decision to be made there, but I expect him to be back.
Cason Wallace: Gone 100%
Sahvir Wheeler: Transfer, 100%
Oscar Tshiebwe: Gone, 95%
Jacob Toppin: Gone, 95%
Lance Ware: Stay, 95%
Adou Thiero: Stay, 80%
Difficult Decisions
Chris Livingston
Coming to Kentucky, Livingston had a first-round NBA Draft grade and expected himself to be a one-and-done player, as did those around him. This also included LeBron James-owned sports agency, Klutch Sports, which represents Livingston.
Hurt by consistency early, Livingston worked his way into being one of Kentucky's key players at the end of the season. Over the final 13 games of this past season, Livingston played more than 32 minutes per game, contributing 7.9 points and 6.5 rebounds on 55 percent shooting.
With an offseason to improve, most importantly his jump shot, he could give himself an opportunity to himself back into the first round with a return. Yet, that may not happen.
As said before, those around Livingston wanted a short trip to the NBA. While currently not projected, given his potential and NBA connections, he would likely be a second-round draft pick. For those reasons, I expect him to put his name in the NBA Draft while retaining his eligibility, but ultimately keep it there.
Prediction: Go through NBA Draft process, Stay in Draft
Confidence Level: Medium, 60%
Antonio Reeves
Following the Kansas State game, Antonio Reeves told me "I'd love to be back. I love the school. I love the fans. I love everybody here." That decision will come down to his role and NIL money.
It is reported that Reeves made six figures from NIL this past season in Lexington, so more opportunities should be there next season. As the roster is constructed, shooting is the biggest weakness. Therefore a top 15-shooter in program history (39.8%, 14th in all-time percentage) should be welcomed back with open arms.
Reeves will and should go through the NBA Draft process to receive feedback, but I fully expect him to be back.
Prediction: Go through NBA Draft process, Return to Kentucky.
Confidence Level: High, 80%
Ugonna Onyenso
After the loss to Kansas State, I was able to interview Ugonna Onyenso, and he immediately talked about stepping in as a leader and accomplishing things that this team couldn't. Yet, there is a possibility that may not happen.
If this decision was completely up to Oneyenso, he would be back at Kentucky for another season. Unfortunately, that is not the case. Being brought to the United States from Nigeria, this is a different situation than most players.
While this isn't a Shaedon Sharpe situation where Oneysno could go to the draft as a Top 10 pick, there are people around him that are open to exploring possibilities outside of Kentucky, including some Big East programs. With that said, I don't see another program that can offer what Kentucky can, which includes a large role and good NIL opportunities.
Prediction: Return to Kentucky.
Confidence Level: Medium, 65%
Daimion Collins
Daimion Collins' situation is unlike any other, as it has little to do with basketball. Prior to the season, Daimion's father, Ben Collins, passed away unexpectedly. This impacted the entire family and hurt Daimion's progression early this season, so much so, that Calipari said he lost sixteen pounds from his already thin frame.
Damion's father did want his son to stay the process at Kentucky, even if it took all four seasons. However, it is family over everything for Collins, which is part of the reason why his father lived in Lexington.
With that said, I expect Daimion to transfer to a school closer to home, with full support from the Kentucky program. Collins did have Texas and Texas Tech as finalists when he committed to Kentucky in 2021, but with the coaching changes since, I don't expect those schools to be in play. Instead, look at SMU and Houston.
Prediction: Transfer
Confidence Level: Medium, 70%
CJ Fredrick
CJ Fredrick loves the game of basketball, but after enduring five seasons of college basketball, without one full healthy season, he may hang it up. Unlike other players on this list, it is retirement or return for Fredrick, as he will not decide to transfer or play professionally.
Following the Kansas State game, Fredrick was very emotional when talking about what could be his last game, saying he has "no idea" what he will decide.
Fredrick is someone I have not heard much about, but given that he is getting married this summer and all that he had endured in his career, I don't expect him to return to Kentucky for another season.
Prediction: Retire
Confidence Level: Low, 35%