The Morning After: Recapping Kentucky's Historic Win Over Florida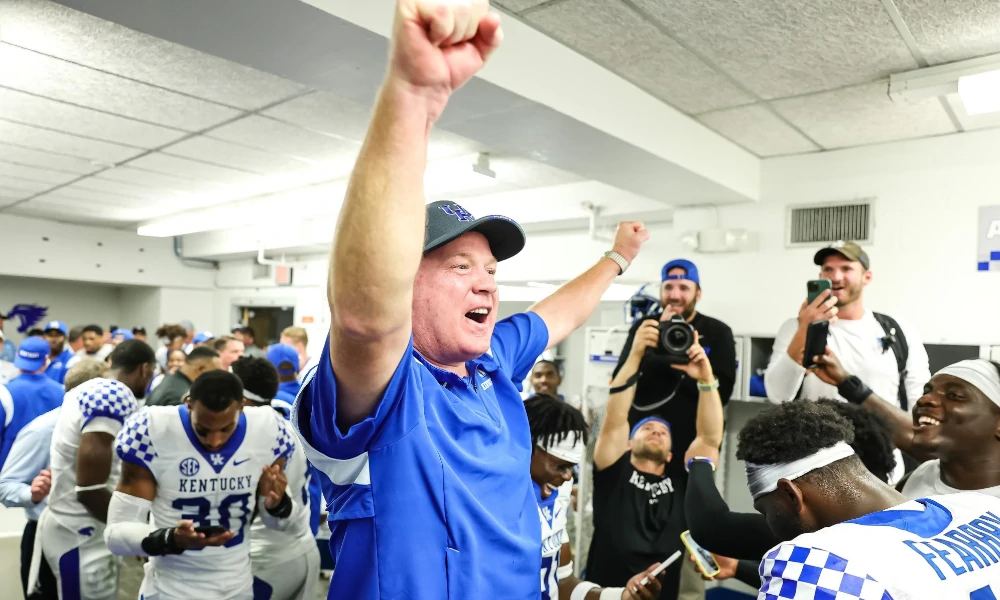 On Saturday, the No. 20 Kentucky Wildcats went down to Gainesville to face off against the No. 12 Florida Gators. It was just the second time in history (1952) that Kentucky and Florida were both ranked in the AP Top 25 heading into a matchup.
To start, the game was a defensive battle, but shortly after the start of the second quarter Will Levis connected with Dane Key for a beautiful 55-yard touchdown for the first of the game and put Kentucky up 7-3.
However, momentum swung mightily in the favor of Florida. The Gators converted on a 50-yard field goal; capitalized on a Kentucky interception, caused by the lack of pass protection; converted a two-point play; and blocked a punt for a safety.
Kentucky did receive some life right before half as Jordan Wright intercepted a pass from Florida's Anthony Richardson, putting Will Levis in a 1st and goal position. Levis was able to score with a QB draw cutting the deficit to 13-16, but the Wildcats could not convert on the PAT after a bad snap.
Coming out of the half, it was all Kentucky, notably on the defensive end. Kentucky didn't allow Florida to score at all in the second half, as Kentucky went on to kick a field goal and score a touchdown.
In a game full of emotional swings, Kentucky left the Swamp with a 26-16 victory.
For the first time in over 40 years, Kentucky won their second in a row against the Gators, and Mark Stoops passed Paul "Bear" Bryant in all-time wins at Kentucky.
Let's take a closer look at the historical win.
Time to start worrying about the offensive line
It was clear to see that the offensive line did not perform well against Miami (OH). However, Mark Stoops insisted that the offensive line performed better than originally thought when looking at the film and there were some adjustments that could be made to solve the issues.
That was not the case.
Despite performing well when he had time in the pocket, Will Levis wasn't given that luxury very often, being under pressure more than not. In addition, Kentucky rushed for just a total of TWO yards, and the offensive line allowed three sacks in the first half alone. This was worsened at times when tight ends had to be used as receiving targets instead of blockers.
It does need to be noted that the offensive line did step up in the second half, but it needs to be consistently seen in the next two games, as Kentucky faces inferior opponents.
Seeing how the offensive line has performed thus far, it looks like the offensive could be a weakness for the remainder of the season and a group that the staff will begin to recruit immediately.
Will Levis is on a different level than Anthony Richardson
Billed as the battle of the quarterbacks, Will Levis and Anthony Richardson was the head-to-head matchup that everyone wanted to see.
In the end, it was clear that Levis was simply on a different level than Richardson. I will just leave this comparison here.
Will Levis: 13-24, 202 passing yards, 1 pass TD, 1 rush TD, 1 interception.
Anthony Richardson: 14-35, 143 passing yards, 4 rushing yards, 2 interceptions.
This is going to be a passing team
While they struggled running ball for much of the game, Kentucky found success in the passing game early as Levis threw for a total of 202 yards. Even more impressive, Kentucky had eight different players with a reception, showing the versatility they have in the passing game.
Without Chris Rodriguez, one should expect this to continue, but Kentucky's success in the passing game should help setup the running game develop.
On Saturday night, Kentucky's passing attack allowed for the rushing to find some life in the second half, with Kaviosey Smoke leading the way. It was much needed when you see that the Wildcats had just 70 rushing yards – fighting back from negative 37 yards in the first half.
Tight ends emerging as major receiving targets
The wide receivers shined bright last week, but this week it was the tight ends. Three different tight ends caught a pass – Jordan Dingle (2), Brenden Bates (2), and Keaton Upshaw (1) – for a total of 74 yards.
This was expected when Rich Scangarello – who comes from a 49ers offense that is heavily reliant on multiple tight-end personnel – was hired. With the talent at the position, it is good to see them becoming a large part of the offense.
The defense was phenomonal
Without the defense, the game would could have very well gotten out of hand in the first half. However, the defense was able to step up as they have time and time again and made some big time plays.
As Florida jumped out to a 16-7 lead with all momentum, things looked bleak, but that was when the Wildcat defense changed the game. Here is what Brad White's defense accomplished in the final 35 minutes.
Zero points allowed
91 total yards
Seven points scored (on a Kentucky pick-six)
Two takeaways
Two fourth down stops
It all started with Jordan Wright – just cleared to play on Thursday – when he made an impressive interception that led to a touchdown to cut the Florida lead to 13-16 right before halftime.
In the second half, Keidron Smith made the play that gave Kentucky the lead and the Wildcats never looked back.
It is not an exaggeration, without the great play of the defense, Kentucky loses to Florida.
Special teams Errors
After last week's performance, special teams looked to be a strength. While that may still be the case for the rest of the season, it was not on Saturday night.
In the first half alone, Kentucky had two bad snaps resulting in a safety and a missed PAT. These mistakes caused Kentucky three points and without them, the game could have gone into halftime tied 14-14.
With plenty of close games left on the schedule, Kentucky can't afford to shoot themselves in the foot as they did at times against Florida.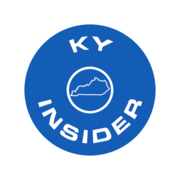 Vito Tisdale Dismissed from Kentucky Football Team for "Violation of Team Rules"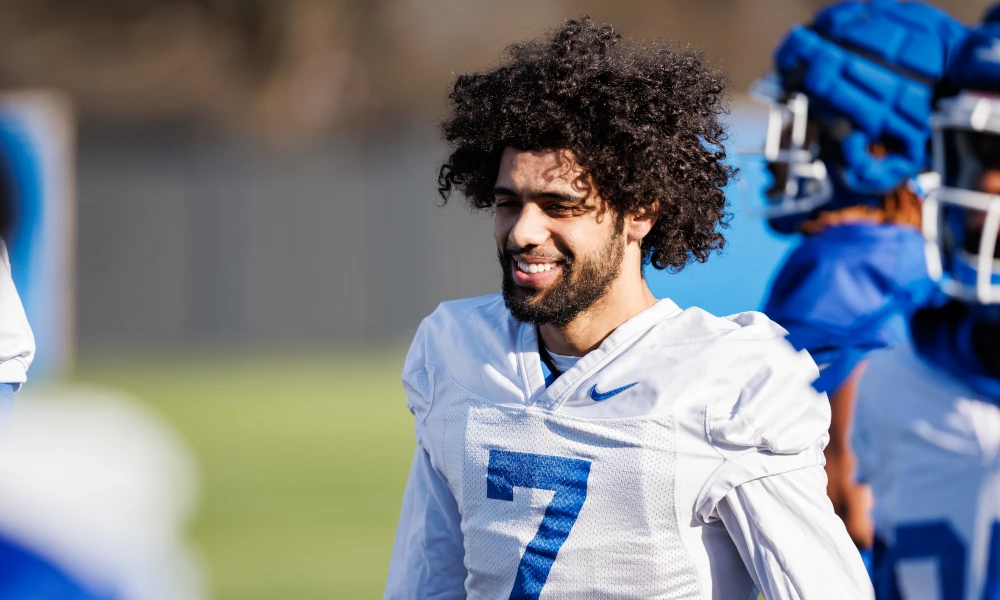 Vito Tisdale committed to Kentucky in 2020 as a four-star safety, pledging to play for Wildcats over Alabama, Georgia, and LSU among others during the All-American game on NBC. A Bowling Green native and the son of Nappy Roots' 'Big V,' Tisdale arrived in Lexington with high expectations.
As a freshman, Tisdale played the role of a playmaker on special teams, totaling 20 tackles. Entering his sophomore season, he was expected to take another step but was suspended for preseason training camp and the first month of the 2021 season for an off-campus fight with a fraternity, which resulted in charges for six Kentucky football players.
Tisdale was ultimately cleared of his charges and returned to the field to tally 21 tackles, including 1.5 for loss, on the season. This season would end up being his playing on the field for Kentucky.
In the opening days of 2022 spring practice, Tisdale suffered a season-ending ACL tear. After undergoing surgery and months of rehab, Tisalde was expected to be available for spring practice this week. Instead, his time at Kentucky is over.
On Tuesday afternoon, Kentucky football announced via Twitter that Tisdale was dismissed from the team for a "violation of team rules," with no further comment.
In a since-deleted tweet, Tisdale confirmed that he is longer part of the team and showed appreciation for his time at Kentucky.
This loss will have an impact on the Wildcats, as they lose a talented defensive back, which also hurts depth. Fortunately, the Wildcats have proven players that are capable of filling that spot: Alex Afari, Zion Childress, and Andru Phillips.
Sahvir Wheeler Says He Will Be Ready to Go for the NCAA Tournament, "Super Excited" to Be Back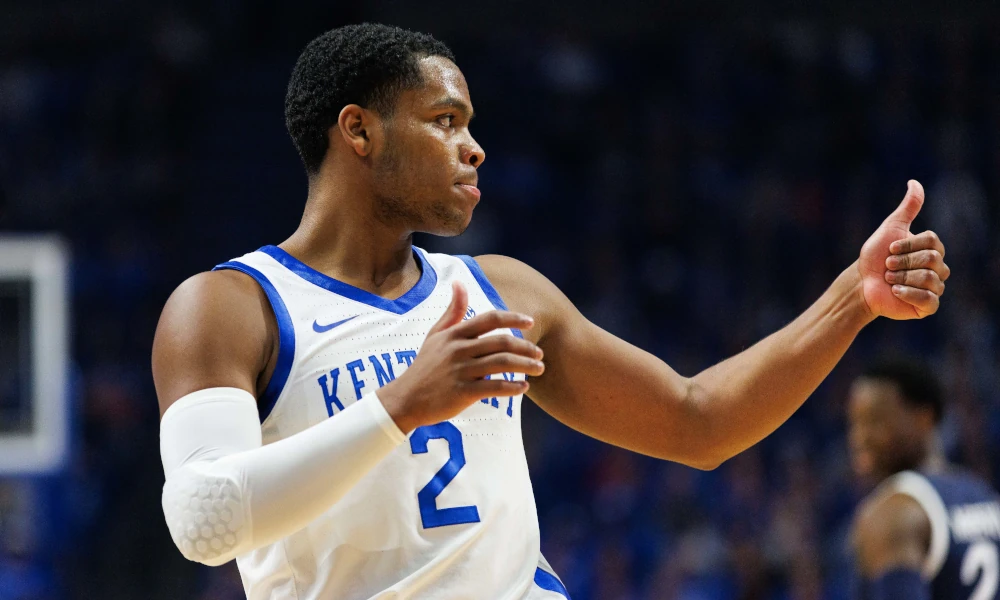 The Kentucky Wildcats arrived in Greensboro, North Carolina for the NCAA Tournament last night. With an open practice on Thursday afternoon, the locker room was opened to the media, and with the news that Sahvir Wheeler could make a return, he was the most popular guy there.
At that point, it didn't take for someone to ask if he will be available this week. "I believe so," Wheeler said with a smile. "It's been tough. The toughest thing has been not being out there with my guys… I am just super excited to be in this situation again, in the tournament, with my guys. Hopefully, we do some great things."
Wheeler has participated in practice all week in preparation and is in a great mindset. When asked about the narratives of "quitting" the team. He responded with, "That was a narrative? That's crazy… I have dreamed to play at Kentucky."
The Big Blue Nation will be pulling for Wheeler and the Wildcats to do some great things against Providence, with his downhill speed, Wheeler could help Kentucky take advantage of the Friars' transition defense, which has struggled this season.
Mark Stoops Gives Promising Update on New Quarterback, Devin Leary, as He Recovers From Pectoral Tear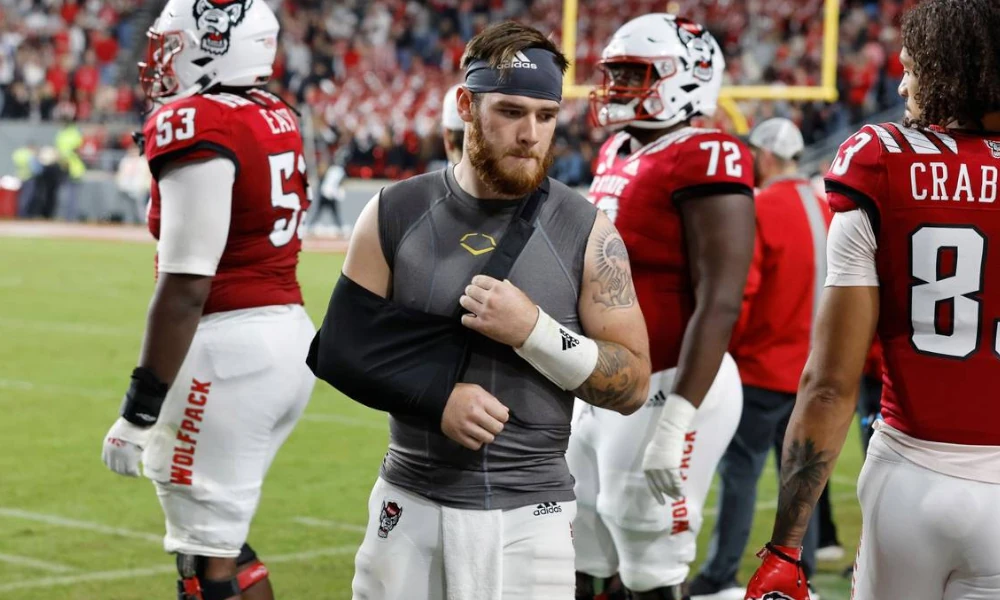 After being projected as a top NFL prospect since the end of the 2021 season, it was well-known that last season would be Will Levis' last at Kentucky.
With that being said, the staff knew they had to go find another high-level quarterback and that is exactly what they did. In December, the Wildcats made the decision to bring back Liam Coen who played a part in bringing in former N.C. State quarterback, Devin Leary, from the transfer portal.
While Leary set program and conference records at his old school, he is coming off a pectoral tear alongside his throwing arm that occurred back in October. While his commitment brought excitement, it also brought some questions, such as if Leary would be healthy enough to participate in Spring practice.
Kentucky fans should gain some confidence as Leary is participating in Spring practice, which started on Monday. According to Leary, he is ahead of his rehab process and has shown no arm pain after throwing but the staff wants to make sure, he is 100% healed before "ripping passes at 100%." For that reason, he will be on a throw count.
On Monday, Stoops took to the stand in the Spring practice opening presser, providing an update on Kentucky's new QB #1. "He looked really good… He was able to go for basically an entire practice," Stoops said.
Even with the encouraging news on Leary, there is still the question surrounding the quarterback room, who is going to be the backup?
Obviously, Kentucky will have different options in Kaiya Sheron, Destin Wade, and Deuce Hogan, who have all been considered QB #2 at one time in their Kentucky career, which will make the battle that much more interesting.
Again, the main question has been answered and Leary is healthy enough to participate in Spring practice and get better accustomed to the team. Hopefully, with Offensive Coordinator Liam Coen coming back he can resonate Kentucky's offense this year with new QB #1, Devin Leary.