John Calipari Visits Top Rising Sophomores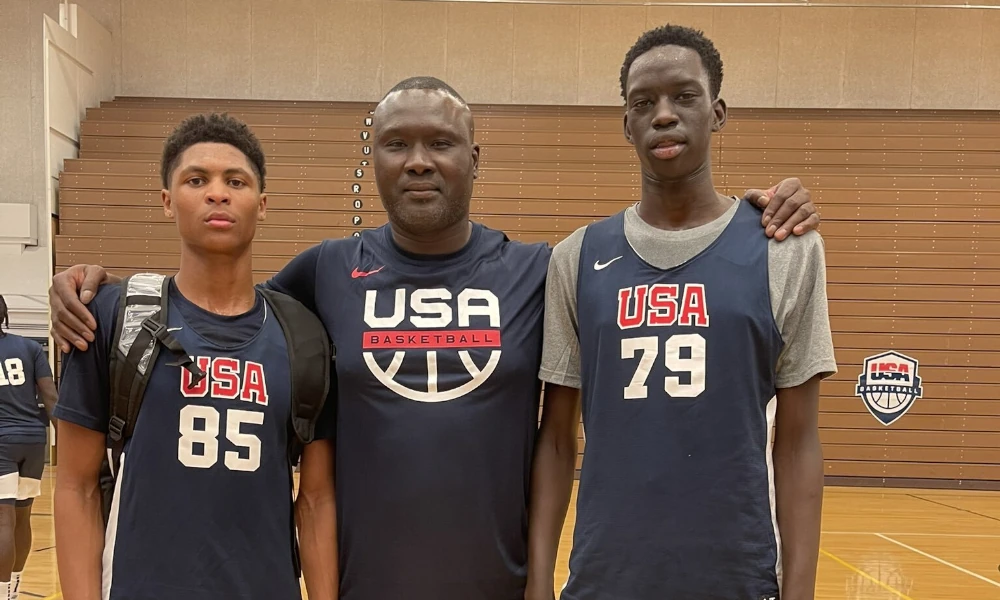 On Monday, John Calipari went home to Pennsylvania and visited two rising sophomores, Alier Maluk and Meleek Thomas. While both are top prospects in each of their positions, they are vastly different players.
Standing 6-foot-3, 165 pounds, Thomas is ranked as the best point guard in the 2025 class and the No. 7 prospect overall and there is a lot to like about his game. Thomas is creative and uses sudden and quick-twitch movements to get to the basket, but he excels in transition and is a team defender.
As for Maluk, he is the cousin of 7-foot-2 center Bol Bol, who currently plays in the NBA with the Orlando Magic. With that said height runs in the family, and Maluk already stands 6-foot-10, 180-pounds.
Given his height, Maluk is a dynamic two-way prospect and can be looked at as a"modern" big man. Well-known for his shot-blocking ability, Maluk is also capable of handling the ball but hopes to develop that more and develop as a stretch-four.
See for yourself why John Calipari has expressed interest in Maluk since he was a freshman.
Neither player has an offer from Kentucky right now, but I would expect both players to receive scholarship offers next summer when coaches are able to communicate with them.
Last year, Calipari recruited Adou Thiero from the Pittsburgh area and has secured a commitment from Justin Edwards, the No. 3 recruit in the 2023 class. It looks like Calipari is looking to capitalize on the talent from his own turf.
Note: Rankings from 247Sports.
Also published on A Sea of Blue.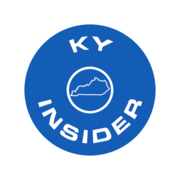 Reed Sheppard on Why He Chose Kentucky, "As a little boy from Kentucky, it's always been a dream to play for UK"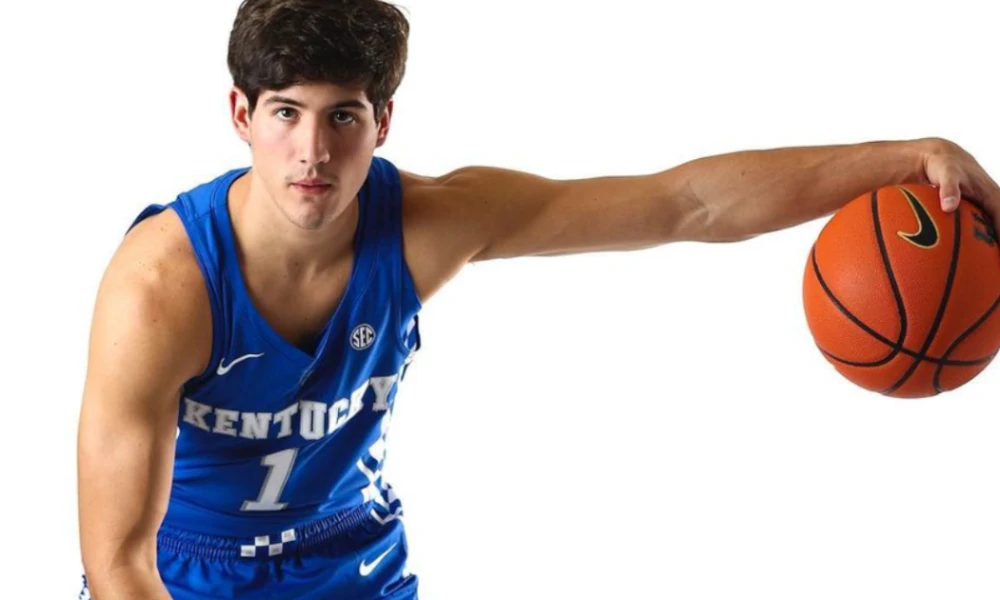 The son of Kentucky basketball legends Jeff and Stacey (Reed) Sheppard, Reed Sheppard has had a connection to Kentucky basketball since birth and nearly a year ago, he made the decision to follow in his parent's large footsteps and commit to the Kentucky Wildcats.
Why? The answer is simple.
Around the Bluegrass State, it is the dream of many children to play basketball for the University of Kentucky, and the same can be said for the in-state legacy commit.
"As a little boy from Kentucky, it's always been a dream of mine to play at UK," Sheppard said.
With that said, Reed has the opportunity to play for Kentucky because he has earned it.
Currently ranked 29th according to 247Sports composite, Sheppard is the highest-ranked recruit from the State of Kentucky since former Louisville player Chane Behanan (Bowling Green, KY). Furthermore, he is the highest-ranked recruit from the state of Kentucky to play for the Wildcats since Rex Chapman.
Kentucky head coach, John Calipari has even echoed the same sentiment.
"I know playing for Kentucky has been a dream of Reed's ever since he was a child. But, Reed isn't here because he wanted to be here. He's here because he's a really good player who can help this team win," Calipari said in a statement on Monday.
In Sheppard's first season, Kentucky will have the talent to win a national title, and he has the opportunity to be a big piece of the team. Can you imagine that storyline?
John Calipari Goes Into Detail for Each Player In Historic Recruiting Class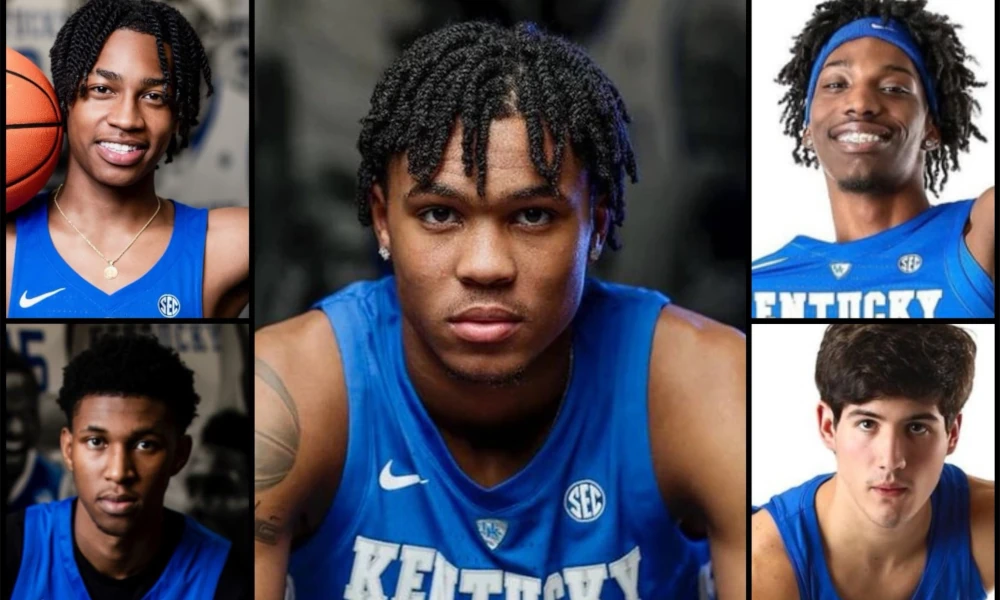 In recent seasons, John Calipari hasn't been recruiting – at least high school prospects – at his typical level. Pair this with the worst record in program history and then losing to Saint Peter's in back-to-back seasons, many have questioned if Cal still has 'it'.
If college basketball needed an answer, Calipari has given one with the 2023 recruiting class, which may be the best of his career.
On Monday afternoon, Kentucky added their Crown Jewel of the 2023 class, No. 1 prospect DJ Wagner, who will join his high school teammate Aaron Bradshaw (No. 6), and fellow 2023 five-star recruits Justin Edwards (No. 2), Robert Dillingham (No. 9), and Reed Sheppard (No. 29).
Together, they form the No. 1 overall class for 2023, with four prospects ranked in the top 10.
Following Wagner's commitment, Calipari released a statement where he talked about each of his star recruits for next season. Let's see what he had to say.
Note: Rankings based off 247Sports.
DJ Wagner (No. 1 overall, No. 1 CG)
"I have known D.J. his entire life and I've always wanted to coach him. Above all he is a competitor. He attacks the offensive end and is a versatile scorer, but he is equally as tough on defense. I love the spirit he'll bring to practice every day, and I love that he wanted to be at Kentucky. He knows that to get the best of himself, he needs to be surrounded by other talented players who are going to match his competitive energy."
Justin Edwards (No. 2 overall, No. 1 SF)
"Justin has the ability to impact the game in a variety of ways. He has terrific size, can play multiple positions and can score the ball at all three levels. I really like how active he is defensively and his desire to rebound every ball. He already has a great understanding that he can positively impact winning without scoring. That isn't something you can teach, and I know Justin is going to demand the same of his teammates."
Aaron Bradshaw (No. 6 overall, No. 2 C)
"The most impactful trait we can have on the defensive end is the ability to block shots, and Aaron is elite at that. He also has all of the tools that a versatile big in today's game needs. Aaron's motor continues to improve, he has great size and mobility. As a 7-footer, he can change the game on both ends of the court. He has a high ceiling and has only begun to scratch the surface of the kind of player he can be."
Robert Dillingham (No. 9 overall, No. 2 PG)
"Our best teams have had really good guards and this class has that. Rob has the ability to make good decisions, can create for others or get his own shot. He can make contested layups, which opens the court for him offensively. He is an extremely efficient scorer, but I'm excited about the fact that Rob wants to be pushed by other really good guards on our roster and continue to develop his versatility by playing with or without the ball in his hands."
Reed Sheppard (No. 29 overall, No. 9 CG)
"I know playing for Kentucky has been a dream of Reed's ever since he was a child. But, Reed isn't here because he wanted to be here. He's here because he's a really good player who can help this team win. He has terrific fundamentals and is the kind of player who can excel on or off the ball. I love his work ethic and the fact that he wants to be pushed on the biggest of stages to reach his full potential."
---
While the 2023 class is loaded with talent and will be exciting to watch, we are still away from seeing together on the court.
However, with this roster and next season's roster, John Calipari has the opportunity to send a big-time message.
DJ Wagner on Why He Chose Kentucky, "Calipari Said He Would Be With Me Until the Wheels Fall Off Either Way"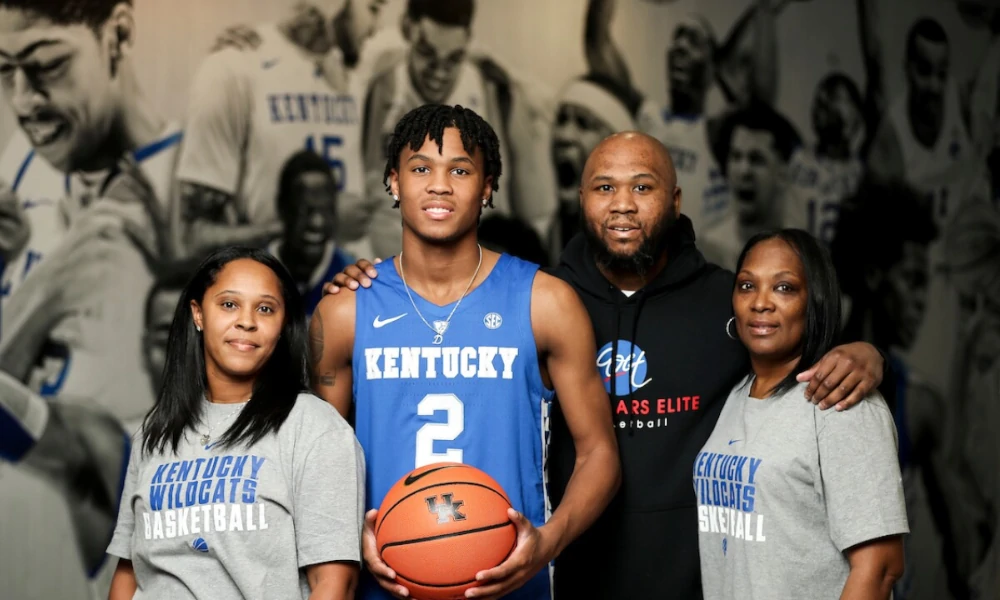 DJ Wagner, the No. 1 recruit in the 2023 class and the Wildcat's most recent signee, was destined to play for John Calipari from a young age.
This is due to the connection between his father Dajuan Wagner, and Calipari, who Dajuan has said multiple times that he owes his career to.
Dajuan played for Calipari at Memphis, who refused to let him come back for a sophomore season, making him one of the first one-and-done players in college basketball. Fortunately, this was the right decision, because after being drafted sixth in the 2002 NBA Draft, Dajuan's career was derailed by injuries.
This left Dajuan with a lasting impression of Calipari, as he pushed him to do what was best for himself and his family.
Now, two decades later, Calipari is set to do the same for DJ Wagner, and that is what sold the top-ranked guard on Kentucky.
"Coach John Calipari was always straightforward and honest with me. He said he would be with me until the wheels fall off the car either way. And that meant so much to me," Wagner said in his ESPN announcement.
Now that he is a Wildcat, Wagner knows that they will have the talent to compete for a national title. "I'm coming there to win. Winning comes first with me and I want to help Kentucky win as much as possible."