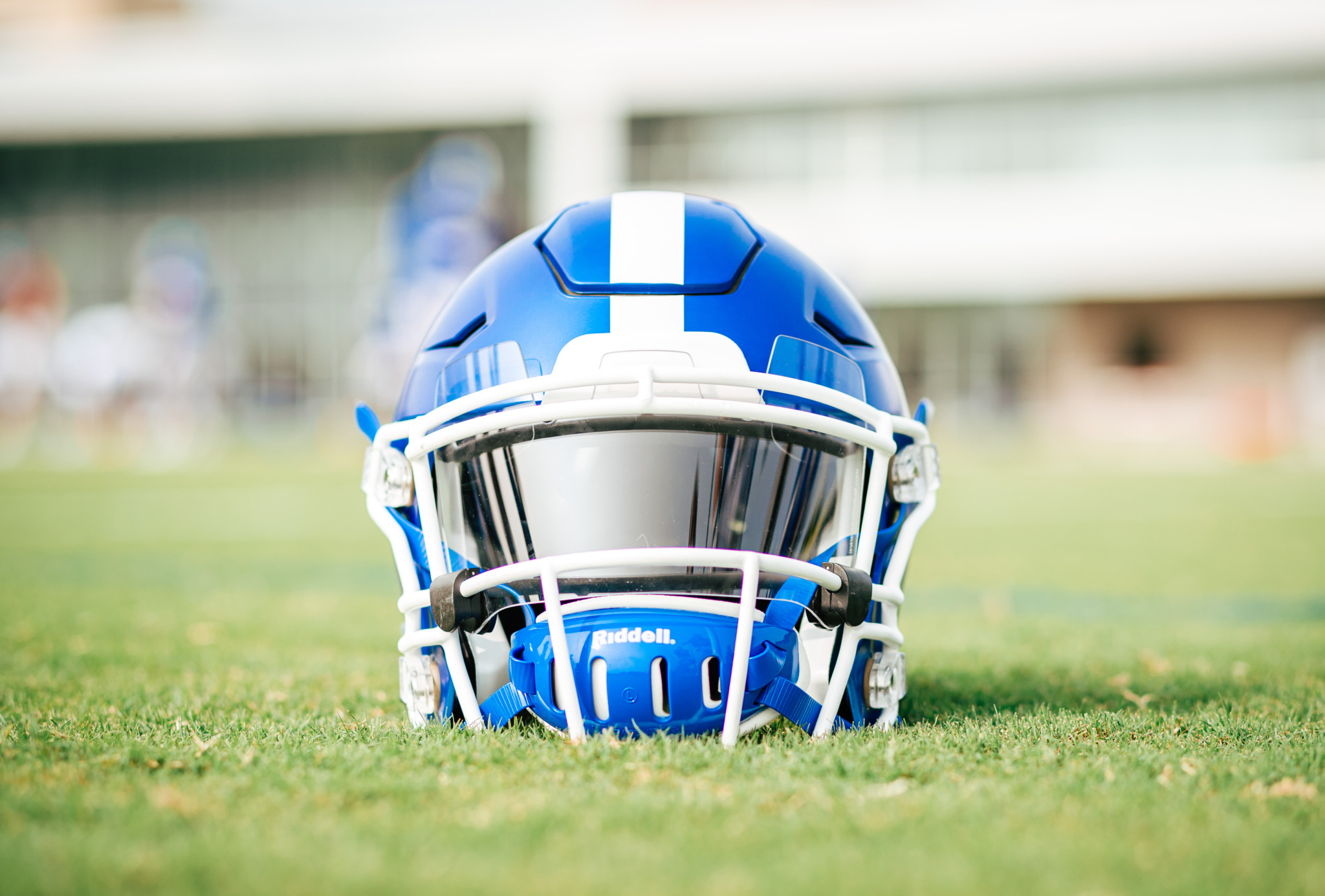 I thought we were passed this. The depressing Sunday after an awful Kentucky football loss. Yesterday's game wasn't only a let-down, but it was a game you needed/should've won. Good thing is, we as a fan base should be used to this. We thought we were passed this, but hey, we're not.
Kentucky came into this season with a lot of hype. Probably the most since the 2015 season. Rightly so since the Cats have one of the best O-Lines in the country, a stacked running-back room, a QB with a ton of talent, but a lot to prove, and a promising defense with a good mix of experience and very talented youth.
The "talking season," as Mark Stoops calls it, saw Kentucky earn their first preseason ranking since 1978. Although the ranking came because the Big Ten and PAC12 weren't playing, the ranking still meant something. It meant for the first time since Mark Stoops has been in Lexington, the Cats were finally getting some national attention.
The one difference about this season is that there's a little thing called a pandemic going on. Changing the way every American lives. Changing how every sport is played. Shortening Kentucky's season by two games, making every game an SEC opponent.
People often complain about the "cupcake games" at the beginning of a season. Those games are boring to watch, but are great warmups for the power five teams. Giving them an easy win, preparing them for better opponents in the future, and giving second and third-stringers quality minutes. Well, we didn't get those this year and we all saw the negative impact against Auburn.
Kentucky always has a lot of rust in the opener, but normally ends up winning the game, which is all that matters. We saw the rust last weekend, but Kentucky was playing the eighth best team in the country. Not a directional school. Thus making the rust more obvious and us fans not being able to okay it with "oh well, we won the game."
Not great, but not the end of the world. Maybe even a good thing, right? You really quickly see what you need to improve on.
The one bad thing is Auburn got thumped by Georgia yesterday. I'm hoping that's just an early sign of how difficult an all-SEC schedule will be. Mostly just to make myself feel better.
The Cats had ten SEC games. Five games you should lose and five games you should win. Well, one of the games you should've lost, you lost. Now one of the games you had to win, you lost, yesterday's game against Ole Miss. Now you've got a problem. You're 0-2, when at worst, you should've been 1-1.
Even though Mark Stoops is the second best coach Kentucky has ever had, his tenure has been filled with a lot of disappointment. In Stoops' seven seasons, four of them have started with a lot of promise and have ended with disappointment. 2014, 2015, 2017, and 2018. Now you can add 2020 to that list.
Five out of seven seasons.
The Cats were supposed to make a serious run at winning the SEC East. Now, with an 0-2 start, you're going to have to do a lot just to finish the season 5-5. By the way, that would be a great season. A .500 record in the SEC is something Kentucky has achieved only twice in 20 years. But now, 5-5 is not guaranteed. At all.
The preseason hype was at an all-time high. Now the hype is gone and the fan interest will decline a ton. With the way the schedule is, things won't get any easier from here. Kentucky could easily start the season 0-5, because the next game you should win isn't until Missouri. The Cats have three ranked opponents before then. Mississippi State, Tennessee, and Georgia. Oh boy.
This has happened too many times in the Stoops era. A lot of hype and promise seems to always end in disappointment.
Now we're back to square one.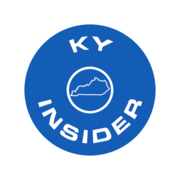 LOOK: Photos of Kentucky Football Facility Renovations, New Kroger Field Turf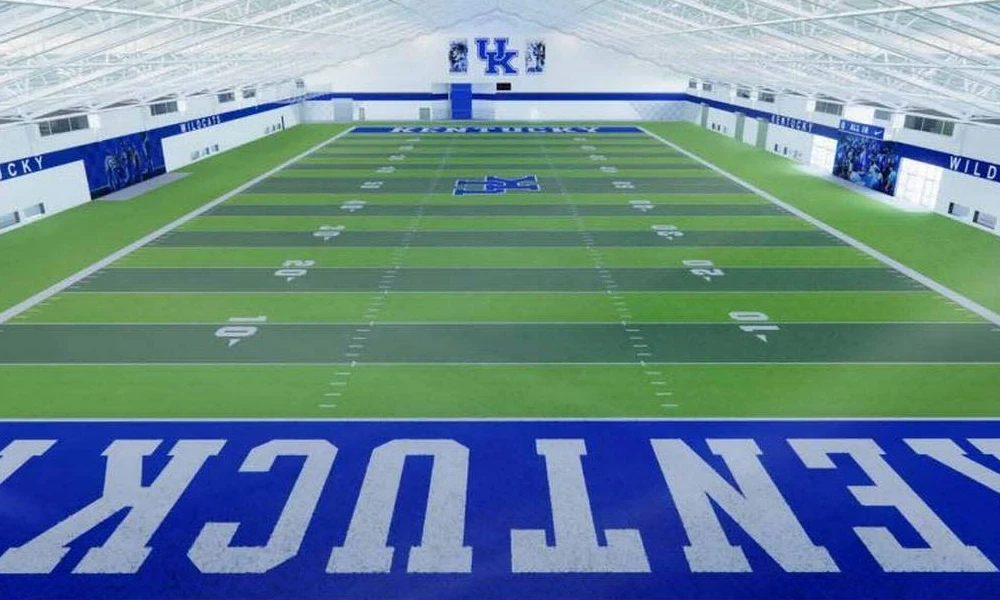 Plans for Nutter Field House renovation, new field Kroger turf and track facility
The Nutter Field House, which currently features an indoor practice football field and an indoor track, will be renovated in the near future. The facility will transition into a full-blown practice football facility, with the indoor track being moved to the Jim Green Indoor Track and Field Facility, which is currently being constructed for a cost of $20 million.
Constructed in 1992, Nutter Field House's football field has been surrounded by a 290-meter track. As a result, the size of the end zones are nearly 10 yards shorter than the regulation size.
This has forced receivers and other skill players to make sudden and irregular changes in motion in order to prevent them from running onto the track. The design flaw's potential for injuries and even damage to the track have been apparent for decades.
These issues have frustrated Mark Stoops, who expressed his relief last week with the media when talking about the new $5 million renovation that was announced in 2022. "I think it's going to help us all, number one, with the function, being able to practice in here," Stoops said.
Stoops added on, saying, "Just to be able to function and have the room and the space, it's going to really help us. And obviously, cosmetically it'll look a lot better and nicer. We're really excited about that."
Another exciting update for the Kentucky program is the new turf for both Nutter Field House and Kroger Field, with a total cost of $1.8 million.
Below are renderings of Nutter Field House, Kroger Field turf, and the outside of the Jim Green Indoor Track and Field Facility. Check them out!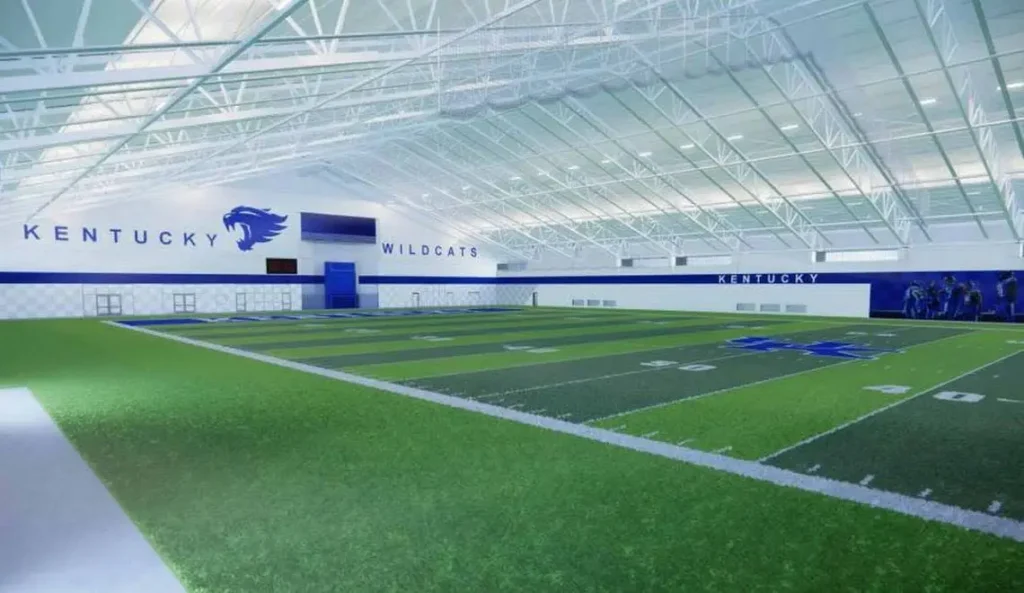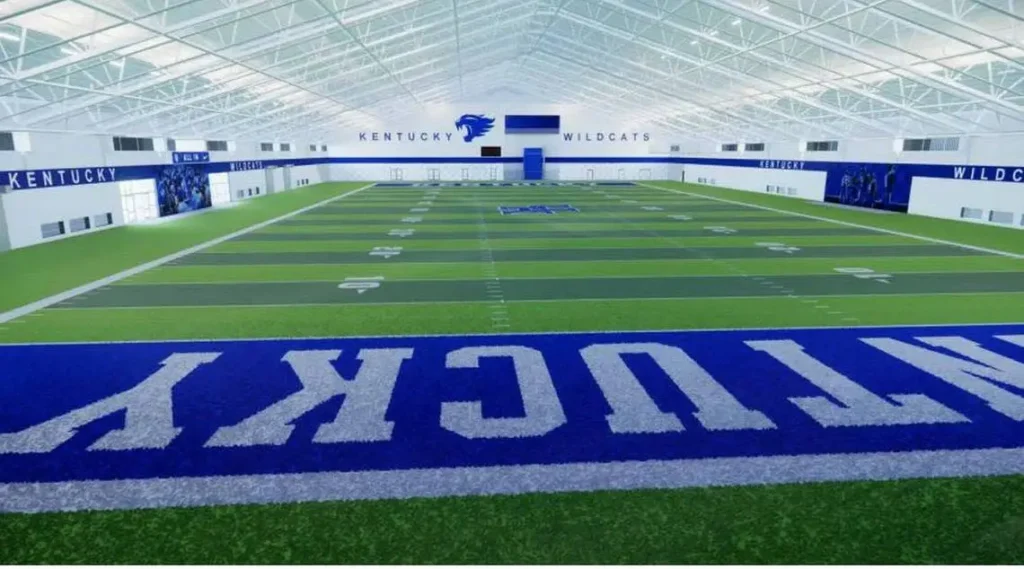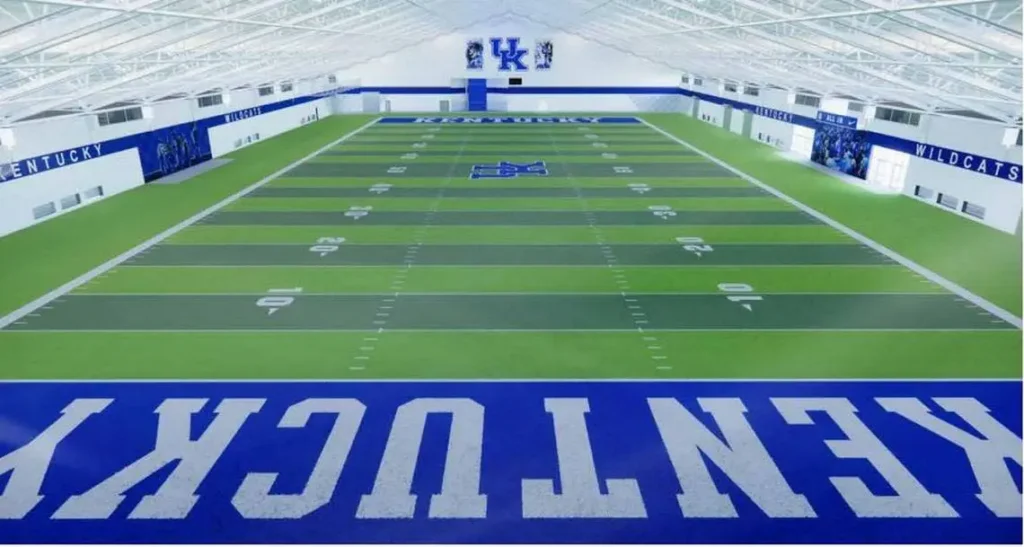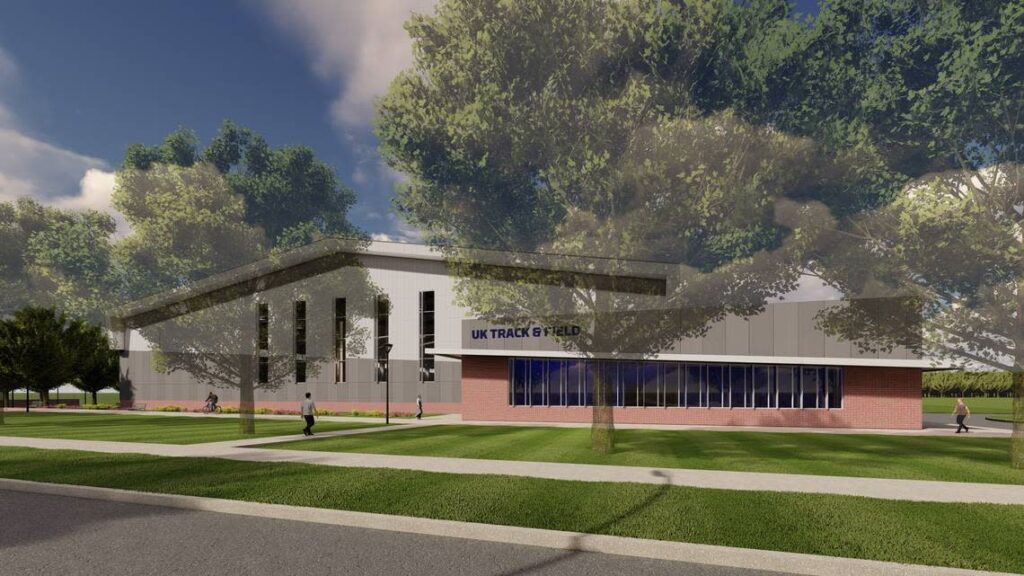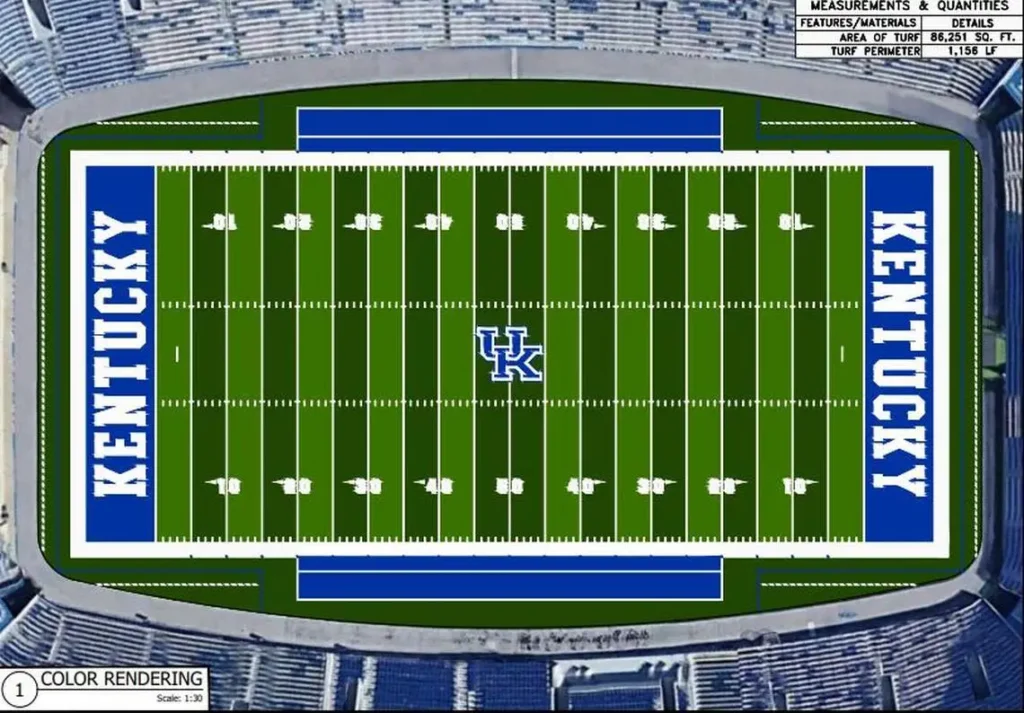 Vito Tisdale Dismissed from Kentucky Football Team for "Violation of Team Rules"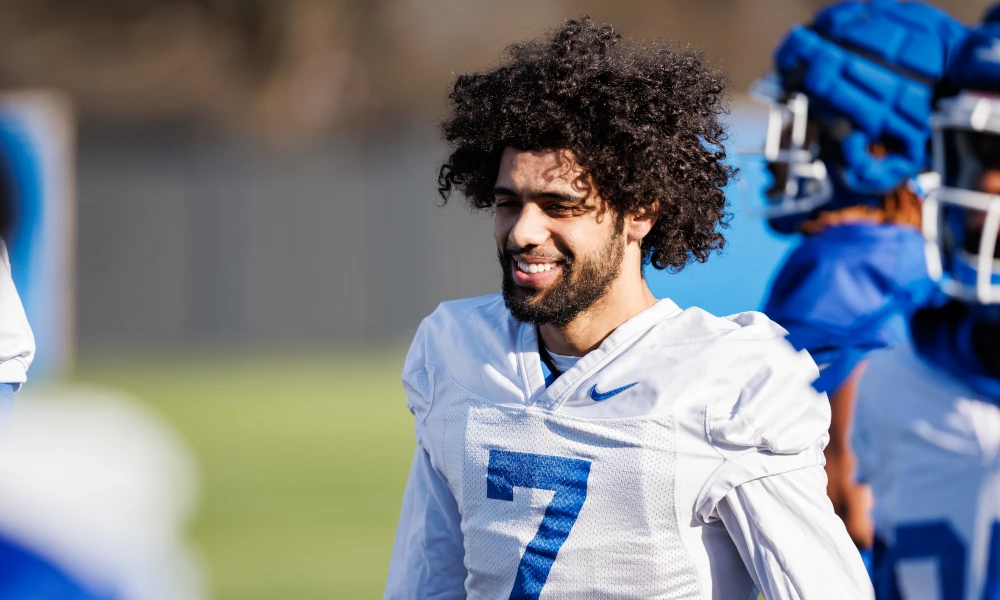 Vito Tisdale committed to Kentucky in 2020 as a four-star safety, pledging to play for Wildcats over Alabama, Georgia, and LSU among others during the All-American game on NBC. A Bowling Green native and the son of Nappy Roots' 'Big V,' Tisdale arrived in Lexington with high expectations.
As a freshman, Tisdale played the role of a playmaker on special teams, totaling 20 tackles. Entering his sophomore season, he was expected to take another step but was suspended for preseason training camp and the first month of the 2021 season for an off-campus fight with a fraternity, which resulted in charges for six Kentucky football players.
Tisdale was ultimately cleared of his charges and returned to the field to tally 21 tackles, including 1.5 for loss, on the season. This season would end up being his playing on the field for Kentucky.
In the opening days of 2022 spring practice, Tisdale suffered a season-ending ACL tear. After undergoing surgery and months of rehab, Tisalde was expected to be available for spring practice this week. Instead, his time at Kentucky is over.
On Tuesday afternoon, Kentucky football announced via Twitter that Tisdale was dismissed from the team for a "violation of team rules," with no further comment.
In a since-deleted tweet, Tisdale confirmed that he is longer part of the team and showed appreciation for his time at Kentucky.
This loss will have an impact on the Wildcats, as they lose a talented defensive back, which also hurts depth. Fortunately, the Wildcats have proven players that are capable of filling that spot: Alex Afari, Zion Childress, and Andru Phillips.
Mark Stoops Gives Promising Update on New Quarterback, Devin Leary, as He Recovers From Pectoral Tear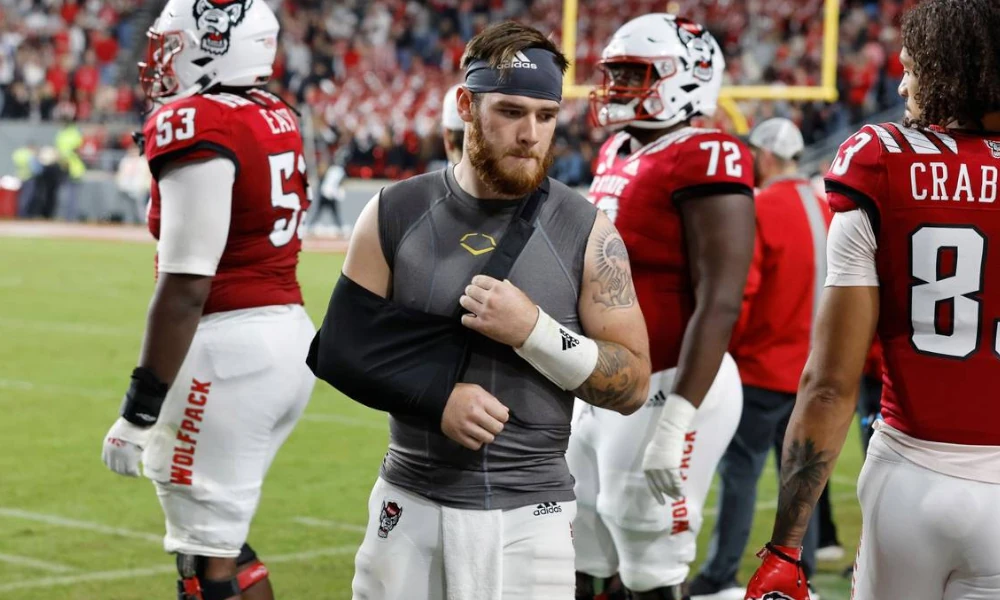 After being projected as a top NFL prospect since the end of the 2021 season, it was well-known that last season would be Will Levis' last at Kentucky.
With that being said, the staff knew they had to go find another high-level quarterback and that is exactly what they did. In December, the Wildcats made the decision to bring back Liam Coen who played a part in bringing in former N.C. State quarterback, Devin Leary, from the transfer portal.
While Leary set program and conference records at his old school, he is coming off a pectoral tear alongside his throwing arm that occurred back in October. While his commitment brought excitement, it also brought some questions, such as if Leary would be healthy enough to participate in Spring practice.
Kentucky fans should gain some confidence as Leary is participating in Spring practice, which started on Monday. According to Leary, he is ahead of his rehab process and has shown no arm pain after throwing but the staff wants to make sure, he is 100% healed before "ripping passes at 100%." For that reason, he will be on a throw count.
On Monday, Stoops took to the stand in the Spring practice opening presser, providing an update on Kentucky's new QB #1. "He looked really good… He was able to go for basically an entire practice," Stoops said.
Even with the encouraging news on Leary, there is still the question surrounding the quarterback room, who is going to be the backup?
Obviously, Kentucky will have different options in Kaiya Sheron, Destin Wade, and Deuce Hogan, who have all been considered QB #2 at one time in their Kentucky career, which will make the battle that much more interesting.
Again, the main question has been answered and Leary is healthy enough to participate in Spring practice and get better accustomed to the team. Hopefully, with Offensive Coordinator Liam Coen coming back he can resonate Kentucky's offense this year with new QB #1, Devin Leary.