Eric Musselman Apologizes for Telling Fan 'Go F–K Yourself' and Player Altercation After San Diego State Win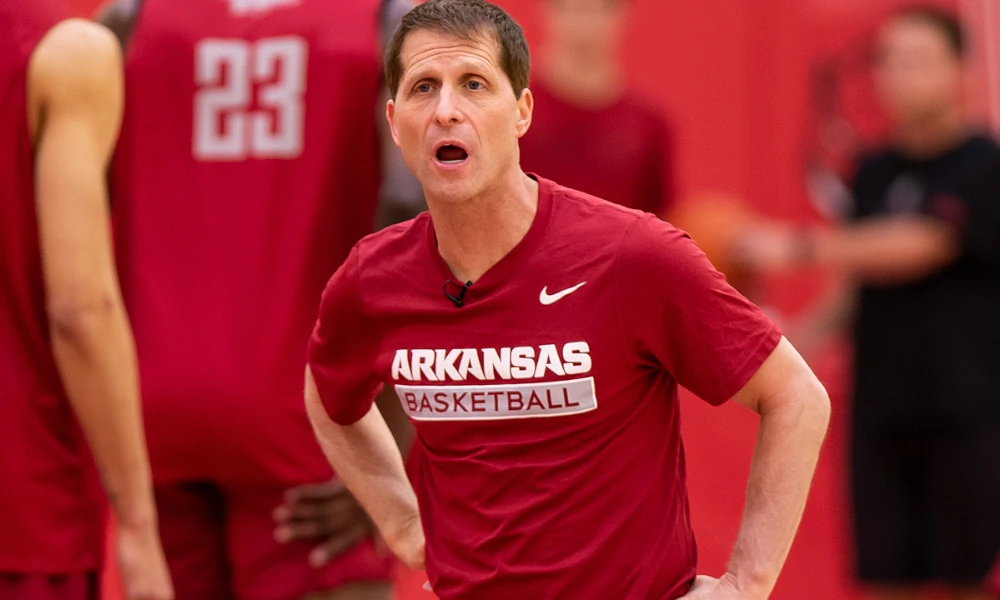 Arkansas head men's basketball coach Eric Musselman is as fiery as they come in college basketball and it was on full display at the end of Arkansas' 78-74 overtime win against San Diego State in last week's Maui Invitational.
According to the San Diego Union-Tribune, quickly after the game, Musselman was seen throwing up an "L" sign on his forehead and yelled "Go f–k yourself," in response to some Aztec fans as he walked off the floor, leading to fans coming onto the court.
Musselman also had a heated confrontation with SDSU senior guard Matt Bradley, who claimed the coach told him "to shut up or get out of his face, something like that."
In response to the situation, SDSU coach Brian Dutcher said that he and Musselman have been "longtime friends," but that did stop him from criticizing his part in the incident. "I know he's an intense competitor, and whatever happened after the game is probably not in the best interests of anybody."
On Sunday, Musselman and the University of Arkansas issued the following statement:
"Shortly after the game, I and some members of our program responded with negative dialogue to a few San Diego State fans. I want to take this opportunity to apologize to the San Diego State community and especially to head coach Brian Dutcher, his staff, their excellent team, and their enthusiastic fans for this post-game interaction."
Given Musselman's history at Nevada and in the Mountain West Conference, he has had heated games with SDSU in the past, serving as an origin of where the fire for this game came from. Back in 2019, one of Musselman's Nevada players allegedly shattered the glass case holding a fire extinguisher outside the Utah State locker room.
This issue seems to have been resolved with no punishments given out by either school at this time.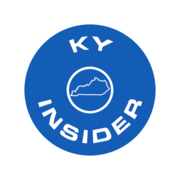 Kentucky and Indiana Basketball Renew Rivalry With Four-Year Series, Begins in 2025-26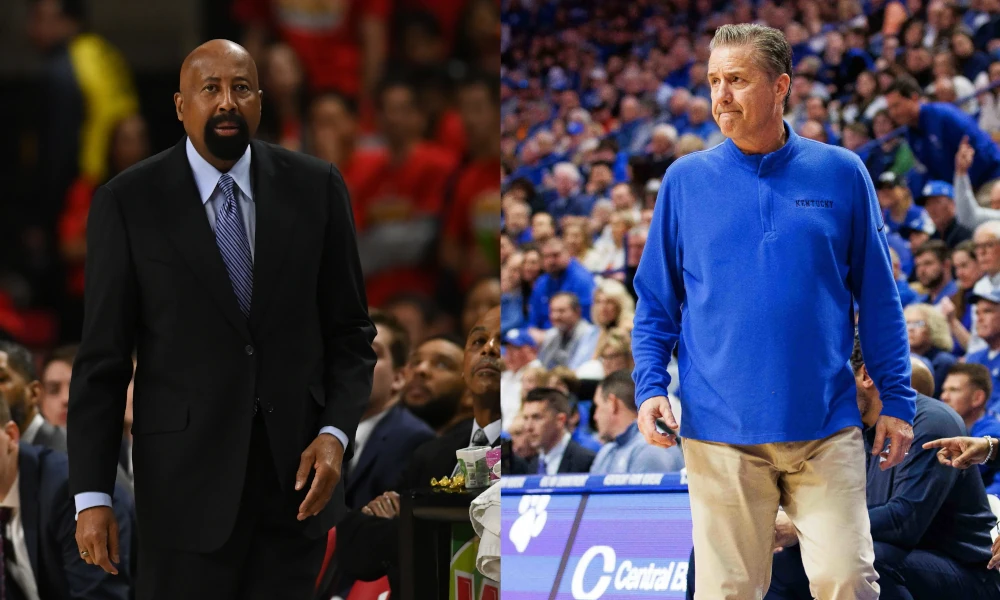 From 1969 to 2011, Kentucky and Indiana basketball faced off nearly every year for a non-conference matchup in December, a schedule staple for both teams. After over 40 seasons, the annual matchup was not renewed beyond 2011, following the infamous Christian Watford shot to beat No. 1 Kentucky at Assembly Hall, resulting in a court storm by Indiana fans.
Since that game, John Calipari has been open to resuming the Indiana series but has vowed that he will not play in Assembly Hall citing "disrespect" of his players (there are allegations you can research for yourself).
On Tuesday, it was announced that Kentucky and Indiana will resume the series in an agreement that all parties have approved of. For John Calipari and Kentucky, two of the four games will be played at Rupp Arena. For Indiana, they will have one neutral site game at Lucas Oil Stadium in Indianapolis, but also one home game at Assembly Hall in 2028.
But wait, I thought Calipari would never play at Assembly Hall? That is correct, given that it is five seasons away, Calipari will likely be retired by then. However, that is the last year of his contract, so there is technically a possibility of coaching one more game in Assembly, but I wouldn't count on it.
Here are the dates and locations of each game:
Dec. 20th, 2025 – IU @ UK – Rupp Arena
Dec. 27th, 2026 – UK vs. IU – Lucas Oil Stadium
Dec. 18th, 2027 – IU @ UK – Rupp Arena
Dec. 16th, 2028 – UK @ IU – Assembly Hall
Since their last regular season matchup, Kentucky and Indiana have met twice in the NCAA Tournament (2012 and 2016), splitting the two games. For the entire series, the Wildcats hold a 32-25 advantage, and they will look to extend that soon.
John Calipari Visits Trio of Top Recruits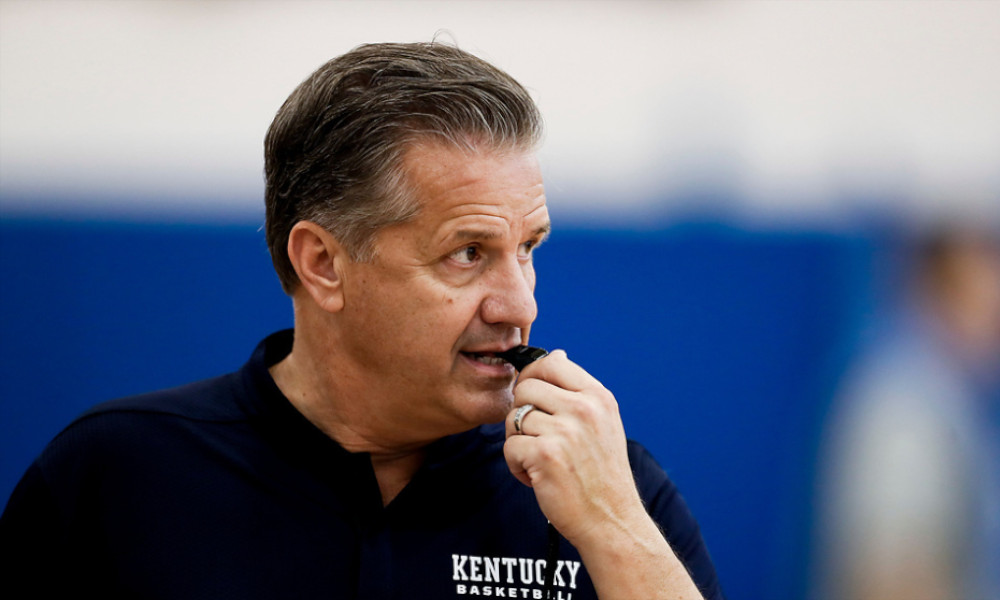 With less than two weeks until Big Blue Madness, the start of the Kentucky basketball season is just around the corner. Ahead of a season with a lot of pressure, John Calipari and the Kentucky Wildcat staff were busy on the recruiting trail in New York to start the week.
The day started off with taking a visit to see 2024 combo guard Boogie Fland. This being the fourth in-person visit to Fland over the last three weeks, it is clear that he is a top priority for the Cats and that is reciprocated as Fland listed the Wildcats in his top three last week along with the Alabama Crimson Tide and Indiana Hoosiers. Fland is expected to make a decision in the early signing period, which begins on November 8th.
With that said, coverage of Fland's recruitment has been well-reported, but while in New York, Calipari paid a visit to two more top recruits, VJ Edgecombe and Alier Maluk who both play for Long Island Lutheran (NY).
VJ Edgecombe
Edgecombe is one of the fastest-rising prospects in the 2024 class. As of March this year, he was ranked outside of the Top 100, fast forward to now and he is a consensus top 10 prospect and considered to be the No. 2 shooting guard in the class. When you see his explosive athleticism, catch-and-shoot ability, and natural basketball instincts it is easy to see why.
Watching closely for a while, the Wildcats extended an offer last month, a month and a half after Edgecombe trimmed his list to ten. While late to the party, Kentucky is not giving up and joins the likes of Alabama, Duke, St. Johns, and G-League Ignite among others in pursuit of the talented guard.
Alier Maluk
Early this summer Alier Maluk was considered a top-25 prospect, but following the grassroots season Maluk dropped in the rankings to just inside the top 50. That said, that isn't stopping the Wildcats from still showing interest as they have since he was 15 years old, and for good reason, Maluk is one of the most intriguing big men in the class.
At 6-foot-10, 180 pounds, Maluk is a dynamic two-way prospect and can be looked at as a "modern" big man. Well-known for his shot-blocking and rim-running ability, Maluk is also capable of shooting off the catch and the dribble. That said, his handle needs some development as he hopes to continue to develop as a stretch-four. That said, height and skill run in the family as Maluk is the cousin of 7-foot-2 center Bol Bol, who currently plays in the NBA with the Phoenix Suns.
It should be noted that Kentucky has yet to extend an offer to Maluk, who currently holds offers from Florida, Ohio State, and Oregon among others.
Also published on A Sea of Blue.
John Calipari Looking To Close Deal On Five-Star Guard Boogie Fland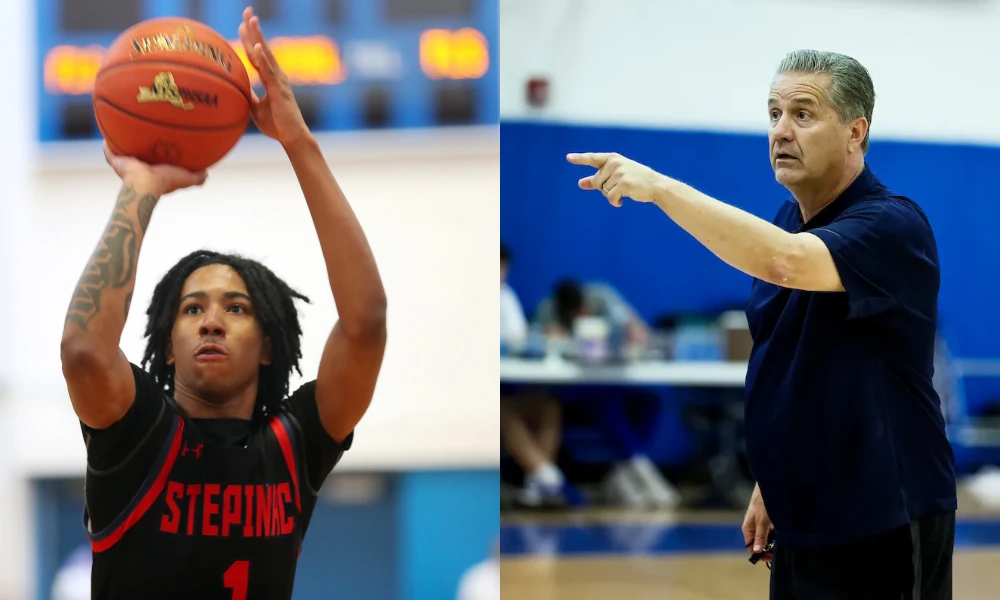 One of the top players in the class, top-ranked guard Boogie Fland has begun taking his visits, and is still taking time with his recruitment, but John Calipari and Kentucky are making a hard push to get the star guard locked up.
Fresh off of a visit to Kentucky a few weeks ago, Fland also had an in-home visit conducted by John Calipari last week after Kentucky watched him at Archbishop Stepinac in New York. On Monday, Calipari and Orlando Antigua paid him another visit. Kentucky is making sure he knows that he is the top priority among guards in the class of 2024.
Along with his visit to Lexington, Fland recently visited Alabama. The two schools are part of Fland's final three schools along with Indiana as he nears closer to a decision.
Fland is known to be one of the more elite scorers in the class with an ability to score from all three levels, and Kentucky is making him a top priority. Four visits in three weeks show that the staff really likes him and are looking to close the deal.
Take a look at this mic'd up highlight video of the potential future Wildcat to get to know him and his game.