Kentucky vs Arkansas: TV/Streaming Info and Keys to the Game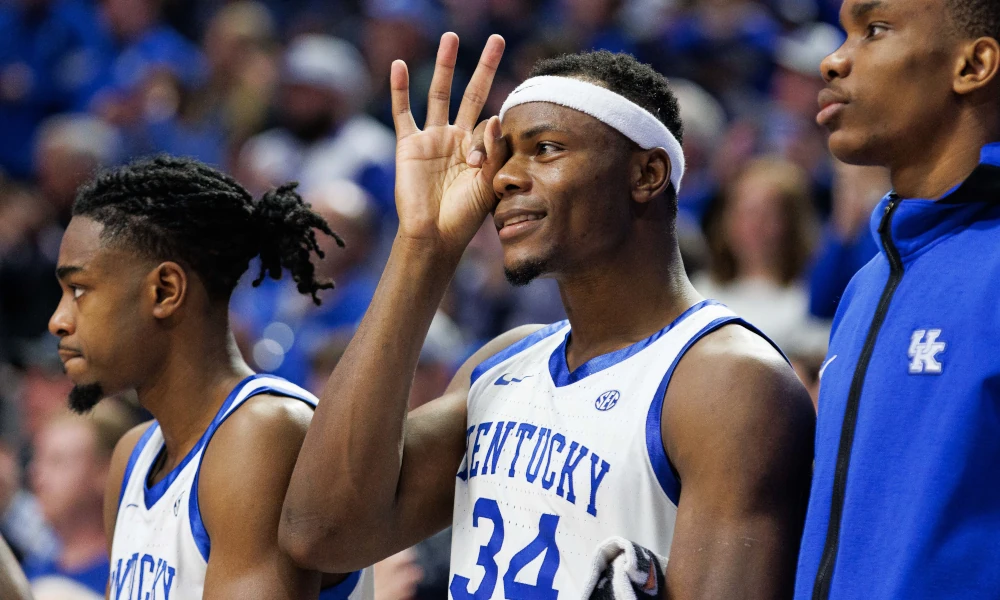 Through Kentucky's improvement, there is one thing that has been missing, a controlled win. While there were some runs made by Florida, the Wildcats earned such a victory on Saturday in a wire-to-wire win over the Gators.
After starting 1-3 in the conference, Kentucky is now on a six-game SEC win streak and is tied with Auburn for third in the conference (note: two-way tie for second between Tennessee and Texas A&M). In that stretch, John Calipari's motto to his team has been, 'win the day' and that is exactly what they have done.
The Wildcats are not overpowering their opponents, but are building upon each performance, and they will hope to do the same on Tuesday at home against a tough Arkansas team.
Similar to Kentucky, the Razorbacks entered the season with very high expectations, but have fallen short. After starting the season in the Top 10, Arkansas fell out of the Top 25 rankings after losing five of their first six conference games. Since then, they have started a four-game win streak to get back to .500.
The Razorbacks are a team that have struggled mightily on the road, just 1-5 on the season, they picked up their first road victory in a narrow two-point win over South Carolina this past weekend. However, they are capable, ranked 29th in the NET, which is currently the second-highest of Kentucky's remaining opponents.
Let's take a closer look at this matchup.
Let the Playmakers Continue to Make Plays
Kentucky's offense early in the season drew a lot of criticism, but changes have been made and the Wildcats are executing on the offensive end as well as they have all season. A big reason for that is that the playmakers are making plays, specifically Antonio Reeves and Cason Wallace.
The offense has not been incredibly intricate but instead has been rather simple. Against Ole Miss and Florida last week, Reeves and Wallace were receiving the ball in high ball-screening action, which they have excelled in. As proof, Reeves scored a season-high 27 points against Ole Miss, and Wallace scored 20 points against Florida, his second-highest point total of the season.
Where the two have been most important is when the play breaks down. Obviously, not everything is going to go to plan, but Reeves and Wallace have the ability to improvise and make a play at the end of the shot clock due to their three-level scoring.
I am sure Kentucky's offense will continue to add new wrinkles, but at its core, let your playmakers make plays.
Depth
In the offseason, Arkansas brought in eleven players from high school recruiting and the transfer portal, to mix with some key players on the roster. However, depth, which was presumed to be a strength, has become their biggest weakness.
Just four Razorbacks have played in every game this season due to injury. The two headlining injuries have been Trevon Brazile who tore his ACL and Nick Smith due to an unspecified knee injury.
For an example of just how limited the Arkansas lineup has become, three players played all forty minutes for Arkansas in their last game against South Carolina.
On the other hand, Kentucky is not reliant on just one player. Against Florida, Kentucky's two leading scorers, Antonio Reeves, and Oscar Tshiebwe combined for just eight points, while Fredrick, Toppin, and Wallace combined for 49 points.
In their seven-eight man lineup, the Wildcats have different players that are capable and have proven they can step up, that doesn't include Daimion Collins and Adou Theiro that have are even deeper in the lineup and have provided good minutes as of late.
As Sahvir Wheeler has said several times, games are like a tightrope and Kentucky should be prepared to use their depth to be the last one holding it.
Match the Physicality
One consistent thing about Eric Musselman's Arkansas teams is that they are going to play hard and physcial, and Kentucky will need to match that.on Tuesday night.
As in every game that Kentucky will play the rest of the season, they will need to be physical and rebound their opponent, but it may slightly more important to do so against this Arkansas team.
The Razorbacks are a team that likes to crash the glass hard from the perimeter, and they have size at the guard positions. In fact, two of their three leading rebounders (Brazile is first but out for the season) are starting guards Davonte Davis and Anthony Black. Controlling the defensive glass will in turn allow Kentucky to push the ball in transition.
On the other end, the Wildcats will need to crash the glass hard for second-chance points, as points may be hard to come by against a Razorback defense that is ranked in the top 15 in defense efficiency. The best way to combat poor shooting is second-chance opportunities around the rim.
To accomplish both of these tasks, the Wildcats are going to have to "fight" as Oscar Tshiebwe would say.
Time/Date: 9:00 pm ET on Tuesday, February 7th, 2023
Location: Rupp Arena in Lexington, KY
TV Channel: ESPN
Online Stream: WatchESPN, ESPN+, SEC Network+ or ESPN app
Radio: Tom Leach and Jack Givens have the UK radio network call on the UK Sports Radio Network.
Replay: WatchESPN and SEC Network (check local listings).
Rosters: UK | ARK
Team Sheets: UK | ARK
Stats To Know: UK | ARK
Odds: DraftKings Sportsbook has yet to release the odds. ESPN's matchup predictor gives the Wildcats a 64.8% edge. However, Bart Torvik's computer models continue to be low on the Wildcats and give Kentucky just a 54% chance.
Predictions: Bart Torvik picks the Wildcats to win in a nail-biter, 71-70.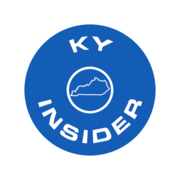 Kentucky Basketball Has "Pure Hoopers That Love the Game" According to Former Kentucky Guard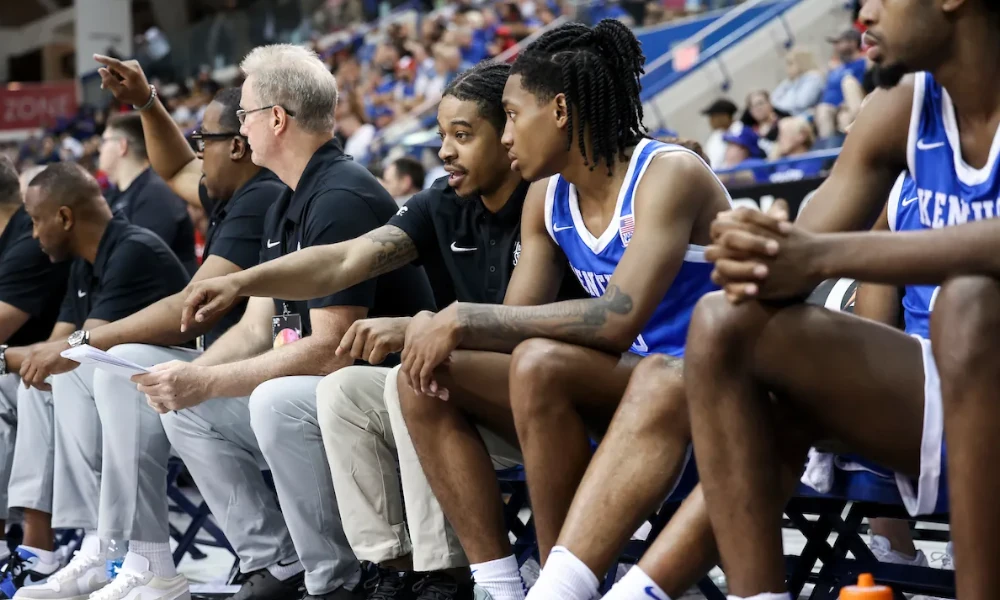 In recent seasons, Kentucky has struggled to find players to make plays when they need it most. That hasn't always been the case, some examples of players that had the ability to make a play to secure a win include: Tyler Ulis, Jamal Murray, Shai Gilgeous-Alexander, and John Wall among others.
Well speaking of some of the players I just mentioned, former Kentucky guard and current student assistant Tyler Ulis recently joined the Sources Say podcast and talked about how great this team can be this upcoming year.
Ulis calls this year's team "pure hoopers".
"They're basketball players. Hoopers. Pure hoopers, all of them. And they love the game," Ulis said. "How me and Devin (Booker) were in the gym, me and Zay (Briscoe), me and Jamal (Murray), that's what these guys are doing. They all want to get better — scared to fail, scared not to make it. That's what shows they want to be great."
As what defines a pure hooper, according to Ulis. "Anyone can make a play, anyone can get in the lane, anyone can knock a shot down," Ulis said. "We have so many options and so much depth, it's hard not to have fun with this team."
With the new roster and additions to the coaching staff, the goal is for Kentucky to make a deep run into the NCAA Tournament this year. As for Ulis, he is excited to see what this year's team can do.
"I can't say it enough: I'm extremely excited to see how this goes. We're deep with a lot of players, and they're skilled."
Texas Women's Basketball Takes A Shot at Kentucky Basketball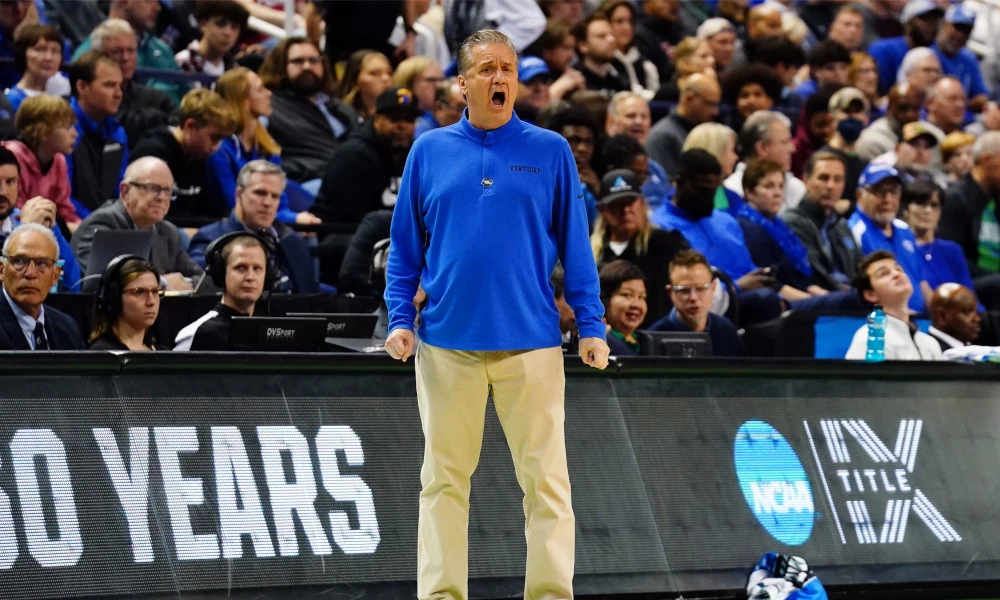 Earlier this week the Kentucky basketball team caught an unexpected shot. From who? The Texas women's basketball team. On Tuesday, the Longhorns' social media team tweeted a video of Drake, a professed Kentucky fan, coming to visit campus and the team.
However the caption is what caught people's attention, "we don't have to go to Drake's house… he comes to ours," Clearly trying to throw a shot at Kentucky for visiting Drake's Toronto mansion back in July, during the team's trip to Canada for GLOBL Jam.
It didn't take long for the Big Blue Nation to respond, as just 12 minutes later the Tweet's caption was edited to say "thanks for stopping by🤘".
That being said, let's not act like Drake made a specific trip just to visit the Texas Longhorns, he was in Austin for a stop in his music tour. Not to mention that Drake has attended multiple Kentucky games and events.
Texas will soon be in the SEC, and maybe Drake will be there in Kentucky gear to set the record straight.
Top Kentucky Target Tre Johnson Pushes Decision Date To Spring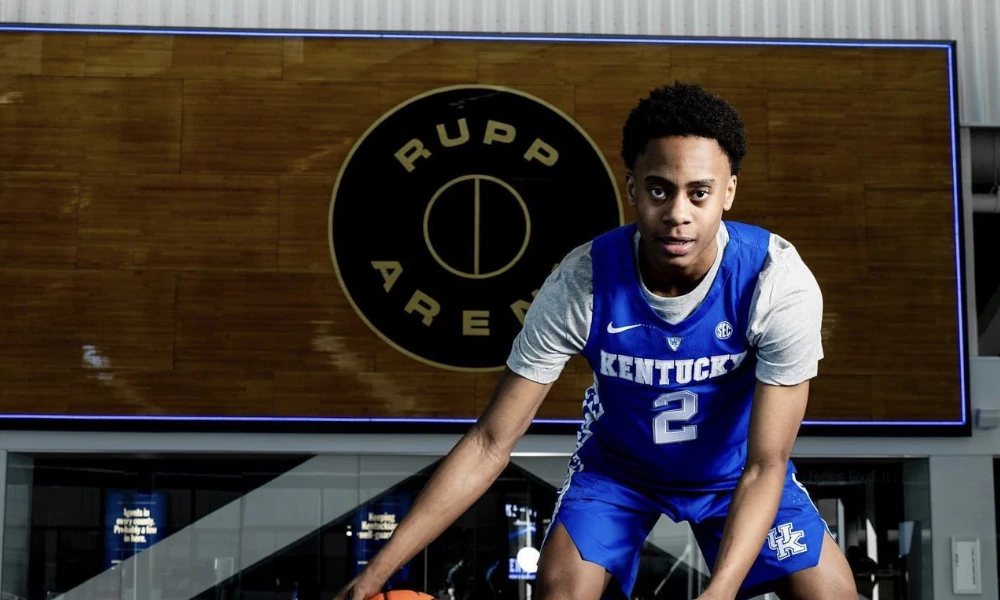 One of the top players in the class of 2024, Tre Johnson recently made the move to Link Academy in search of high-level competition on a big stage, which is a reason he says is why he will wait until the Spring before making a decision.
The top five guard possesses all of the scoring tools, and is a player that Kentucky really wants. He still has a few visits to take, with Alabama and Arkansas visits coming soon, plus another visit to Kansas, and another visit to Baylor. Johnson previously visited Kentucky back in late January.
Johnson has a final list of Kentucky, Baylor, Texas, Arkansas, Alabama, Kansas, and pro options. The Wildcats are rumored to be a top-three option long with Baylor and Texas. This delay may give Kentucky a better chance. With that said, he is not in a big rush to decide, as he is more focused on getting acclimated to his new home at Link Academy, as well as improving as a player.
Tre Johnson is one of the best pure scorers in all of high school basketball, and is certainly being prioritized by multiple top schools. Current intel suggests that Baylor and Kentucky are the top contenders, but with him pushing back his decision, there is more time to tell.