Marrow Looking to Flip Recruit from Top Five Program, Recruit Says "(Kentucky) Is the Place to Be"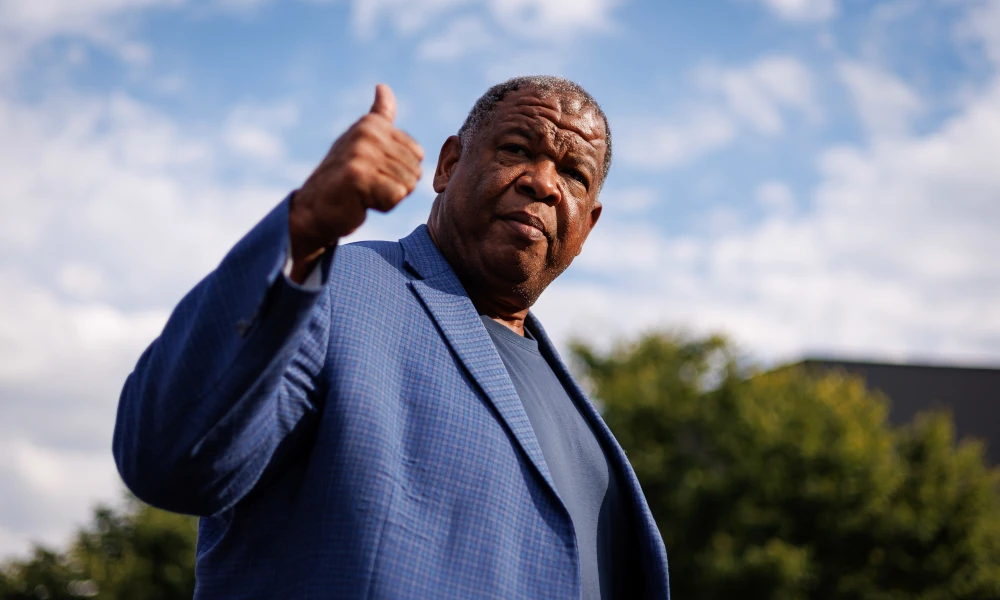 Vince Marrow has put the Big Blue Nation on notice, informing them that Kentucky may flip a top-rated player who has already committed to an SEC powerhouse, Rico Scott. A four-star, top-50 wide receiver out of Harrisburg, PA who is currently committed to Alabama.
Scott was in Lexington this weekend visiting during Kentucky's impressive win over Florida, which featured a great environment at Kroger Field. On Sunday after the win, Marrow went on the radio to talk about the impact the atmosphere had on recruits.
"I can't even tell you how many guys and their parents said, 'Oh my God, I never knew Kentucky was like this,'" Marrow said. "One kid who is committed to a top-five program, he was like, 'This is the place to be.'"
The player Marrow is referring to Rico Scott who also visited alongside his high school quarterback and Kentucky commit Stone Saunders, who has not been quiet about his wish to recruit Scott to play alongside him in Lexington.
"He's committed to Alabama at the moment, but he was with me when I came to Lexington. We're going to make a little push for him. He's a stud, runs like a 4.4 (40-yard dash) and I play with him right now. We'll see how that goes."
Vice Marrow led the charge in recently flipping the Smith twins from Michigan, can he do the same with Scott? Time will tell, but it's certainly a possibility.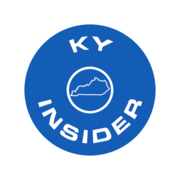 Kentucky Transfer's Father Speaks Out Against Kentucky Football Staff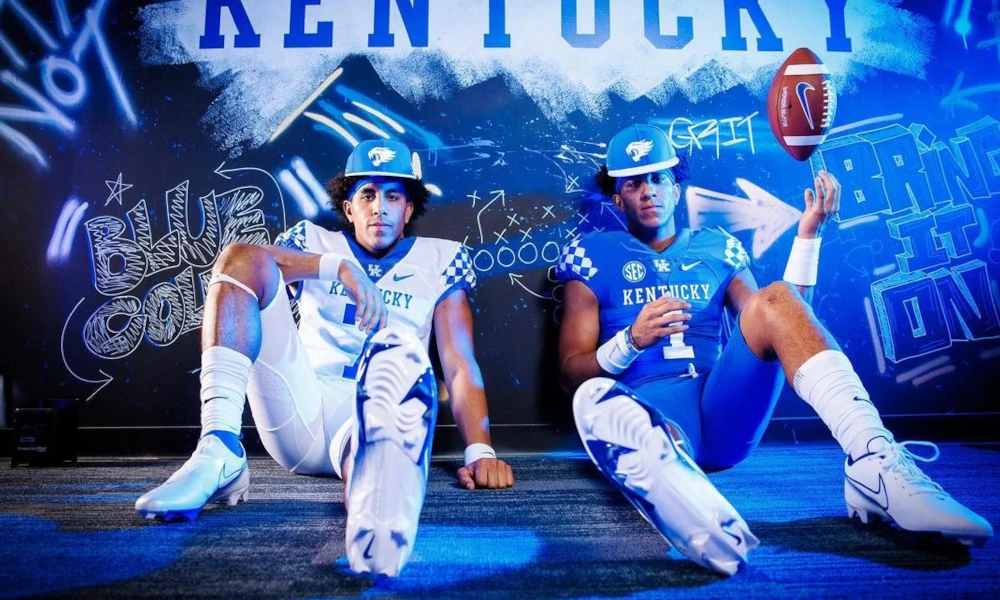 Now two days after the the transfer portal has opened, the Kentucky Wildcats have had a dozen players enter. Two of those players are the Wade twins, Destin and Keaten, who committed to Kentucky as a three-star quarterback and 4-star edge in the 2022 class.
The Wade twin's father, Steve Wade, recently spoke to Maurice Patton of the Main Street Muary, a local Newspaper in Maury County, Tennessee about his sons' decision to enter the portal.
As for why? "They (Kentucky) didn't keep their promises up there. We're not going to go for that," Steve said. "I'm mainly talking about Destin, not Keaten."
Two seasons into each of their collegiate career, one was on a path to success, while the other was not, unfortunately.
Keaten Wade, listed as a 6-foot-5, 250-pound sophomore outside linebacker, collected a total of 51 tackles, 2.5 sacks, and a pass deflection in two seasons as a promising piece on the Kentucky defense. Destin Wade (6-3, 223) appeared in just one game at quarterback during his time at Kentucky, going up against Iowa in the Music City Bowl. In the game, he was 16-30 for just 98 yards, threw two pick-sixes, and only advanced in Iowa territory twice on 13 drives, going as far as the 36-yard line.
"They (Kentucky) threw him in that bowl game and never did give him a chance to redeem himself, under circumstances that nobody could have really did anything with, Iowa being the No. 2, No. 3 defense in the country," Steve said. "We were promised by (Kentucky offensive coordinator Liam) Coen that Destin 'was too good an athlete to just be sitting on the bench'. We did our part, we trusted in Kentucky to do theirs."
Bringing in NC State transfer Devin Leary this season, Steve claims that Destin could have been just as good if he was given an opportunity to compete.
"Destin could have been just as good as that quarterback (Leary) we had this year," Steve Wade said. "There's nothing any of those guys sitting in that quarterback room couldn't have done (that Leary did). They didn't give him an opportunity to even compete. So we've got to do what we've got to do. He's got to get on the field somewhere."
As far as Keaten, Steve was satisfied that he played, but not satisfied that he was not a starter. "They let Keaten play, but he still didn't get the reps he should have gotten as being a starter," Steve said.
One reason Steve gives as to why his sons didn't play as much as they deserved was because of NIL, allowing "worthless" players to get more playing time just because they were paid.
"It makes it that much more difficult for kids that are on scholarship because they're paying these other guys money to come in — They're looking for those players to play," he said. "The school's going to play those guys, whether they're worthless or not.
All the best to the Wade twins and their family, but this is simply some parental delusion as Steve Wade overestimates his sons' talent.
Kentucky Receives Commitment from Georgia Transfer QB Brock Vandagriff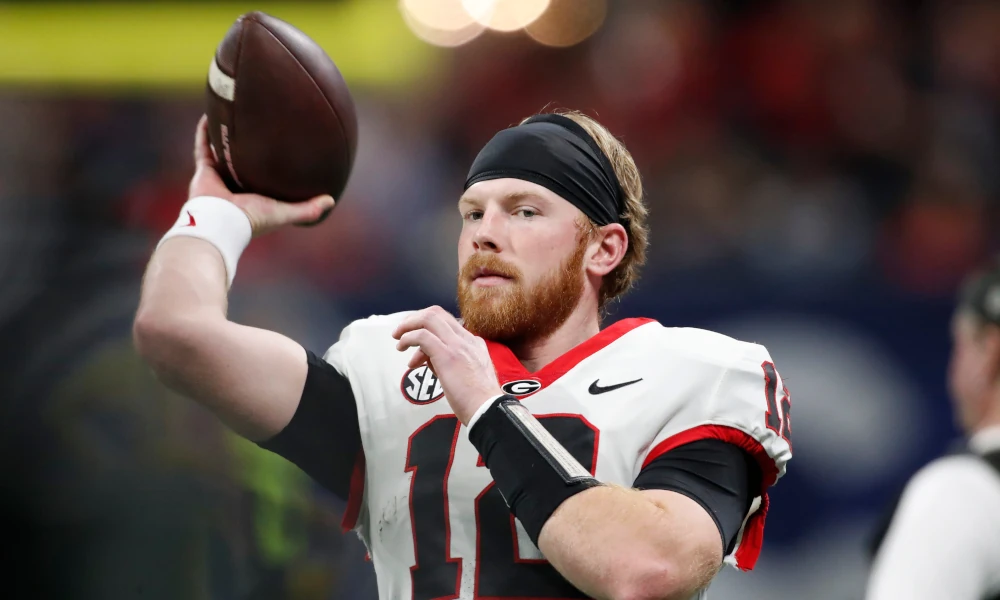 The Kentucky Wildcats have found their quarterback for next season, and potentially the next two seasons. On Thursday morning, Georgia transfer quarterback Brock Vandagriff announced his commitment to Kentucky, with the caption "Ready to get to work."
Vandagriff has been a name silently floated around since the end of the season as his sister plays volleyball at Eastern Kentucky and his father has a relationship with Liam Coen.
At Georgia the last three seasons, Vandagriff was a backup and saw limited action. However, he was a backup to some pretty good talent, first to Stetson Bennett who won back-to-back national titles with the Bulldogs, and Carson Beck this season who finished this season fourth nationally in passing yards.
Before his time at Georgia, Vandagriff was a five-star quarterback in the 2021 class, ranked as the 4th ranked QB overall by 247Sports' Composite rankings. Holding offers from the top names in college football including Alabama and LSU, Vandagriff had his choice and originally committed to play for Lincoln Riley and Oklahoma before flipping to Georgia.
The talent is clearly there and there are not many better ways to gain preparation than by practicing against one of the best defenses in college football the last three seasons.
Kentucky will also add 2024 four-star Cutter Boley to the QB room for next season and another transfer for depth whom the staff is still searching for. That said, just two days after the portal opened, Kentucky has filled one of their biggest needs, if not the biggest, of this offseason.
BREAKING: Kentucky Football Flips Running Back from Cincinnati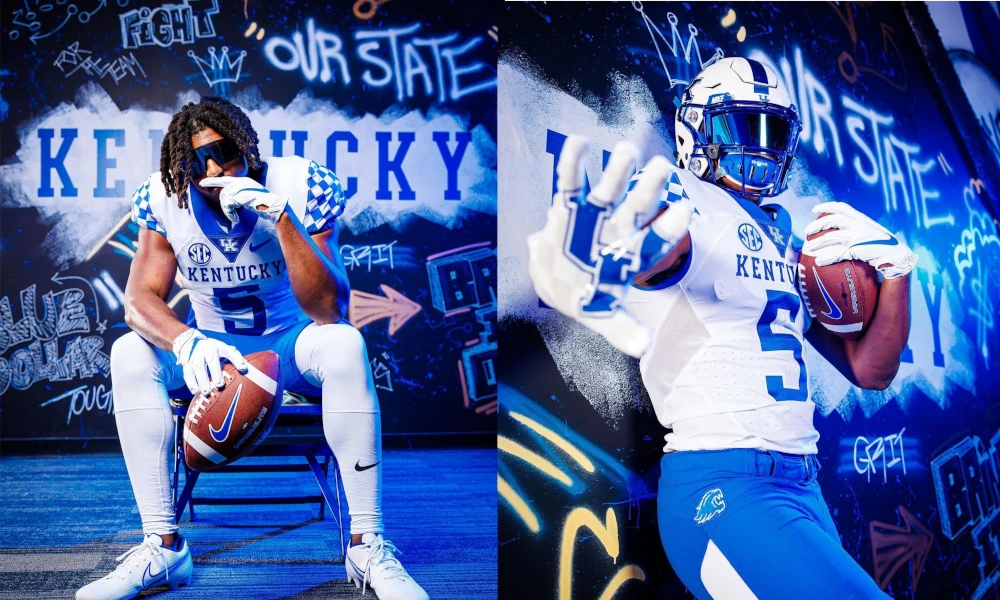 Hours ahead of when five-star basketball prospect Jayden Quaintance is supposed to announce his decision, which is expected to be Kentucky, the Kentucky football program received a commitment of their own.
Three-star running back prospect, Jason Patterson, flipped his commitment from Cincinnati to Kentucky on Tuesday morning, citing "I'm home."
Patterson is a prospect that Kentucky has wanted for a while and for good reason. He led Florida in rushing last season with 2,721 yards and 35 TD. Kentucky certainly put a lot of effort in and was thought the be the leader for Patterson for a long time. That is why it was a surprise when he committed to Cincinnati in early August. Since then the Kentucky staff and some commits have put the pressure on, ultimately leading to the flip.
One such commit UK quarterback commitment is Cutter Boley. Patterson and Boley have been close friends for a long time and have maintained their friendship through their respective recruitments.
With the addition of Patterson, Kentucky's class ranking has jumped from 21st to 20th nationally, and still ranks 11th in the SEC (including Oklahoma and Texas).