Recapping Liam Coen's 'Re-Introductory' Press Conference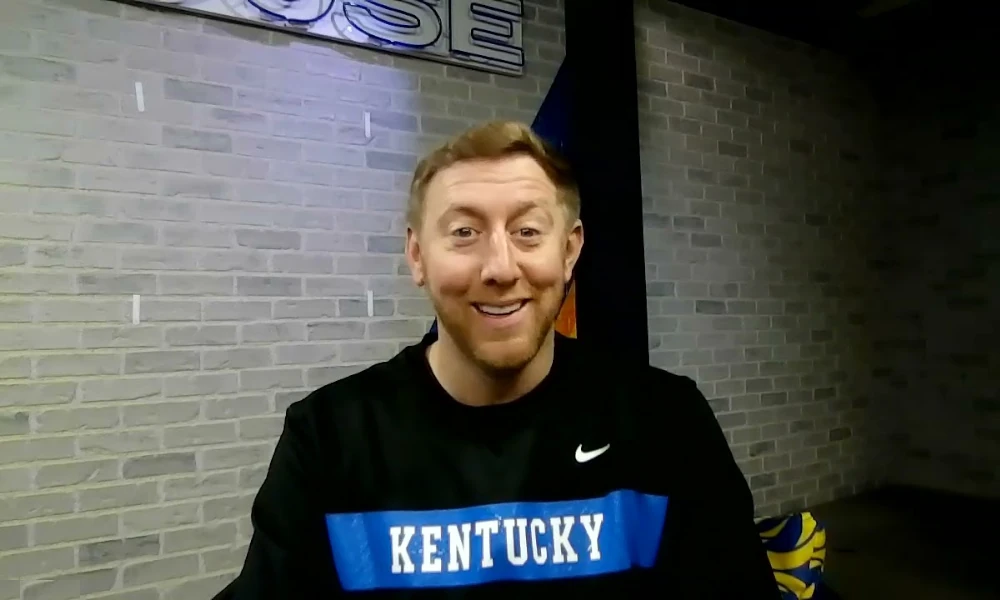 In a time of despair for much of the Big Blue Nation, there have been few pieces of positive news, the largest being the return of Liam Coen as Kentucky football's offensive coordinator.
On Thursday, Coen reintroduced himself to the Kentucky media after a year with the Los Angeles Rams. Visibly excited, Coen talking about this coming season, how he has grown as a coach, and much more. Take a look at what he had to say!
On assessing the current roster and looking ahead to this coming season.
"I was able to watch from afar a little bit this year and when they were on TV. Over the last few days, I've been really watching the game films. Excited about some of the young talent. Excited about some of the guys that are deciding to come back, Brendan Bates, [Kenneth] Horsey, and some of those guys that are veterans.
Those are all things that are nice to be able to have maybe a younger group, new faces, that you can truly look at and evaluate. Whereas you do know you have some of these guys that are coming back, that can help 'blend' if you will, teaching and preaching the standard and what we're trying to accomplish."
How are you different?
"It's a good question, I've been thinking about that quite a bit. We had some really unfortunate things personnel-wise, schematically things this past year it was not our prototypical year on offense… At the end of the day, it truly is about the players. Having to pivot and adjust to the type of players that we had, they weren't our starters they didn't know all of our offensive scheme… Was it always successful? No. Was the end result always what we were looking for? No. It was about the process…
At the end of the day, that's really all you can hope for in terms of trying to create an environment and a standard in which guys came to practice and meetings every single day with the right enthusiasm, right mindset. Because the culture is strong. Because everything we try to do on a week-to-week basis was about leading confidence. We can we try to give these guys our best effort as coaches each week because we knew we were going to get their best effort on Sundays."
On QB Devin Leary
"I know the type of kid that he is. He can throw the football very naturally different than Will [Levis]. Each season, each offense. it's always going to be tweaked a little bit… The quarterback does depend on a lot of the things that you're going to do schematically. I do believe that this guy can throw the football as good as anybody in the country.
He wanted to come to Kentucky and obviously to win football games and have an opportunity to win an SEC Championship. Also, to be developed, to be developed into a future NFL quarterback.
A lot of this is going to be about Devin and what he's comfortable with. It's his last year of football. I'd be crazy to walk in there and say, 'this is what you're doing, and this is how you're doing it'. I do believe it's going to be a collaboration. Some of the things that he was successful with in his past, but also some of the things that we know we need to do in order to operate in the SEC."
On Will Levis
"I think his best football is still ahead of him. I truly believe that he will have a long and successful NFL career. The guy has played through multiple different coordinators in multiple different years. Obviously battled through a ton of injuries. This guy is going to wow them in every shape, form, and fashion.
I mean he's extremely talented throwing the football. You get him in a room. you get around him, you can feel his confidence. He'll be able to speak the language and he'll be able to come into a locker room and get along with the guys. Really excited about Will's future."
On the O-Line and getting back on track after struggling in 2022.
"That's the number one priority. When we get there, diving into that position group, personnel-wise, schematically, fundamentally, technique, attitude, demeanor. All that needs to get dove into really quickly.
I do remember the first time that I came, that was kind of the unit that I never really worried about. I never really worried about if they were going to come to play. I never worried about third and one, not getting a first down. It was never something that crossed my mind when I got there and we had experience, it was different. We had three players on that offensive line that went on to play in the National Football League.
It's a room, it's a unit that we need to address and address quickly. You know really the offensive line, if you think about it, that's more than a third of your unit on a play-to-play basis. If those five are not on the same page, don't have the right mentality, or aren't you know doing what they're supposed to do, it's really hard to have success as an offense no matter who's around them."
On college coaching compared to the NFL.
"[In college] you start to miss the impact that you might have on these guys' lives. Coming in 'hey coach, having an issue at home, can we talk?' 'Hey coach, my girlfriend dumped me, I need some advice'.
Those are conversations that I kind of missed. I missed helping when it was a little bit more than football. We missed as a family, having players over for dinner and having the guys around. I have a one-year-old son now that I am excited for him to be around the football facility, and be around our players, to be impacted by them. That's truly what we missed."
On his return to Lexington.
"I just want to kind of go somewhere make a real impact. Plant some roots a little bit, be somewhere for a few years you feel really good about. My family, the situation. My dad didn't come out to California all that much. To have him around you know around me personally, I know is good for me in my life and to be around my son.
Just to be closer to people that care about you, that's important for your day-to-day growth and health, and I'm excited about that. I'm excited about being back in Lexington, a place that I walked around town and only got support… I'm not in a rush to go anywhere. I want to go try to make an impact and be around somewhere for a little while."
On recruiting high school quarterbacks, or keep looking in the transfer portal
"I think eventually you want to try to do that, but I mean, depending on how Devin and this thing goes. I'm not sure that we'd be having this discussion if will Levis wasn't our starting quarterback. If I would have just gone with a high school kid, we wouldn't be in this situation.
Yeah, I think eventually you'd like to be able to get somebody that you can start for a few years, but with the way that this thing's going with the portal, especially at the quarterback position. How many times is a guy just gonna sit and buy his time?… Something like that, I just don't know how realistic that is in the landscape of college football anymore
You got to believe that if you don't win the job for your first two years, a lot of these guys are probably going to take off. That's to each their own. I don't think that you need to force it.
If you look at the way that these things are working out. If you do your job and you do a nice job recruiting and they're not pleased with the situation, they're gonna leave. I don't really feel like you have to fix it immediately. Do I believe that that's something we're gonna you know attend to? Absolutely do."
On his approach to the RB room, C-Rod no longer there.
"Maybe a little bit more by committee. I haven't been able to truly evaluate that room as much as I would like to. I think the spring sometimes is a really good time to just really let these guys go out and kind of roll the ball out and let them go and see who's going to take it over. C-Rod's not walking back in.
Gonna roll the football out and whoever can run and execute, gain yards, break tackles, and be the guy in that room, that's who it's going to. If it has to be a little bit more by committee, that's something that we'll have to do as well. I'm excited about some of the guys in that room but somebody needs to emerge and take it over.
Definitely going to miss handing the football off [to Chris Rodriguez) and knowing we're gonna gain four yards. That was not scheme, that was him a lot of the times"
---
Coen's entire interview can be viewed below.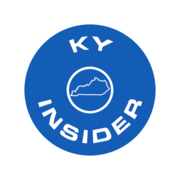 Kentucky Running Back, Dee Beckwith, Joins WWE NIL Program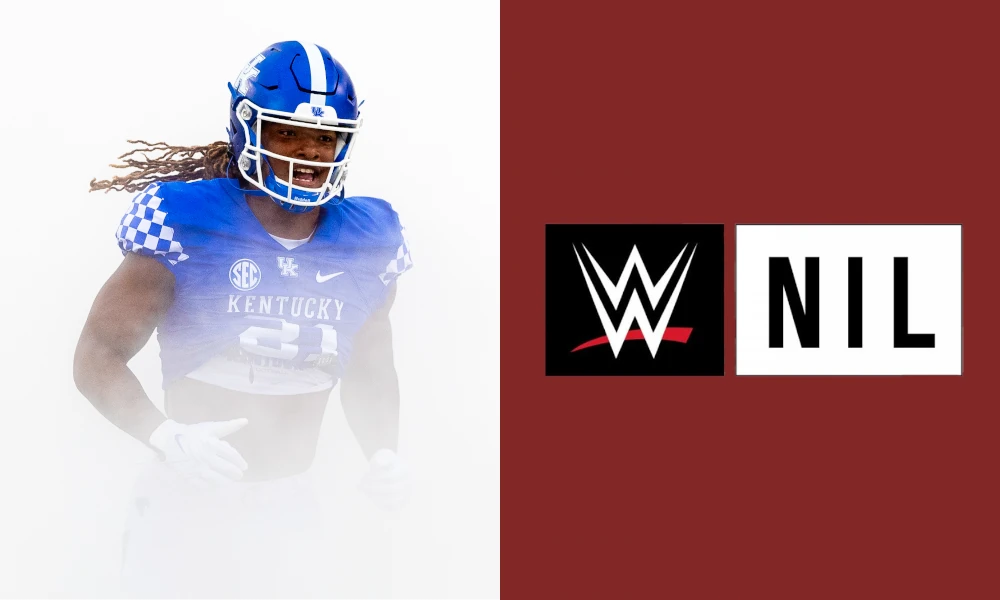 Some of the most athletic people in the world are professional wrestlers, and that level of athleticism is not found in abundance. This is why the WWE "Next in Line" program was created, a NIL program launched in December that serves to recruit and develop potential future WWE Superstars.
One of the most recent college athletes to be signed to such a deal is Kentucky football running back, Dee Beckwith, which was announced last week. Standing 6-foot-5, 235-pounds with a reported 4.5 40-yard dash time, he fits the mold of big and athletic.
Beckwith is not the only Wildcat in the program, as there are two others. UK women's track and field hurdler Masai Russell was a part of the WWE's first NIL class, and former Kentucky defensive lineman Abule Abadi-Fitzgerald signed with NXT, after a couple of tryouts with the WWE.
The WWE NIL program is primarily used for a fast track to potentially signing with the WWE upon completion of the program. However, within that, the program gives athletes access to their training center in Orlando, where they provide guidance in brand building, media training, communications, live event promotion, creative writing, and community relations.
This is a unique opportunity for Beckwith, giving him another path as an athlete outside of football.
UK Football Cancels Spring Game as New Turf Is Installed, Looking at Field Concepts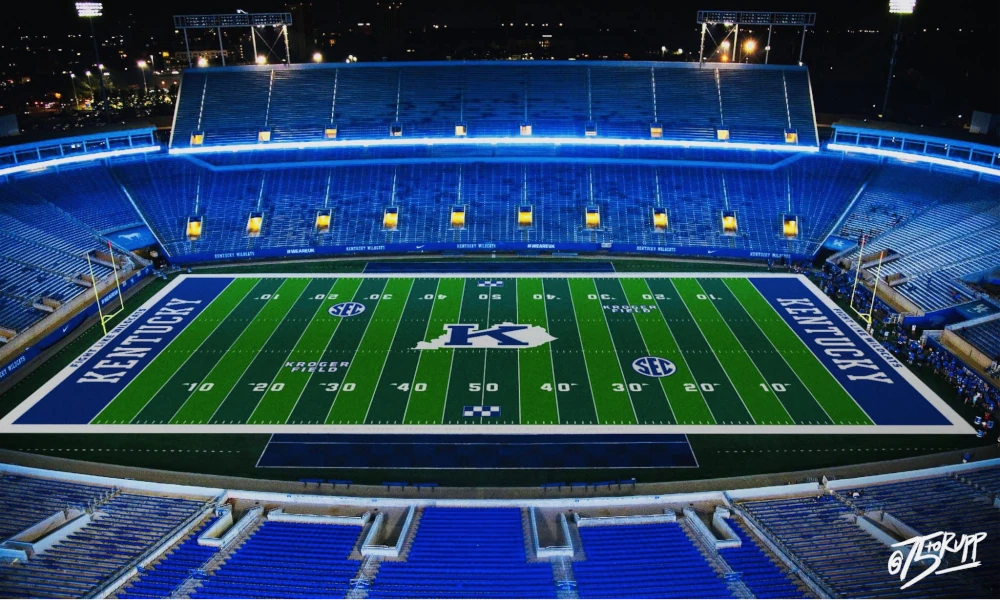 Kentucky Football announced on Wednesday that there will be no spring game this offseason because as they are replacing the turf at Kroger Field. This would be the first time since 2015 that the field will be changing since originally switching from grass to turf.
The Spring Game cancellation can be bad news for a lot of fans looking to catch the football team and see what they are looking like before fall camp begins later his year.
The good news is that UK has announced that they are working on one and potentially two open practice opportunities for fans to attend from March 6th-April 8th, in light of the Spring Game being canceled. Also, this has allowed many fan-made concepts to be created, to see what Kroger Field's new look can be imagined.
Here are some field design concepts that people have created and shared on Twitter.
Here's a couple other thoughts that'd be neat even though I hate the new wildcat. pic.twitter.com/ejr2K0Ybhm— Owen (@75toRupp) September 7, 2022
If UK wanted to throw it back to the 1980s, here's a glimpse of what that would look like. It's fair to say that the football stadium has transformed quite a bit.
New surface you say? pic.twitter.com/CL1Aoya1Ah— Owen (@75toRupp) January 25, 2023
The last design is likely what most Kentucky fans would be in favor of. Fans have missed the power K ever since it left the uniforms, and with throwback jerseys being so popular they have been pleading for throwback jerseys that incorporate it into the helmets.
The power K along with the state outline behind it would be an excellent addition, especially with how proud many of Kentucky's residents are to call the state their home.
While there are not a lot of details on what the new design may look like, it seems that the checkerboard may be no more in the end zones, according to the bid information.
There are many ideas for new turf designs and all fans should put their trust in the athletic department to make the best decision for the fanbase on this one. Let's just hope there are no asymmetrical Kroger logos on the field (looking at you Rupp Arena and Central Bank).
It looks like some other enhancements are happening as well, and the players look excited about it!
Kentucky Football's Incoming Transfers Introduce Themselves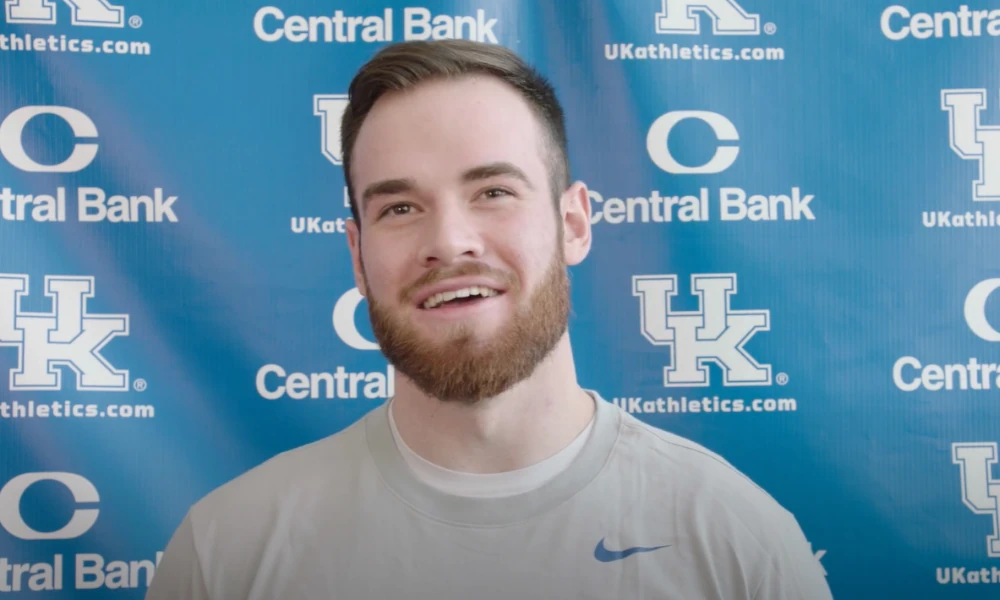 On Wednesday, the media had a chance to talk to six out of the seven new transfers that transferred to Kentucky during winter break, with the exception being Jantzen Dunn (Ohio State). Each transfer is expected to come in and play significant roles, as they fill roster gaps.
With the influx of veteran talent to go alongside the young weapons that Kentucky displayed last season, the goal is to improve on an underwhelming 2022 season.
Let's briefly look at what each player had to say in their introductory press conferences.
Devin Leary
Committing to Kentucky in mid-December, Devin Leary has only been on campus for three weeks and is still rehabbing from his surgery for a torn pectoral muscle he suffered back in October. However, he is still trying to make an early impact on his new team.
"Really just being able to get around the guys and really just, you know, prove to them through my hard work, prove to them, you know, I'm eager to be here," Devin Leary says during a media interview.
"I am very happy to be here, but at the same time, you know, it's an honor and privilege to be here. I need to prove to them that I'm going to put in the work that it takes, you know, a lot of time and that I take it very serious, but at the same time it's grabbing those guys on the side and, you know, diving into the playbook, doing extra film, and just really building that camaraderie, like right now."
Spring practice starts in about a month and a half, so we will see if Leary will be fully healthy to go for spring ball, if not he should be fully healthy to start off the season in 2023.
Ray Davis
In Liam Coen's 're-introductory' press conference, he talked about how important Chris Rodriguez and his ability to guarantee positive yardage has been to Kentucky. Now graduated, Coen and the program had to find another high talent back, which they found in the transfer portal.
Coming from Vanderbilt, new running back Ray Davis was tabbed as a four-star transfer and one of the best running backs in the portal. Kentucky will be Davis' third stop in college football as he played at Temple University his freshman and sophomore years and most recently at the University of Vanderbilt for his junior and senior years.
One reason why Davis committed to Kentucky is he thinks UK was missing a few pieces towards the end of the year, that he thinks he can help with and get the Cats' to compete in the SEC Championship
"Offensively, just knowing that they were missing just a few pieces once the season ended and I felt that, you know, if I come in and try to earn my spot, earn those reps, and try to get the starting job. I think I could help out the team and get us through that threshold of potentially competing for an SEC Championship," Ray Davis says during a media interview.
Tanner Bowles
Tanner Bowles was one of two offensive tackles that Kentucky landed in the transfer portal. Bowles, who is from Glasgow (KY), recently transferred from the University of Alabama to Lexington. In four seasons with the Crimson Tide (including a redshirt season), Bowles never became a starter, but appeared in all 12 games this season for one of the best offensive lines in the SEC.
"There's a point in time, where you can lead with your words, but before that, you have to lead with your actions, so I think while I'm here right now, I don't know when the time would be if I, you know, had a chance to lead with my words, but for now I am focused on, you know, just leading my actions, doing the little things right," Tanner Bowles says during a media interview.
Marques Cox
Marques Cox was the second offensive tackle that Kentucky added from the transfer portal, coming from Northern Illinois University as a redshirt junior. Cox, like Devin Leary, suffered a season-ending foot injury, four games into the season when NIU faced off against UK.
As a proven veteran, Cox knows that the offensive line will have to improve this season, and he will bear much of that load. If they can succeed, Kentucky will be more capable of using their offensive weapons.
"Just me and Tanner (Bowles) helping improve the offensive line and offense so they got weapons," Marques Cox says during a media interview. "We got key players to do so, so it is just fixing everything."
Keeshawn Silver
Now to the defensive side of the ball. One of Kentucky's latest additions from the transfer portal was defensive tackle, Keeshawn Silver from North Carolina. Ranked as a five-star recruit in the 2021 class, the talent is there, but he could never get to a healthy playing weight at North Carolina.
One reason why Kentucky added him was due to Justin Rogers's transferring to Auburn, leaving UK in need of another defensive lineman, which is where Silver comes in. Since arriving to campus, he feels like he has been able to build some great chemistry with his teammates.
"We talk daily, it's really like the same things at Chapel Hill," Keeshawn Silver says during a media interview. "I mean the guys, we bond together, have a good time, they like to have fun, I like to have fun."
JQ Hardaway
Finally, the last transfer that was interviewed was defensive back, JQ Hardaway, coming from Cincinnati. A native of Columbus, Georgia, Hardaway is "happy" to be in the SEC, a conference many poked fun at him for not joining out of high school.
The SEC is the highest level of football in the country, but Hardaway believes that he belongs and is confident in his skill set.
"I'm just a ballplayer, man, I feel like I am very confident in myself," JQ Hardaway says during a media interview. "I like to have fun, I got kind of a swagger on the field, I would say. I'm just very comfortable, I feel like I can be myself, I don't have to be anyone. I just kind of let my talent speak for itself."
Over the last four seasons, Kentucky has sent three transfer corners to the NFL – Lonnie Johnson (Garden City CC), Kelvin Joseph (LSU), and Brandin Echols (Northwest Mississippi CC) – and Hardaway committed to Kentucky with that in mind. Will he be the next?
---
Kentucky added some talented transfers this off-season and it will be interesting to see how they will have an impact on the team. Several questions should be answered over spring football, and hopefully, this group can help lead Kentucky to a better record in 2023.