What Are NFL Scouts and Insiders Saying About Will Levis following Tennessee Loss?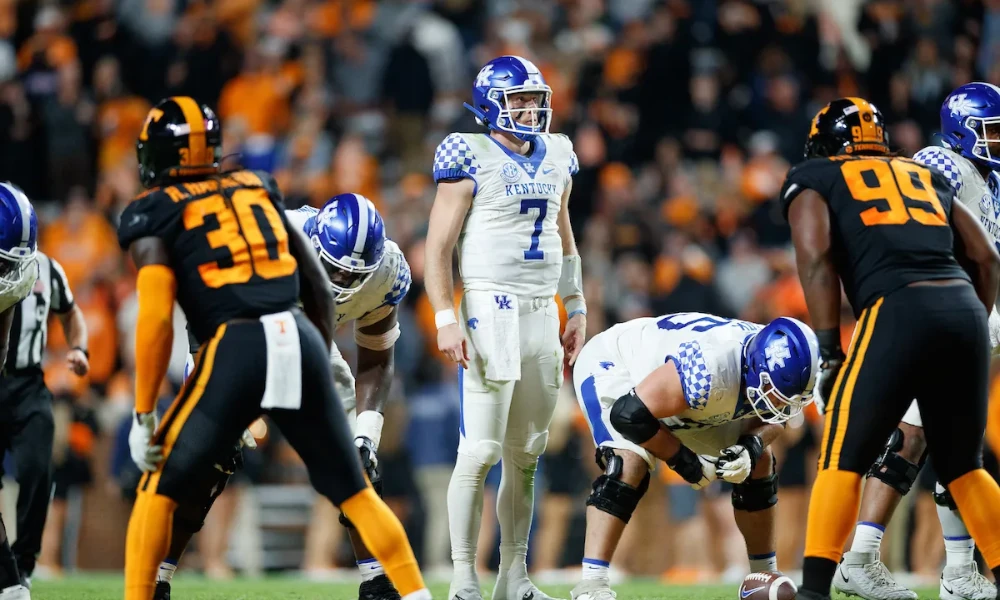 The easiest way to describe the game on Saturday in Knoxville is an all-systems failure.
All sides of the ball, including an atrocious special teams showing, were utterly embarrassing in the 44-6 loss. On the national scale, quarterback Will Levis will receive some heat – especially toward his draft stock – as a result of his 98-yard showing that included 0 TDs and 3 interceptions.
That begs the question, how badly did this game hurt Levis' draft stock?
One would be lying if they said it didn't affect it, it very well did. Levis had many of his skills questioned, including his accuracy, real-time decision-making, and leading an offense in what was a big-time atmosphere.
With all of that being said, Will is still projected to be a first-round pick. As most Kentucky fans know, at one point he was as high as the #1 overall pick. Following his performances through the last few games, his stock has fluctuated and more questions are being asked.
Despite this, Levis continues to be tabbed as the third or fourth-best quarterback in this year's class, behind CJ Stroud (Ohio State) and Bryce Young (Alabama). Given how the season has gone and each player's performance, it's fair for NFL front offices to put those two guys over Levis in leading a franchise.
What NFL Scouts Had To Say Following The Loss
Yet, there is some not-so-bad news.
NFL scouts and insiders didn't put the poor performance solely on Levis. Instead, they are saying that he is in a worst system than he was a season ago and putting some blame on the staff.
It's hard to argue that especially when you look at this stat, showing that he isn't getting the opportunities to throw it downfield.
However, Levis still has things to be held accountable for, and he recognized that in his post-game presser. He owned up to his mistakes regarding balls that shouldn't have been thrown and plays that resulted in lost yards.
Being the third or fourth-best quarterback in the draft, (Hendon Hooker as the other QB floating at that QB3 spot) can mean a lot of things and it's going to be interesting where he falls.
Despite some poor play, it looks like Levis is getting the benefit of the doubt and still has some valuable NFL traits, including his size, arm, and intangibles. Given that, fans should expect him to still be atop the first round of this year's draft, with ample amount of opportunity to rise in the remaining four games of the season.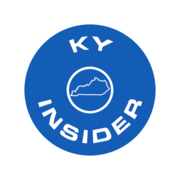 Mark Stoops Provides Update on Offensive Coordinator Search, Who Will Call Plays for Bowl Game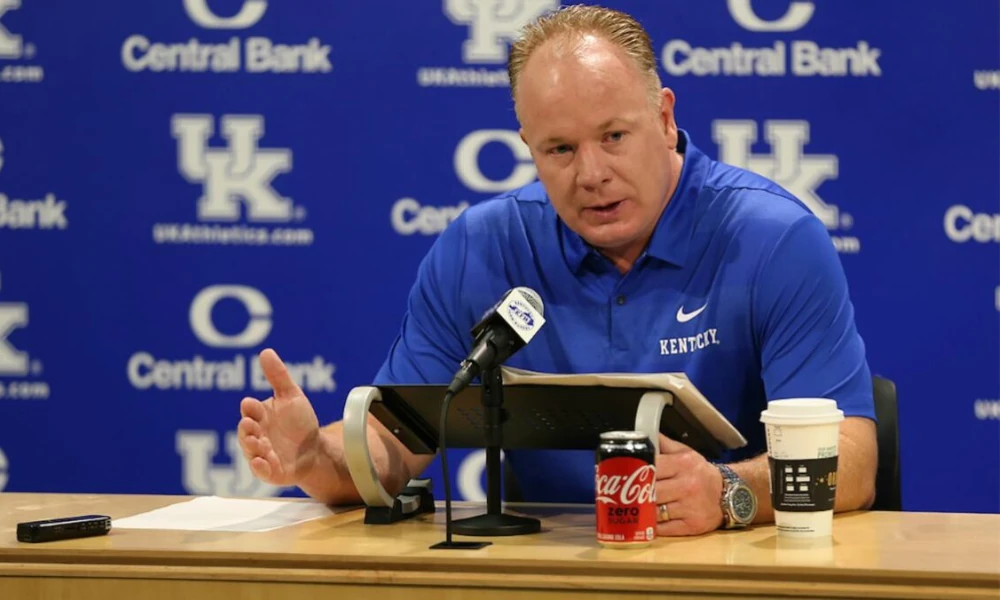 With the reports that Kentucky is narrowing the search for their next offensive coordinator, the Big Blue Nation was awaiting the weekly Mark Stoops press conference on Monday, and quite literally broke the Facebook page for some time.
After Stoops opened up with his opening statement, citing that he was thankful for the opportunity to play in another Bowl game and that he just came out of a meeting, the questions started firing. Yet, provided some less-than-headlining answers.
When asked about the reasoning behind the change at offensive coordinator there were many reasons for the change, but "guarded" those reasons out of respect for Rich Scangarello. However, he did express that he is not interested in "running a play every 37 or 38 seconds."
Instead, Stoops emphasized that he wants to push it downfield and create more explosive plays. With freshmen like Dane Key and Barion Brown, there is good reason for that and it will play a large role in the hire.
Voicing his excitement and optimism, Stoops said is not rushing the hire, even with the importance of the portal, it is "vitally important to hire the right guy."
As to any hint about who the right guy may be, that wasn't given. Yet, as Stoops has built the program, there is more interest than ever. Stoops mentioned that he is talking to "several guys", talking to most of them over the past week, but with another coming this week.
Stoops was sure to mention that some of the 'candidates' proposed by the media and fans in recent days were "way off". Just how far off, we will have to wait and see.
With that said, Stoops did have news on who will be calling plays for the bowl game, citing that it will be a group effort and naming guys on the staff like Scott Woodward and Josh Estes-Waugh, who are "more than qualified" to call plays.
The last piece of news from the press conferences is on the search for a new running back/special teams coach. While no name was mentioned, Stoops seemed confident that he found his guy, saying "I have a person in mind that I am going to hire."
Here is the press conference in its entirety.
Scott Satterfield Is Leaving Louisville, to Be Named Cincinnati's Next Head Coach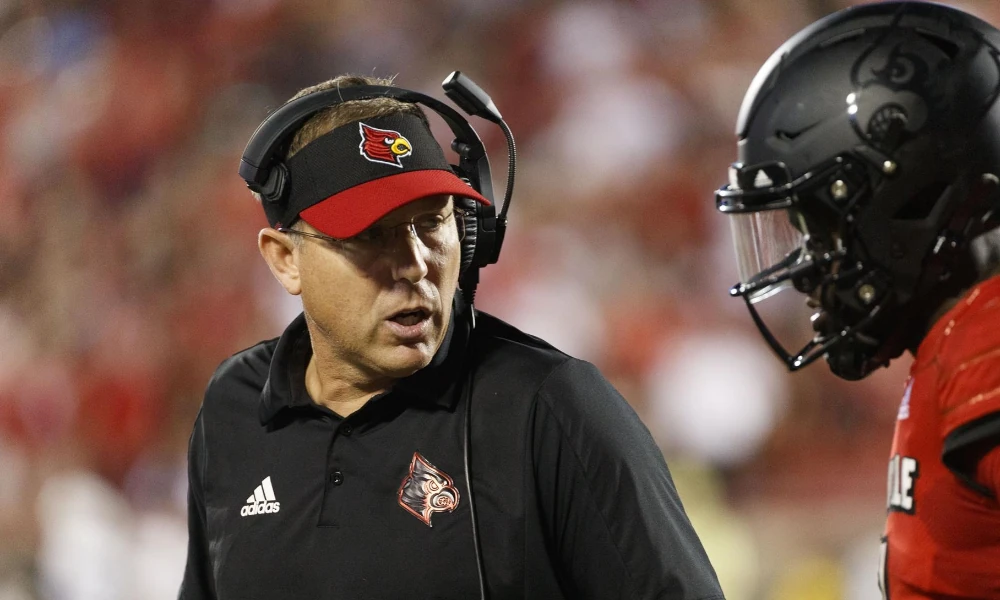 Scott Satterfield is the gift that keeps on giving to Louisville's rivals, and on Monday morning, he gave one last gift. Reports have surfaced that Satterfield will be leaving Louisville to take the head coach position at Cincinnati following Luke Fickell's departure to Wisconsin.
Despite a 25-24 record through four seasons with the Cardinals, Satterfield is now getting an opportunity to take over a program that just went to the College Football Playoff in 2021, being the first school to do so from the Group of Five. However, the Bearcats prepare to enter the Big 12 Conference as of the 2023-2024 academic year.
This will force Louisville to find yet another coach and will break up a top-20 recruiting class that featured eight four-star and five-star commitments. Not to mention, this should allow Kentucky to regain some recruiting territory in Ohio, given how Satterfield has struggled to recruit against the Wildcats.
With that said, it is unfortunate that he will no longer be taunted with L's down and a loss to Kentucky on an annual basis, but fans will always have this picture of him throwing an L's down to remember him by.
Ironically enough, Cincinnati (9-3) and Louisville (7-5) are scheduled to play each other on Dec. 17 in the Fenway Bowl. Which sideline will Satterfield be on?
Four-Star UK Commit Teases About Playing with Top QB Transfer Cade McNamara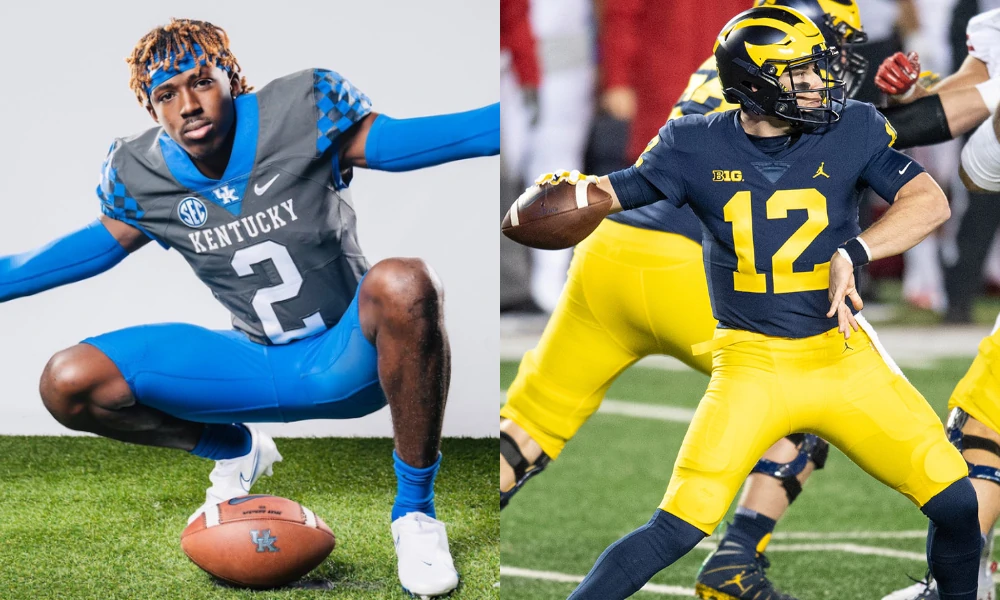 It has been a very news-hectic week in the college football world with many players entering the transfer portal – before it officially opens on Dec. 7th – just days after the regular season came to a close.
Stoops and the coaching core that will remain for next season must hit the transfer portal hard this offseason, predominantly replacing Will Levis at the quarterback position. Four-star commit and incoming Kentucky wide-out Shamar Porter, teased who he wanted to play with via Instagram.
Cade McNamara, the former Michigan Wolverine, and four-star recruit, hit the portal after a year that consisted of just three games of action and 1 touchdown after losing the starting job to J.J. McCarthy.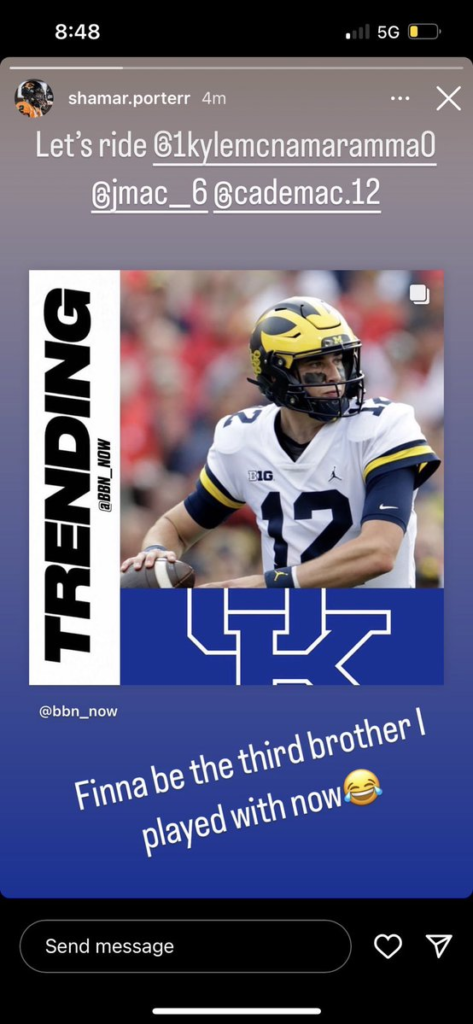 As for the context of the Instagram post, Porter is from Nashville, Tennessee, and played football with Kyle and Jake McNamara through high school football and several Tennessee high school football circuits.
In 2021 McNamara led Michigan to their first College Football Playoff appearance. That 12-2 season and winning the Big Ten Championship in 2021 is where all the buzz comes from.
Let's take a look at some traits of McNamara's game, courtesy of The Draft Network.
Pros
Plays it safe and takes what the defense gives him.
Can throw on the run with good ball placement and accuracy.
Consistent demeanor, never getting too high or too low.
Cons
His "safe" and game-manager style causes him to leave points on the field.
Struggles with throwing the deep ball, completing 39% of his attempts over 20 yards.
Not a true running threat.
Given his skill set and experiences, McNamara would be more than welcome to play for the Wildcats next year. Yet, with several open coaching positions on the offensive side of the ball, it could take a few weeks for Kentucky to find their guy.