NFL Pro-Bowler Offers Words of Encouragement to Will Levis, "You Will Be Great"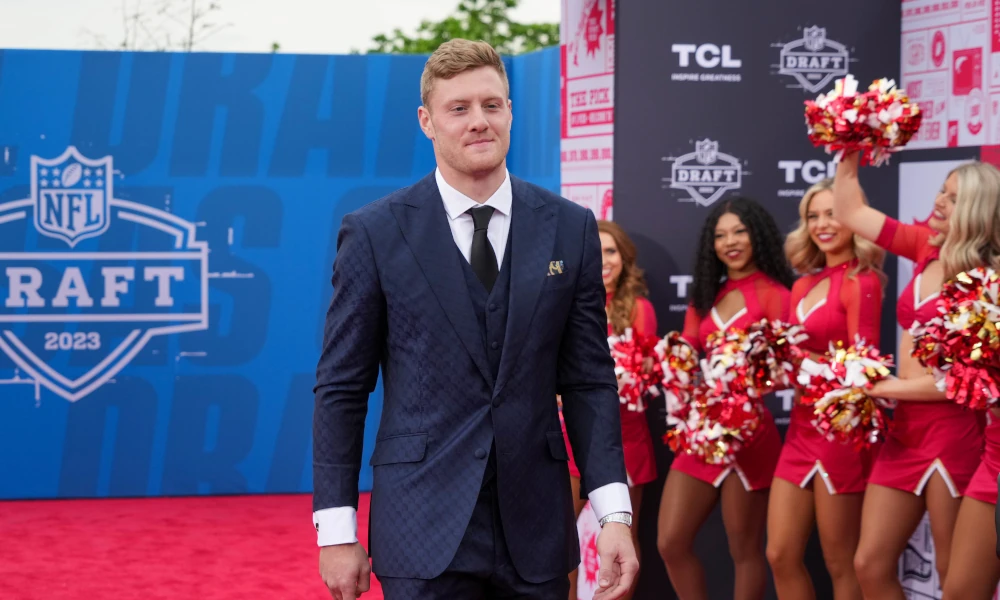 On Thursday night, Will Levis was expected to become just the third quarterback in Kentucky football history to be selected in the first round of the NFL Draft. Then the unthinkable happened, he didn't.
For over a year, Levis has been considered to be one of the four best quarterback prospects available and has been ranked at each of the four spots. However, coming into this week, Levis had momentum on his side and had jumped to second in the odds – behind only Bryce Young – for the No. 1 pick, thanks in large part to a Reddit post.
In addition to the momentum, the consensus from draft analysts was that Levis would most likely go 2-4, to either the Houston Texans, Tennessee Titans (via trade), or the Indianapolis Colts. As the top five picks were announced, three quarterbacks were taken, but Levis was not one of them. As more picks were announced, Will Levis was the last man standing in the NFL draft room as he was not selected in the first round, something that ESPN says had less than a 0.1 percent chance of happening.
What was expected to be an exciting night for the Kentucky football program and Levis, ended dejectedly.
Given the circumstances, Levis will have no shortage of motivation wherever he is drafted, and one of the best young players in the league had that same message. Reigning NFL Defensive Player of the Year and Pro Bowl selection, Sauce Gardner, tweeted Levis, "God makes no mistakes. You will be great."
The two primary reasons that have been given for the drop are: Levis is 24 years old and is considered a "project" by some teams; Worries about his toe injury from early last season. With that said, Levis is the best prospect available and will almost certainly be selected in the second round, but the question is, will he be taken by a team that is in need of a quarterback or one that has an average to below-average starter?
Some morning reports already suggest that Pittsburgh Steelers are a team that is interested in trading up to No. 32 (the first pick of the second round) per Tom Pelissero of the NFL Network.
Time will tell.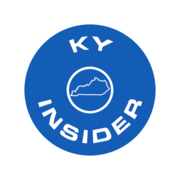 Top 10 In-State Prospect Willie Rodriguez to Take Official Visit to Kentucky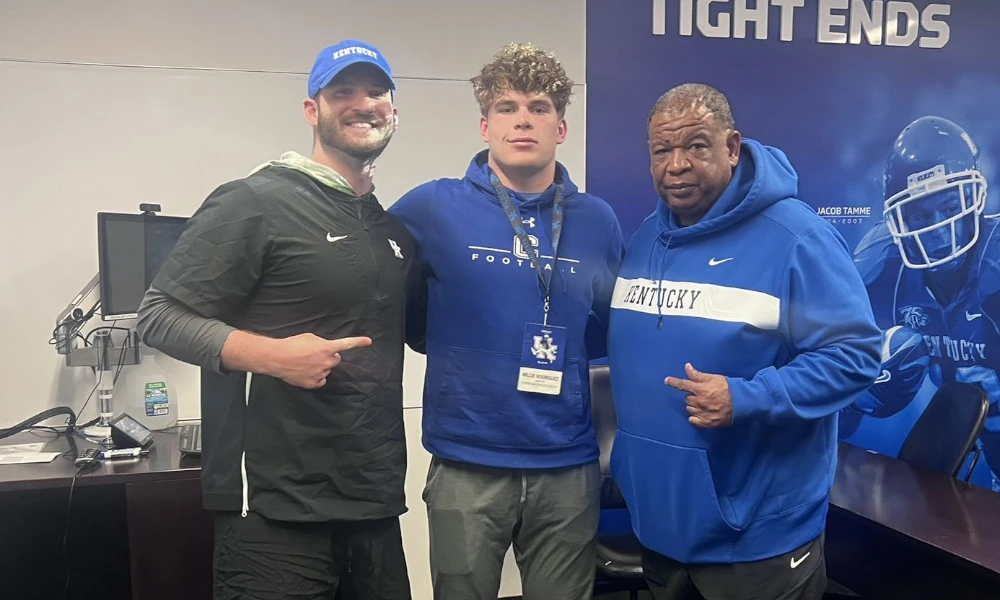 With Cutter Boley recently committing to Kentucky and reclassifying, the next domino to fall could potentially be class of 2024 Covington Catholic Tight End Willie Rodriguez.
Rodriguez has told KY Insider that he is going to take an official visit at Kentucky on June 9 with Boley and another commit from Kentucky offensive line Aba Selm. Rodriguez says he is excited to see Boley and Selm.
"I can't wait to meet to everyone on the official [visit]," says Rodriguez.
Rodriguez also adding since Boley has committed to Kentucky, that they have been communicating together.
"For sure," Rodriguez says. "[I] have already talked to him, it's definitely very intriguing and very cool."
During his visit, there are certain goals that he has in mind that he wants to accomplish when visiting the team.
"[I] definitely want to check out everything and see really how I will fit in the offense and how I will be used," Rodriguez tells A Sea Of Blue. "I am very excited for the visit."
As for other official visits he has planned, he tells KY Insider that he will also be visiting Virginia Tech and he is still scheduling two other official visits with Ole Miss and Purdue, but at this time they have not been scheduled.
Rodriguez also tells us he plans to commit to a school during the summer, but once he is done with all of his official visits. Once we learn more details on his upcoming visit we will keep you all informed.
Kentucky Football Ranked 28th is ESPN's FPI, Finalizes Wildcats' Projected Wins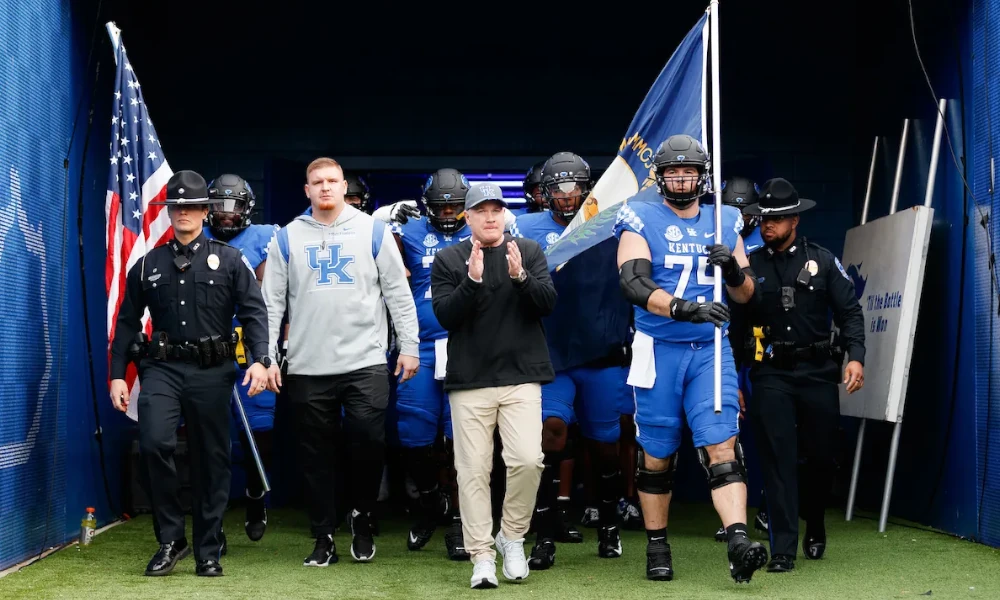 It has been an exciting offseason for the Kentucky Football team. Bringing back offensive coordinator Liam Coen has been huge in regard to recruiting and landing some of the country's top transfers. Top Transfer QB Devin Leary headlines what 247Sports has as the 17th-best transfer class coming into next fall.
With that being said, where does ESPN's FPI project the Cats to stand come the 2023 College Football Season?
The Wildcats come in ranked 28th in ESPN's FPI, and are projected to win seven games at the most (7.2-4.9). While that isn't super promising, Kentucky's strength of schedule needs to be considered. According to ESPN, Kentucky has the thirteenth toughest schedule for the 2023 season, ahead of any program that has won a national title in the College Football Playoff era: Alabama (18th), Ohio State (23rd), Georgia (31st), and Clemson (59th)
ESPN's FPI does give Kentucky an 88.7 percent chance to win six games and be bowl eligible. In comparison, the Florida Gators are ranked 18th compared to the Cats' ranking of 28th, and were given only an 82.2 percent chance to win six games.
The Wildcats are used to being underdogs and being slept on. In 2021, Kentucky was ranked 30th in ESPN's FPI and finished the year with ten wins, a Citrus Bowl victory, and a final ranking of 18th in the final ESPN rankings. This year's team will aspire to surpass expectations.
Top Quarterback Prospect, Cutter Boley, Commits to Kentucky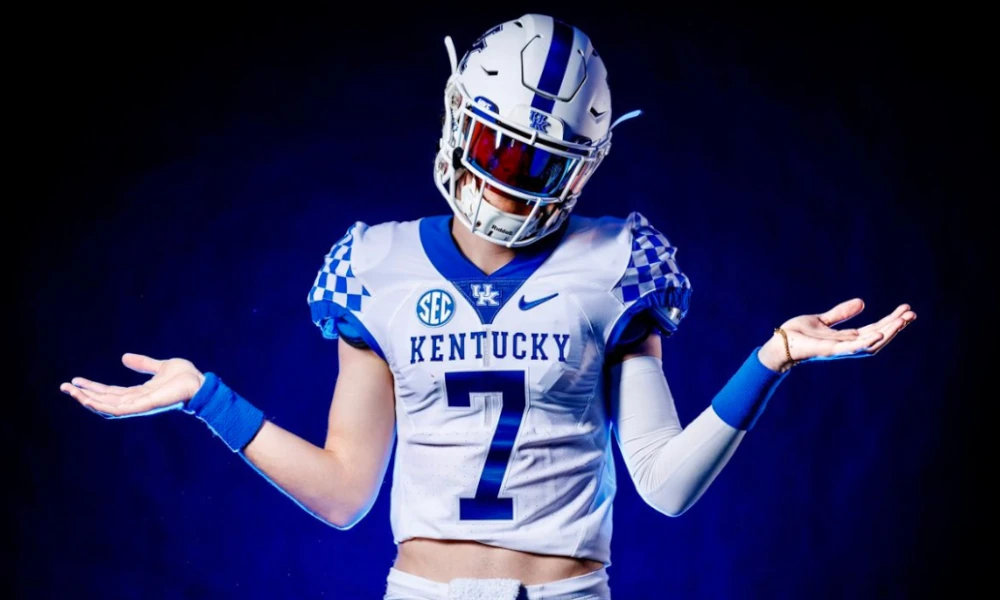 For much of the Mark Stoops era at Kentucky, the Wildcats have been successful without a high-level quarterback. That has changed of late as the transfer portal has helped Kentucky bring in Will Levis – who went on to be the 4th QB taken in this past year's NFL Draft – and this year, Devin Leary – who was widely considered to be one of the best, if not the best, QB transfer available.
While the transfer portal has been great, those players usually come with only 1-2 years of eligibility remaining. Therefore, the staff has made it a point to start looking at the high school ranks for a QB.
On Thursday, Kentucky found that player, and in their own backyard with Cutter Boley from Lexington Christian Academy (LCA). At a live announcement at LCA's auditorium, Boley chose Kentucky over Florida State, Michigan, Penn State, and Tennessee with a pair of custom Nike Air Force 1s.
It is safe to say that Coach Marrow enjoyed the news!
Despite being a Kentucky native, it wasn't a foregone conclusion that Boley would end up a Wildcat. While Liam Coen did build a strong relationship in his first season as Kentucky's offensive coordinator, that relationship suffered with Rich Scangarello at the helm of the offense this past year. With Coen's return, he was able to rekindle that relationship and get the commitment.
Rivals has Boley ranked as the 12th-ranked overall prospect and the second-best pro-style QB in the 2025 class, while 247Sports has him ranked 72nd overall and the sixth-best QB prospect. According to 247Sports, which dates back to 2000, Boley currently stands as the highest-ranked QB to commit to Kentucky.
While there is some disparity between the rankings, one thing is clear, Boley is highly thought of and it is easy to see why.
Standing 6-foot-5, 203 pounds, Boley already possesses elite size. Add in his gunslinger mentality, impressive arm, and improvision and he is an intriguing package. This past season at LCA, he threw for 3,901 yards with 36 TDs and a 66 percent completion percentage. With that said, that gunslinger mentality can get him in trouble sometimes as he has thrown north of 20 interceptions in two seasons at the varsity level.
It should be noted that while Boley is listed as a class of 2025 prospect after reclassifying in the wake of the global pandemic, he will turn 18 this summer. He has confirmed that he will be reclassifying to the 2024 class and will enroll at Kentucky in January.
Also published on A Sea of Blue.