SEC Athlete's Mother Calls Out Tennessee Fans for Being "Classless and Down Right Embarrassing"
Tennessee fans are well known to be amongst the worst in sports, and this past weekend they once again showed why.
Over the weekend, the No. 19 Auburn Tigers traveled to Knoxville to play the No. 1 Tennessee Volunteers in a baseball series. During Friday's game, Auburn ultimately lost the game 17-4, and also lost starting pitcher Hayden Mullins to an arm injury in the second inning.
According to a Facebook post from Mullins' mother, the Tennessee fans spoke ill will and even cheered when her son went down with his injury. She also expressed her disgust at how she was treated by fans and staff for simply wearing Auburn attire.
The Tigers responded on Saturday by beating Tennessee 8-6 after a three-run home run in the ninth inning, throwing the bat towards the Tennessee dugout, which they didn't particularly like
In the south, sports are undoubtedly a large part of life, but that is no reason to treat someone poorly for simply cheering for an opposing team, and definitely not a reason to cheer in response to an injury of an opposing team's player.
In just the past few months, Tennessee fans trashed their own football field and have had to be told to stop harassing opposing players by the school, so this is not out of character. Stay unclassy Tennessee.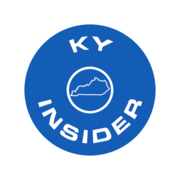 Rhyne Howard Honors Terrence Clarke in SLAM Magazine Feature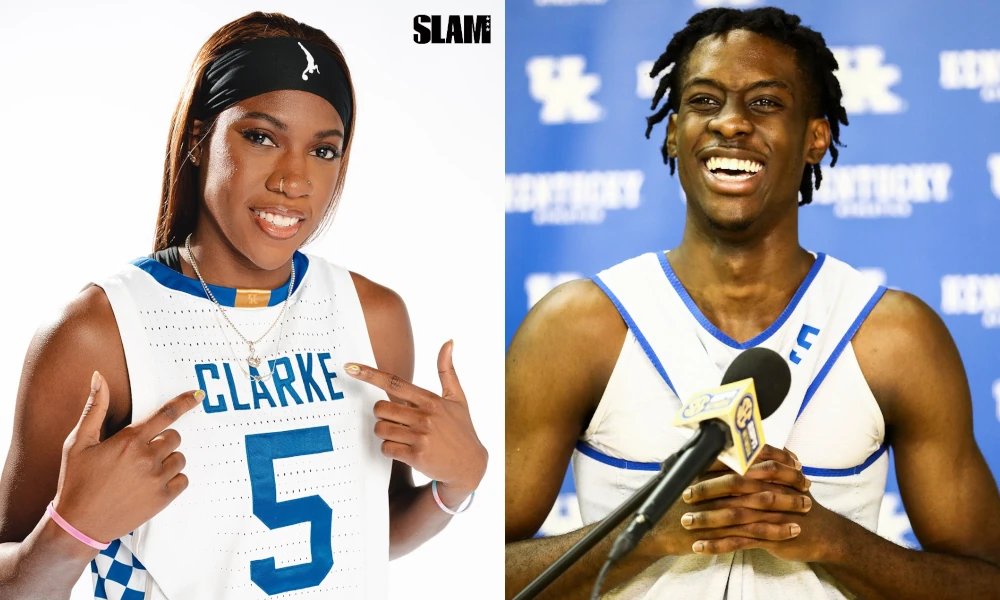 Former Kentucky women's basketball superstar and 2022 WNBA No. 1 overall pick Rhyne Howard honored Terrence Clarke in her recent SLAM Magazine feature.
In the feature, Howard wears Terrence Clarke's jersey. She also said, "I keep him alive when I play."
Clarke, who tragically passed away in a car crash on April 22, 2021, played for the Kentucky men's basketball team during the 2020-2021 season.
This is not the first time Rhyne Howard has used her spotlight to honor Terrence Clarke. The night she was drafted, she wore a white, sparkly suit with a pin on it. The pin was a blue heart with a basketball and "TC5" on it.
Then, prior to finishing in the top three of the 2022 WNBA 3-Point Contest, she sported a blue varsity jacket with the same heart stitched on it.
Rhyne Howard and Terrence Clarke were as close as could be. Howard often refers to Clarke as her "little bro".
The night Howard was drafted to the Atlanta Dream, she talked about how their connection began at UK:
"As soon as he stepped on campus, we instantly clicked and ever since then, we were inseparable. Just us coming in and me being able to help him and just get him through his college years."
Now, while Howard continues to dominate on the hardwood, she also continues to honor and pay tribute to her late best friend, Terrence Clarke.
Kentucky Baseball Team Shows Support to Family and Teammates of 8-Year-Old Who Passed Away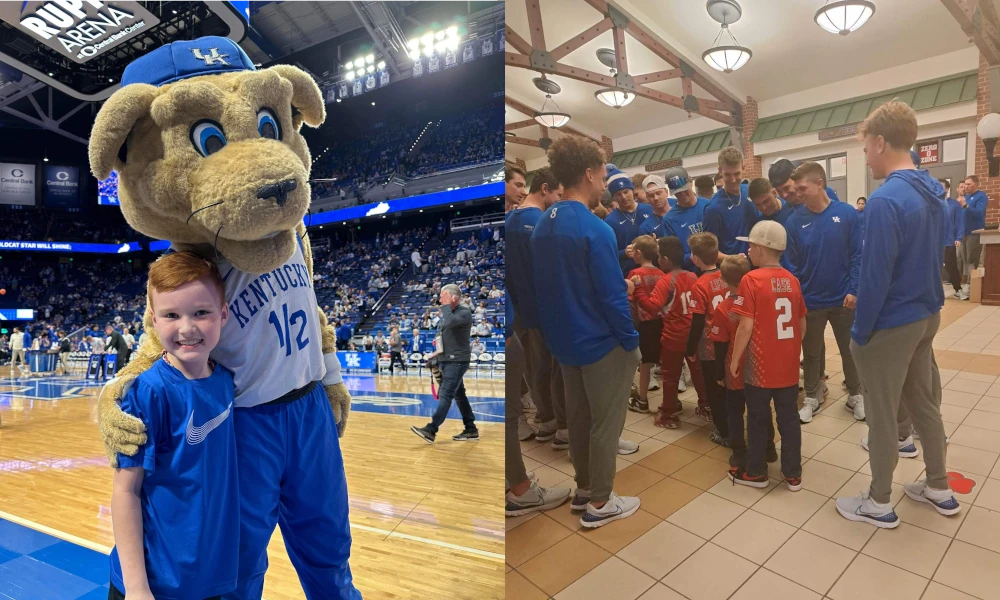 Earlier this week tragedy took place in Corbin (KY), as 8-year-old, Eli Hill, passed away playing basketball at his home. In a freak accident, the backboard of a basketball goal came off the pole and fell on him, succumbing to the injuries.
Following the tragedy, the community of Corbin has come together in remembrance of Eli and in support of his family and friends. On Wednesday, a vigil was held at the city's rotary baseball park, which over a hundred people attended to honor Eli and show love for his family.
"He was a joy to be around, the amount of love, excitement. You know, the care that he had for others," high school athlete Jacob Baker said.
On Thursday, the Kentucky baseball team made the hour-and-a-half trip to Corbin to show support to the baseball team of Corbin primary, the baseball team which Eli played for.
In a time of tragedy, it is heartwarming to see people from around the state rally around the family and friends of young Eli, who made an impact on many and will be missed.
The Hill family has also warned others to be cautious of a fake GoFundMe making its way around social media.
Also published on a Sea of Blue.
Kentucky Baseball on a Tear: Currently Holds the Longest Active Win Streak in the Country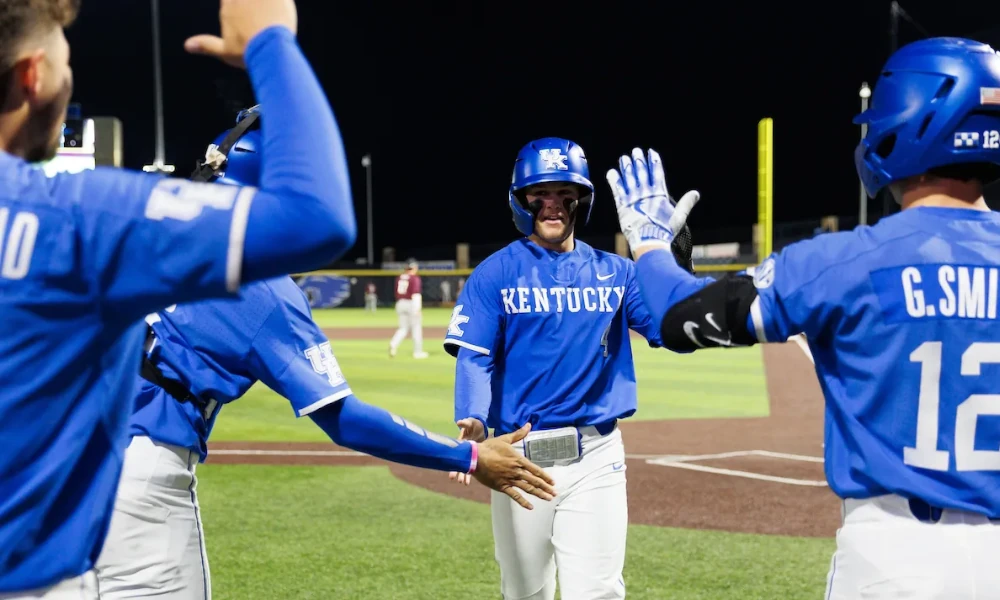 Despite their Opening Day loss to Elon on February 17th, the Kentucky baseball team has strung together a successful start to the season with a 19-2 overall record. As of March 21st, Kentucky is on a 15-game winning streak, the longest active win streak in all of D1 baseball.
The last time the Bat Cats lost was on February 25th to Wright State, dropping a single game of the three-game series. Since, they have beaten Morehead State, Murray State, Ohio, Indiana, and Eastern Kentucky and picked up three, three-game series sweeps over Indiana State, Southern Illinois, and SEC opponent Mississippi State.
Kentucky's success has largely been due to its explosive offense. In the most recent weekend series, the Bat Cats outscored Mississippi State 35-11 over the course of three games. Of their 19 wins, Kentucky has scored 10+ runs six times, including a season-high 21 runs on Southern Illinois.
In the most recent AP poll, Kentucky broke into the top-25 at #23. Their most recent win came on Tuesday, a 9-3 win over Eastern Kentucky. This weekend, they are heading to Tuscaloosa to take on Alabama for another three-game series of conference play.
The Cats will look to extend their win streak and maintain a level of play to get them back into the NCAA tournament. Kentucky has not made the tournament since Coach Nick Mingione's first season in 2017.