South Carolina's Shane Beamer Fires Back at Mark Stoops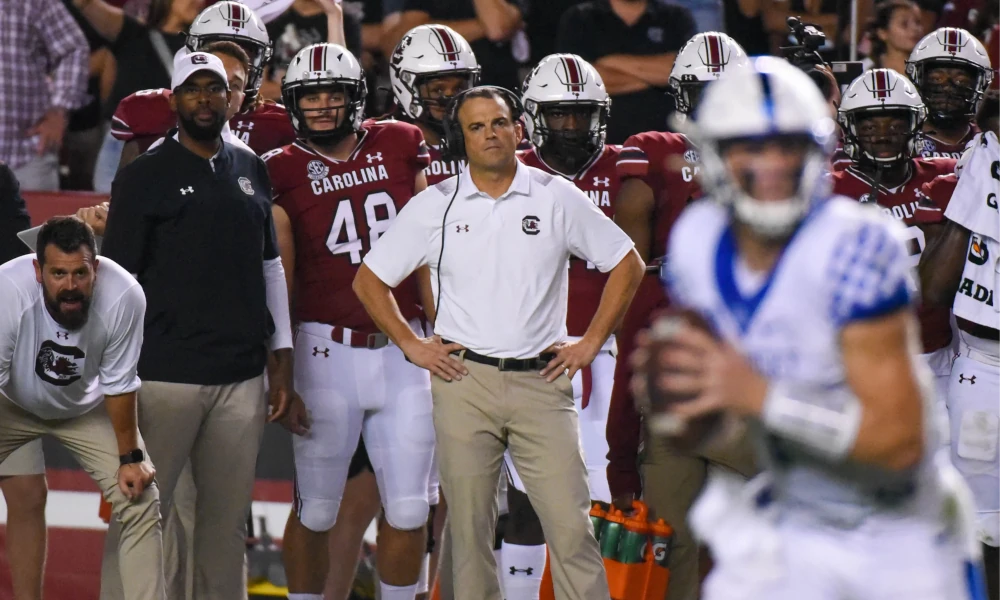 Last week, the SEC Network tweeted a part of an interview with Mark Stoops from SEC Media Days, where Ryan McGee and Marty Smith talked to Stoops about how he has built the Kentucky Football program from the ground up.
In the interview, Stoops went to one of his go-to lines as he talked about 'climate vs. culture'.
"It's easy to change the climate, you just change a uniform, talk a little game, dance around, put on some stupid sunglasses, you can change a climate," Stoops said. "But to change a culture is at the core, and I'm quite certain we've changed our culture. Just who we are and how we're perceived. Walk around with some of the greatest coaches and that respect you get, and the respect our players carry with them."
These comments came after South Carolina head coach, Shane Beamer, filmed a viral video where he put on sunglasses as he and South Carolina players danced around and recreated a Soulja Boy music video.
Since the interview, Stoops has denied that his comments were referring to Beamer or the South Carolina program, but instead were about himself during his early days at Kentucky.
However, Beamer doesn't seem convinced of that as on Thursday he went on The Clubhouse with Kyle Bailey, and said, "I saw it. We worry about what we can control and worry about our own program."
On Saturday, Beamer followed it up with a more fiery response. "Make no mistake about it, the climate in our facility is hot right now, but the culture is a HELL of a lot hotter."
Kentucky has won 7 of the last 8 against the Gamecocks, but with South Carolina having higher expectations this season and an added fuel to the fire, this year's head-to-head battle is shaping up to be a good one.
October 8th at Kroger Field is going to be a fun one.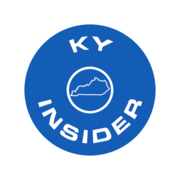 Chris Rodriguez Jr. To Return Against Ole Miss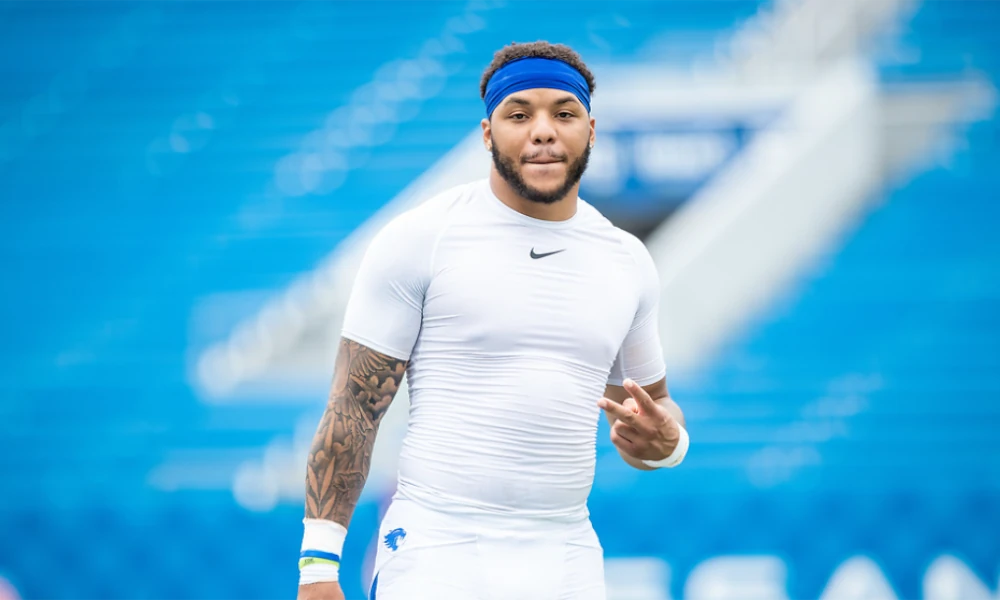 The Kentucky football team is 2-0, coming off a historic victory over Florida in Gainesville. This is even more impressive when you consider the Wildcats' depleted depth at the running back position.
However, on Monday some good news was announced. Chris Rodriguez Jr. will return as Kentucky travels to Oxford to play a top-25 ranked Ole Miss team on October 1st.
With the confirmation of Rodriguez's availability, the star running back will have missed the first four games of the season due to an off-the-field issue. While the suspension all but ends the hope for Rodriguez to break the school rushing record, his return certainly helps the Wildcats as they hope to challenge Georgia for a trip to the SEC Championship.
Averaging just 60 rushing yards through the first two games, the Wildcats have missed Rodriguez significantly through two games. Last season, Rodriguez averaged 106 yards per game himself.
Sitting at 2-0 and in the Top 10 in both the AP and Coaches polls, this could be a special season for the Kentucky Wildcats!
Also published on A Sea of Blue!
The Morning After: Recapping Kentucky's Historic Win Over Florida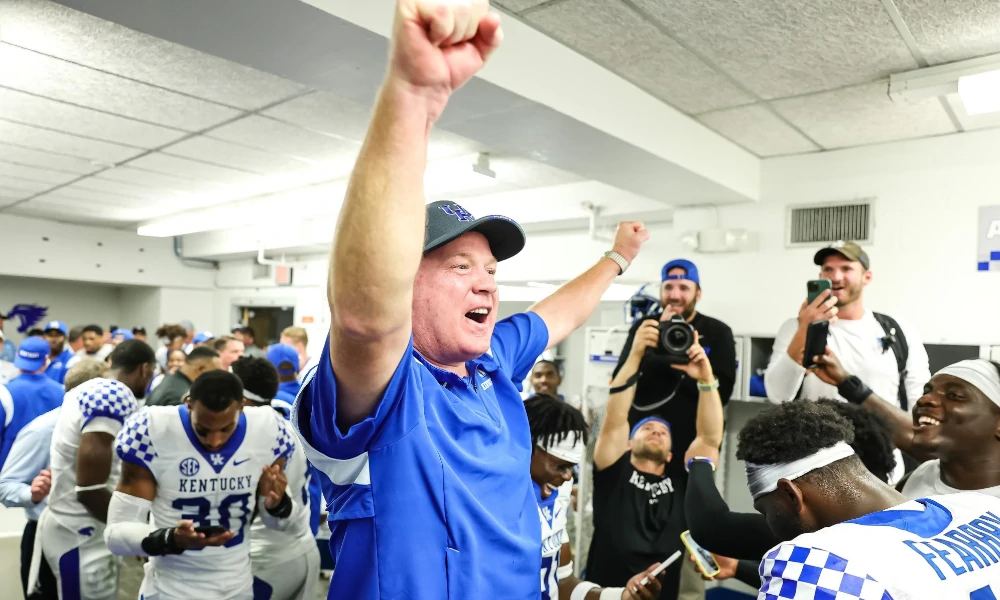 On Saturday, the No. 20 Kentucky Wildcats went down to Gainesville to face off against the No. 12 Florida Gators. It was just the second time in history (1952) that Kentucky and Florida were both ranked in the AP Top 25 heading into a matchup.
To start, the game was a defensive battle, but shortly after the start of the second quarter Will Levis connected with Dane Key for a beautiful 55-yard touchdown for the first of the game and put Kentucky up 7-3.
However, momentum swung mightily in the favor of Florida. The Gators converted on a 50-yard field goal; capitalized on a Kentucky interception, caused by the lack of pass protection; converted a two-point play; and blocked a punt for a safety.
Kentucky did receive some life right before half as Jordan Wright intercepted a pass from Florida's Anthony Richardson, putting Will Levis in a 1st and goal position. Levis was able to score with a QB draw cutting the deficit to 13-16, but the Wildcats could not convert on the PAT after a bad snap.
Coming out of the half, it was all Kentucky, notably on the defensive end. Kentucky didn't allow Florida to score at all in the second half, as Kentucky went on to kick a field goal and score a touchdown.
In a game full of emotional swings, Kentucky left the Swamp with a 26-16 victory.
For the first time in over 40 years, Kentucky won their second in a row against the Gators, and Mark Stoops passed Paul "Bear" Bryant in all-time wins at Kentucky.
Let's take a closer look at the historical win.
Time to start worrying about the offensive line
It was clear to see that the offensive line did not perform well against Miami (OH). However, Mark Stoops insisted that the offensive line performed better than originally thought when looking at the film and there were some adjustments that could be made to solve the issues.
That was not the case.
Despite performing well when he had time in the pocket, Will Levis wasn't given that luxury very often, being under pressure more than not. In addition, Kentucky rushed for just a total of TWO yards, and the offensive line allowed three sacks in the first half alone. This was worsened at times when tight ends had to be used as receiving targets instead of blockers.
It does need to be noted that the offensive line did step up in the second half, but it needs to be consistently seen in the next two games, as Kentucky faces inferior opponents.
Seeing how the offensive line has performed thus far, it looks like the offensive could be a weakness for the remainder of the season and a group that the staff will begin to recruit immediately.
Will Levis is on a different level than Anthony Richardson
Billed as the battle of the quarterbacks, Will Levis and Anthony Richardson was the head-to-head matchup that everyone wanted to see.
In the end, it was clear that Levis was simply on a different level than Richardson. I will just leave this comparison here.
Will Levis: 13-24, 202 passing yards, 1 pass TD, 1 rush TD, 1 interception.
Anthony Richardson: 14-35, 143 passing yards, 4 rushing yards, 2 interceptions.
This is going to be a passing team
While they struggled running ball for much of the game, Kentucky found success in the passing game early as Levis threw for a total of 202 yards. Even more impressive, Kentucky had eight different players with a reception, showing the versatility they have in the passing game.
Without Chris Rodriguez, one should expect this to continue, but Kentucky's success in the passing game should help setup the running game develop.
On Saturday night, Kentucky's passing attack allowed for the rushing to find some life in the second half, with Kaviosey Smoke leading the way. It was much needed when you see that the Wildcats had just 70 rushing yards – fighting back from negative 37 yards in the first half.
Tight ends emerging as major receiving targets
The wide receivers shined bright last week, but this week it was the tight ends. Three different tight ends caught a pass – Jordan Dingle (2), Brenden Bates (2), and Keaton Upshaw (1) – for a total of 74 yards.
This was expected when Rich Scangarello – who comes from a 49ers offense that is heavily reliant on multiple tight-end personnel – was hired. With the talent at the position, it is good to see them becoming a large part of the offense.
The defense was phenomonal
Without the defense, the game would could have very well gotten out of hand in the first half. However, the defense was able to step up as they have time and time again and made some big time plays.
As Florida jumped out to a 16-7 lead with all momentum, things looked bleak, but that was when the Wildcat defense changed the game. Here is what Brad White's defense accomplished in the final 35 minutes.
Zero points allowed
91 total yards
Seven points scored (on a Kentucky pick-six)
Two takeaways
Two fourth down stops
It all started with Jordan Wright – just cleared to play on Thursday – when he made an impressive interception that led to a touchdown to cut the Florida lead to 13-16 right before halftime.
In the second half, Keidron Smith made the play that gave Kentucky the lead and the Wildcats never looked back.
It is not an exaggeration, without the great play of the defense, Kentucky loses to Florida.
Special teams Errors
After last week's performance, special teams looked to be a strength. While that may still be the case for the rest of the season, it was not on Saturday night.
In the first half alone, Kentucky had two bad snaps resulting in a safety and a missed PAT. These mistakes caused Kentucky three points and without them, the game could have gone into halftime tied 14-14.
With plenty of close games left on the schedule, Kentucky can't afford to shoot themselves in the foot as they did at times against Florida.
Barion Brown Rated as Fastest Player in College Football in Week 1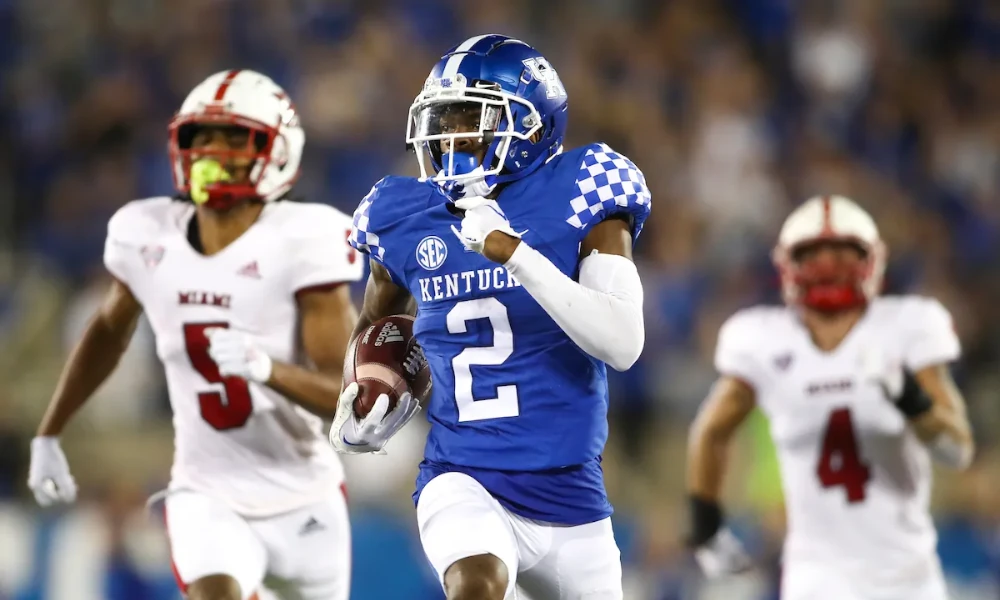 Entering halftime, the Kentucky Wildcats held just a 13-10 lead after not being able to capitalize in the red zone. Coming out of the half, true freshman Barion Brown immediately provided the Wildcats with a game-changing play, returning the half's opening kickoff for a touchdown.
As impressive as Brown's return was in the moment – being the first kickoff return touchdown in the Stoops Era – it may be even more impressive in hindsight.
According to a tweet from Recruiting Analytics, Brown was the fastest ball carrier in the country last week with a top speed of 22.0 mph. To put that in perspective, that is the speed of a brown bear and only three players in the NFL ran at the same speed or faster during the 2021 season.
Not too bad for the first game of a true freshman.
Also published on a Sea of Blue.