Tennessee Baseball Player Flips Off Georgia Tech During Game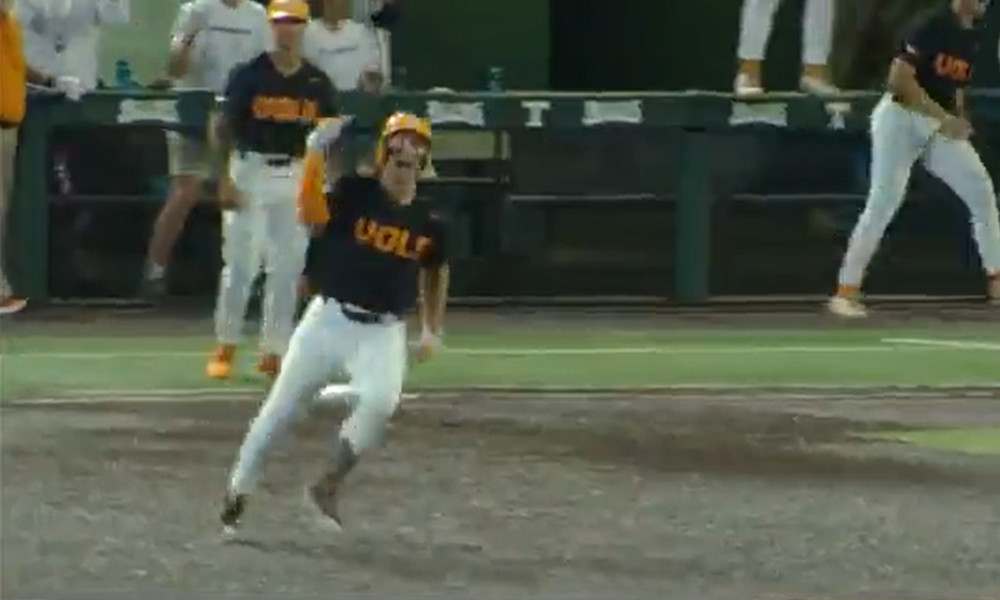 There are three certainties in life – death, taxes, and the classlessness of the Tennessee Volunteers.
On Sunday, Tennessee took on the Georgia Tech Yellow Jackets in an NCAA regional game. Following a ninth inning rally, the Volunteers went on to win 9-6 to clinch their second straight super regional berth.
However, the win didn't come without controversy as Voluteers' right fielder Jordan Beck pulled a Rick Pitino and flipped off Georgia Tech as he hit an RBI double.
Unsurprisingly, this isn't the first Tennesse athlete to do this. In 2017, Tennessee football player Rashaan Gaulden flipped off Alabama fans in a loss at Bryant-Denny Stadium, and received no disciplinary action.
With that precedent given, I would not expect anything more to come off this situation either, but once again, the Volunteers display their inability to show any class.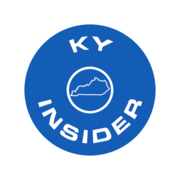 How to Donate to Kentucky NIL: All Current Approved Ways to Contribute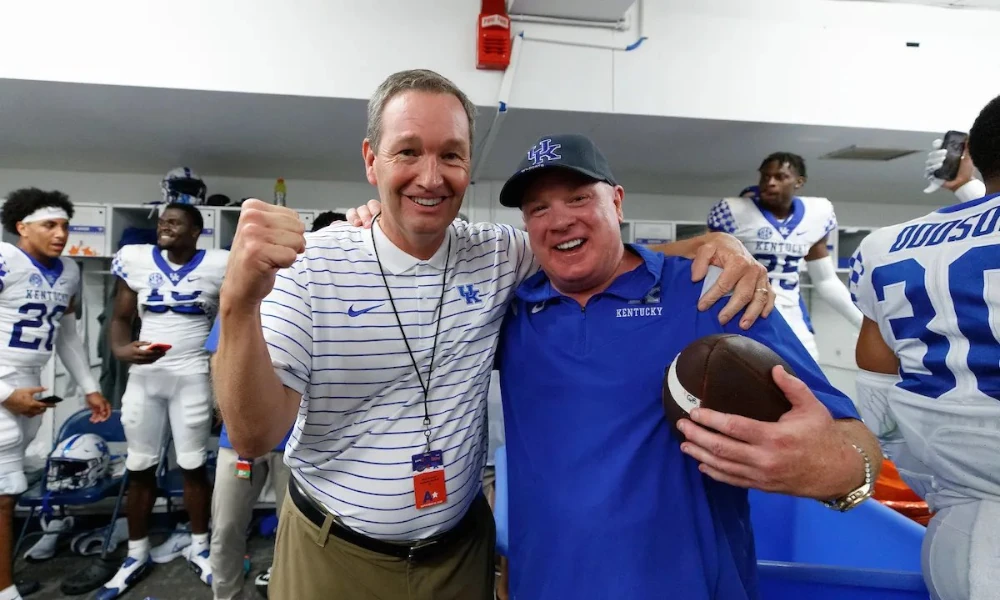 The biggest story in Kentucky athletics this week has undoubtedly been about NIL, and specifically how Kentucky is falling behind.
After two decommitments and with 2023 football recruiting class ranked just No. 48 in the country, Mark Stoops voiced some frustration towards where the Wildcats currently stand in NIL.
In his weekly press conference on Monday, Stoops said, "we need support from the community, the state. It is what it is."
Calling on the average fanbase to donate money to NIL will certainly turn some away, but there is certainly a large portion of the Big Blue Nation that would gladly show their support. There is just one problem, most people don't know how.
This is no fault to their own and stems from a disconnect from UK Athletics, who has promoted little information on the new collectives. Hence why this article has been written.
Earlier this week, KY Insider reached out to the Kentucky athletic department to see the approved ways that fans and local businesses can help with NIL. Take a look!
This information comes directly from the Kentucky athletic department.
BBNIL Exchange
If you are a business owner or just an individual that is interested in pursuing a student-athlete to promote your business/product or support, please check out the BBNIL Exchange at the following link:
https://dash.inflcr.com/exchange/the-university-of-kentucky
Individual Student-Athlete Apparel
You can also support your favorite Wildcat by purchasing your favorite Kentucky Wildcats name and number T-shirts customized with your favorite players' names on the UK Team Shop.  Athletes will be compensated for each sale in line with the group licensing model that 100 percent of the players in the NFL, MLB, WNBA and MLSPA participate in.
https://www.ukteamshop.com/?query=NIL&_ref=p-HP:m-SEARCH
Organizations That Accept Donations for NIL Activities
Additionally-there are several organizations that we are aware of that are taking donations. Those include:
Athlete Advantage: https://athleteadvantage.xyz/the-15/ 
Charities Across the State for Kentucky: https://catsforkentucky.org/
Commonwealth Causes: https://commonwealthcauses.org/donations/donation-form/
K Fund
Finally, the K Fund is the fundraising arm of the University of Kentucky Athletics Department, responsible for providing the resources necessary to ensure our student-athletes have the opportunity to earn a first-class education and compete for championships. These resources are provided through student-athlete scholarships, state-of-the-art facilities, and the financial support essential for UK Athletics' 22 varsity sports programs to excel.  By investing in the K Fund, you are providing support to more than 500 UK student-athletes and helping ensure their academic and athletic success. Donations to the K Fund, through Annual & Capital funds, are used to provide:
Student-Athlete Scholarships – tuition, room & board
Academic Support and Career Development
Athletic Facilities Maintenance, Renovations, and/or New Facilities
Coaching & Administrative Support
Please contact the K Fund office at 859-257-6300 for more information or visit our website: https://ukathletics.com/sports/k_fund/
---
We hope that this information was found to be helpful and provides the Big Blue Nation with some clarity about where currently NIL stands.
It is important to note that on Wednesday, reports did come out that Kentucky will be releasing some more information within the next week that should better their position in the NIL landscape.
What are some things you would like to see when it comes to NIL?
Also published on A Sea of Blue.
Rhyne Howard Wins WNBA Rookie of the Year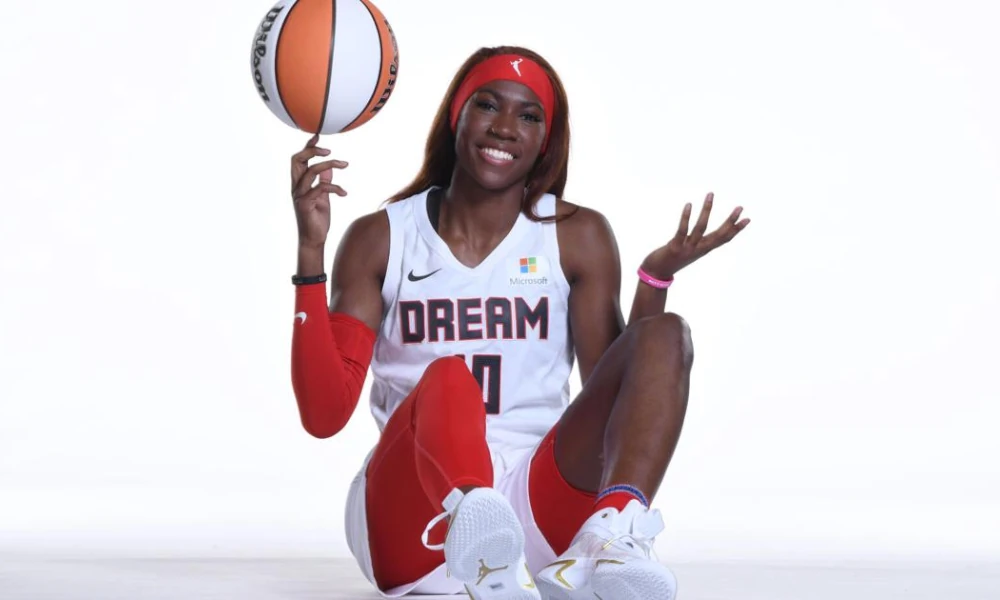 Former Wildcat star, Rhyne Howard ends her record-breaking rookie season by being named WNBA Rookie of the Year, announced on Thursday as she received 53 of 56 votes.
After being selected No. 1 in the 2022 NBA Draft, Howard was tasked to be the star of the rebuilding Atlanta Dream team and she did not disappoint in her rookie season. Howard put up an impressive stat line for any WNBA player, let alone a rookie: 16.2 points (led all rookies, 11th in the WNBA), 4.5 rebounds, 2.8 assists (led all rookies), and 1.4 steals (led all rookies).
Not to mention, accomplished many other feats including:
2022 WNBA Rookie of the Year 
2022 Associated Press Rookie of the Year 
2022 USA National Training Camp selection 
Swept the WNBA Rookie of the Month honors (May – August), to earn the most WNBA Rookie of the Month honors in Atlanta Dream history with four 
Invited to compete in the WNBA All-Star Game and 3-Point Contest 
Most three-pointers made (85) and attempted (248) in a rookie season in league history, and the most made and attempted by any Atlanta Dream player in franchise history 
Most points scored in a rookie season (552) in franchise history, making her the first Dream rookie to ever eclipse 500 points in one season 
Most 10+ point games (30), 15+ point games (20) and 20+ point games (11) of any rookie in Dream history 
Most defensive rebounds (127) in a season by any Dream rookie in franchise history 
Became the first rookie in league history to record four 3-point field goals and four blocks in their debut game 
Was named the WNBA Eastern Conference Player of the Week and AP Player of the Week after her first week on the court in May, scoring the most points in a quarter by any rookie in the league against Indiana on May 15  
Despite missing the playoffs, Howard helped the Dream improve on their record, going from 8-24 last season to 14-22 this season.
Next season, Howard will look to build on an impressive rookie campaign and help the Dream reach the playoffs, in addition to being a star representative for the University of Kentucky.
Mark Stoops and Mitch Barnhart Voice Frustration at Calipari's Comments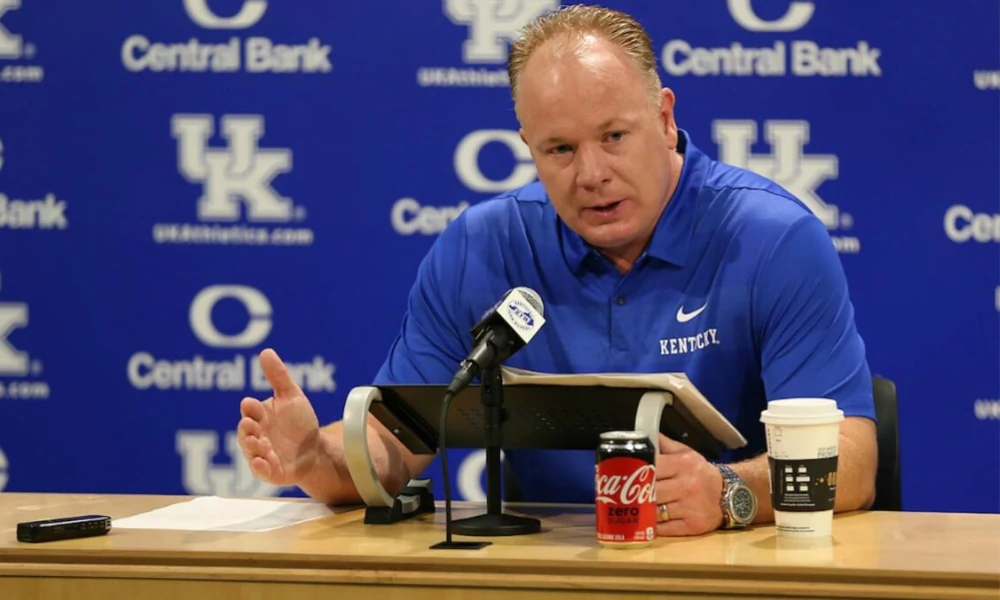 On Thursday, an interview with John Calipari caused quite a stir.
In the interview, Cal mentioned two things: One, that Kentucky is a "basketball school", which Mark Stoops and Co took offense to; Second, that he is willing to go over Mitch Barnhart and raise the money himself to build a new practice facility.
Most of us expected a de-escalation in today's press conference, but that was not the case. Stoops noted that he and Calipari have yet to talk since Calipari's original comments and had some strong words to say.
To follow, Barnhart expressed his frustration at the situation as well, seemingly taking some shots at Calipari and said that the practice facility is not on the agenda. However, he seemed even more frustrated at other schools in the SEC taking shots at Kentucky.
Let's take a look at some of the quotes from today's press conference.
"I don't care about anyone's program or other's that we compete against, I stay in my lane. But when you start talking about mine, and people I compete against, I'm going to defend my players… Don't demean or distract from what we've done to get to this point. I don't need to apologize for that and I won't."
– Mark Stoops


"No disrespect, I'm not concerned about anybody's feelings outside of that building."
– Mark Stoops


"Some may, but this program didn't wake up on third base."
– Mark Stoops


"That's in defense of my players, in defense of the work that we've done."
– Mark Stoops on why he tweeted a response to Calipari's quote.


"I'm done. I've addressed it. I will defend my players."
– Mark Stoops on not talking to Calipari yet.


"This is my norm. I will keep the details of the family business and private conversations within the family. Comments in a new interview, created in my judgement an unproductive and unfortunate situation."
– Mitch Barnhart


"I have talked to both coaches and they're extremely competitive and that's what I want them to be. I'm glad they're competitive"
– Mitch Barnhart


"Adults are supposed to teach the children".
– Mitch Barnhart


"We are not a basketball school. We are not a football school… We are a school with an outstanding athletic department. We are an "all everything" school."
– Mitch Barnhart


"The desire for more should be met with a sense of gratitude."
– Mitch Barnhart


"The Craft Center continues to be a state of the art facility. There's a process and we will work through that process… It's not a project in our strategic plan."
– Mitch Barnhart


"They will talk at the appropriate time when Calipari gets back from the Bahamas… They are both iconic people at at our program and I will anticpate them to handle that like pros."
– Mitch Barnhart


"We will be a grateful (athletic) department. We will not be entitled."
– Mitch Barnhart seemingly directed at John Calipari


"I'm not real thrilled at where we are. Grown ups are going to have to figure this out and be a little better. Sometimes when you get a little bit of success, you get a little entitled. We will be a grateful (athletic) department. We will not be entitled… I will teach it that way in my end.
– Mitch Barnhart


"I hear a lot of our 'friends' in the conference talking about how "the Cats are fighting". Awesome, thats really good. How many coaches have your turned over in your group? Let's check their rosters. I will put our longevity and sucess against just about anybody's."
– Mitch Barnhart
In the end, I am not sure today's press conference was a net positive.
The Calipari – Stoops tension is very much still there.
Barnhart angered and put blame on the media for this situation by saying, "You look to create stories, and it becomes the fact."
Barnhart indirectly calls Cal "entitled" and says a new practice facility is not on the agenda.
Takes shots at other schools in the SEC.
For what it's worth, here's Calipari's response to what happened today.
Also published by Tristan Pharis on A Sea of Blue.