The Morning After: Recapping Kentucky's Season Opening Win Over Miami (OH)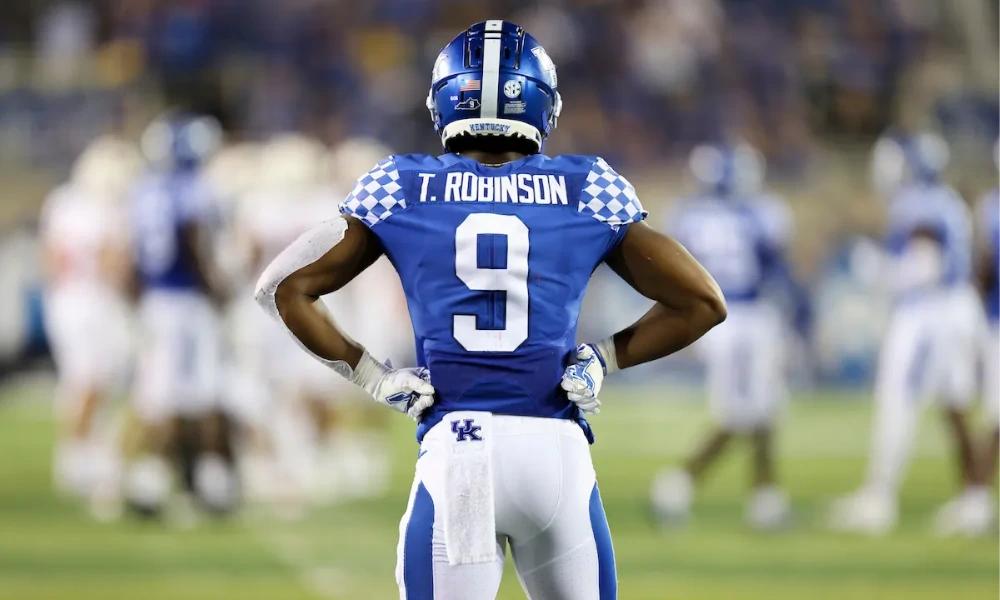 On Saturday night, the Kentucky Wildcats kicked off the season against the Miami (OH) Redhawks.
On the first drive, the Wildcats fell victim to an efficient 5-minute, 75-yard drive from the Redhawks. However, Will Levis and the offense quickly answered with a two-minute, 79-yard touchdown drive of their own, which started with a 45-yard connection to Tayvion Robinson.
Despite the two quick scores to start the game, neither team could put together any real rhythm to follow that. Kentucky did make it to the red zone three more times, but it resulted in an interception and two field goals as they entered halftime with a 13-10 lead.
Coming out of the half, Barion Brown returned the kickoff for a touchdown, which was immediately followed by a Miami turnover that Kentucky was able to capitalize on. Just 1 minute and 2 seconds into the third quarter, Kentucky pushed the lead to 27-10.
Kentucky retained that lead fairly easily and extended it over the remainder of the game, winning 37-13.
While it wasn't the flashy and perfect win the fans were looking for, the Wildcats played through their inexperience and performed much better in the second half, walking out with a 24-point win.
Let's take a look at some takeaways from the game.
Replacing Wan'Dale with another good Robinson
Losing Wan'Dale Robinson, who produced the greatest single season for a receiver in Kentucky football history is no easy task, but Virginia Tech transfer Tayvion Robinson looks to be a great replacement.
In his Wildcat debut, Tayvion caught 6 passes on 8 targets for a total of 136 yards – the first 100+ yard game of his career. Not shown on the stat sheet, was his ability to make the big play – similar to Wan'Dale. On multiple occasions, when the Kentucky offense was flat, Tayvion made the big play to give the team momentum.
While Tayvion is not the individual talent that Wan'Dale is, he showed tonight – albeit against an inferior secondary – the potential to be Wan'Dale lite due to his speed and evasion.
Finally using the tight ends
For several seasons, one major complaint of the Kentucky Wildcat offense has been the lack of usage of the tight ends, despite having NFL-level talent at the position.
At media day, new offensive coordinator Rich Scangarello – who comes from a 49ers offense that is heavily reliant on multiple tight-end personnel – talked about the tight ends and was quoted saying, "three or four or five in that room that are going to play on Sundays".
After the first game, we may get to see more of them.
The first drive ended with a tight-end touchdown, caught by Brenden Bates and redshirt freshman Jordan Dingle had two receptions on his two targets.
I know targets to the tight ends don't sound like a lot, but most of those came from the first half alone and that is a step up from previous seasons.
The freshmen receivers are going to be stars
Get used to the name Barion Brown and Dane Key because they are going to be stars at the University of Kentucky.
Both true freshmen have been raved about as they stepped on campus and it didn't take long for the two to make an impact. In their first game, Key caught four passes for 53 yards and a touchdown, while Brown caught three passes for 45 yards and scored a touchdown on a kickoff return at a much-needed time.
Following the game, Rich Scangarello, Will Levis, and Tayvion Robinson talked all about the duo's impressive performance, with each of them saying their best football is ahead of them.
It will be interesting to see how bright these future stars shine in Florida next week.
Chris Rodriguez was missed BADLY
Dating back to Benny Snell, Kentucky has had a running back with the ability to make a play and to provide consistent production, with Chris Rodriguez now in that role. On Saturday night, Kentucky did not have that.
When it was announced that Rodriguez would be missing multiple games, most still assumed that Kentucky would still have success running the ball against inferior competition, but that was certainly not the case.
Kentucky rushed for just 50 yards, which is the lowest since last season's loss against Mississippi State (66) and just the lowest since a non-Power Five opponent since Eastern Michigan (53) in 2017, another MAC team.
Some of the struggles were at the fault of the offensive line, but there also just isn't another back similar to Rodriguez on the roster who could make up for some of those mistakes.
If Kentucky wants to beat Florida next week, they must have a better running attack, and without Rodriguez, that may be a taller task than originally expected.
Line of scrimmage troubles
For several seasons, it has been taken for granted that Kentucky had a talented offensive and defensive line, but with a lack of returning starters and plenty of inexperience, there is cause for concern.
While the receiving core showed the ability to make the best of their opportunities, Will Levis was not consistently given ample time by the offensive line to read the defense and make a play. In fact, the offensive line gave up four sacks for a loss of 26 total yards. As mentioned earlier, the lack of protection was also a factor in the running back struggles, giving up several tackles for loss.
On the defensive side of the ball, Kentucky only allowed six points after Miami's first drive. However, they failed to get consistent pressure on Miami's quarterback Brett Gabbert. While the stat sheet does show three sacks, the Wildcats only had one prior to the fourth quarter, in addition to one QB hurry. The rush defense was better, but they allowed Miami several key conversions.
Things need to improve at the line scrimmage because it is not going to be any easier against SEC competition.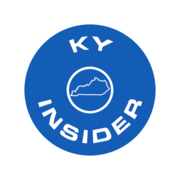 Kentucky Football Receiver and Track Star Jordan Anthony Enters Transfer Portal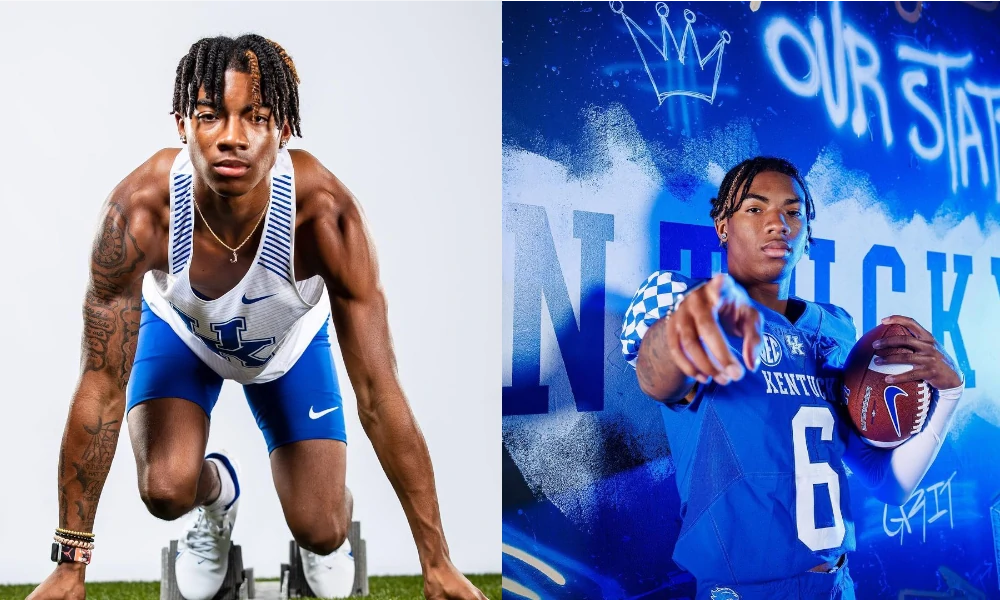 Kentucky football has crushed the transfer portal for the most part, bringing in high-level transfers like Devin Leary (NC State) and Ray Davis (Vanderbilt) this year alone, but on Tuesday they lost a piece they hoped to be a playmaker in the near future, Jordan Anthony as he announced on social media.
A four-star wide receiver coming out of high school last year, Anthony only appeared in just two games his freshman season. While he did not make many headlines on the football field, he did make a lot while running track. That was highlighted by breaking a 50+ year-old freshman record (1967) at Kentucky in the 60 m, running the event in 6.55 seconds, which is also the second-best in program history.
This is a loss that the football program did not want to see as they were excited about his potential in a Liam Coen-led offense. However, Kentucky has one of the most talented receiving cores they have had in the Mark Stoops era, led by Barion Brown and Dane Key.
Playing under three games this season, Anthony will be able to use a redshirt and transfer with four seasons of eligibility remaining. There will be no shortage of suitors for the speedster, as Anthony already holds offers from other programs such as Mississippi St, Tennessee, and Texas A&M among others.
Top 10 In-State Prospect Willie Rodriguez to Take Official Visit to Kentucky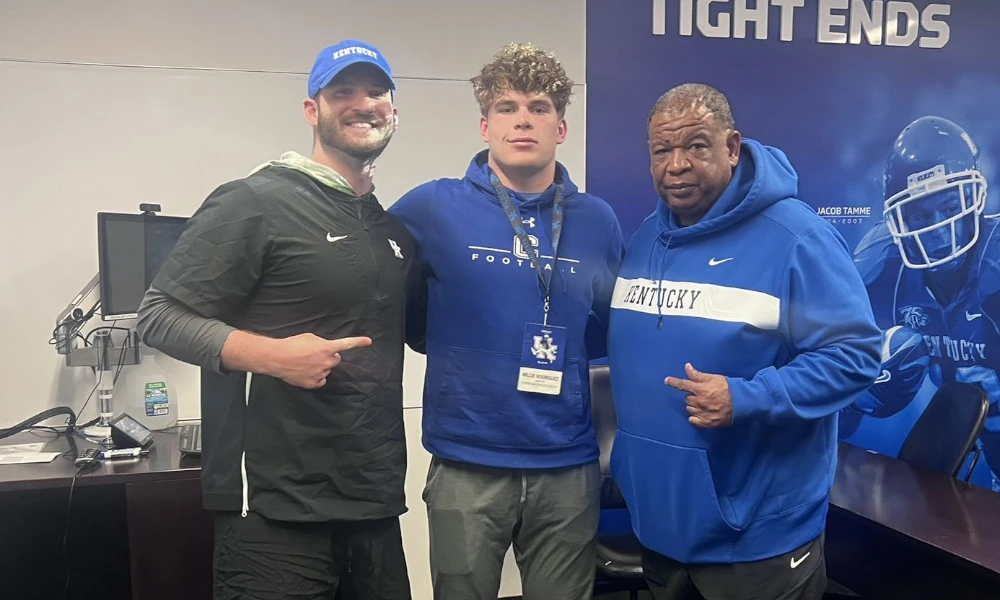 With Cutter Boley recently committing to Kentucky and reclassifying, the next domino to fall could potentially be class of 2024 Covington Catholic Tight End Willie Rodriguez.
Rodriguez has told KY Insider that he is going to take an official visit at Kentucky on June 9 with Boley and another commit from Kentucky offensive line Aba Selm. Rodriguez says he is excited to see Boley and Selm.
"I can't wait to meet to everyone on the official [visit]," says Rodriguez.
Rodriguez also adding since Boley has committed to Kentucky, that they have been communicating together.
"For sure," Rodriguez says. "[I] have already talked to him, it's definitely very intriguing and very cool."
During his visit, there are certain goals that he has in mind that he wants to accomplish when visiting the team.
"[I] definitely want to check out everything and see really how I will fit in the offense and how I will be used," Rodriguez tells A Sea Of Blue. "I am very excited for the visit."
As for other official visits he has planned, he tells KY Insider that he will also be visiting Virginia Tech and he is still scheduling two other official visits with Ole Miss and Purdue, but at this time they have not been scheduled.
Rodriguez also tells us he plans to commit to a school during the summer, but once he is done with all of his official visits. Once we learn more details on his upcoming visit we will keep you all informed.
Kentucky Football Ranked 28th is ESPN's FPI, Finalizes Wildcats' Projected Wins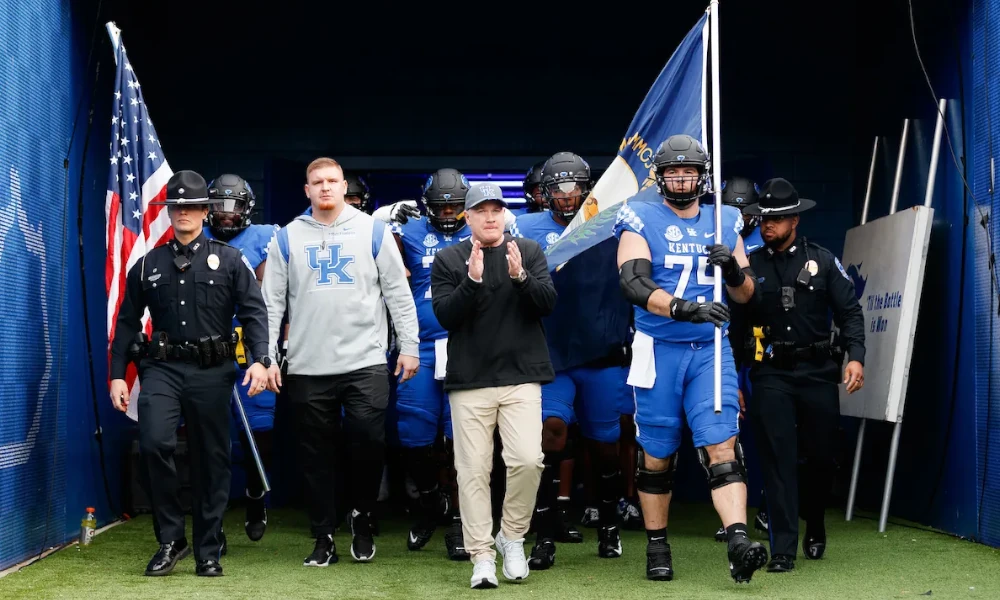 It has been an exciting offseason for the Kentucky Football team. Bringing back offensive coordinator Liam Coen has been huge in regard to recruiting and landing some of the country's top transfers. Top Transfer QB Devin Leary headlines what 247Sports has as the 17th-best transfer class coming into next fall.
With that being said, where does ESPN's FPI project the Cats to stand come the 2023 College Football Season?
The Wildcats come in ranked 28th in ESPN's FPI, and are projected to win seven games at the most (7.2-4.9). While that isn't super promising, Kentucky's strength of schedule needs to be considered. According to ESPN, Kentucky has the thirteenth toughest schedule for the 2023 season, ahead of any program that has won a national title in the College Football Playoff era: Alabama (18th), Ohio State (23rd), Georgia (31st), and Clemson (59th)
ESPN's FPI does give Kentucky an 88.7 percent chance to win six games and be bowl eligible. In comparison, the Florida Gators are ranked 18th compared to the Cats' ranking of 28th, and were given only an 82.2 percent chance to win six games.
The Wildcats are used to being underdogs and being slept on. In 2021, Kentucky was ranked 30th in ESPN's FPI and finished the year with ten wins, a Citrus Bowl victory, and a final ranking of 18th in the final ESPN rankings. This year's team will aspire to surpass expectations.