Kentucky AD Mitch Barnhart Hindering Kentucky Basketball Program, Per Report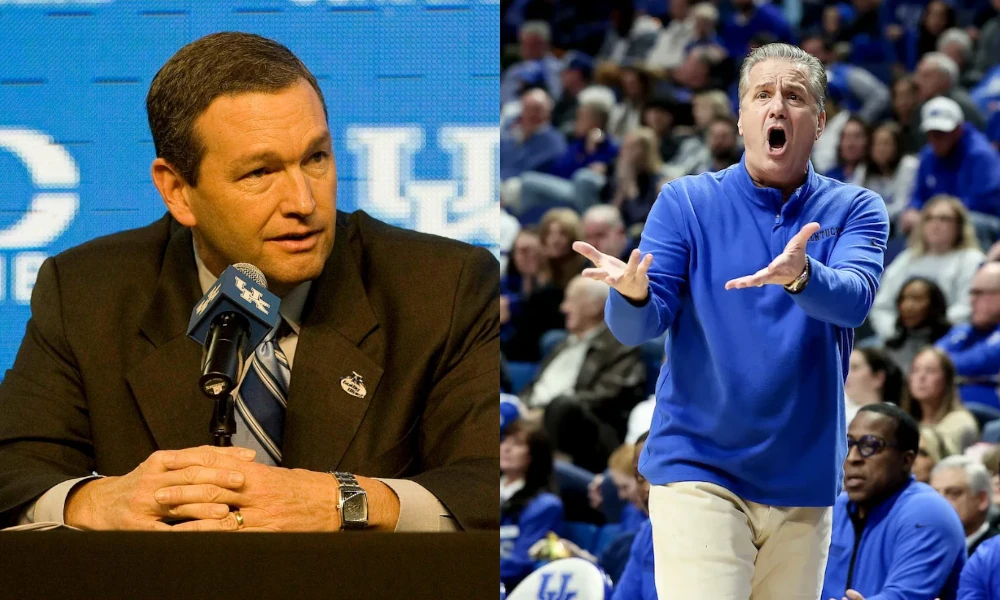 John Calipari and Kentucky Athletic Director Mitch Barnhart are not ones to swap Christmas cards with each other, but have had to coexist over the last decade-plus. While the relationship between the two has never been great, it was better at one time.
When DeWayne Peevy, who's now the AD at DePaul, served as an assistant Athletic Director at Kentucky (2008-2020), he acted as the intermediary between Calipari and Barnhart. In this role, Peevy was key in helping the basketball program secure funding.
Without Peevy, that relationship has turned for the worse and is basically non-existent. This hasn't been helped by Calipari's "football school" comments from this summer and the results of the basketball program in recent seasons.
With that said, just how bad has it gotten? A report suggests that Barnhart is significantly hampering the basketball program.
Let's start with this past summer's "football school" comments. According to Kyle Tucker of the Athletic, Calipari wanted to immediately publicly apologize, but was told by Barnhart not to.
Instead, Barnhart joined football coach Mark Stoops for a bizarre press conference, where he seemingly took shots directly at Calipari, including the following quotes:
"The desire for more should be met with a sense of gratitude." – Mitch Barnhart
"Grown-ups are going to have to figure this out and be a little better. Sometimes when you get a little bit of success, you get a little entitled." – Mitch Barnhart
Barnhart's response undoubtedly fueled the basketball vs. football narrative and deepened the divide.
Given Barnhart's quotes, it should come as no surprise that Barnhart is limiting additional funding for the basketball program.
During a radio show this summer, Calipari talked about his wish for a new practice facility, replacing/upgrading the Joe Craft Center, which was completed in early 2007. Given that this is a 15-year-old facility and has fallen behind other top programs, one could argue that this was a reasonable request.
Calipari even suggested that he was willing to raise money on his own, just as he did in 2012 with the locker rooms. Following through with that, Calipari is reported to have secured pledges of about $30 million in private funding, mostly from his former players in the NBA.
This $30 million tag matches the cost of what it cost to build the Joe Craft Center in 2007, adjusting for inflation that cost would be $43 million today. With that said, that is 70 percent of the money needed if the cost is similar. It is important to note, this source of funding would likely only be available if Calipari is the coach.
Yet, Barnhart has met Calipari with resistance and, "refuses to let him proceed with planning a facility," said Tucker. If true, this seems to be an ego move by Barnhart, which is bad for everyone involved.
Finally, one of the biggest things actively hurting Kentucky basketball right now is Barnhart's refusal to allow and add support staff positions. While the current full-time assistant staff has paid dividends on the recruiting trail, this was the focus when they were hired, excluding Bruiser. As a staff, it is clear that X's & O's and building player relationships have taken a step back.
Calipari is aware of this and has asked Barnhart to add an additional support staff position for a general manager, and suggested that 'offensive coordinator', and 'defensive coordinator' are positions that Calipari would be interested in adding as well. Despite UK's staff being smaller compared to other top programs, Barnhart has denied this request.
What is worrying is that Tucker is told that, assistant video director Andrew Ortelli, and graduate assistant Riley Welch are doing "most" of the actual scouting work for the team. This is unacceptable and shows why Kentucky has looked ill-prepared so often.
Yet, the football staff includes three assistants that are paid over $1 million per year (Liam Coen (OC) $1.7 Million, Vince Marrow (Recruiting Coordinator) $1.2 million, Brad White (DC) $1.4 million). This is not to say that they don't deserve it, but it is clear that Barnhart is giving preferential treatment to the football program.
As quoted earlier in this article from Barnhart, "Grown-ups are going to have to figure this out and be a little better."
Maybe it is time for Barnhart to take his own advice, or it may be time for him to hang it up.
You can read the entire story on The Athletic here.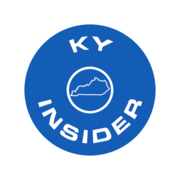 Pre-Florida Cason Wallace Injury Update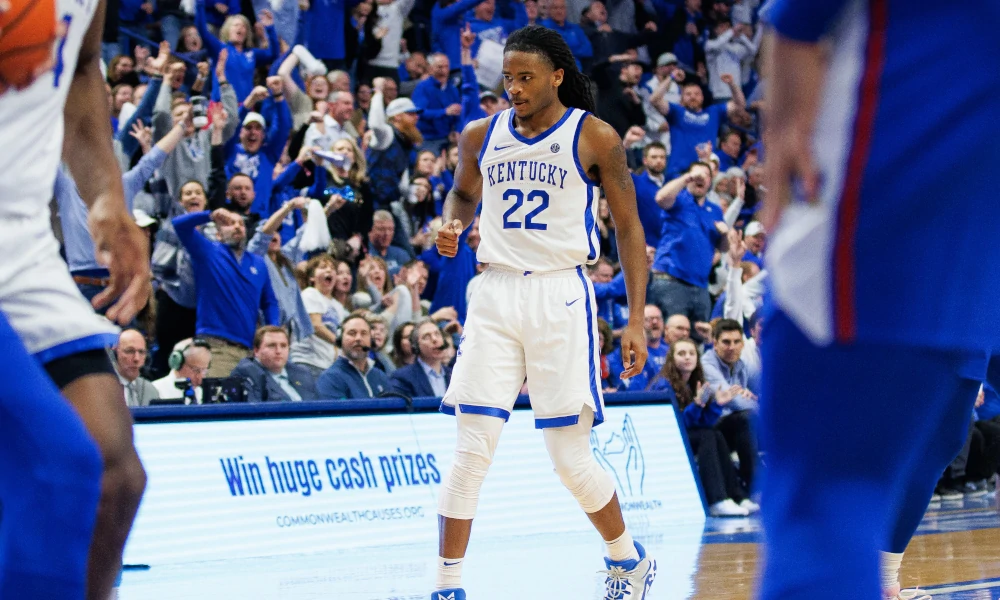 Against Ole Miss, Kentucky was tasked with the challenge of beating the Rebels without star freshman Cason Wallace, as he was ruled out before the game with a knee contusion. While Sahvir Wheeler stepped up and was able to tough out the win, this team needs Wallace if they want to make a run.
With Kentucky still on the bubble and a talented Florida team – with a victory over Tennessee – coming to Lexington on Saturday, it would be ideal to get Wallace back in the lineup ASAP. During his call-in show on Wednesday, Calipari spoke on Wallace's injury and his status.
"We did not know, until really game time, that Cason wasn't going to go," Calipari said. "At the shootaround, we weren't doing anything live, he just stepped funny and said, 'Ouch.' And so then he went to the back and I said, 'What is it?' He's fine. It was a contusion from the Kansas game but he practiced the day before but it bothered him so he was out for the game."
Wallace's status for Florida?
"I don't know," Calipari said. "He went and got checked out. He banged knees and so it's painful but there's nothing structural. That's all good, but we'll see. If he doesn't, it's next man up. One guy's misery is another guy's opportunity."
If ruled out, that opportunity will certainly be given to Sahvir Wheeler who recorded 4 points, 9 assists, and 4 rebounds against Ole Miss, playing through an ankle injury of his own that he suffered in the first half.
Given that Wallace sitting out was more of a precaution and that he practiced the day before, it can be assumed that is more likely than not that he will be ready to go this weekend.
On the season, Wallace is averaging 11.3 points, 3.6 rebounds, 3.6 assists, and 2.0 steals while starting all 21 games in which he's appeared in. Wallace ranks sixth in the SEC in steals, seventh in assists, and eighth in assist-to-turnover ratio.
Kentucky vs Florida: TV/Streaming Info and Keys to the Game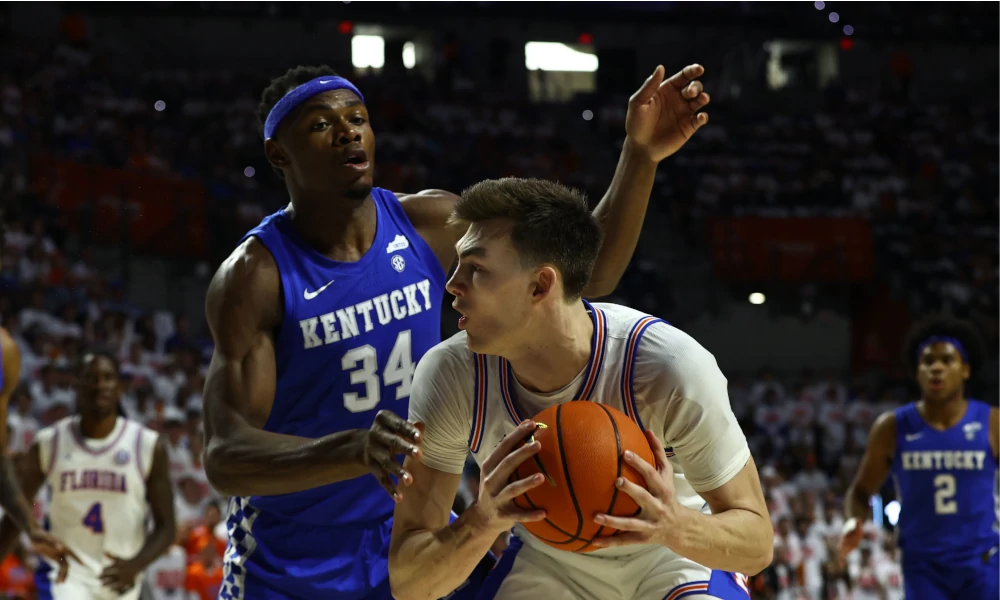 Sitting on the NCAA Tournament bubble but leaning in, the Kentucky Wildcats must keep winning. After gritting out a victory over Ole Miss, they turn their focus to a Florida Gator team that also finds themselves on the bubble, but on the outside looking in.
Led by first-year head coach, Todd Golden, the Gators are a team mostly made up of transfers, so expectations are not what they have been in the past. This was seen in their 7-6 record in the non-conference schedule.
However, they have figured some things out in conference play, sitting at 6-3 and tied with Kentucky for third place in the SEC. This is not due to playing a tough schedule, as they have collected wins over Missouri and Tennessee, and only lost by three to Auburn.
Given where both teams stand, Saturday is going to be a dogfight. Let's take a closer look at the matchup.
Health of Cason Wallace
Kentucky was able to win at Ole Miss with relative ease Tuesday, despite starting point guard Cason Wallace being out with what John Calipari is calling a knee contusion. Wallace suffered the injury against Kansas by banging his knee during the contest, though he was able to finish the game.
The injury got worse during Tuesday's shootaround, so Wallace was held out for precautionary measures.
During his Wednesday call-in show, Calipari said that while this isn't a long-term issue, Wallace is uncertain to play vs. Florida.
"I don't know," Calipari said of Wallace's status for Saturday. "He went and got checked out. He banged knees, so it's painful, but there's no structural (damage). That's all good, but we'll see."
If Wallace can't go, that would be a major loss against a Florida team that suddenly looks very dangerous, even if UK has a full roster.
The good news is Sahvir Wheeler is a capable backup who did well vs. the Gators last year. In those two matchups, Wheeler shot a combined 10/17 for 22 points with 11 assists vs. three turnovers.
Still, there's no question Wallace is the superior player. His availability may very well decide who wins Round 1 of this series.
Interior Defense
While Florida ranks 144th in offensive efficiency, they rank 10th in defensive efficiency. A large part of this is due to their interior defense, ranked third in the country in blocked shots with an average of six per game.
Colin Castleton specifically is the star of the Florida defense, accounting for over half (3.2 bpg) of Florida's blocked shots. What is more impressive, is that he's doing it without fouling, averaging 1.48 blocks for every foul. The Gators also do well at stealing entry passes, an area where the Wildcats have struggled.
With that being said, it is not going to be easy for Oscar Tshiebwe in the paint and Kentucky will need to hit some three-pointers to help space the floor, making Antonio Reeves a very important piece yet again. And hopefully, CJ Fredrick can see a couple go down.
Offensive Rebounding
Given Florida's stout defense, it is likely Kentucky will find it difficult to score and one way to counter that is with offensive rebounds and extra possessions. Which has been a large part of Kentucky's offensive game plan.
After recording double-digit offensive rebounds in 17 of their first 19 games, Kentucky has failed to gather more than seven in their past three games. In two of those contests, the Wildcats shot well enough from the field to win, but that was not the case against Kansas, shooting just 15% from three.
Fortunately, Florida is a team that tends to give up offensive rebounds, rankings in the lower half of the country in that category. In all but one of their nine losses, Florida has lost the rebound battle. This is an area Kentucky will need to capitalize on.
Capture and Hold the Momentum
While the Kentucky offense has improved, it is still difficult for them to make runs in short spurts. Plagued by poor starts for much of the season, this has put them in early holes that take time to dig themselves out of.
Against Kansas, Kentucky got off to a better start, but they allowed the Jayhawks to end the first half on an 11-4 run. For the rest of the game, that lead stayed at around 6-7 points and gave Kansas a cushion to answer any attempt at a Kentucky run.
As mentioned earlier, this is an important game that Kentucky cannot afford to lose. Capturing the momentum early and holding it will make winning a much easier task.
The late Mike Pratt will have his jersey raised to the Rupp Arena rafters on Saturday. A long overdue moment, the former All-SEC Wildcat and longtime broadcaster will be honored for his accomplishments and service to the program.
Pratt's jersey retirement will be just the second in the last two decades and the first since Tony Delk's in 2015. One thing that would make Pratt proud is a win over Florida.
Time/Date: 8:30 pm ET on Saturday, February 4th, 2023
Location: Rupp Arena in Lexington, KY
TV Channel: ESPN
Online Stream: WatchESPN, ESPN+, SEC Network+ or ESPN app
Radio: Tom Leach and Jack Givens have the UK radio network call on the UK Sports Radio Network.
Replay: WatchESPN and SEC Network (check local listings).
Rosters: UK | FLA
Team Sheets: UK | FLA
Stats To Know: UK | FLA
Odds: DraftKings Sportsbook has yet to release the odds. ESPN's matchup predictor is very confident in Kentucky's chances, giving the Wildcats a 75.2% chance to win, though that's obviously assuming Cason Wallace plays. Bart Torvik has it closer, giving Kentucky a 58% chance, while KenPom has it at 63%.
Predictions: Bart Torvik picks the Wildcats to win in a nail-biter, 68-66. KenPom is going with a 70-66 victory, Kentucky!
Also published on a Sea of Blue.
Daimion Collins Lost 16 Pounds Following the Passing of His Father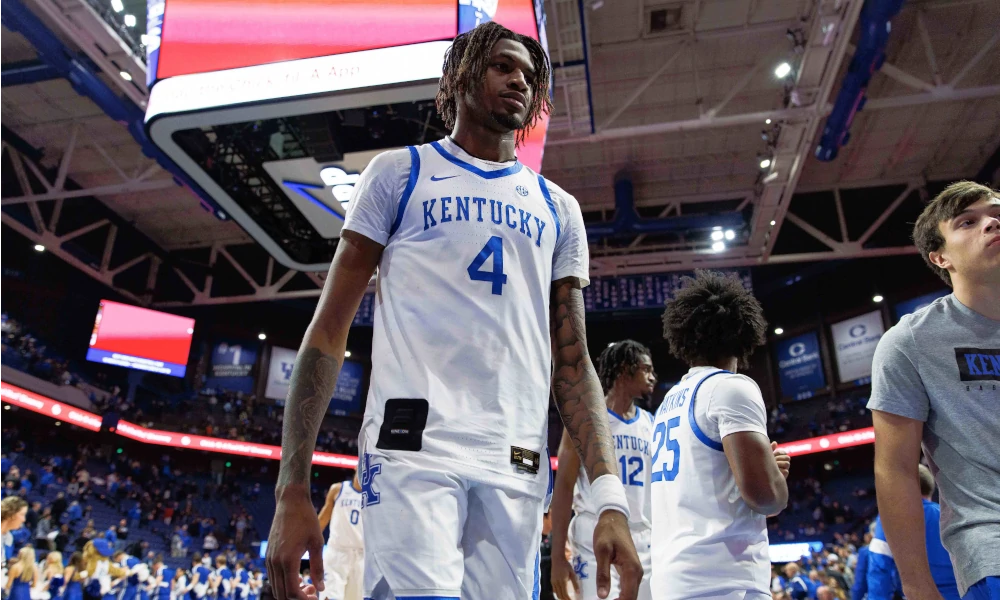 Daimion Collins came to Kentucky in 2021 as a McDonald's All-American. Standing 6-foot-9 with a 7-foot-5 wingspan, Collins possessed the physical tools but was a raw talent. In his first season, he showed flashes but did not quite have the strength or the confidence to receive consistent playing time.
This past offseason, Collins started a 5,000-calorie diet to gain some weight and in June he was already up to 210 pounds from a starting weight of 185 pounds. With his bulkier frame, reports started to come out that Collins was one of the most improved players on the team.
This was seen firsthand as the team traveled to the Bahamas, where Collins averaged 11 points and 5 rebounds. This showed that Collins was set to have an impact in his sophomore season.
Then just days before the start of the regular season, Daimion Collins' father, Ben Collins passed away. This was not only a big loss for Daimion but also for the team, seeing their teammate grieve.
Given the time of his father's passing, this has significantly affected Collins this season. Following Tuesday's win over Ole Miss, John Calipari provided some insight on just how much it has affected Collins.
"His dad passed away. His dad was his best friend, would have been the best man in his wedding," Calipari said on Daimion's relationship with his dad. "All of a sudden he loses 16 pounds and we're playing other people."
Sixteen pounds lost would put Collins close to his original weight when coming to Lexington, which would certainly set his development back. However, Collins' mental well-being is the most important aspect right now.
Against Ole Miss, he came in for just two minutes, but scored four points, including this and-one dunk.
While he didn't play much, he was welcomed back to the bench with a hug from John Calipari, responding with a smile. "I love seeing him smile," Calipari said, and so does Big Blue Nation.