Kentucky vs. Alabama: TV/Streaming Info, Keys to the Game, and Predictions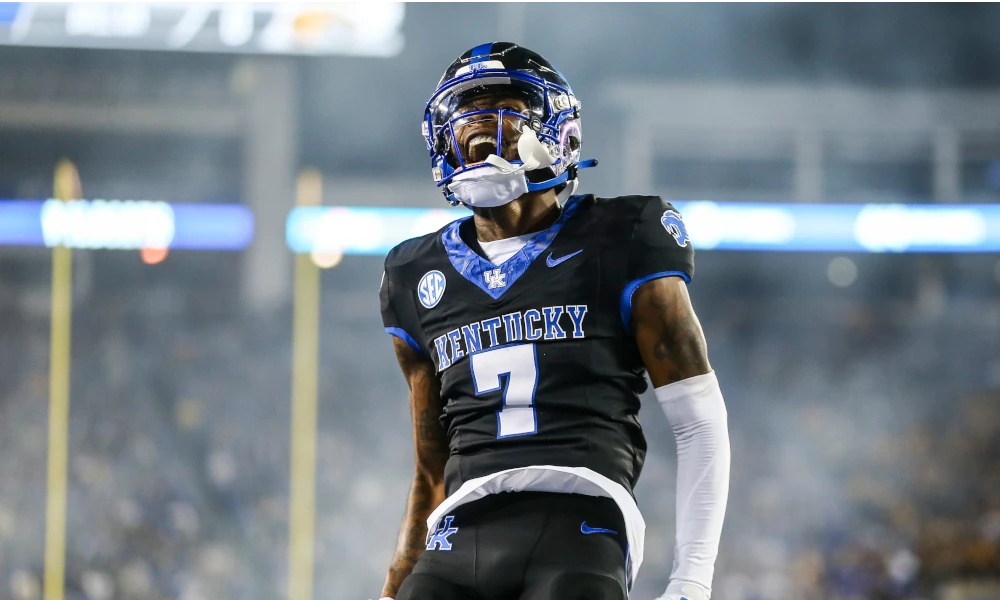 The last time the Kentucky Wildcats and Alabama Crimson Tide met at Kroger Field was back in 2013, the first year of the Mark Stoops era and when it was still called Commonwealth Stadium. Playing the eventual national champion with a largely inherited team, it is no surprise that Alabama won 48-7 in the one-sided contest.
In the years since that game, Stoops and Co have vastly improved the talent level and made Kentucky Football a much more respected program within the SEC and nationally. However, that has not equated to success against Alabama. In the two matchups since 2013 (2016 and 2020), which have both been played in Tuscaloosa, Kentucky has failed to even score a touchdown. This Saturday, they will have the opportunity to change that.
While still more talented than Kentucky this season, Alabama is not as strong as they have been in years past, struggling with teams like Arkansas and Texas A&M. That said, could this be a year where Kentucky can be competitive?
It could, but it will still be a tough task. Let's take a look at the matchup.
Throw the First Punch
When Kentucky played Georgia earlier this season, the Wildcat defense allowed a quick score to the Bulldogs. However, upon receiving the ball, Kentucky was pushing downfield effectively and efficiently to answer. However, that drive was abruptly ended in part due to an unforced personal foul penalty. Following that, things compounded, leading Kentucky to lose any chance of control and all momentum.
Kentucky doesn't have an offense that can fight back from multiple scores. With a home-field advantage and a sold-out Kroger Field crowd, Kentucky's best chance is to strike early and consistently carry that momentum.
Force Jalen Milroe to Pass
For much of the season, Alabama's biggest weakness has been their quarterback play, with the inconsistent play of starter Jalen Milroe. However, they just outgunned the best offense in the country in LSU. "They've sort of found their identity," Kentucky defensive coordinator Brad White said.
That identity is largely made up of running the ball, ranking top 15 in rush play percentage and bottom 15 in pass play percentage. Fortunately, stopping the run has been a strength of Kentucky's. On that same note, Kentucky has only played against two top-50 rushing offenses in Georgia (46th) and Tennessee (3rd), giving up their highest rushing totals of the season.
Against LSU, Alabama put up a season-high 288 rushing yards, with 155 coming from Jalen Milroe. That also allowed him to be able to pass the ball effectively, throwing for 219 yards. His versatility is his strength, but if Kentucky's front seven can keep Milroe in the pocket, forcing him to be one-dimensional and throw, Kentucky may me able to slow down the Alabama offense for a chance of an upset.
Coaching Matchup
One of the largest sources of frustration in recent seasons has been a lack of execution and discipline, and that comes down to the coaching. Going up against arguably the greatest college football coach ever in Nick Saban, no one expects Stoops to outcoach him.
That said Stoops and the rest of the staff are more than capable of putting Kentucky in a position to be competitive. If they can accomplish that, showing an improvement from earlier this season, many fans will be satisfied even in a loss.
Time/Date: 12:00 pm ET on November 11th, 2023
Location: Kroger Field in Lexington, KY
TV Channel: ESPN
Announcers: Joe Tessitore, Jordan Rodgers, Katie George
Radio: Tom Leach and Jeff Piecoro have the UK radio network call on the UK Sports Radio Network.
Satellite Radio: XM Channel 203, Sirius Channel 98, Internet Channel 966
Replay: WatchESPN and SEC Network (check local listings).
Odds: DraftKings Sportsbook has Alabama listed as an 11-point favorite. ESPN's matchup predictor has Kentucky as a big underdog, giving the Wildcats just a 14.3% chance to win.
Predictions: TeamRankings has Alabama coming away with a 28-17 win, with DRatings.com picking a similar outcome, with a 31-18 victory for the Crimson Tide. A win over Alabama would be the best win of the Stoops era, but they just have those elite playmakers that Kentucky doesn't have many of. For that reason, along with their stout defense, I predict Alabama to win 30-14.
Also published on A Sea of Blue.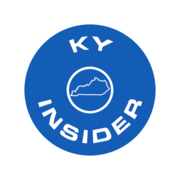 Kentucky Transfer's Father Speaks Out Against Kentucky Football Staff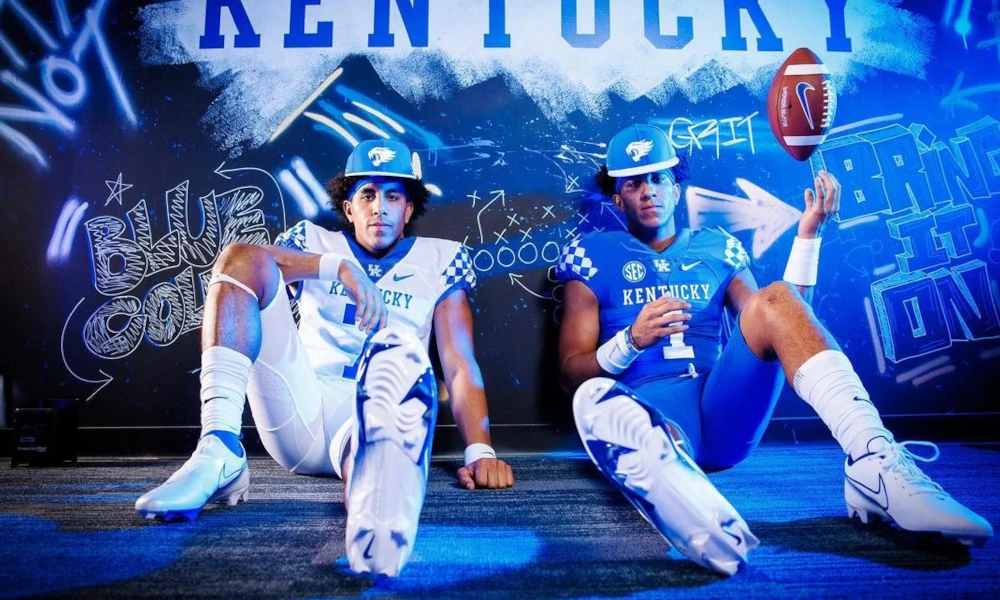 Now two days after the the transfer portal has opened, the Kentucky Wildcats have had a dozen players enter. Two of those players are the Wade twins, Destin and Keaten, who committed to Kentucky as a three-star quarterback and 4-star edge in the 2022 class.
The Wade twin's father, Steve Wade, recently spoke to Maurice Patton of the Main Street Muary, a local Newspaper in Maury County, Tennessee about his sons' decision to enter the portal.
As for why? "They (Kentucky) didn't keep their promises up there. We're not going to go for that," Steve said. "I'm mainly talking about Destin, not Keaten."
Two seasons into each of their collegiate career, one was on a path to success, while the other was not, unfortunately.
Keaten Wade, listed as a 6-foot-5, 250-pound sophomore outside linebacker, collected a total of 51 tackles, 2.5 sacks, and a pass deflection in two seasons as a promising piece on the Kentucky defense. Destin Wade (6-3, 223) appeared in just one game at quarterback during his time at Kentucky, going up against Iowa in the Music City Bowl. In the game, he was 16-30 for just 98 yards, threw two pick-sixes, and only advanced in Iowa territory twice on 13 drives, going as far as the 36-yard line.
"They (Kentucky) threw him in that bowl game and never did give him a chance to redeem himself, under circumstances that nobody could have really did anything with, Iowa being the No. 2, No. 3 defense in the country," Steve said. "We were promised by (Kentucky offensive coordinator Liam) Coen that Destin 'was too good an athlete to just be sitting on the bench'. We did our part, we trusted in Kentucky to do theirs."
Bringing in NC State transfer Devin Leary this season, Steve claims that Destin could have been just as good if he was given an opportunity to compete.
"Destin could have been just as good as that quarterback (Leary) we had this year," Steve Wade said. "There's nothing any of those guys sitting in that quarterback room couldn't have done (that Leary did). They didn't give him an opportunity to even compete. So we've got to do what we've got to do. He's got to get on the field somewhere."
As far as Keaten, Steve was satisfied that he played, but not satisfied that he was not a starter. "They let Keaten play, but he still didn't get the reps he should have gotten as being a starter," Steve said.
One reason Steve gives as to why his sons didn't play as much as they deserved was because of NIL, allowing "worthless" players to get more playing time just because they were paid.
"It makes it that much more difficult for kids that are on scholarship because they're paying these other guys money to come in — They're looking for those players to play," he said. "The school's going to play those guys, whether they're worthless or not.
All the best to the Wade twins and their family, but this is simply some parental delusion as Steve Wade overestimates his sons' talent.
Kentucky Receives Commitment from Georgia Transfer QB Brock Vandagriff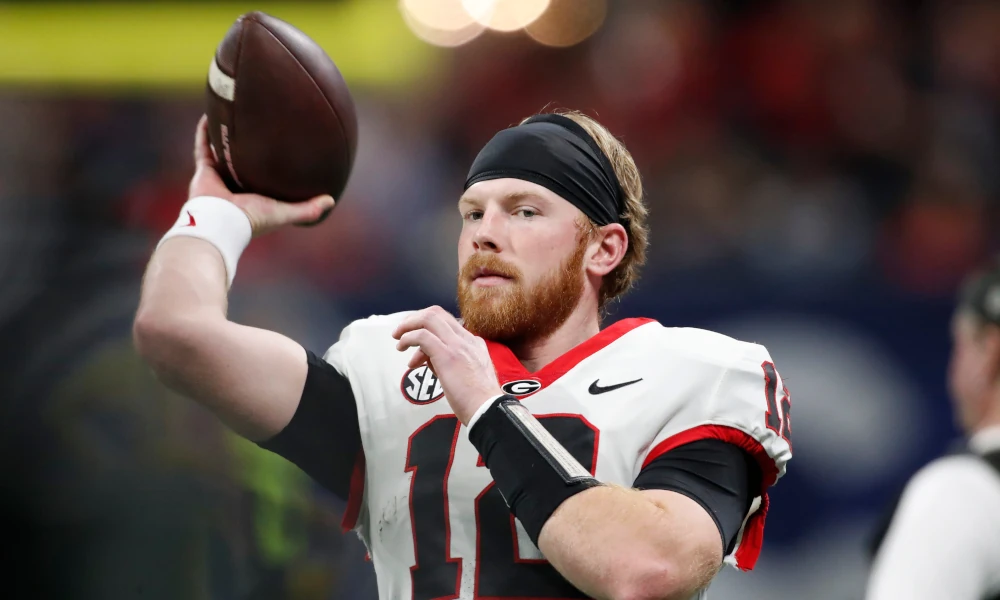 The Kentucky Wildcats have found their quarterback for next season, and potentially the next two seasons. On Thursday morning, Georgia transfer quarterback Brock Vandagriff announced his commitment to Kentucky, with the caption "Ready to get to work."
Vandagriff has been a name silently floated around since the end of the season as his sister plays volleyball at Eastern Kentucky and his father has a relationship with Liam Coen.
At Georgia the last three seasons, Vandagriff was a backup and saw limited action. However, he was a backup to some pretty good talent, first to Stetson Bennett who won back-to-back national titles with the Bulldogs, and Carson Beck this season who finished this season fourth nationally in passing yards.
Before his time at Georgia, Vandagriff was a five-star quarterback in the 2021 class, ranked as the 4th ranked QB overall by 247Sports' Composite rankings. Holding offers from the top names in college football including Alabama and LSU, Vandagriff had his choice and originally committed to play for Lincoln Riley and Oklahoma before flipping to Georgia.
The talent is clearly there and there are not many better ways to gain preparation than by practicing against one of the best defenses in college football the last three seasons.
Kentucky will also add 2024 four-star Cutter Boley to the QB room for next season and another transfer for depth whom the staff is still searching for. That said, just two days after the portal opened, Kentucky has filled one of their biggest needs, if not the biggest, of this offseason.
Kentucky Listed As Top Destination for Transfer Quarterbacks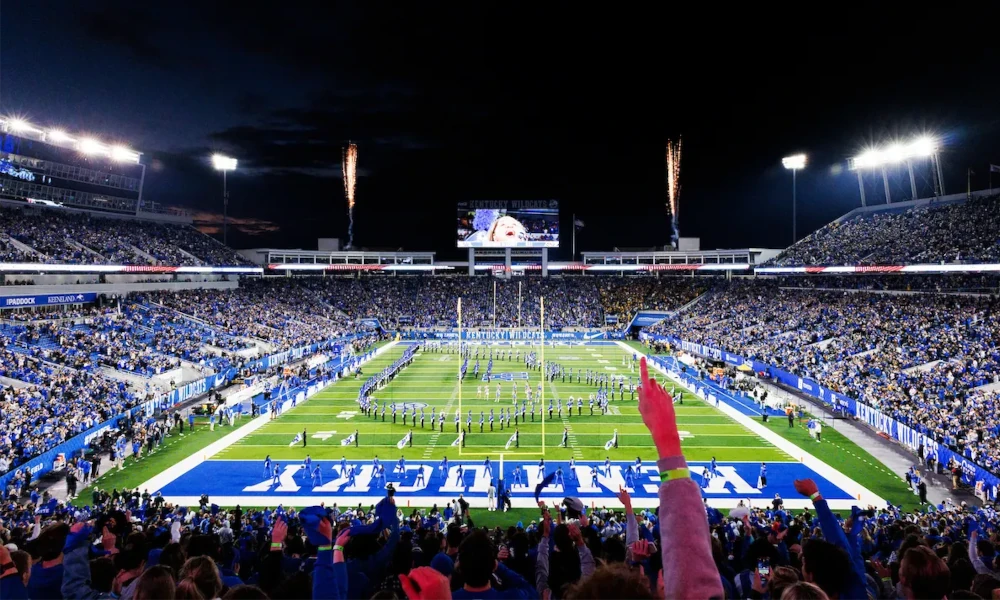 College football's version of free agency is about to kick off as the transfer portal officially opens on Monday, December 4th. Over the last three seasons, the transfer portal has proven itself as a way for programs to quickly fill holes in their rosters, especially for teams searching for a quarterback. Last year, a record number of signal callers transferred and this year's cycle looks to be even more chaotic.
Kentucky is one of the many programs searching for a new quarterback as Devin Leary's college career will end with Kentucky's bowl game. According to 247Sports, Lexington is one of the most ten attractive spots for a quarterback to land this offseason. As for their why:
"Liam Coen is the instructor for a quarterback-friendly scheme in Lexington that will have produced two draft picks (once Leary declares and joins Will Levis in the NFL). One encouraging factor for the next starting quarterback for the Wildcats is that he can be confident in the protection in front of him. Mark Stoops expects his offensive linemen to be nasty, people-movers up front and Kentucky allowed only the third-fewest sacks in the SEC."
With Liam Coen as offensive coordinator, a good offensive line, and talented receivers, Kentucky will be an attractive situation, but must look for a better fit this time around. The staff already has a few targets in mind, and according to some, may already have their guy. Several players have already announced their intentions to enter the portal, and there are more certain to announce over the coming days.
Time will tell who will be behind center for the Wildcats next season. With that said, who would you like to see as Kentucky's starting quarterback in 2024?